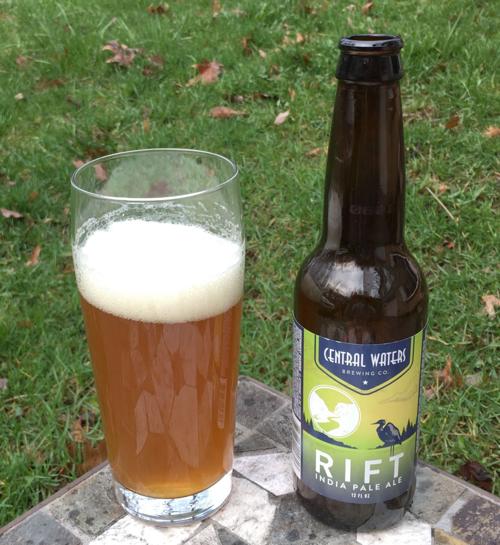 The story of Rift, Central Waters Brewing's new year-round India pale ale, begins two year-round IPAs ago, a decade and a half of evolution that tracks the arc of what's now America's most popular craft style.
But in the early 2000s when Central Waters introduced its first always-available IPA, Lac du Bay, the hopheads hadn't yet taken over.
"This was before the IPA craze," Central Waters co-owner and brewmaster Anello Mollica said. "It seems like nowadays you have to have a year-round IPA. Back then you did a year-round pale ale. That was the beer that you needed to have."
Lac du Bay was an English-style IPA, bigger than its pale ale kin but sharing a far-from-overwhelming floral-earthy-herbal hop profile and an ample malt backbone. The English IPA seeks balance that the newer American variant often does not.
Eventually Central Waters' supply of hops it used in Lac du Bay dried up, Mollica said, so in 2008 the brewery retooled its IPA to the changing times. Glacial Trail used American hops with citrus-and-pine character and bumped up the bitterness somewhat — all attributes of the then-ascendant American variant of the style — but retained the malty embrace of the English Lac du Bay.
Mollica described it as a hybrid English-American IPA: "Glacial Trail kind of held this spot as kind of not super hop-forward IPA."
That worked well enough in 2008, but times, they have a-changed, again. Wisconsin beer coolers now feature iconic hoppy beers from West Coast breweries like Stone and Ballast Point and Midwestern hop masters Three Floyds and Toppling Goliath.
And preferences within even the American style of IPA have changed, with the tropical profile exploding in popularity in the past three years or so.
"Glacial Trail really doesn't represent today's impression of what an IPA is supposed to be," Mollica said. "It's not that Glacial Trail wasn't performing that well for us, it's just that Glacial Trail was underperforming for me in that category. Time to switch it up."
Rift, which has been rolling out gradually across the state this month, is "very much that hop-forward West Coast American IPA," Mollica said.
While the malt profile cuts back Glacial Trail's caramel malts, Rift's real departure is in its hops. They have names you'll recognize if you read this column regularly: Simcoe, Citra and Amarillo.
Citra and Amarillo in particular are distinctly new-school hops, heavy with citrus and tropical fruit aromas and not commercially available — at least not to a small brewery in central Wisconsin — when Rift's predecessor was born.
"Glacial Trail being dated has more to do with what hops were available in the market in 2008 vs. what hops are available in 2017," he said.
Stoked by demand from brewers, Pacific Northwest hop growers boosted production of Citra, a variety released to growers in 2007, to 6.4 million pounds last year, up 134 percent from 2014, according to a U.S. Department of Agriculture report on hop production. Another new-school hop, Mosaic — a hop that's not in Rift but is a star in Central Waters' hop-forward pale ale, HHG — has exploded since its introduction in 2012. Harvest of Mosaic grew to 5.8 million pounds last year, up 289 percent from just two years earlier.
"The flavors and aromas we get in the beers today were impossible to get a decade ago because those hops weren't even created yet," Mollica said.
That Citra, Mosaic, Amarillo and other tropical/citrus-forward hops have become the go-to varieties for IPAs is perhaps a natural evolution of beer drinkers' tastes. After all, people do eat and often enjoy grapefruit, oranges, passion fruit, pineapple and mangoes. You don't hear about people eating the needles or licking the sap of a pine tree, a prominent characteristic of older-school American hops like Cascade and Centennial and the older-school IPAs that leaned on them.
Growers and brewers are both trying to find the next hop that pushes beer's flavor forward into uncharted delicious territory. But there's a reason Glacial Trail lasted as long as it did, even if Citra became a star hop halfway through its pretty remarkable eight-plus-year run.
"There are going to be new ones coming, and at some point in the future I suspect that hops that are in beers like HHG and Rift will start taking a back seat to these new flavors and aromas and other hops that will become the popular, hip thing," Mollica said. "And that's the danger in being a brewer. You can't keep chasing the fad. Make a beer that you know is good and stick with it as long as you can. You have to refresh your portfolio to stay interesting, to stay unique, but I wouldn't ever dream of, every time a new hop comes out, crossing a beer off my calendar just to make a beer with a new hop."
Rift
Brewed by: Central Waters Brewing, Amherst
What it's like: My pick here is a bit obscure considering how not-great it seems to sell in Wisconsin, but Rift's dry yet tropical profile reminds me of Coronado Brewing's Stingray IPA.
Where, how much: Rift is appearing on bottle shop and grocery store shelves as stocks of Glacial Trail are depleted. It's been in Milwaukee for more than a week but began rolling out in Madison shops on Wednesday. The very comfortable price point is the same as Central Waters' other year-round six-packs, around $9 at most outlets.
The beer: Rift pours a medium-pale amber with an appealing bouquet of grapefruit and orange peel, and a hint of sweetness in the background. Each sip leads with more tropical citrus that quickly recedes into an assertively bitter, dry finish that lingers a bit on the palate. But it's not abrasive by any means, and its moderately light weight and modest alcohol content means its more repeatable than a lot of IPAs.
Booze factor: Rift's 6.5 percent ABV is on the friendly end of the style's range of 6.3 percent to 7.5 percent but still markedly higher than many popular styles.
The buzz: Central Waters has a nearly impeccable reputation in beer geek circles, largely owed to its barrel-aging program, which is among the largest and best in the country.
Mollica, said he, co-owner Paul Graham and lead brewer Simon Nielsen are grateful for that, but it's also motivated them to show they're as deft with hops as they are with dark malts and bourbon barrels.
"We get passed over on the idea that we're a hoppy beer maker and that we didn't do that style particularly well," Mollica said. "That kind of stuck in the craw of a couple of us, so we're like hey, let's blow that reputation out and show people that we're also a hoppy beer maker."
I believe Rift will add to Central Waters' hop-forward successes in the past two years. HHG has been a smash hit, especially since its introduction to six-packs last spring, and Summarillo, an India pale lager that returned for its second seasonal run late last month, will soon retake its warm-weather position in my beer fridge.
If there's a drawback to Rift, it may be that it covers territory already better served by HHG and Summarillo. But on its own it's among Wisconsin's best IPAs and, like its forebears, just might hold up for years to come.
Bottom line: 4 stars (out of five)