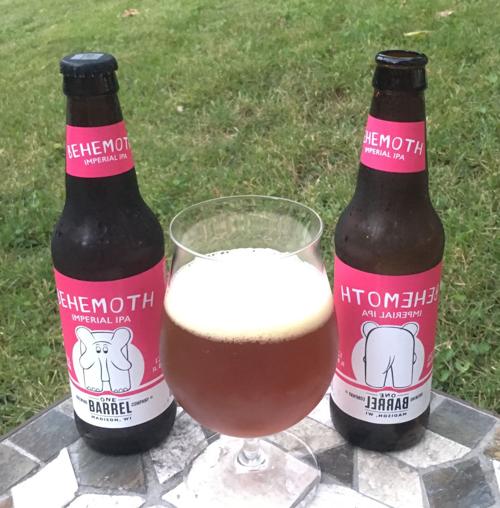 The bomber market just ain't what it used to be.
Brewers and beer fans — perhaps not quite in that order — are increasingly turning their backs on the 22-ounce, individually sold bottles, and the latest evidence comes from One Barrel Brewing in the form of an imperial India pale ale with a cute elephant butt on the pink-labeled, 12-ounce bottle.
With their low cost and low overhead, bombers became the package of choice for many small brewers during the craft beer explosion earlier this decade. Their glass-to-beer ratio and lack of a 6-pack carton makes for a lower cost, and they can be hand-filled or -capped if your startup brewery hasn't yet found the capital to invest in the necessary equipment.
But the thing I've never liked about bombers is, it's an awful lot of beer for one person.
I mainly drink at home, and my beer interests generally conflict with those of the Baroness, so if I'm opening a bomber, I'm drinking 22 ounces of that beer. True, I'm probably going to drink that much in a night anyway, but I'd like it to be 12 ounces of this and 12 ounces of that.
Peter Gentry, owner and founder of One Barrel, sees that. He introduced the first One Barrel bomber shortly after he launched his beer in packaging in late 2015. Gentry said his early runs of bombers — which contained specialty beers such as a Belgian strong ale and big scotch ale — sold well and quickly, aided in part by an in-house error that priced them lower than intended.
But Willie, a scotch ale introduced early this year, stagnated. Even more telling, Breakfast Beer, a coffee imperial stout that "really flew" in its first run in 2016, sold out far more slowly this year.
So when it came time to put Behemoth, his imperial IPA, in bottles for the first time, he decided to join the ranks of brewers abandoning the bomber section of the bottle shop cooler. Instead, it's in four-packs, a package that's becoming the go-to for once-bombered beers.
The other problem I've seen with bombers is the price. Lagunitas' $5 bombers notwithstanding, bombers typically aren't a great value. The sweet spot for bombers seems to be around $8, which at 36 cents per ounce translates to a $26 six-pack. With an $8 six-pack of Moon Man or even a $15 six-pack of Sculpin out there, that beer has to be pretty darn special to fetch a price like that.
But fetch a price like that they have, for a long time, and Gentry said that's exactly why the package is so attractive to brewers. He noted Behemoth's cartons alone add 26 cents of cost to each four-pack — a needle-moving $1.56 per case.
"The bomber format is more profitable because there's less glass and cardboard, but this I think will allow us to share the beer with more people," he said. "It gives us an opportunity to sell more at a little bit less of a profit, which is fine with us."
What One Barrel will lose in margin, it'll more than make up for in volume. Gentry said he expects to sell 350 case equivalents of Behemoth vs. the 100 cases he would have moved if it were in bombers.
The last, reasonable bastion of bombers appears to be special-release beers — brewery anniversary beers or special barrel-aged variants — that are likely destined for bottle shares, parties and other special occasions anyway. Most of these beers are of a style that allows them to be saved for a year or longer — another reason Gentry was loath to bottle the hop-forward, best-drunk-fresh style in a bomber.
While Behemoth is an imperial IPA in name, it actually traces its lineage to Gentry's homebrewing days and an attempt to replicate his favorite version of his favorite style: Sierra Nevada's Bigfoot barley wine.
The beer debuted shortly after One Barrel opened in 2013, and Gentry said refinements in recent years — boosting the hops and nudging them toward a more resinous profile — left it better described as an imperial IPA in the more balanced English vein, despite its American hops, than a barley wine.
One Barrel's bread and butter has been lighter, more approachable styles like kolsch and pale ale, so this foray into more aggressive beer bears watching.
"We hadn't really entered the hoppy space, intentionally, because there are so many good IPAs out there," Gentry said.
Behemoth
Brewed by: One Barrel has a tap room and its original small-scale setup at 2001 Atwood Ave., but makes Behemoth and its other packaged beer on the 50-barrel system Octopi Brewing in Waunakee.
What it's like: Bigfoot is a richer and maltier, but with its caramel-toffee flavor and piney American hops, it's a good analogue.
Where, how much: Behemoth four-packs are going for $11-$12 at Madison-area bottle shops. Gentry said the reception has been strong enough in the early going that there may be a second brew of Behemoth to maintain supply through its intended run as a summer seasonal.
The beer: Behemoth pours a deep amber that belies its barley wine roots, with an aroma that's a warm harmony of caramel malt and piney hops. The flavor plays out with a similar profile, with the modestly sweet malt running the front and the hops — Warrior, Cascade, Centennial and Simcoe — handling the finish. That's where the bitterness comes through, with a bright, piney flourish, but with all the malt required to build this "IPA" up to imperial strength (and then some), the apparent bitterness is far less than you'd expect from one that's touted as having three pounds of hops in every barrel. Behemoth similarly walks a line between a barley wine's coating softness and an IPA's prickly dryness, though it's unquestionably full-bodied.
Booze factor: Here's where the bigness comes in. Behemoth's 9.5 percent ABV is easily double what you'll find in many summer seasonals, and while it'll never be mistaken as a quencher, it still bears warning to sip, not pound, this pachyderm.
About that name: Yes, there is another beer named Behemoth, from Three Floyds Brewing, and the similarities are eyebrow-raising: Three Floyds' Behemoth is a big, boozy barley wine from the Midwest. Three Floyds has brewed Behemoth since at least 2005. "I love Three Floyds and thought I knew all their brands," Gentry said, "but five years ago when we named the beer it wasn't on our radar. It is now, and we just hope we can keep the name and they don't mind."
The buzz: Nearly five years in, One Barrel has built a pretty good business on its friendly, approachable identity.
Gentry said the company produced about 3,100 barrels of beer in 2016, its first full year brewing at Octopi, up sharply from 800 in 2015. Gentry is in the "very preliminary" stages of looking for a site for a second tap room, on the West Side. But its big splash has been the contract brewing arrangement that has allowed One Barrel beer to be sold in nearly every corner of the state, though its home market remains its bread and butter.
"Madison in particular is doing very, very, very well for us," Gentry said. "It's amazing how quickly we've grown to kind of the go-to beer for a lot of people around town. We're really proud of that and it's really humbling."
I like but have yet to be blown away by One Barrel's beers, but its tiny roots on Atwood and the brewery's personality are easy to like and seem a particularly good fit for Madison. The simple, character-driven line drawings that appear on its labels plug directly into that feel.
The latest, for Behemoth, features a front-and-back image based on a childhood doodle by Briana Nava, a former One Barrel bar manager who now lives in Montana. I've never seen an elephant butt on a beer label before, and this rendition is fun enough — and the beer inside serviceable enough — to be perfectly One Barrel.
Bottom line: 3½ stars (out of five)