This week
The Driehaus Family Fireworks show is Saturday, July 24, at 9:30 p.m., over the north shore region of Geneva Lake.
In memory of Richard Driehaus, the Chicago businessman and local philanthropist who died in March, the event includes a live soundtrack broadcast by Lake Geneva's 96.1 FM WLKG.
Some places to view the display: Big Foot Beach, Linn Pier or from a boat on the lake. Unfortunately, you cannot really see them from downtown Lake Geneva.
Aside from donations that include the Driehaus Family Fountain in front of Lake Geneva's Riviera, Driehaus was known for his elaborate July birthday parties.
Over the years, performers at his parties included the Beach Boys, Diana Ross and other legendary entertainers. The night would end with a spectacular fireworks display.
On Friday, July 23, there are not one but three special film screenings in the area.
The Lake Geneva Film Club is having its "grand reopening" with a screening of the 1975 thriller "Jaws" at 7:30 p.m., at Geneva Theater.
This is the first club screening since the COVID-19 pandemic, before which the club regularly hosted screenings at the theater, which is located at 244 Broad St., Lake Geneva.
For those of a certain age, it is hard to imagine there are those who have not heard of this Steven Spielberg-directed classic in which a shark terrorizes a seaside resort community.
Starring Roy Schneider, Richard Dreyfuss and Robert Shaw, "Jaws" still makes it into articles about the scariest films of all time. Fun fact: The movie is rated PG.
Tickets are $10, cash only, at the door. All of the ticket sales will go to the Never Say Never Playland, a playground project for children with special needs.
Visit the film club's Facebook page for more details.
For those curious about the origin of those "You're killing me, Smalls!" T-shirts, head to July 23 for "The Sandlot," playing at 8:30 p.m., at Fontana Beach, Fontana.
Big Foot Recreation District is hosting the event, where guests can watch the movie on a 16-by-9-foot inflatable outdoor screen. Admission is $1, weather permitting.
Most of the events in the 1993 film are actually set in 1962, as a fish-out-of-water in a new neighborhood befriends the best baseball player in town and a ragtag bunch of kids. "Sandlot" is rated PG.
"My Neighbor Totoro" is a 1988 film from Hayao Miyazaki, one of Japan's most celebrated animation directors. It plays July 23 at 8 p.m., at Aram Public Library, 404 E. Walworth Ave., Delavan. "Totoro" is rated G.
The movie follows two girls who move to the country, where they discover "Totoros," magical creatures.
Registration required to attend the screening. Snacks will be provided. Call 262-728-3111 or visit aramlibrary.org.
Other events
Marcia Carmichael, author of "Putting Down Roots: Gardening Insights from Wisconsin's Early Settlers," gives a presentation including recipes for Irish soda, pierogi, Norwegian rhubarb custard and more Thursday, July 22, at 1:30 p.m. at Darien Senior Center, 47 Park St., Darien.
Reptiles & Amphibians July 22, 2 to 3 p.m., Lake Geneva Public Library, 918 W. Main St., Lake Geneva. Meet and learn about some of the cold-blooded creatures that live at the Schlitz Audubon Center. Program for ages 6 to 12, with adult. Visit lakegeneva.lib.wu.us for more details.
Copy Cat Art: Your Own Take on Works of Art July 22, 1:30 p.m., Aram Public Library backlot. Call 262-728-3111 or visit aramlibrary.org for more details.
Apollo 15 50th Anniversary July 22, 6 to 10 p.m., Dunn Field, 600 Waverly St., Lake Geneva. Marking the golden anniversary of the fourth manned trip to the moon, GLAS Education will host an outdoor event that includes a presentation by aerospace educator/speaker Brian Ewenson, educational activities and telescopic observations. Register by visiting the GLAS Facebook page.
Vintage Artisan Market's summer edition Friday and Saturday, July 23 and 24, 10 a.m., Wehmhoff Square, 355 N. Pine St., Burlington. Outdoor street market focusing on vintage, antique, reclaimed and upcycled handmade goods.
Third Annual Outdoor Education Day July 24, 8 a.m., Richmond Hunt Club, 5016 Route 173, Richmond, Illinois. Open to ages 10 and up, the event features trap shooting, archery, fishing and more. Tickets $20. Visit event Facebook page for details.
City of Delavan Parks & Recreation's Downhill Derby races July 24, between 10 a.m. and 3 p.m., Terrace Street, Delavan. Participants built their own vehicles using a wheel kit purchased from the city's Parks & Recreation Department. Cars will be 71-1/2 to 72 inches long. Visit ci.delavan.wi.us for more details.
45th Annual Williams Bay Fine Art & Craft Fest July 24 and 25, Edgewater Park, Williams Bay. Meet artists from Wisconsin and Illinois, plus live music. Opening ceremony July 24. See article in this week's Resorter.
The Town of Lyons Fire Department & Rescue Squad's 75th Anniversary Celebration July 24, starting at 11 a.m., at Riverview Park, 1588 Mill St., Lyons. Lunch box meals with pulled pork sandwiches will be sold, as will soft drinks and alcoholic beverages. Water fights around 1:30 p.m. Gun and basket raffle drawings begin at 4 p.m.
Next week
Christmas in July Market Sunday, July 25, 9 a.m. to 1 p.m., Adcock Farm & Co., 215 S. Lake Ave., Twin Lakes. Vendors will sell Christmas-themed items, while Santa celebrates with a foam party for children. Also, a petting zoo.
Walworth County Tavern League Annual Golf Outing Monday, July 26, Hawk's View Golf Club, 7377 Krueger Road, Lake Geneva. Choose from Como Crossings or Executive Par 3 Barn Hollow courses. Four-person scramble, pin events and prizes. Registration at 10:30 a.m. Lunch at 11 a.m. Shotgun start noon at Como Crossings, 1 p.m. at Barn Hollow. Dinner with cash bar opens 5 p.m. Golfers fees $85 for Como Crossings, $65 for Barn Hollow. Cost includes greens fees, cart, lunch, dinner and three drink tickets. Extra dinners $30 each. Also, 50/50 drawings and more. Visit league or Hawk's View Facebook pages to register online.
Cozy Yarn Critters Tuesday, July 27, 1:30 p.m., Aram Public Library backlot.
2021 Steak Cookout Wednesday, July 28, 4 to 7 p.m., Walworth County Fairgrounds Activity Center, 411 E. Court St., Elkhorn. The county's Junior Beef Project is grilling up the finest steak plus serving baked potato, corn, dessert and beverages. Dine in, drive-thru and carryout options. Tickets for 12 oz. steak are $18 in advance, $19 at the door; for 6 oz. steak, $14 advance, $15 at the door; and for a burger $8 in advance, $9 at the door. Pre-sale tickets place holders in front of the line for dine-in only. Tickets on sale at Sorg's Meats, Frank's Piggly Wiggly, Simon's Seed, the Elkhorn Chamber of Commerce Office and the Fair Office. Visit walworthcountyfair.com for more details.
Elkhorn Corn & Brat Days Friday and Saturday, July 30 and 31, Veterans Park, 100 W. Walworth St., Elkhorn. Food, crafters, various sales and specials from local businesses. Hours July 30 are 11 a.m. to 7 p.m., July 31 9 a.m. to 5 p.m.
Maxwell Street Days Friday through Sunday, July 30 to Aug. 1, Burlington. Sidewalk sales, food and beer. Mangold Insurance Kids Corner includes inflatables, touch-a-truck activities and more. Live at the Loop features live music, beer from Runaway and mead from The Hive Taproom, plus a corn roaster, food from local eateries and more. Kids at Heart area has a live DJ, food trucks, beer from Low Daily and games. Also planned: Scavenger hunt, Rubber Duck Dash at Wehmhoff Jucker Park, Beer and Bonfires. Visit Facebook page for more information.
20th Angels in the Fairway Golf Outing July 31, with morning registration at 6 a.m., the Brute golf course, Grand Geneva Resort & Spa, 7036 Grand Geneva Way, town of Lyons. Golfing, lunch, dinner, open bar, raffles and silent auction. Prices start at $125 for dinner only, $200 club pro and $350 individual non-corporate. Fundraiser for Leukemia Research Foundation. Full pricing and event schedule at joeysangels.com.
Big Foot Lions Club's Lobster Boil July 31, noon to 11:30 p.m., Reid Park, Fontana. Steak or lobster dinner, plus more food, beer tent and live music. See article in this week's Resorter for more details.
Watch now: Videos and photos of the Riviera open house
Watch now: Playing of the grand piano at the Riviera ballroom in downtown Lake Geneva
Mayor Charlene Klein thanks the crowd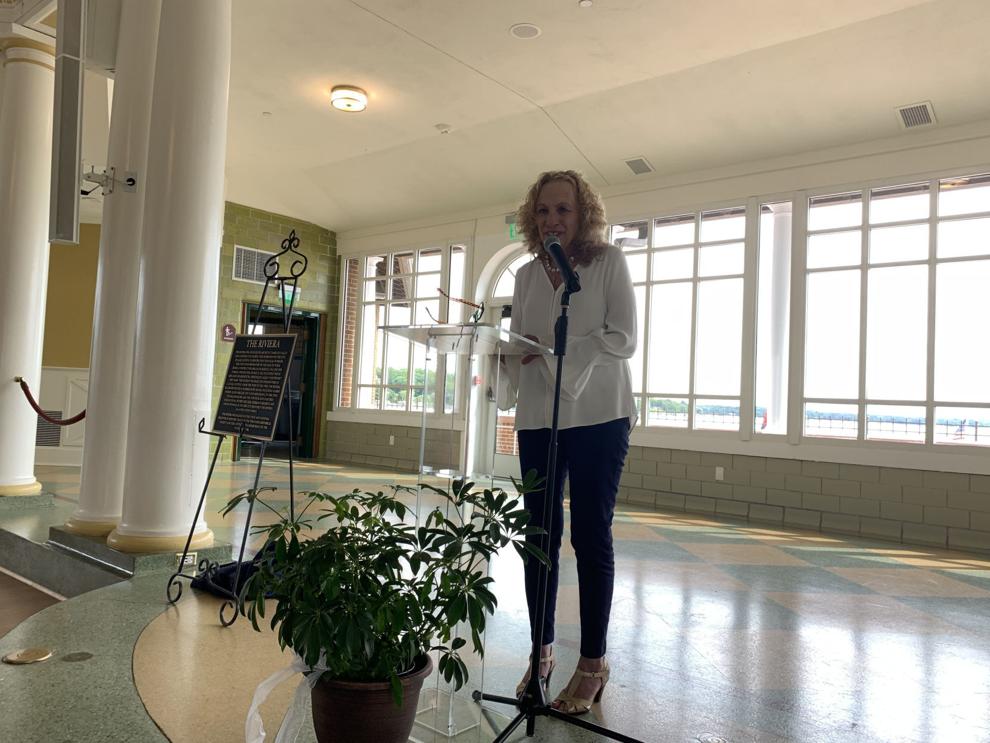 Dirk Debbink, president of MSI General, talks about the Riviera renovation project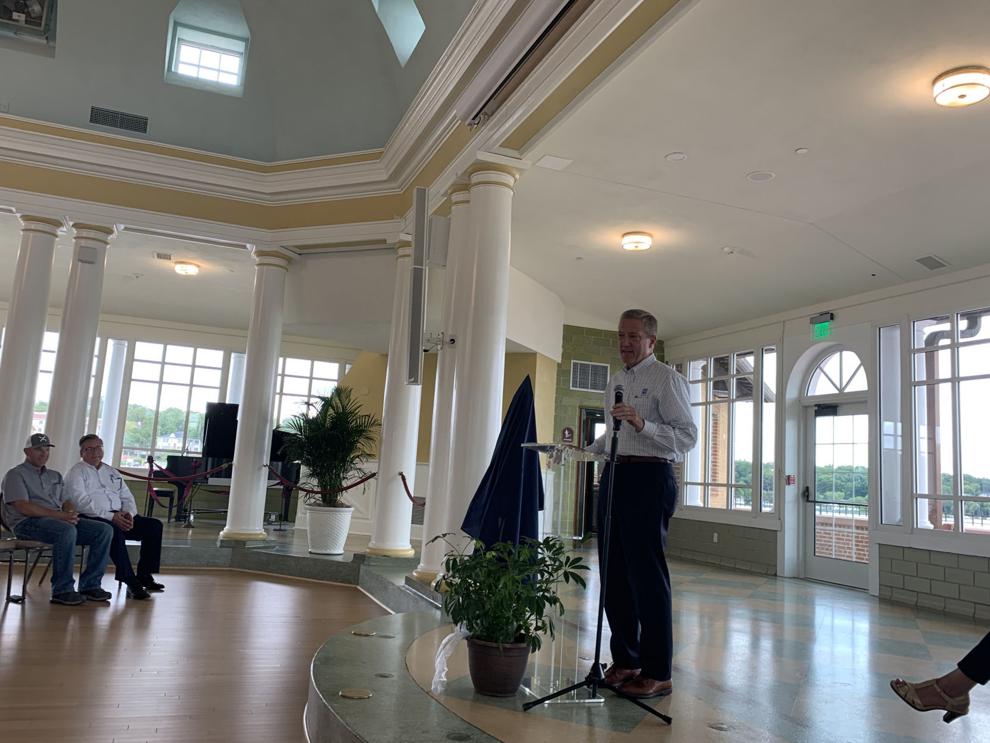 Stephanie Klett, president of VISIT Lake Geneva, discusses the tourism impact of the Riviera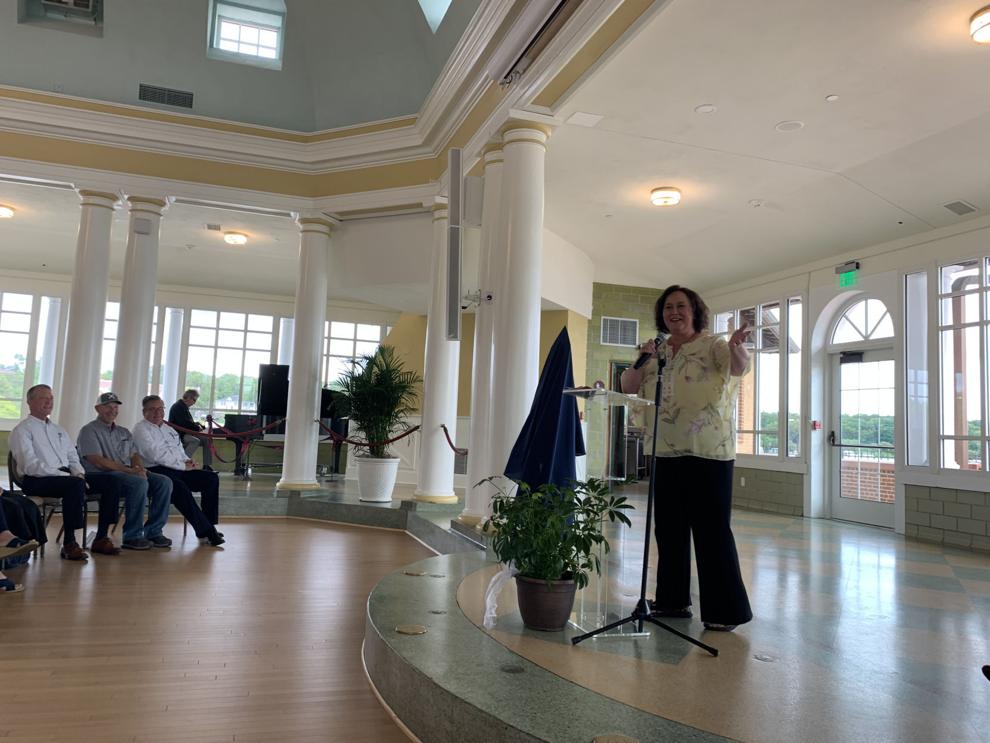 A crowd of people attend the Riviera dedication ceremony, July 15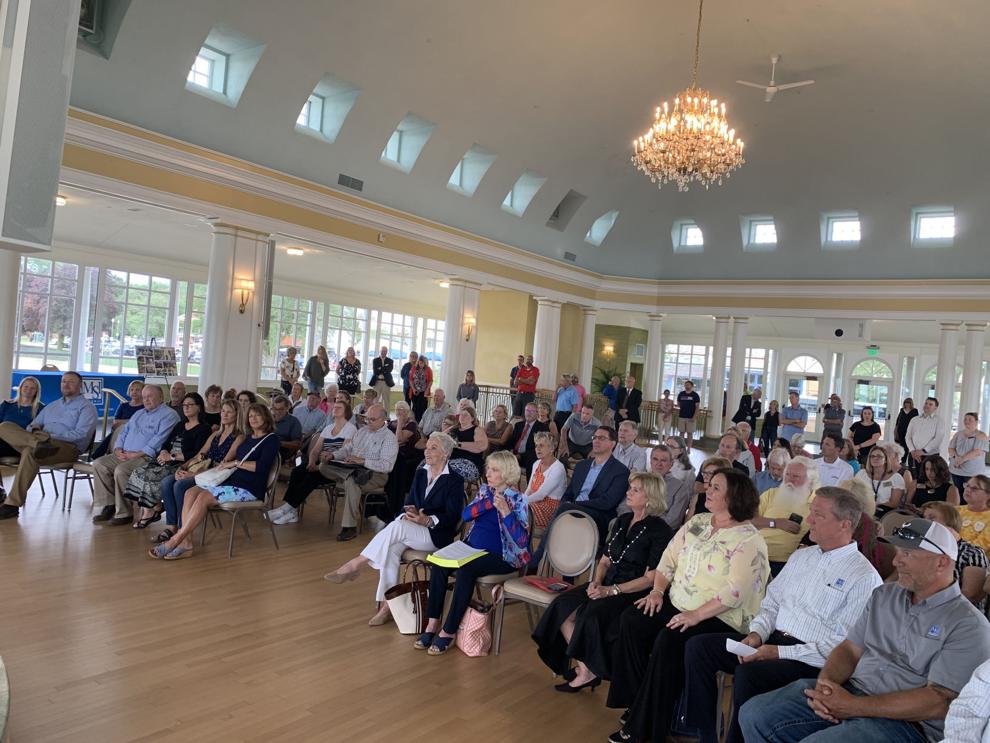 Joseph Hatten, co-owner of Going Bananas, is pleased with the renovations that were completed to the Riviera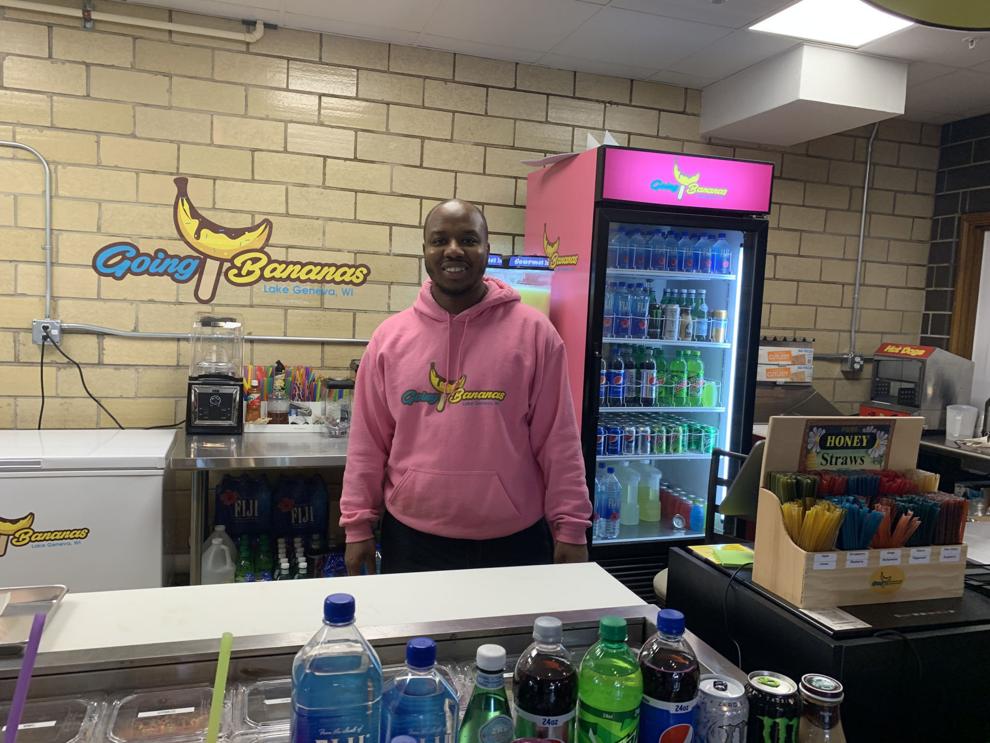 Watch now: Unvieling of the new historic plaque for the Riviera in Lake Geneva
Watch now: Dirk Debbink, ceo for MSI General, discusses the Riviera renovation project