DELAVAN — The witches are almost falling off their brooms.
Traditionally, witches fly through the night sky on Halloween, but according to Dorae Bowen, they always brush up on their aviation skills the night before.
Some of the witches among the numerous wood carvings in Bowen's workshop look like they need more than one night of practice.
One sculpture has a witch hanging onto her broomstick with both hands, looking as if she is kicking and screaming since she is closer to the ground than her enchanted cleaning tool.
Each carving has a story for Bowen, from the fisherman with a less-than-honest tale to the humanoid elephant and donkey standing together, smiling — a nod to Republicans and Democrats, respectively.
Then there is Christmas, her favorite woodcarving subject.
One of her largest creations is an old tree stump that she hollowed out and carved into a house for elves, complete with a baking area, workshop and Christmas present chute.
She has various Santas and carolers, plus a Christmas "mood indicator." Basically, it is a block with a Santa on one side, a Grinch on the other.
"A caricature carver has a great sense of humor," Bowen said.
Art has always been a part of Bowen's life, from helping her schoolteacher mother make craft projects for her class to being retired, fashioning caricature carvings and painting nature scenes with watercolors.
The matriarch of a military family that lived all over the U.S. — plus spent nine years in Germany — Bowen moved to Delavan to be closer to family after the death of her husband, Gordon.
Her son recommended Bowen move to the area for its community of artists.
Upon her first visit to Lake Geneva, Bowen discovered the Geneva Lake Arts Foundation and met its president, Nikki Marsicano.
Over two years later, Bowen is on the foundation board and continues to remain a member. "It's like an instant group of like-minded, similarly motivated people," she said.
Marsicano said Bowen is a "wonderful asset" to the board and the foundation and an amazing artist.
"She promotes new ideas to involve our members and the community," said Marsicano.
Bowen started wood carving while working as a retail manager. "Coming home and using sharp knives was an answer," she laughed jokingly.
The real story began about 25 years ago with a Christmas gift exchange. Bowen drew the name of her right-hand assistant.
Wanting to show appreciation for the hard work the assistant did that year, Bowen knew what to get her. The assistant collected Santas.
But a nice one could not be found within the price limit of the exchange. Gordon told Dorae to use his tools and carve one out of wood.
She used to bring her carvings to one Christmas fair each year.
Having arthritis pushed her into another medium — watercolor painting — but she continues to carve.
The fun part is the details, like creating a seam in a pair of pants, or a handkerchief hanging out of a back pocket.
"Her name is Maybelline," she said. "You know why she's Maybelline? Look at her eyelashes. These are wood chips that I re-inserted. But that's Maybelline."
Perhaps the greater joy in carving for Bowen is seeing the reactions to her work.
She said one of the greatest satisfactions she receives from art is making someone smile.
"If you can include a little whimsy in life, that makes all the difference, doesn't it? If you can make someone smile, that's one of the greatest satisfactions," said Bowen.
Meet Dorae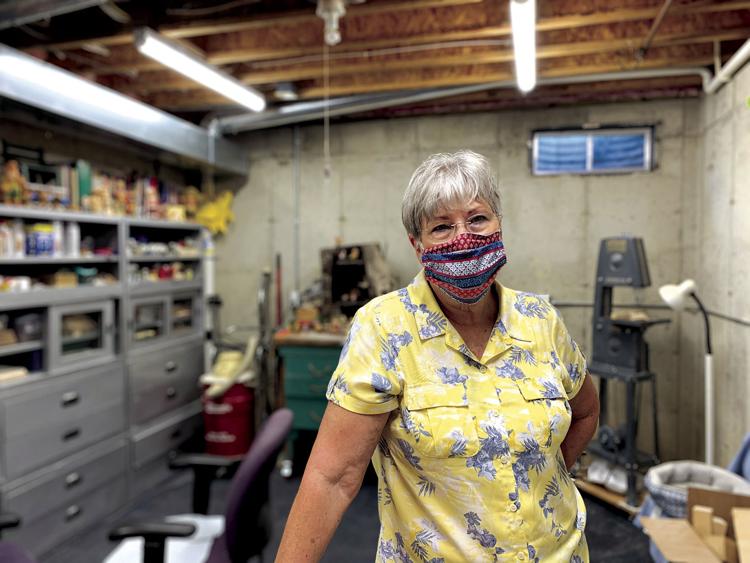 Christmas time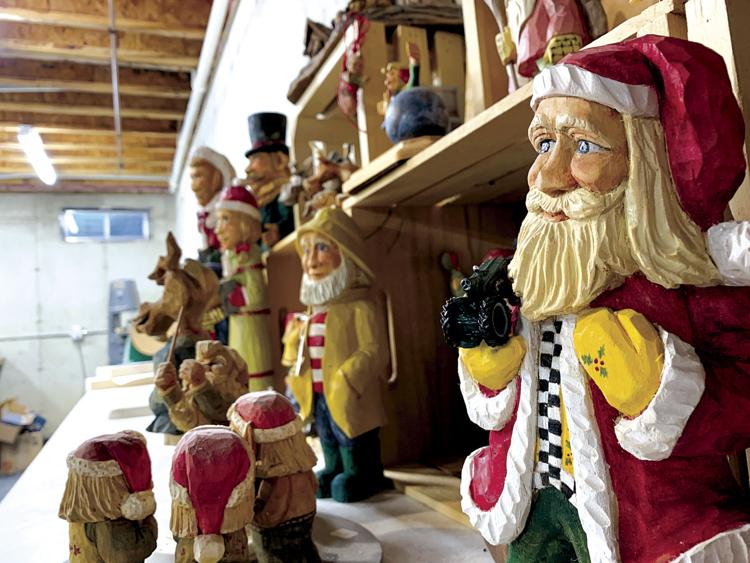 Jester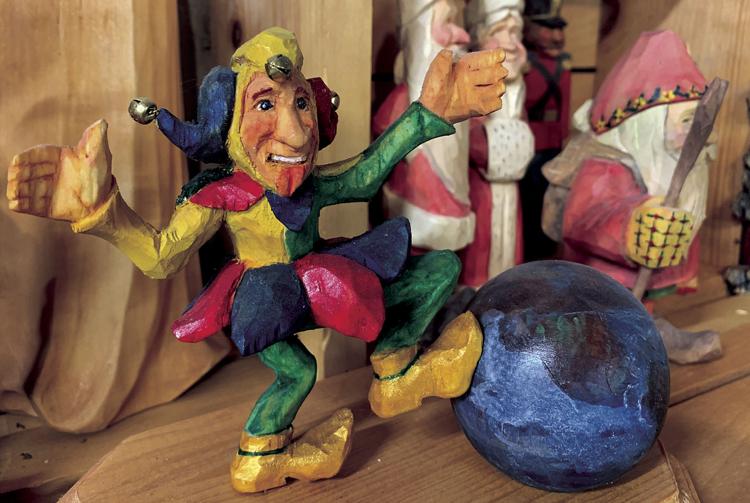 Uh oh!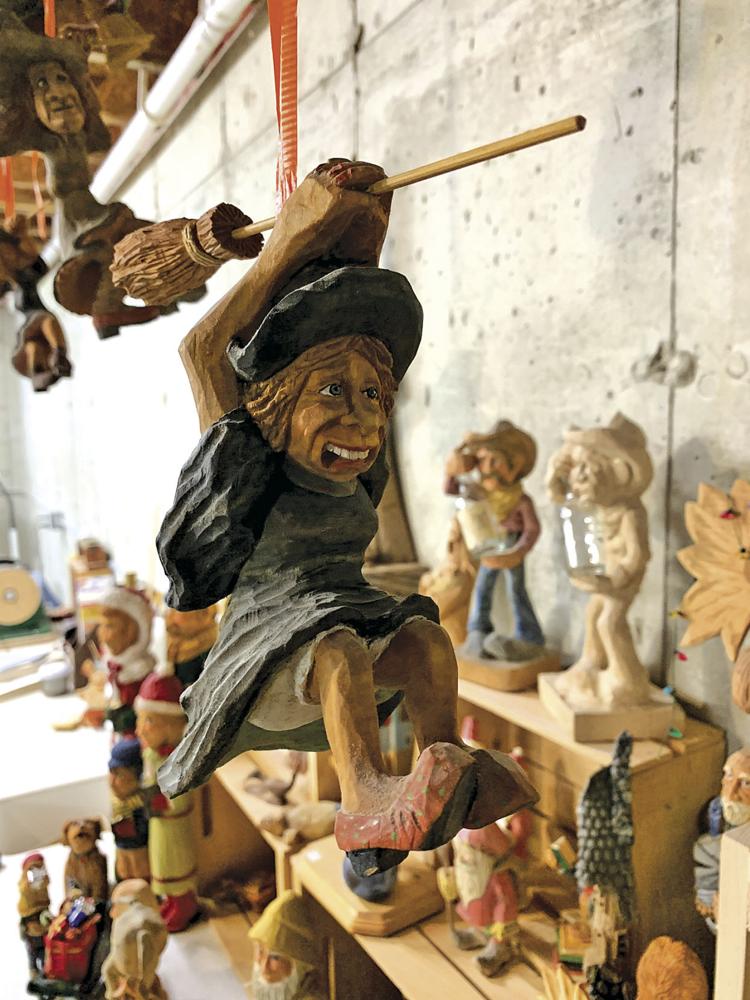 Holidays collide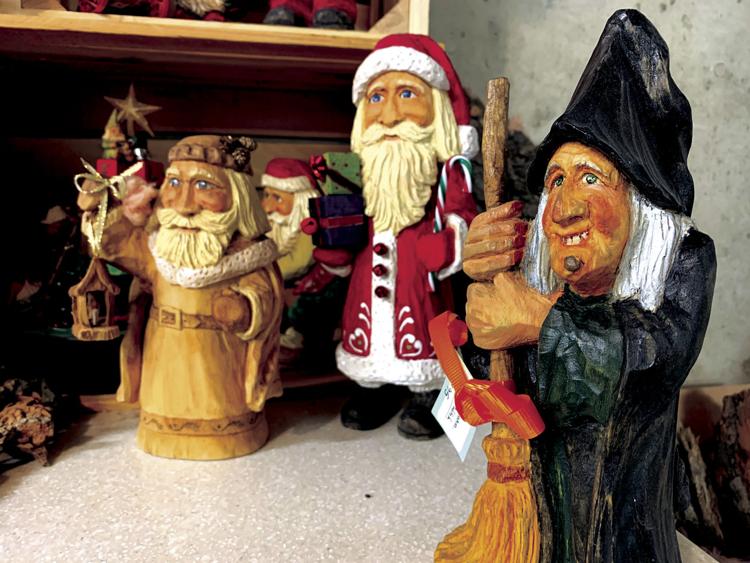 The joy is in the details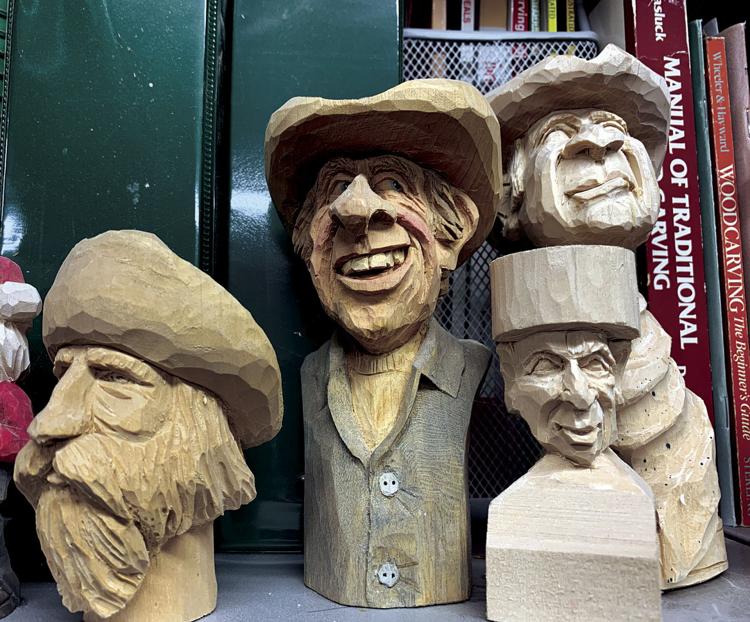 Carolers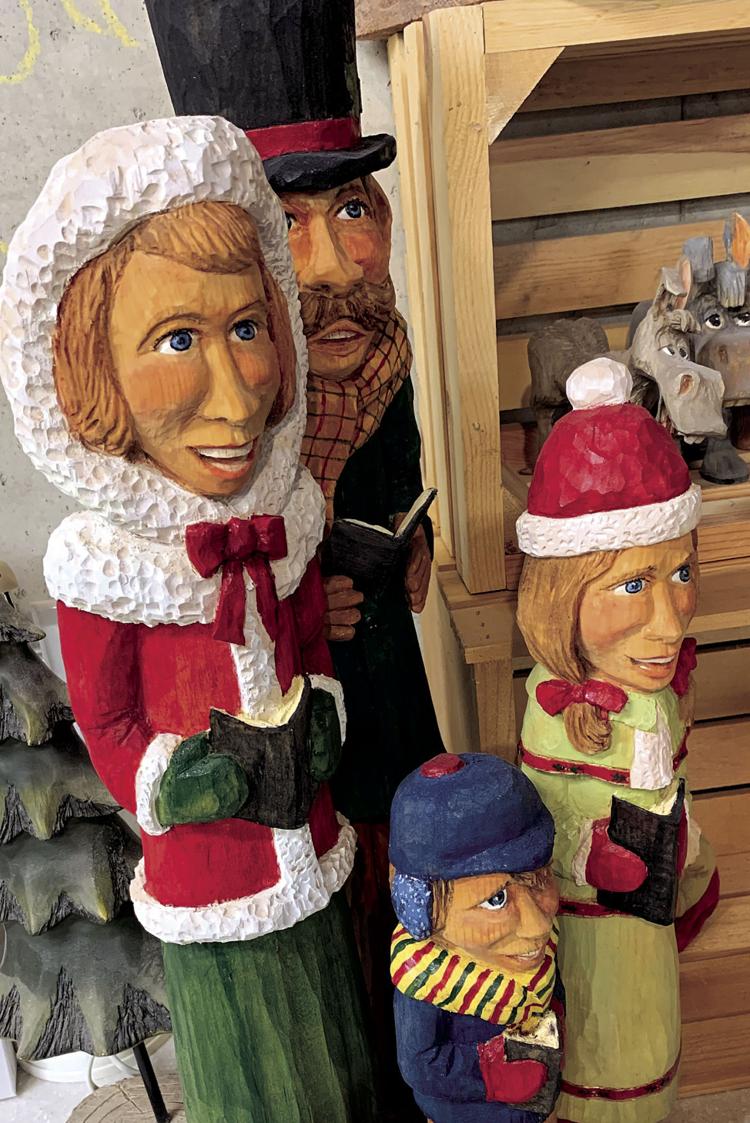 Before & after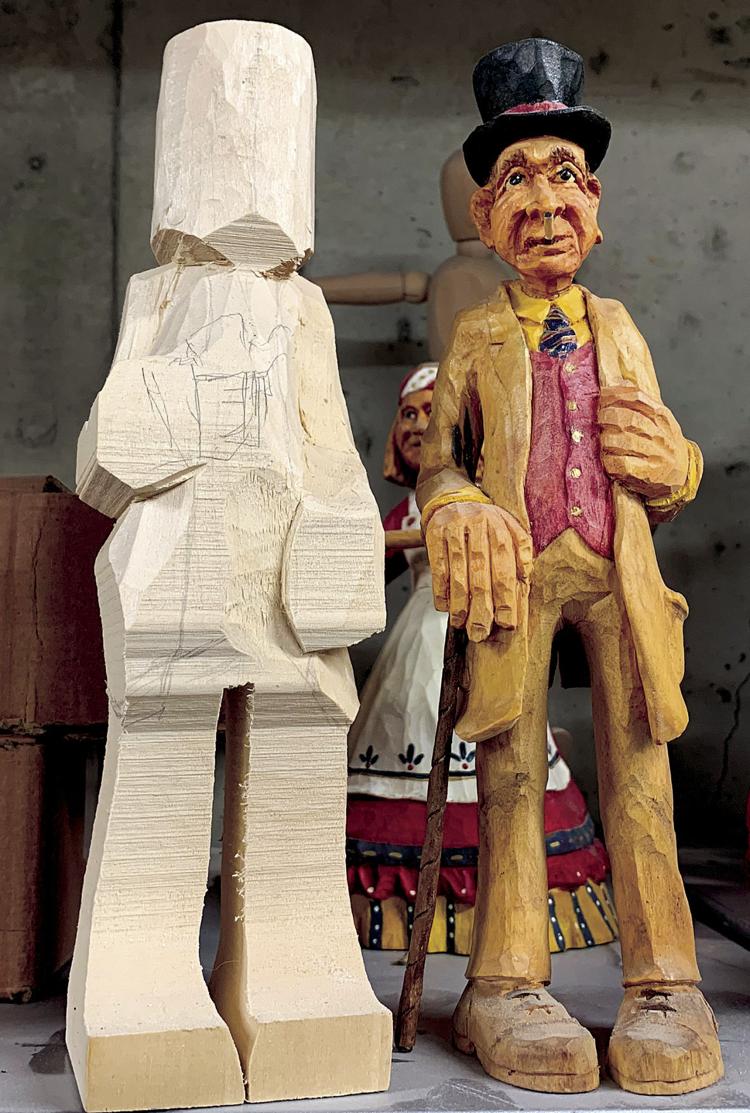 Santa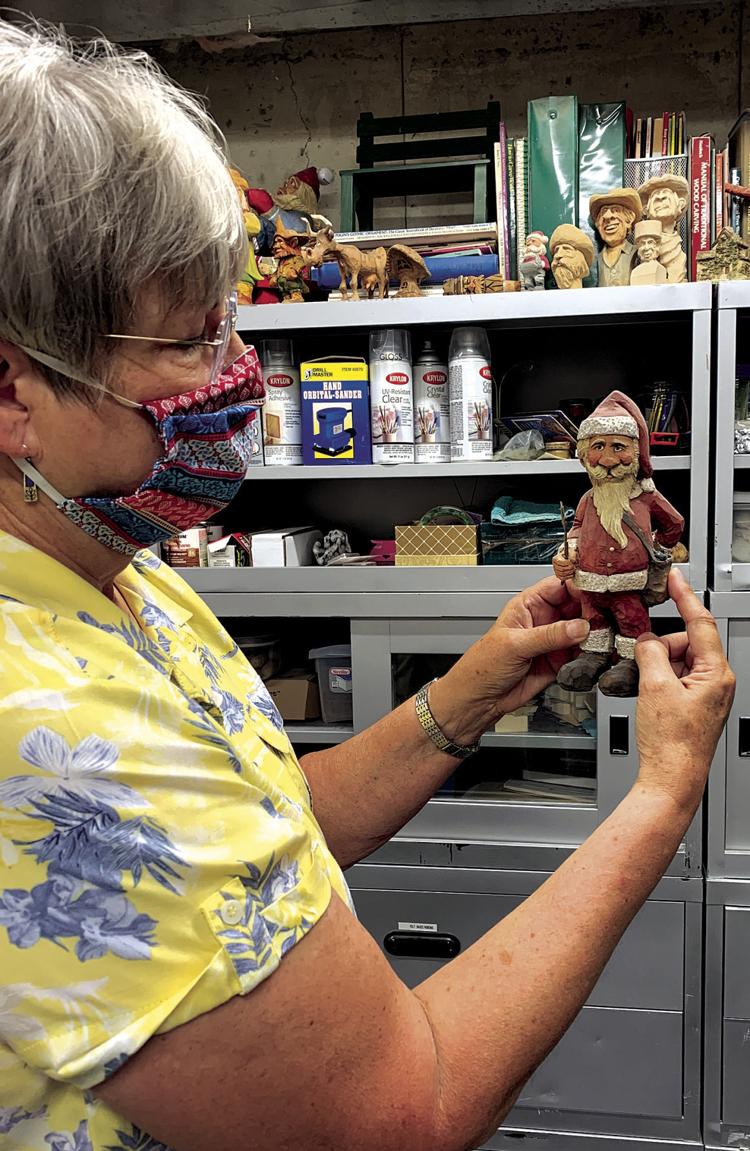 Tools of the trade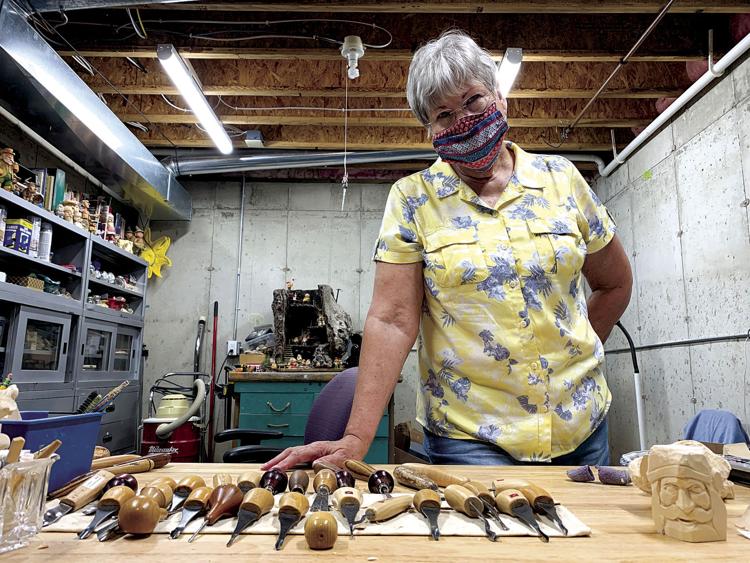 Making people smile
Cottonwood bark house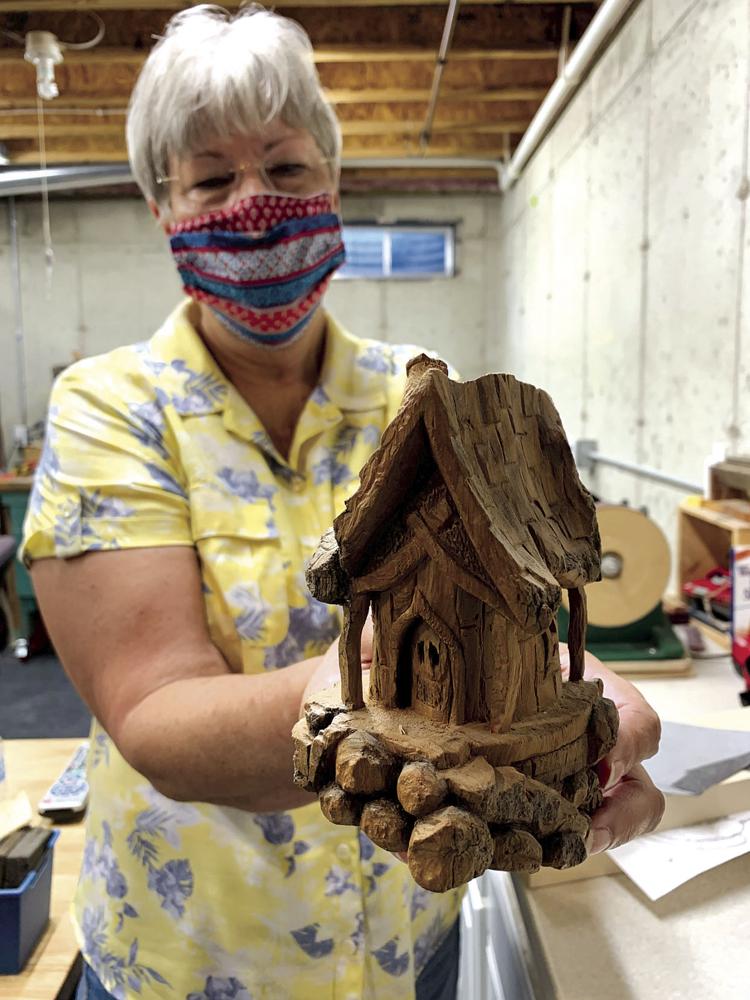 Tree stump elves
Elves in the stump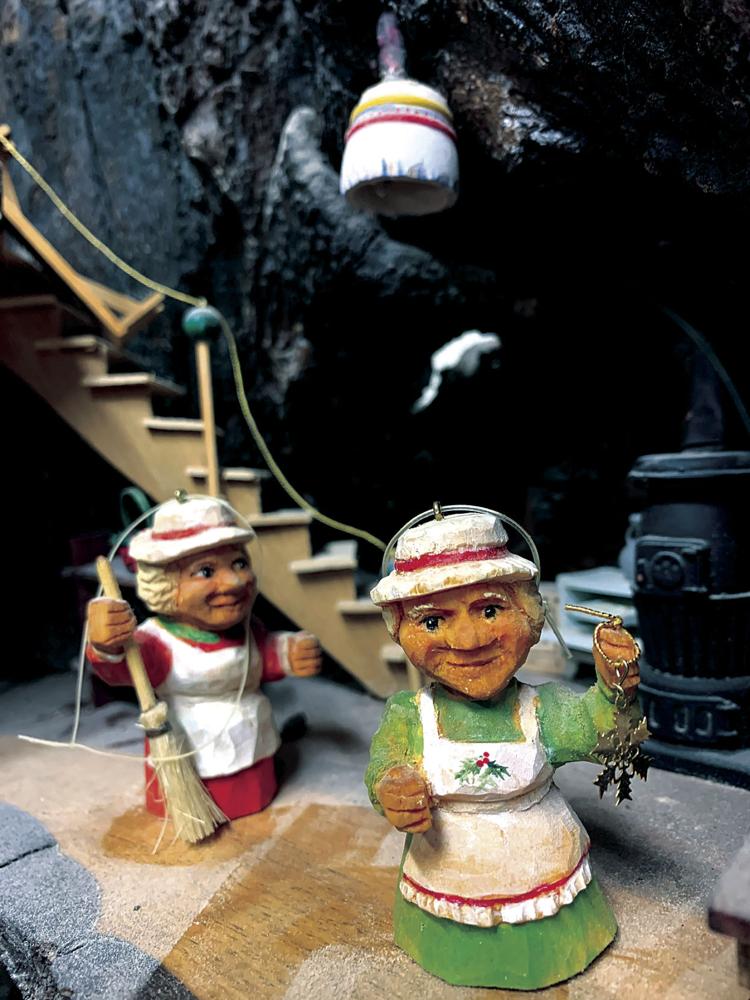 Special cargo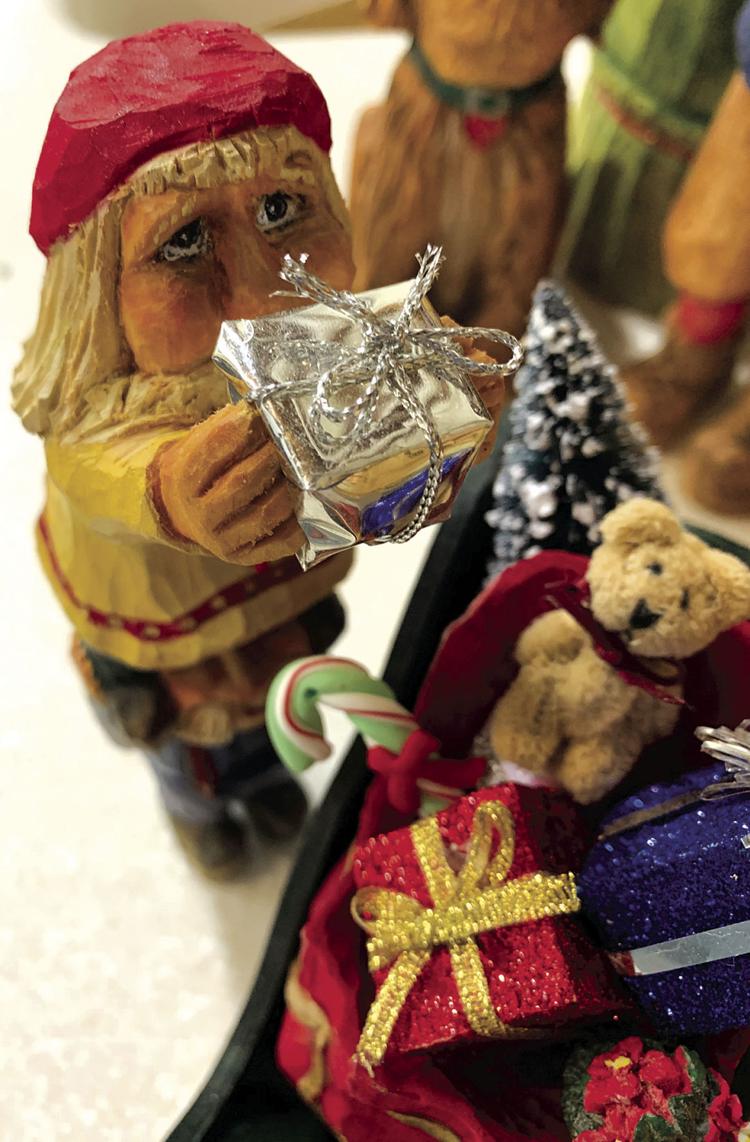 Christmas mood indicator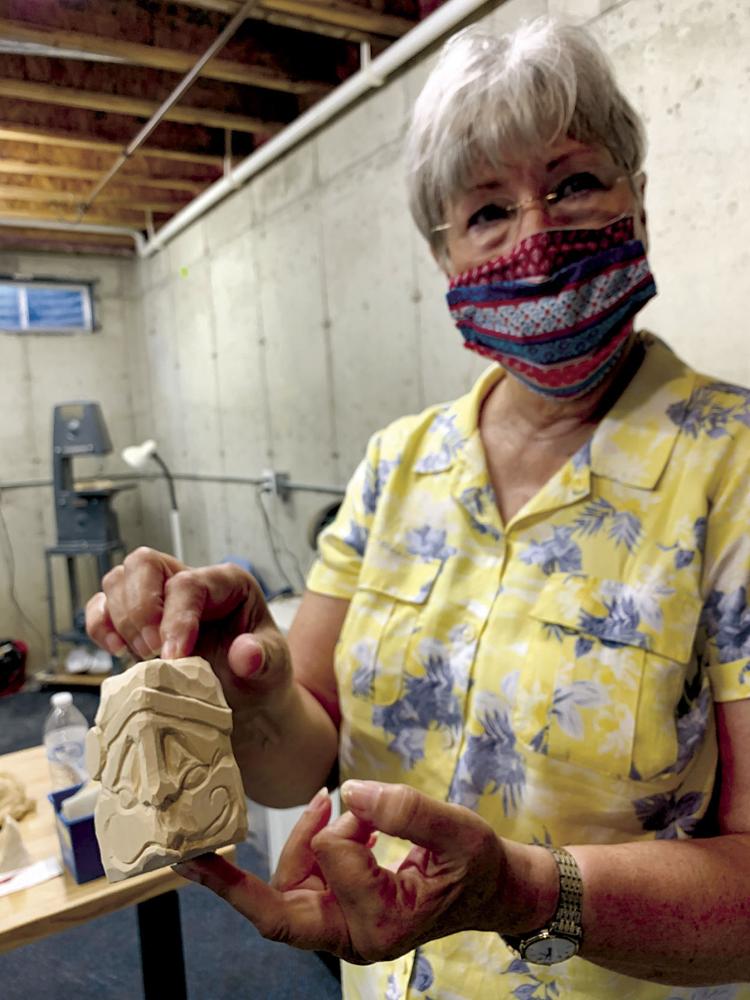 Not slowing down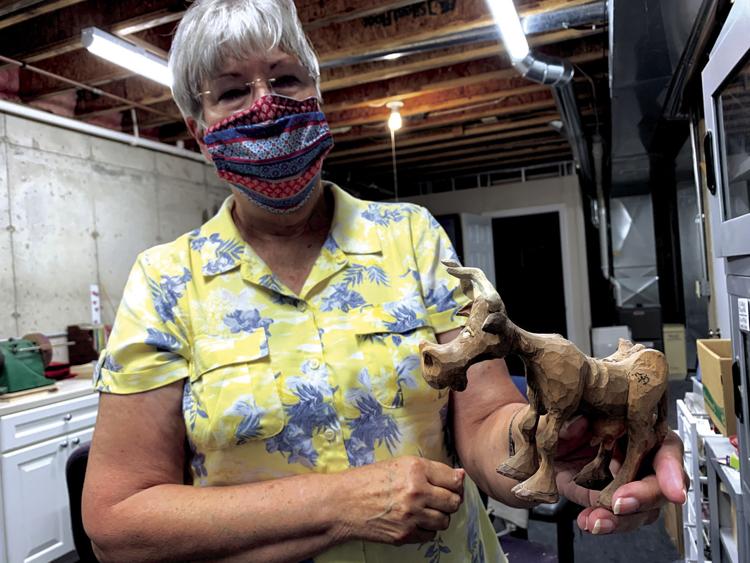 Santa vs. Grinch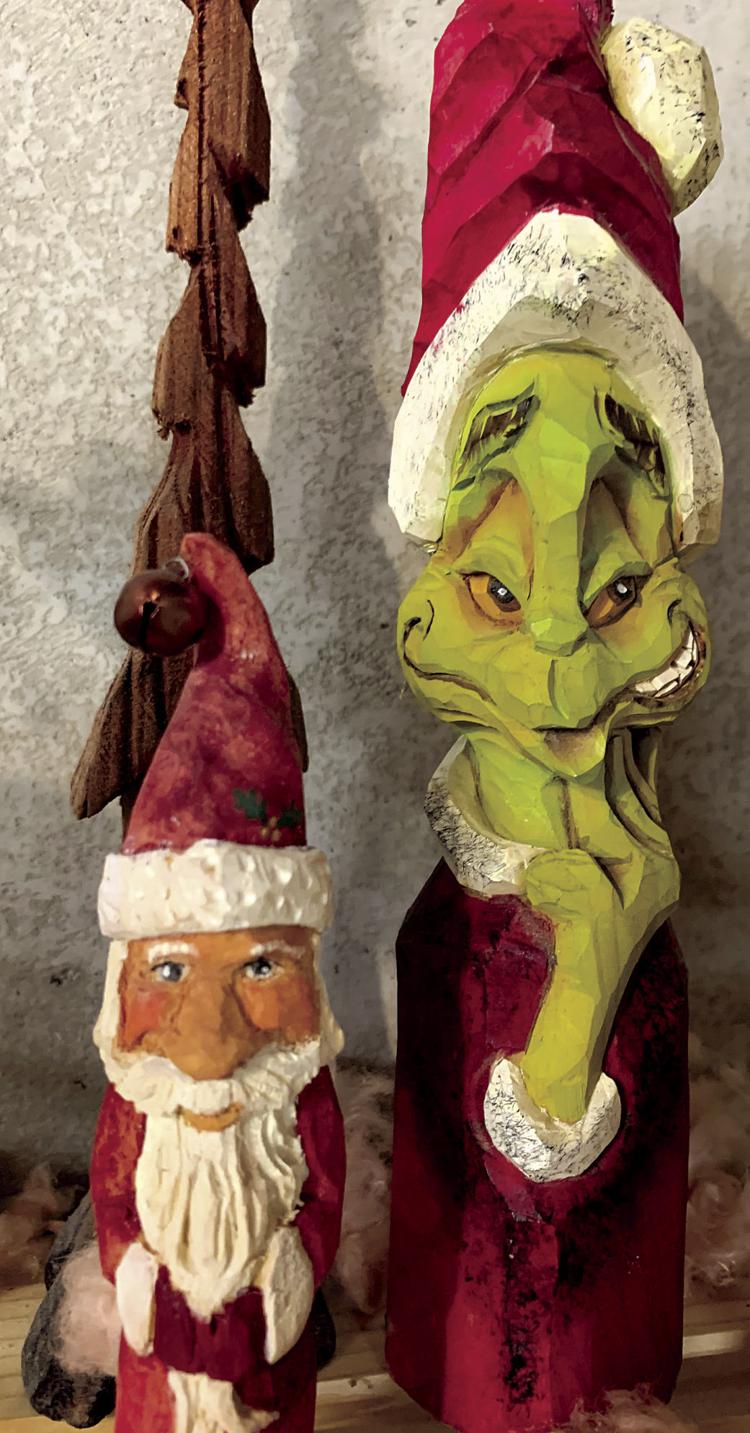 Republican & Democrat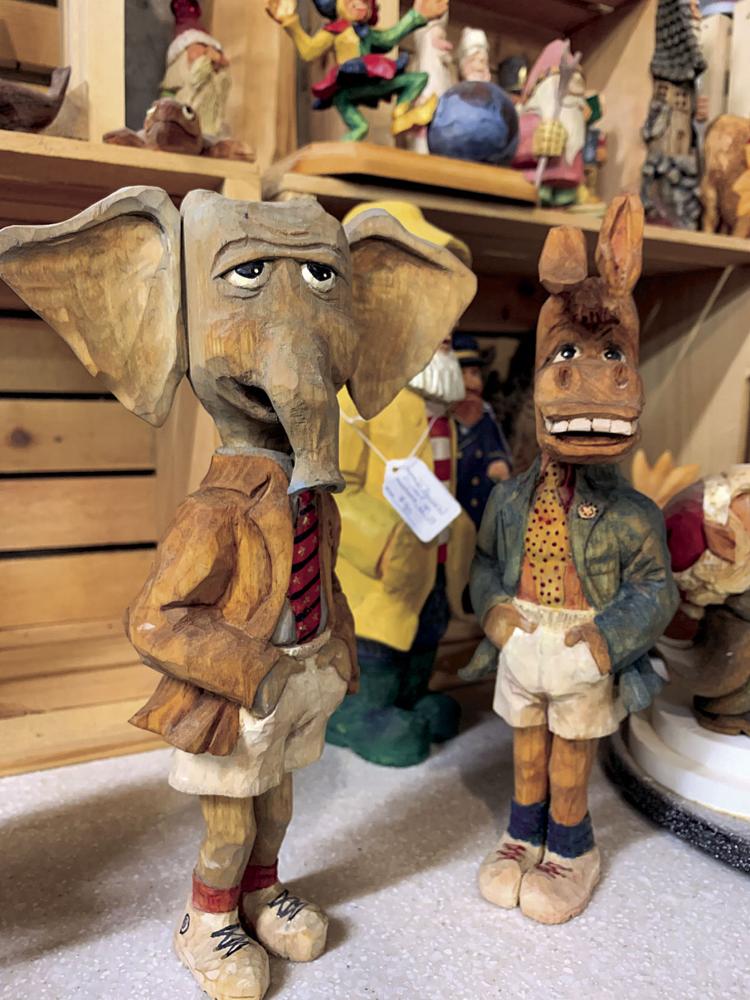 Squeezins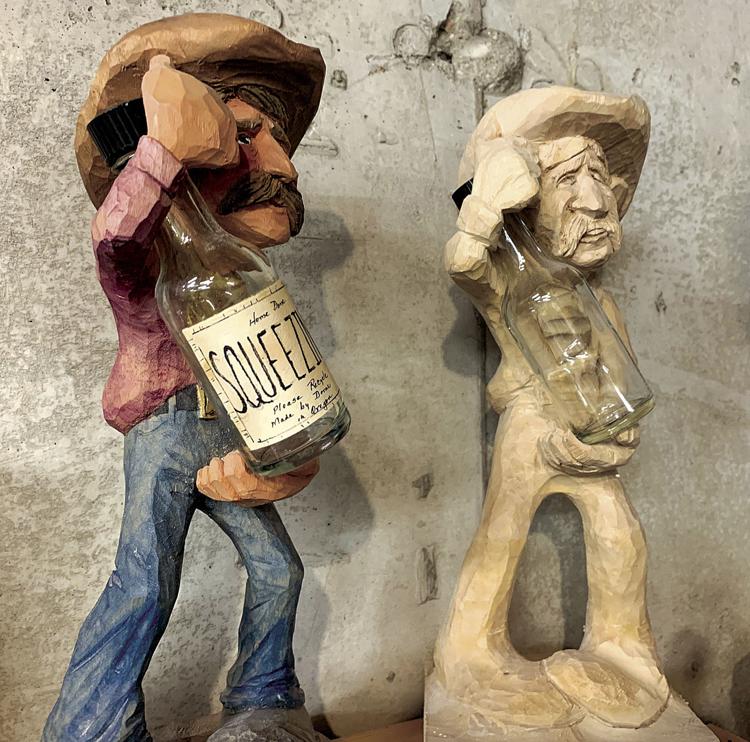 Fishing tales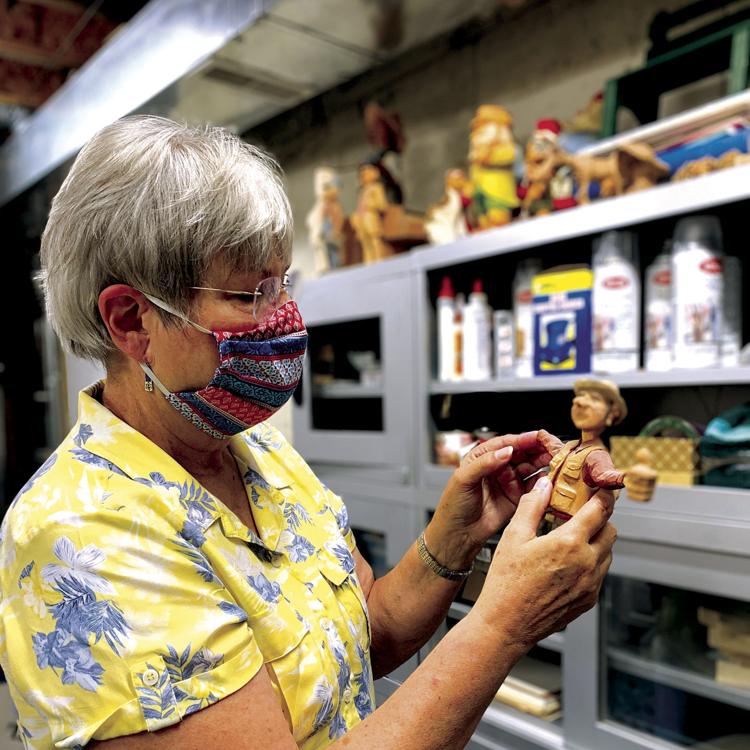 A painter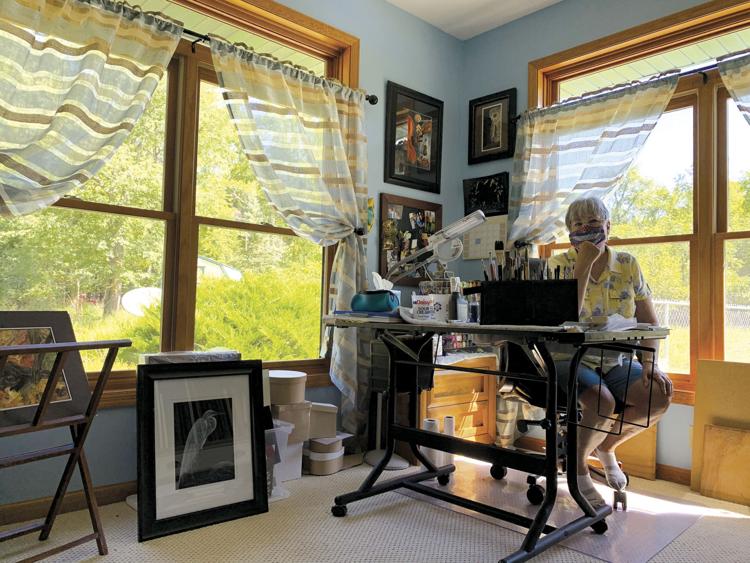 Artist of the month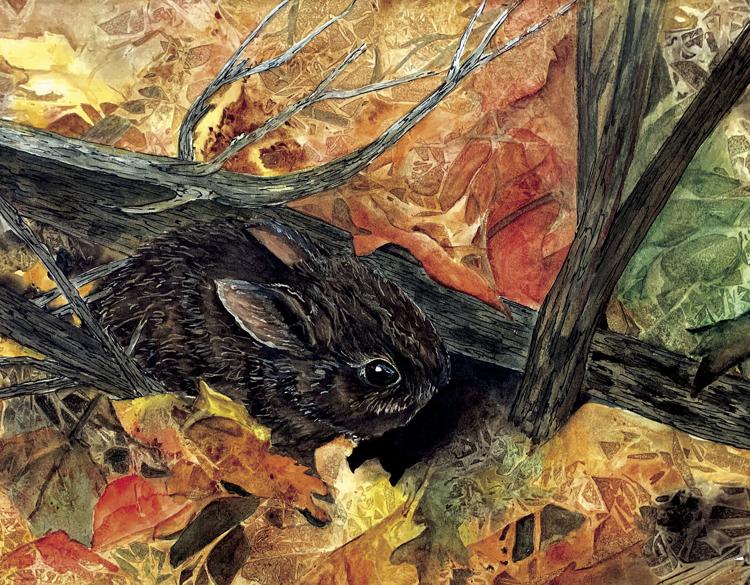 Oregon coast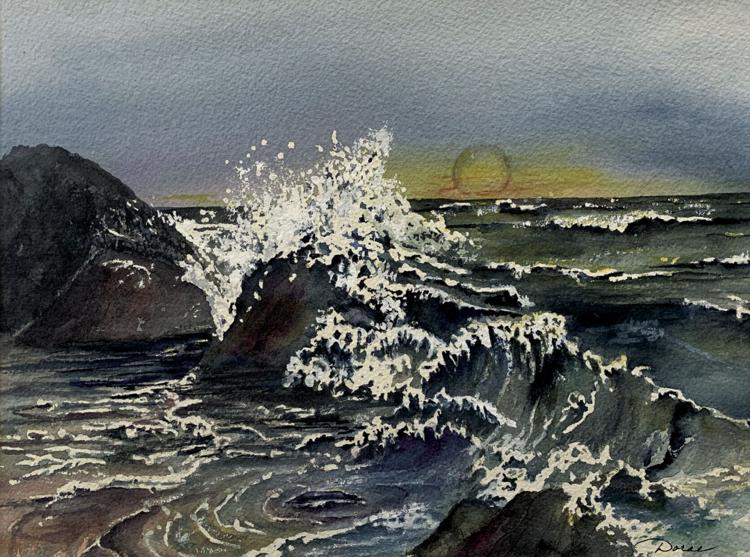 Stay up-to-date on what's happening
Receive the latest in local entertainment news in your inbox weekly!