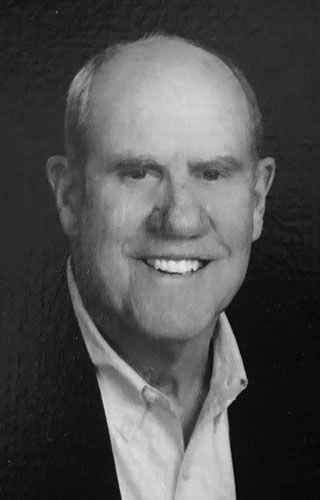 David Haines Conrad was born December 24, 1942, in Glen Ridge, New Jersey, to John and Jeanne (Smith) Conrad. He passed away July 21, 2020, at Lakeland Hospital Hospice Center, in Elkhorn, Wisconsin, after a long and courageous battle with kidney failure, COPD, and lung cancer.
Dave was a super guy who enjoyed all sports as a participant and spectator. He was an excellent golfer, bowler, basketball player, and ping pong player, participating in the Transplant Games in Madison, Wisconsin, where he placed second in the tournament. He loved boating, travel, the Cleveland Indians, The Ohio State Buckeyes, jigsaw puzzles, and crossword puzzles. He loved playing all kinds of card games on his iPad. Dave was an excellent chef, both in the kitchen and outdoors on his trusty Weber charcoal grill.
Dave loved his many friends and most of all his wonderful family. He spoiled his wife Sandi, the luckiest lady in the land. He had a long successful career in the insurance data management field, retiring in 2004 after 17 years as president/CEO of the National Independent Statistical Service in Indianapolis, Indiana.
Dave and Sandi lived in Arlington Heights, Illinois, and Carmel, Indiana, before retiring to Williams Bay, Wisconsin, in 2007. They built a beautiful house on the site of their cottage, which they had owned since 1987. Dave was active in the United Church of Christ, serving on the finance committee (chair) and as treasurer. He was also an active member of the Royal Joy Williams Questers, the Walworth County Arts Council Board, the Cedar Point Park Association Board, and the Aurora Lakeland Medical Center Foundation Board, and he had the great joy of singing with the Country Gentlemen Barbershop Chorus. He was President of the Country Gentlemen for 2 years.
Dave was a kidney transplant recipient (brother Geoffrey) for 31 years. He developed, with his wife, Sandi, G.O.A.L. (Gift of a Lifetime), a school program to educate children at an early age about the importance of organ donation.
Dave is survived by his wife Sandra (Kloss), whom he married November 20, 1976, in Wheeling, Illinois; his daughters Deborah Conrad (John Galvin) and Jennifer Conrad Seidel (Kevin) and his son Christopher Conrad (Jodi Prior); grandchildren Kate, Jackson, Matthew, Riley and Cooper; brothers John (Janet) and Geoffrey (Maureen), his uncle George Conrad, as well as many nieces, nephews, and cousins. He was preceded in death by his parents, John and Jeanne (Smith) Conrad.
Dave will be missed by his loving family and friends for his great sense of humor, his infectious laugh, his loving and caring nature, his generosity, his incredible energy, and his desire to "give back" for all his blessings through volunteering.
For Sandi, he was the love of her life, and she was so blessed to have had him with her for 43 years. She will miss his unconditional love for her, his care for her, and his protection. Life will never be the same.
Many thanks for the wonderful care from the nurses and staff at Aurora Lakeland Medical Center and Aurora at Home Hospice Care Team.
Because of the pandemic, there will be a small memorial for immediate family by Zoom. There will be a celebration of Dave's incredible life at a later date for family, extended family, and friends.
Memorial donations for Dave can be made to the following charitable organizations: Aurora Cancer Care, Southern Lakes, 252 McHenry St., Burlington, WI 53105, and Open Arms Free Clinic, P.O. 678, Elkhorn, WI 53121.
Obituaries Newsletter
Sign up to get the most recent local obituaries delivered to your inbox.