Life hacks: Flu shot advice and the power of 'I don't know'
Here are a few quick reads to help get your health, finances and family in order.
Get a flu shot, doctors say, warning that this could be a severe season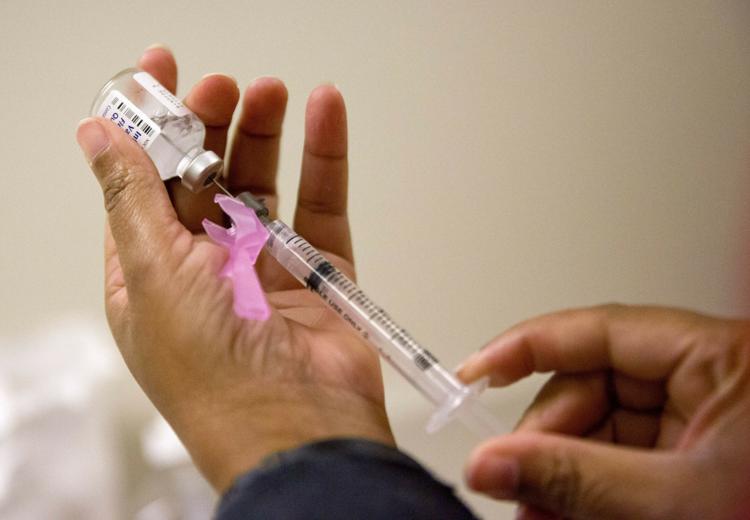 As flu cases begin to pop up, medical experts say that though it's hard to predict the severity of the upcoming season, there are indicators it could be harsh, reminiscent of the deadly influenza that spread two years ago.
Influenza patients have started to slowly trickle into doctors' offices and hospitals in recent weeks, according to tracking by the Illinois Department of Public Health and other health departments, but activity remains low, as expected for October, officials said.
But in examining this year's flu in Australia and the Southern Hemisphere, which experiences its influenza season about six months ahead of the U.S., doctors say they're bracing for a severe season and are warning patients to take precautions by getting vaccinated.
"They had a very bad season," said Dr. Sharon Welbel, director of infectious disease at Cook County Health, noting that Australia had four times as many cases as the previous five years' average, and twice as many deaths.
The predominant virus for the Southern Hemisphere was H3N2 — also blamed for the severe 2017—18 season in the U.S. that sickened 49 million people and killed nearly 80,000. The Centers for Disease Control and Prevention called it the deadliest flu season in decades.
Welbel said that while public health officials look at Australia's season to help predict what might happen in the Northern Hemisphere, it's not always accurate. She estimated that about "50 to 70% of the time we mirror what we saw in the Southern Hemisphere."
IDPH Director Dr. Ngozi Ezike said this year's flu vaccine was delayed as public health officials continued to determine which strains to include. But it's now available, and anyone who is at least 6 months old should get one by the end of October, she said. Though it's never too late, "the sooner the better."
The H3N2 strain is included in the vaccine, and that particular strain is known to be more severe, Ezike said. However, strains can mutate, so they may not match what's in the vaccine, she said, but "even if it's not a perfect match, it's going to be more protective than having nothing."
CDC officials earlier this month urged pregnant women to get a flu shot after finding in a report that most do not get vaccinated for influenza and whooping cough despite advice to do so from their doctors.
Dr. Michael Fitzgerald, a family medicine physician with DuPage Medical Group in Naperville, said that while he has yet to see a patient with the flu, "it's on our radar." Anyone who comes in with a fever, cough or sore throat is checked for flu, he added.
Because last year's flu season was more mild — especially compared with the previous year's severe one — Fitzgerald said he worries people may be complacent and skip their flu shot this year.
He said he's been proactive in spreading the word to his patients, offering them the vaccine during visits, as well as hosting separate clinics where anyone can stop in for the shot.
"Flu hurts people; it hospitalizes people, and it kills people," he said he tells his patients. With the flu shot, "really, you're preventing hospitalization and death."
By Kate Thayer, Chicago Tribune
Permission to look old, the power of 'I don't know' and other gifts I'm giving myself this birthday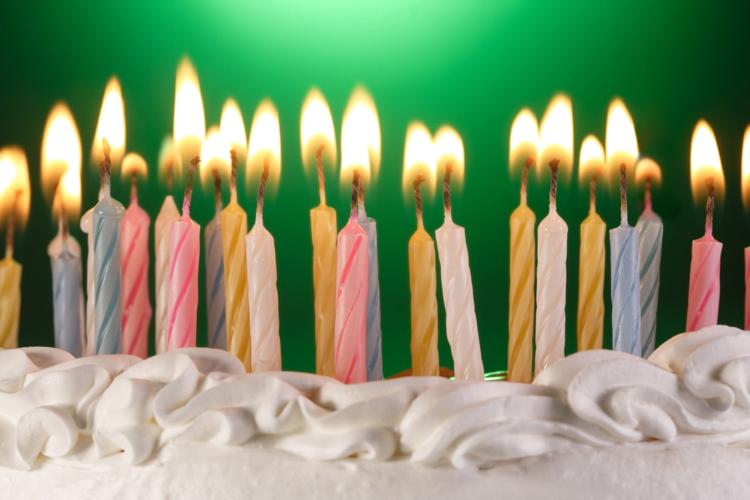 I get to turn 45 this week, which is by itself a gift.
I'm giving myself a few things to celebrate. Permission, mostly, to let go of stuff that felt as if it mattered at 25, 35, even 40. Maybe you can relate.
Forty-five is halfway to 50. Heck, 45 is halfway to 90 if we're really being honest. Here's what I'm telling myself this year.
It's OK to look like yourself. Over the summer, I was diagnosed with periorbital cellulitis, which is a scary sounding infection around your eyes. I stopped wearing makeup for a long time, even after my eyes healed, because they were extra-sensitive and I was afraid of reinfecting them.
A few things happened. One, I could get out the door a lot faster. Two, I could laugh till my eyes watered or cry spontaneously (two things I'm quite good at) and never worry about my mascara running. Three — and this is the big one — I looked tired and old in photos.
We'd be out with friends and someone would snap a photo and put it on Facebook, and I'd think, "Man. I look tired and old." But here's a thing I realized: I am! Tired and old!
So many of the faces on my social media feeds have been filtered with that flawless, airbrushed finish. They look like lives rendered in chalk rather than real, human faces that age and sweat and break out. So many of the smiles tiptoe right up to the point of happy, but not too happy, because too happy makes your cheeks wrinkle or your chin double or your eyes crinkle. So many of the faces look a little bit like the people I know, but not really like the people I know look in person.
I get it. It's a cruel, judgmental world. There's a lot of pressure, especially on women, to look ageless and polished. My picture appears with every one of my columns. My looks get commented on far more than anything I say or write.
But I also think it's OK to look exactly the way you are: Tired. Old. Scarred. Happy. Human.
There's freedom in "I don't know." I recently embraced "I don't know," and it changed my life.
Something big shifts when you let go of the need to look as if you know everything. You shake off the fear of being revealed as an impostor. Your shoulders relax. You engage in conversations that used to seem intimidating because, in a pinch, you can always fall back on "I don't know."
I don't know that word. What does it mean? I don't know that author. What did she write? I don't know that theory. Can you explain it to me? I don't know, I don't know, I don't know.
You learn more. You grow more. You probably, without even realizing, inspire people around you to do the same.
There's wisdom in screwing up. I interviewed Cheryl Strayed in September, before she came to town to see the premiere of "Tiny Beautiful Things," the Victory Gardens show based on a collection of Strayed's "Dear Sugar" advice columns.
Strayed, if you don't know her work, has written beautifully and vulnerably about her heroin addiction, her divorce and her stumbles, in and among her triumphs. I asked her if it was intimidating to admit her own missteps and regrets even as she doled out advice to other people.
"I think so much about emotional well-being is about revising the false narratives we've received," she said. "And one is this notion that there are perfect people. People who haven't made mistakes or had regrets or done the wrong thing and then learned to do the right thing."
And if we happened to stumble upon such a person, she said, would we really want her advice?
"What would they have to teach us?" she said. "We learn so much from what we've done wrong."
You get to look up. Look up from your work. Look up from your screen. Look up from your schedule of tasks that feels all-consuming, that feels as if it will crumble to the ground if you so much as glance away for a moment. Up and out is where it's at.
Up at the sky, which never disappoints. Out at the people around you, some of whom live at your same, frantic pace, some of whom would kill for one or two of the things occupying your time and your head space.
Your work and your screen and your schedule will wait. Up and out centers you and reminds you that you're part of something big and beautiful and fleeting.
By Heidi Stevens, Chicago Tribune
Join the Heidi Stevens Balancing Act Facebook group, where she continues the conversation around her columns and hosts occasional live chats. hstevens@chicagotribune.com; Twitter @heidistevens13
Distributed by Tribune Content Agency, LLC.
Learn from my best and worst financial decisions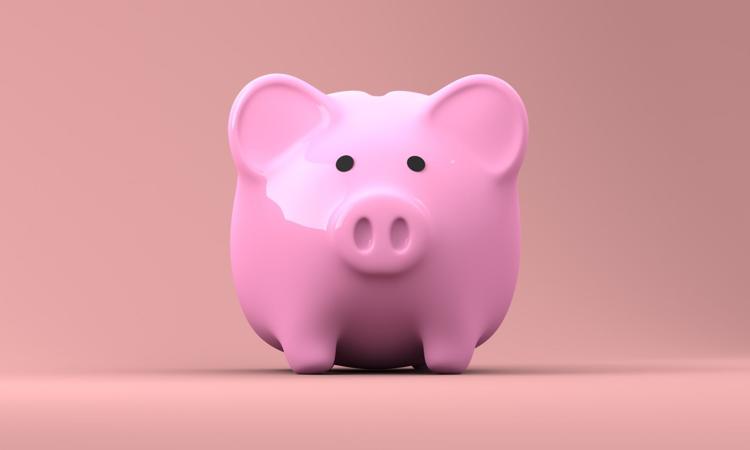 You can probably picture it: Sitting at the kitchen table or in the home office alone or with a partner or child to do the often-dreaded financial review: Going through your all of your bills and accounts and seeing where you stand.
Sometimes these financial regroups are a relief — thinking, finally, that debt is gone, or our investments are paying off. Other times, however, these sit-downs cause stress and regret around spending or other financial choices.
We've all been there. Although these sit-downs are sometimes painful, they are essential — especially considering the price of not doing them.
According to new data from New York Life, nearly 70% of Americans have made a financial decision they regret*. Americans' most common financial regrets include:
Not starting to save for retirement.
Relying too much on their credit cards.
And neglecting to keep up an adequate emergency fund.
Survey respondents said their average recovery from these financial faux pas took anywhere from a couple of years to nearly two decades. For example, the average age at which Americans say they erred in terms of saving for retirement is 34, and the average age of recovery for that problem is 45. The good news is that Americans can and are recovering from their financial regrets, but the impacts can reverberate well into their financial futures.
Seeing this data has called to mind my own financial choices over the years that taught me (sometimes the hard way) how to approach a protection-first financial plan.
The highlight reels
My best financial decision, perhaps ironically, came well before I even considered leaving the restaurant business and becoming a life insurance agent. That decision? Purchasing a whole life insurance policy. This was the first financial product I owned after establishing a savings account. Over the years, this policy has reassured me that my family is protected should the worst happen while also providing emergency cash, acting as a revolving line of credit of sorts by accessing the policy's cash value (accessing the cash value reduce both death benefit and available cash surrender value). It became the backbone of my financial decisions and gave me peace of mind to make other choices, knowing I had protection in place.
Another money move I'm proud of is maximizing my company's 401(k) match. This is vital to growing my retirement fund and receiving the full benefit afforded to me as an employee. Retirement planning can be nuanced and overwhelming at times, but the 401(k) benefit is something to be put to use as an earned part of employment; don't miss the opportunity to receive "free" money through a company match to have on your side for the years ahead.
My 'ouch' moment and road to recovery
Hindsight being 20/20, my personal worst decision was purchasing a home in 2007 ... only to lose a significant amount of its value in 2008 when financial markets took a nosedive. Of course, I realize that you can't predict the future in order to time any purchase — whether it's stocks or a home — but it's impossible not to regret my purchase for a couple of reasons:
I missed the boat on a HELOC. In the past when purchasing a home, I would typically open a home equity line of credit shortly after closing to have available in the event of an emergency. However, in this case I had forgotten to do so, and then no longer qualified once the real estate market crashed. This could have been a helpful way to lock in rates and options in case of an emergency, like the recession.
I went by conventional wisdom without questioning it. The conventional advice I'd always received about a home being the "safest" asset and being better than renting didn't quite ring true, teaching me a big lesson. I'm not alone — 42% of adults surveyed also received the advice that "buying a home is better than renting." That's not always the case. As a result, I now take real estate in stride, considering the personal impact and economic environment before making any big decisions. (And when I recently relocated to New York, I opted to rent an apartment while I adjust to my new routine and surroundings.)
When it comes to financial decisions, I've learned it's important to focus on the progress made to overcome the less-than-desirable outcomes. By tracking my victories (big and small) and learning from the more challenging situations, I have a better understanding of what I'd like the financial future for myself and my family to reflect and how to achieve it.
For those Americans identifying and overcoming their financial regrets, having a plan in place will enable them to get back on track faster and with a clearer picture of their goals in mind. Don't be afraid to get started. You're not alone, and there are many resources available to help guide you along the way.
—Brian G. Madgett, CLU®, ChFC®, Head of Consumer Education, New York Life
*These findings are from a poll conducted by Morning Consult on behalf of New York Life from August 20-24, 2019, among a national sample of 2200 adults. The interviews were conducted online and the data were weighted to approximate a target sample of adults based on age, race/ethnicity, gender, educational attainment and region. Results from the full survey have a margin of error of plus or minus 2 percentage points.
This article is for informational purposes only and should not be construed as an investment advice or solicitation for any particular financial instrument.
Comments are suppressed in compliance with industry guidelines. Click here to learn more and read more articles from the author.
This article was written by and presents the views of our contributing adviser, not the Kiplinger editorial staff. You can check adviser records with the SEC or with FINRA.
Copyright 2019 The Kiplinger Washington Editors
All contents copyright 2019 The Kiplinger Washington Editors, Inc. Distributed by Tribune Content Agency, LLC
'So many witches': A craving for magic and meaning drives millennials to spells, potions and rituals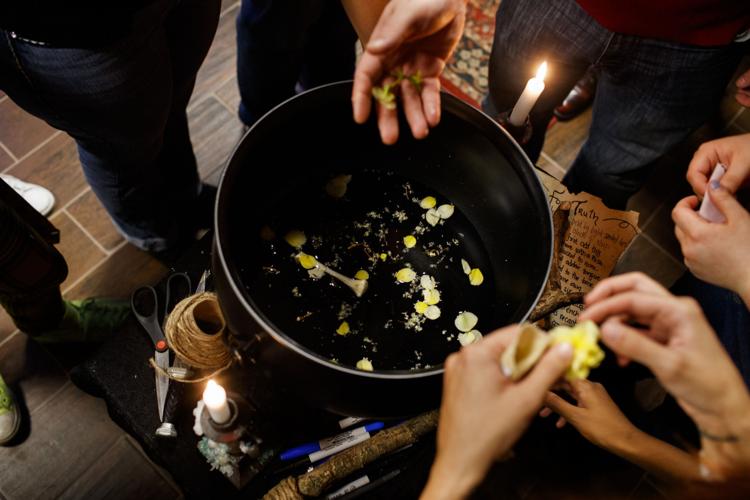 Standing hand in hand, they form a circle around a smooth black cauldron, their voices setting off a reverberating hum as they repeat, "Omm, omm, ommm."
Outside twilight is approaching. Inside the Malliway Bros. witchcraft shop in Rogers Park, candles burn and the smell of incense hangs in the air.
Twenty—one guests, some seasoned witches, some curious newcomers, have gathered for a full moon ritual in which Latin chants will be recited and lavender—scented "moon oil" applied. Friends and strangers will bond, flower petals will swirl alongside spit and parchment, and a big plume of filmy whiteness — smoke? steam? something else? — will rise from the cauldron right on cue.
The ritual, performed earlier this month by the Witches' Conclave Meetup, is one of many signs that witchcraft is gaining ground, particularly among millennials in search of spiritual meaning. The Witches' Conclave, which has grown to more than 430 members in less than three years, moved to a larger space in August after its workshops repeatedly sold out overnight.
The hashtag #witchesofinstagram is tearing through social media, with over 3.4 million posts. Witchcraft provisions are available via a range of monthly subscription boxes, which have in turn spawned YouTube unboxing videos garnering as many as 190,000 views.
The phenomenon has reached as far as Urban Outfitters, which sells Ritual Kits with sage, "love oil" and crystals.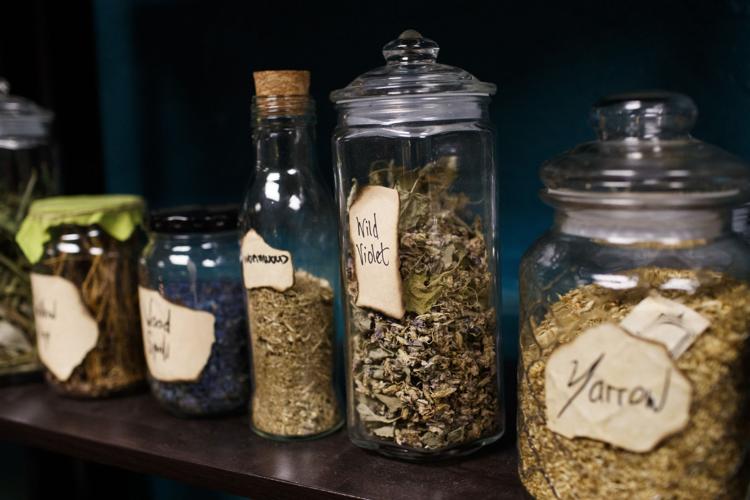 "There is absolutely a rise in interest, mostly among young people," said Amara Dulcis, manager of Chicago's Alchemy Arts occult supply store.
The newcomers go for spells, crystals and forms of divination such as tarot cards, said Dulcis. They're not typically involved in religions like Wicca, but they may be interested in learning about them.
The Rogers Park ritual drew a casually dressed crowd with a smattering of nose rings and irreverent T—shirts: "Please don't touch me, I'm a service dog."
"I saw this event on Meetup, and I'm like, 'Why not?' I've always been interested," said Elena Ivanovska, 30, who was visiting from Phoenix, where she works in finance.
Ivanovska said she already does moon—related meditations and wanted to learn more about the moon's power.
Marty Severino, 25, of Niles, said he started reading up on witchcraft after a friend lent him some books. Today, he considers himself a witch but one who practices independently, without a coven or a priest.
"I think there's just so much hopelessness in the country right now, with the political climate, that people are trying to reach out to something," Severino said. "People are trying to regain some sort of power within themselves when they have no power in their environment."
Experts offered many reasons for the popularity of witchcraft among young people, including that it's a very customizable experience; it values sex, the human body and the natural world; and it's free from the male power structures that frustrate many women and LGBTQ people.
Pam Grossman, author of "Waking the Witch: Reflections on Women, Magic and Power," also points to the hands—on, DIY aspect of witchcraft.
"The more digital we are, the more we long for sensory experiences," she said.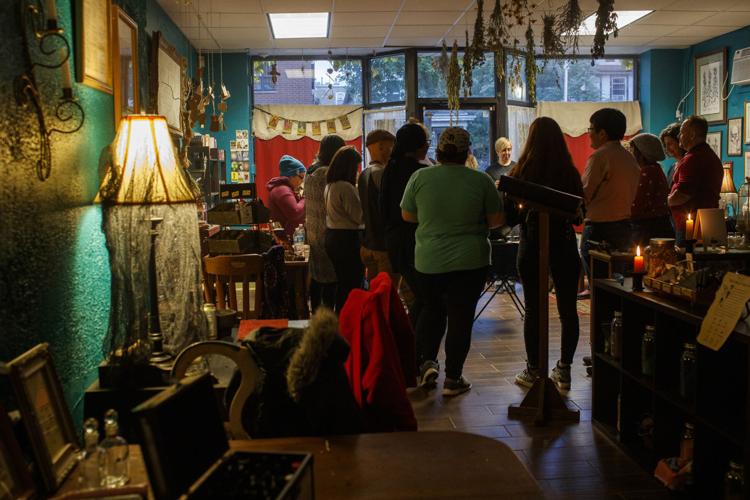 "Witchcraft is so super—sensory. Not only is it honoring nature and the body, but there are beautiful objects, and candles and this really creative experience that you're having because you're crafting your altar. Many of us use tools like tarot cards and beautiful flowers. It's a really lush experience that is very tactile and just aesthetically stimulating."
Blake and Wycke Malliway, the brothers behind the witchcraft store and the full moon ritual, said they worried that neighbors at their last location, a cheerful red brick apartment building in East Rogers Park, would be uncomfortable with their witchcraft.
The Malliways were highly secretive at first, but eventually they did put up a "Witches' Conclave" sign, and a funny thing happened: People in the building just kept stopping by, offering supplies such as herbs, incense and twine.
"There were so many witches in the building," Wycke, 28, recalled.
"It just blew our minds," said Blake, 29.
Grossman said that every wave of feminism has been accompanied by new interest in witches. In the 19th century, writers started re—examining witch trials and romanticizing the accused.
Second Wave feminists used witch iconography, and a group named Women's International Terrorist Conspiracy from Hell (W.I.T.C.H.) famously put a hex on the New York Stock Exchange. Today, Grossman said, opposition to President Donald Trump's presidency has inspired women to seek out witch—dominated spiritual spaces where they feel safe and empowered.
At Malliway Bros. Spells, Charms, & Potions, jade green walls, high ceilings and feather—trimmed lamps create a Victorian backdrop for an array of treasures, tools and curiosities. Glass bottles hold spell oils with labels like "psychic" and "love," while a bin displays well—preserved deer hooves. There are pentacles in wood and metal, occult books, and a delicate little rat skull labeled "ethically sourced."
Blake is dressed all in blue for the full moon ritual, with a wedge of straight brown hair standing up at a gravity—defying angle. Wycke, in contrast, wears a purple shirt, a bow tie, neon high—tops and orange plaid pants. His hair falls in blond waves around his ears.
But if they're a visual study in contrasts, both Malliways are warm, engaging and quick with a quip. They start the meetup with introductions, in which everyone says his or her favorite horror movie, and the crowd is quick to jump in, embracing unusual choices.
The ritual involves writing down a question on a little piece of paper: something participants want to know the truth about. Blake sprinkles the pieces of paper with a mysterious gray powder, and each person wraps his or her paper in parchment, before submerging it in a cauldron containing flower petals, botanicals, spit and human hair.
When the ritual ends, the participants snack on Oreos and rice crackers. The mood is upbeat, with several people saying that public interest in witchcraft still hadn't peaked.
People are raising their kids as second—generation witches, Severino says: "It's not weird. It's just their lives."
In her signoff for her podcast, Grossman takes that logic one step further.
"Witches," she says, "are the future."
By Nara Schoenberg, Chicago Tribune