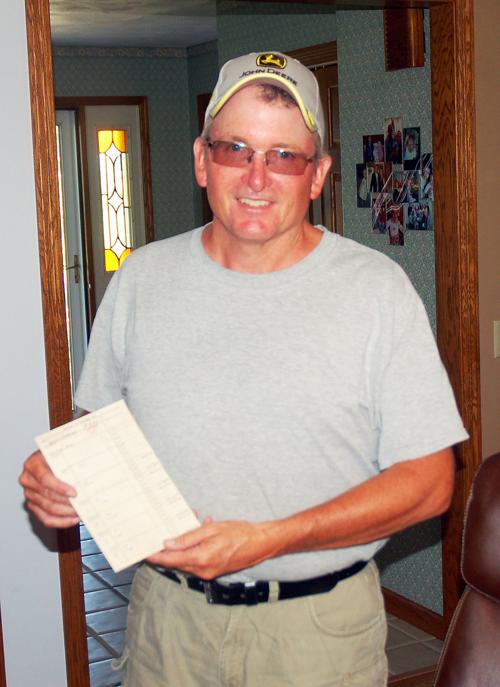 WILLIAMS BAY – For 34 years, Jerry Mehring made sure the village's water was running, its sewers were clean, and its streets were cleared of snow.
He and his crew of four other public works employees worked quietly and efficiently.
Mehring said little during Williams Bay Village Board meetings, but was always ready with an answer when questioned by board members.
"The biggest thing is keeping low-key," said Mehring, 55, who retired July 5. "Do your job well so nobody notices."
He was so low-key, he almost did not show for the farewell luncheon the village threw for him.
The village gave Mehring a clock as a retirement gift, which now sits in a place of honor on a shelf in Mehring's home near Elkhorn.
Village President Bill Duncan said Mehring was always ready to respond as the village's public works director, whether in rain, snow or ice.
"He was a huge asset for the village," Duncan said. "We definitely will miss him."
He was appointed streets department director, later changed to public works director, in 1993.
Since then, he has worked under six village presidents: LaMarr Lundberg, Harold Friestad, Marianne Klemke, Don Weyhrauch, John Marra and Duncan.
Mehring said he told his four-man public works crew not to expect any praise for work done well.
"You aren't going to get complimented, but if you get complaints, something is wrong," he said.
Mehring described public works as water sewer, streets, parks and buildings. He added: "It's anything else no one wants to do."
As far as past village presidents are concerned, there were no complaints and there have been plenty of compliments.
Lundberg, who was village president in the early 1990s, said he promoted Mehring to department head because he was competent, efficient and a hard worker.
"I promoted him because he was good," Lundberg said. "Jerry has been a fantastic employee. He knew what he was doing."
Marra was equally complimentary.
"Jerry was the best of the best," Marra said. "He was totally devoted to his job. He did me proud."
Marra said he appreciated Mehring's selflessness and dedication.
It did not matter if snow started falling at 4 a.m. Mehring would be out with a plow, Marra said. And later in the evening, he would come back to make sure the streets were plowed and safe.
"No matter what happened, Jerry was on top of it," Marra said.
Mehring worked the longest under Weyhrauch, who was village president for five terms.
Weyhrauch said Mehring had a great relationship with residents. They would call with complaints, and some would be angry. Without raising his voice or getting angry, Mehring would handle the complaint in a way that satisfied the callers.
Mehring also saved the village money with his judicious purchase of equipment, buying trucks that ran on diesel instead of gas, to save money.
He also convinced the village to install fiberglass linings in the sewers which allows the village to repair the sewer lines without digging up the road.
"He was always ahead of the job," Weyhrauch said. "He needs a big pat on the back, because he's done a great job."
Mehring trained his successor, Wayne Edwards, who worked in the public works department for 12 years.
Mehring said he started with the village in 1984 when he landed a part-time job installing water meters. Before that, he worked at a dairy farm.
Mehring said he enjoyed working for the village.
"I never dreaded going back to work," he said. "If I took a week of vacation, I was more than ready to go back to work."
Things have changed over the past 34 years.
Since he started with the village, Williams Bay has experienced residential growth, particularly along Theatre Road.
Mehring said he believes this was right year for him to retire.
Last year, he and his wife, Janeen, went to Arizona for two weeks. They went on a nine-mile hike.
"At the end of that hike, we felt great," he said.
But, he said, they realized that they had better retire now, while they are still young and healthy.
Last year, the couple bought a 2012 Mercedes-Benz camper.
"We want to take that thing," he said, "and do as many national parks as we can do."