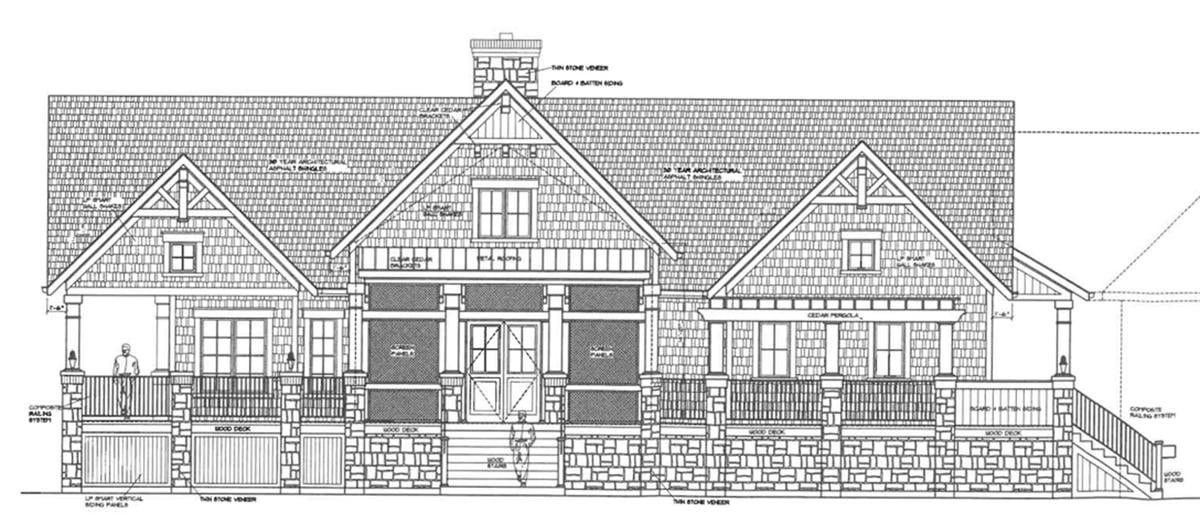 LINN — Residents of a new subdivision under development on Lake Geneva's east side could enjoy a special perk — a recreational lodge more than a mile away near the shores of Geneva Lake.
Fairwyn Ltd., developer of the subdivision known as Symphony Bay, is seeking town of Linn approval for a private lakeside clubhouse to serve future homeowners in Symphony Bay.
The clubhouse would be located on a separate Fairwyn property along South Lake Shore Drive near a spot on the lake known as Buttons Bay. If approved, the clubhouse would be available to Symphony Bay homeowners for summer outings, private parties, barbecues and other activities.
Fairwyn once planned boat sales and storage at the nearly four-acre site. But those plans fell through, so the developer now wants to build the "Buttons Bay Lodge" as a new amenity for future homeowners of Symphony Bay.
Located east of state Highway 120, Symphony Bay is planned to include up to 330 single-family homes between Town Line Road and North Bloomfield Road. The first homes are expected to begin construction this summer.
Brian Pollard, of Fairwyn Ltd., said the lakeside lodge would offer Symphony Bay residents private recreational space, not to mention access to a pier with 14 boat slips on Geneva Lake.
"We're not changing anything on the lakefront," Pollard said.
The site is near Big Foot Beach and directly south of the Boat House Bar and Grill, N2062 S. Lake Shore Drive. Also nearby is the Geneva Inn hotel and restaurant.
The Linn Plan Commission will consider the clubhouse proposal March 20 and hold a public hearing.
Some opponents have voiced questions about the lodge and its impact on the lakefront area near Buttons Bay.
Linn Town Chairman Jim Weiss, however, said he would not discuss the matter until he has heard the developer's presentation at the March 20 plan commission meeting.
The privately owned land is zoned to allow retail sales and services related to water and shoreland activities.
Pollard said his lodge proposal is "less intensive" than what is already authorized.
A "boat club" currently operates at the Boat House Bar and Grill, allowing anyone from the public to join, Pollard added.
Plans for Buttons Bay Lodge call for a private place where Symphony Bay residents and their guests can hold parties, with horseshoe pits, barbecue grills and an outside picnic area.
There will be no commercial use for the property, and there are no plans to seek a liquor license.
The proposal is expected to move through the Linn Plan Commission for a recommendation to the Linn Town Board. From there, the town board may make a recommendation to the county, which has final approval.
Pollard wants to put up a lodge no larger than 5,175 square feet in size.
Dick Malmin, a neighbor who has fought other real estate development proposals in the area, said he worries that Buttons Bay Lodge will increase traffic.
Malmin also expressed opposition to the idea of Symphony Bay residents using Geneva Lake, a public resource.
"No one in Linn, or anyone else in the Geneva Lake community, wants to see 400-plus more Symphony Bay families on Geneva Lake," he said. "That would be the equivalent of adding another Abbey Marina on the east end of Geneva Lake."
As approved by Lake Geneva city officials, construction is under way on the Symphony Bay subdivision.
Two model homes are currently being built, and the developer hopes to have access roads completed by this spring, followed by the start of construction on homes.
Symphony Bay is a two-phase project, with 100 homes planned in the first phase, to be completed this year.
Pollard said the entire development could take 10 to 15 years to complete.
The idea is to have Buttons Bay Lodge open for residents and their guests to enjoy between April and November, from 6 a.m. to 11 p.m. The parking lot will have 61 spaces.
Initially, the town's public hearing on the clubhouse was scheduled for Feb. 26. But a gaffe prompted it to be rescheduled, after town officials failed to provide enough advance public notice.