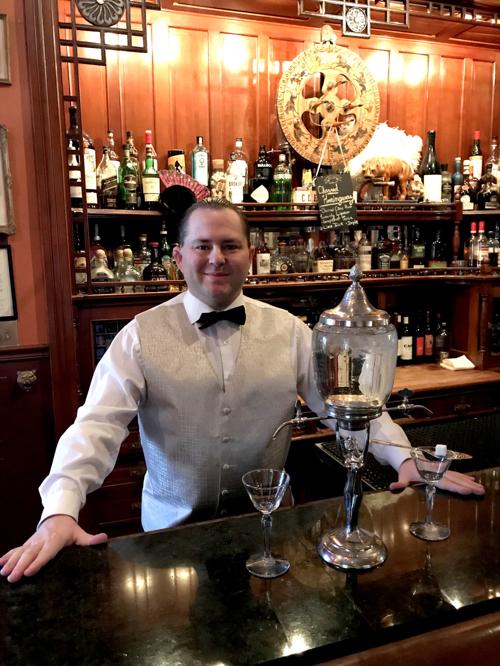 Bar and restaurant owners seeking a liquor license in Lake Geneva will soon have to earn points to qualify.
The Lake Geneva City Council approved a liquor license point system Sept. 9 by a 7-1 vote, with Alderman Ken Howell voting "no."
The point system will be used to evaluate liquor license applications and will apply to businesses seeking a Class B liquor license, which is issued to taverns or restaurants to serve beer, wine or liquor for on-premise consumption.
As part of the system, points will be awarded if the business owner lives in Lake Geneva; if the business purchases products from farmers, growers and other suppliers within 100 miles; if the applicant plans to make improvements to their building; and if the establishment is an existing business.
Points also would be awarded based on the number of employees the business hires, seating capacity and parking availability.
Applicants will be required to obtain at least 30 points to qualify for a license. If more than one business owner is applying for a license, it will go to the applicant with more points.
Each liquor license still must be approved by the city council.
Mayor Tom Hartz said the point system helps set guidelines for liquor license establishments.
"The idea here is to promote smaller, independently-owned, non-chain businesses," Hartz said.
Alderwoman Selena Proksa said she agrees that the point system will benefit smaller businesses in the city.
"I think it needs some tweaks, but I think focusing on the unique, charming restaurants downtown and kind of giving them first right makes sense," Proksa said.
Alderman John Halverson said he also is in favor of implementing the point system.
"I think this is going in the right direction," Halverson said.
The city previously awarded liquor licenses largely on a first come-first serve basis.
Howell expressed concern that the point system could be confusing, because some of the criteria seem to contradict each other.
"I feel the way it's sitting right now that its too subjective and not clear to what it is we want to accomplish," Howell said.
Hartz said the reason why some of the criteria seems contradictory is to encourage different types of businesses to apply for a license. For example more points are awarded to small businesses, but points also are awarded based on the number of employees that a business hires.
"The point there is if we make the criteria so narrowly defined, then everything is going to look the same, because they all meet the same criteria," Hartz said. "This gives a little flexibility."
The liquor license point system initially was approved Sept. 3 by a 3-2 vote during a finance, licensing and regulation committee meeting, with Howell and Alderman Richard Hedlund voting "no."
Hedlund said at the time that he disagreed with some of the provisions for points awarded. He said he did not understand why a smaller business would receive more points than a larger business.
"Why would you give somebody with a 30 to 50 seating capacity more points than somebody who has a 50 to 100 seating capacity?," he said. "That seems backwards to me."
Howell said he also was confused about how some of the points were awarded.
"The point system does not seem to be as worked out or thought out as I would like," he said. "While it's a nice a tool to have, I'm not sure it's as clear as we think it is."
Halverson said awarding more points to smaller businesses helps promote Lake Geneva's small-town atmosphere.
"I think this fits in with that philosophy," Halverson said.
Some business representatives expressed concern that the system would be discriminatory against certain businesses.
Ted Herig, who said he helps to manage Bella Vista Inn Suites, said he is obligated to purchase products from certain distributors. He said the system discriminates against businesses that are not allowed to purchase products locally.
"You don't want to open Pandora's Box," Herig said. "The last thing you want to do is discriminate against someone from Miller or Coors or Budweiser."
Restaurant owner Spyro Condos said awarding points to a business owner who lives in the city or who purchases supplies locally is a system that could be challenged in court.
Condos, a former mayor, advised aldermen to contact state officials who control liquor licenses.
"They would know more than anybody if you're on the right track," Condos said.
City Clerk Lana Kropf disagreed that the state can decide how liquor licenses are awarded in Lake Geneva.
Kropf said the city currently has one liquor license available, and several business owners are waiting to know the status of the point system before applying.
"I probably get a call every other week with people asking what the status of the license is and what the policy is," Kropf said. "There is some urgency that has been an ongoing process for some time."
Be the first to know
Get local news delivered to your inbox!