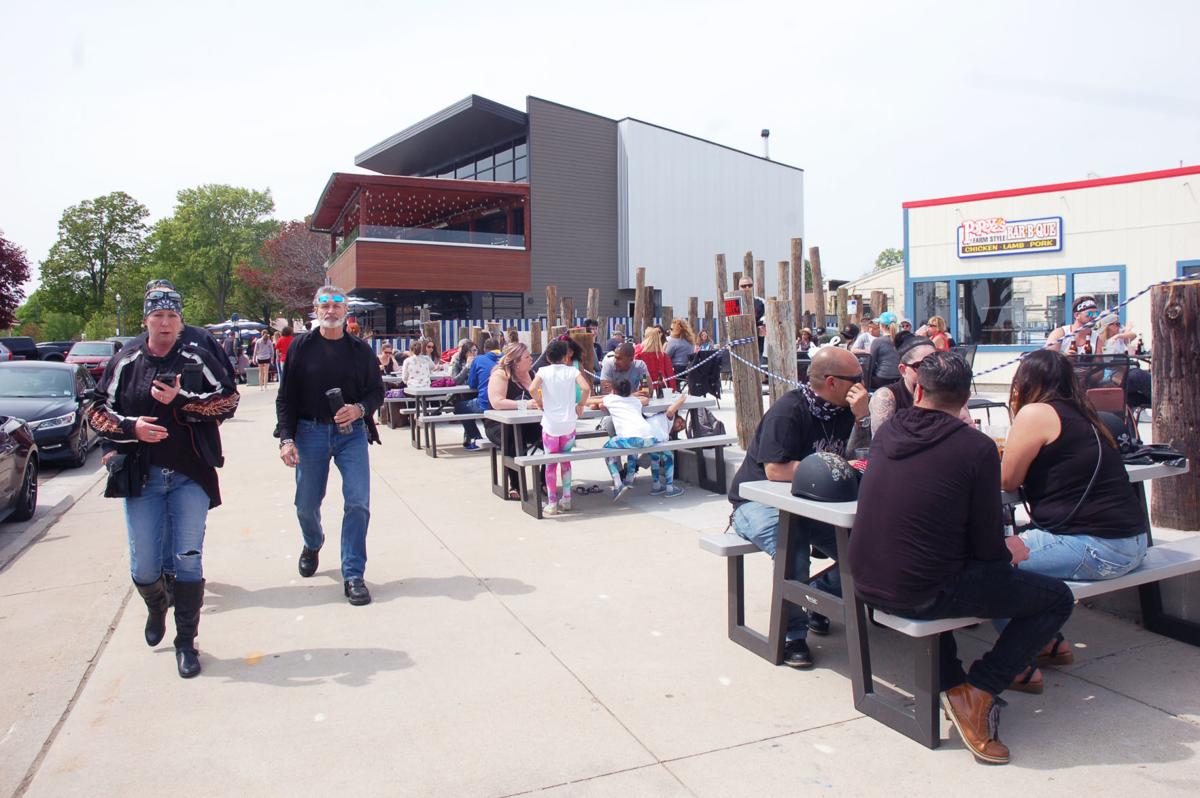 Visitors to downtown Lake Geneva will not be required to wear protective face masks or maintain social distancing to combat the coronavirus pandemic as the summer tourist season brings large crowds into the community.
The Lake Geneva City Council voted May 28 to reject a proposal that would have required tourists and others in the city to wear face masks whenever congestion prevented them from following six-foot social distancing guidelines.
Aldermen held a special meeting to consider tougher public safety measures after large crowds of tourists — mostly ignoring coronavirus safeguards — drew national attention to Lake Geneva as a potential hot spot for the public health crisis.
But the council voted 6-2 against a face mask requirement and also decided against implementing other new measures designed to avoid spreading the deadly virus.
Alderman Tim Dunn, who joined other in opposing the face mask measure, said he was concerned that it would discourage people from visiting Lake Geneva.
"I think this would be a very inhospitable thing for a town that lives on its hospitality," Dunn said.
Video: Faced with crowds of tourists and other visitors coming into the community during the coronavirus pandemic, the Lake Geneva City Council votes on whether to require people to wear face masks. 
Several aldermen acknowledged that large crowds of tourists and others had crowded into the city's downtown tourism and shopping district without wearing masks or following other public health recommendations.
Alderwomen Shari Straube and Mary Jo Fesenmaier both voted in favor of mandating face masks.
Straube proposed the requirement, saying people should be required to wear protective face masks whenever there are large crowds downtown and people are unable to safely distance from one another.
"I don't see how we're infringing on anybody's personal freedoms, to demand that in our city you wear masks to protect yourself and others," Straube said.
Fesenmaier suggested that businesses or nonprofit groups could sell or give away face masks, as well as yard signs, to encourage people to fellow safety guidelines.
"We can tell people who are visiting that is the culture we would like to see," Fesenmaier said.
Other council members questioned not whether the face mask proposal would safeguard public health, but whether police would be able to enforce the requirement, if necessary.
Alderman John Halverson said the provision would be difficult to enforce.
"I think enforcement would be a headache," Halverson said.
Police Lt. Bridgett Way told aldermen it would be difficult for officers to determine when to enforce such a law, because there would be times throughout the day when people would be able to maintain social distance guidelines.
"We can't guess when we enforce a law," Way said. "We can't guess when we issue citations, and, yes, it would be very hard to enforce."
Some regular visitors to the area have expressed concerns about coming here without the face mask requirement.
Margaret Schmidt said, she and her family have a summer home here, but they are now concerned about visiting.
"Because the town will have no safety laws regarding protection of its residents and visitors, my family of 12 will no longer be walking around town. Nor will we visit any of our favorite restaurants or stores in town until the pandemic is over," Schmidt said in the message.
Sherry Schultz of Burlington said she no longer plans to make here weekly visit to Lake Geneva.
"It hurts no one to wear a mask," Schultz said.
The aldermen also dismissed a suggestion to close Wrigley Drive, one of the city's most popular and congested thoroughfares, located along the city's lakefront.
By another 6-2 vote, the council rejected a plan to temporarily prohibit vehicular parking on the north side of Wrigley Drive to provide more space for pedestrians to walk, another attempt to ease overcrowding.
Alderwoman Cindy Flower and Halverson voted in favor of the parking measure.
Alderman Ken Howell said he was concerned that closing Wrigley Drive would cause other issues, with people walking in the street and motorists with disabilities struggling to find parking for their cars.
"I don't think it would be safe," Howell said.
Mayor Charlene Klein also opposed the Wrigley Drive parking idea, saying it would be time-consuming for public work crews to place barricades or other barriers when parking is not allowed.
"I really can't imagine asking those guys to put those up and down once a week," Klein said.
One suggestion that garnered support was posting signs downtown to encourage — but not require — tourists and other visitors to observe public health recommendations aimed at combating the spread of coronavirus.
Council members said they would like signs to be posted to suggest that people wear face masks and stay six feet away from one another.
Public Works Director Tom Earle, however, said his staff already had about 30 social distancing signs near the lakefront area and other downtown locations.
"They're on poles, they're on buildings, they're on walls — wherever we can put them," Earle said.
The aldermen unanimously approved a motion to direct city staff to draft a resolution in which the city would follow Walworth County safety guidelines for outdoor dining — which includes tables being set six feet a part — and prohibits general pedestrian traffic through outdoor dining areas.
The resolution is set to be voted on by the city council and included in the mayor's proclamation order.
Straube said she wants to continue to allow outdoor dining in the downtown area because it gives people a safe dining option.
"I do feel that is how a lot of people feel the safest dining, right now," Straube said. "I think to take outdoor dining out right now would not be a smart idea."
City Administrator Dave Nord encouraged city officials to work with representatives from the VISIT Lake Geneva tourism agency and the downtown Lake Geneva Business Improvement District to create a "uniformed message" encouraging people to wear protective masks and practice social distancing.
"I can't think, with all these creative folks and organizations, a quick, clever campaign couldn't be put together in a short order," Nord said.
The aldermen applauded efforts to control crowds at the city's popular Riviera Beach, which reopened on Memorial Day weekend despite the protest resignation of longtime beach manager George Steffen, who objected to opening the beach during the pandemic.
Beach workers attempted to enforce a 300-person capacity at the beach, which also is the usual capacity depending on how the beach's maximum attendance is measured.
Straube said beach attendance was limited during the Memorial Day weekend, and it seemed to work out well, because, she said, the beach did not seem too crowded.
"I thought the beach was very well run," Staube said. "I'm hoping that can continue."
Shoppers return to Main Street during pandemic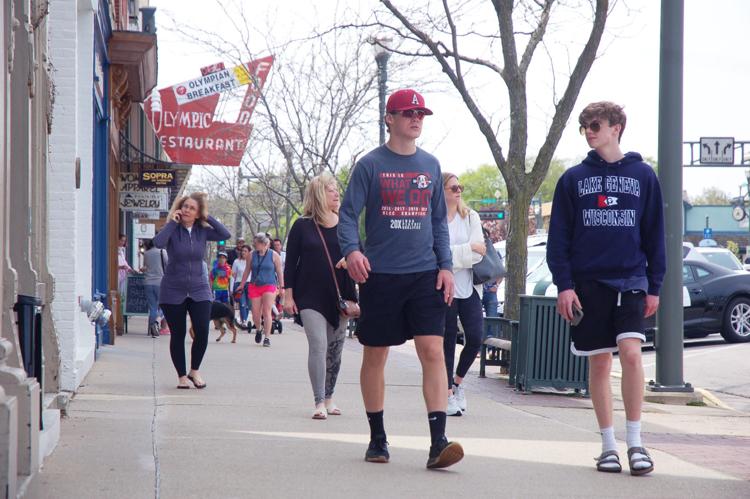 Shoppers in Christine's Gift Shop in Lake Geneva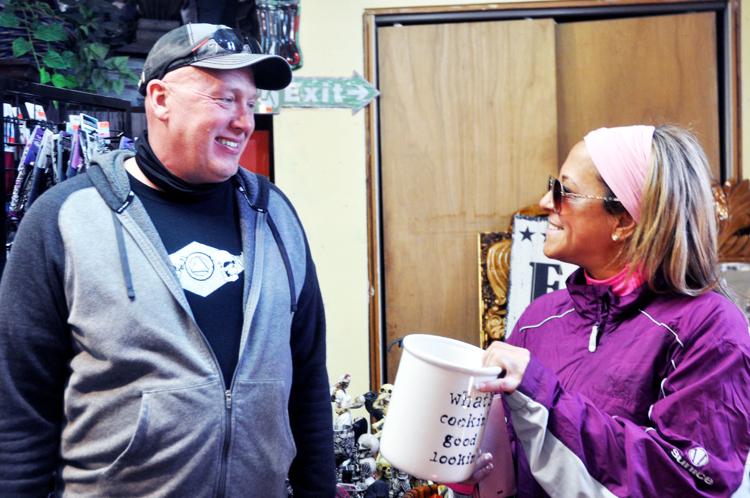 Cars line up heading into downtown Lake Geneva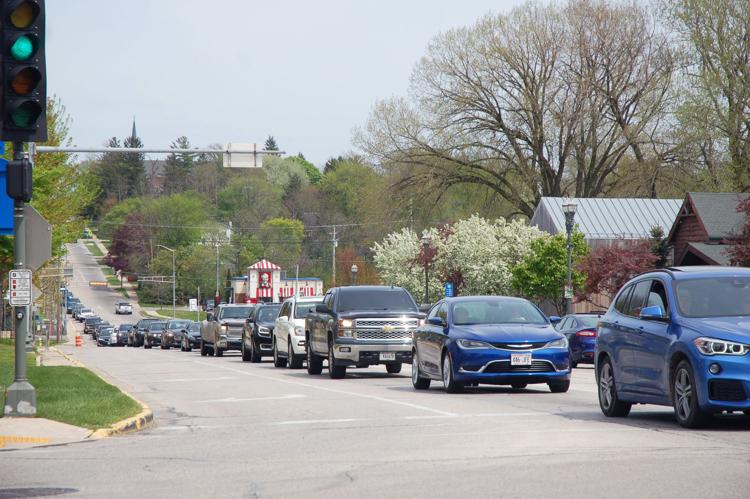 Customers wait in line at Kilwins candy shop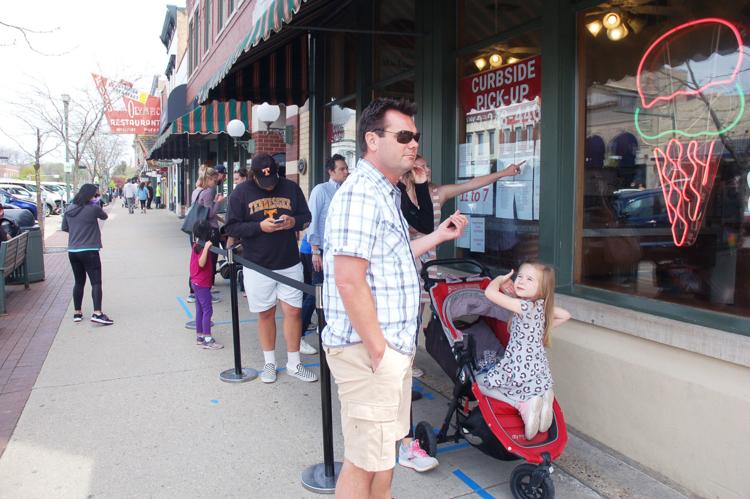 Leather Accents owner Linda Longwell wears face mask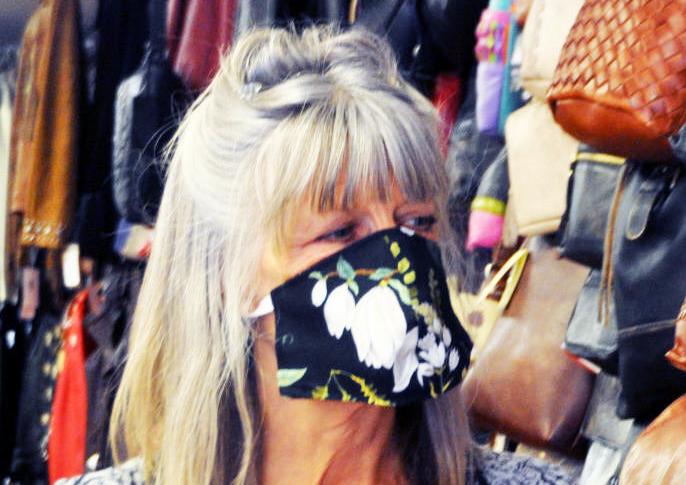 Oakfire restaurant crowd poses for a picture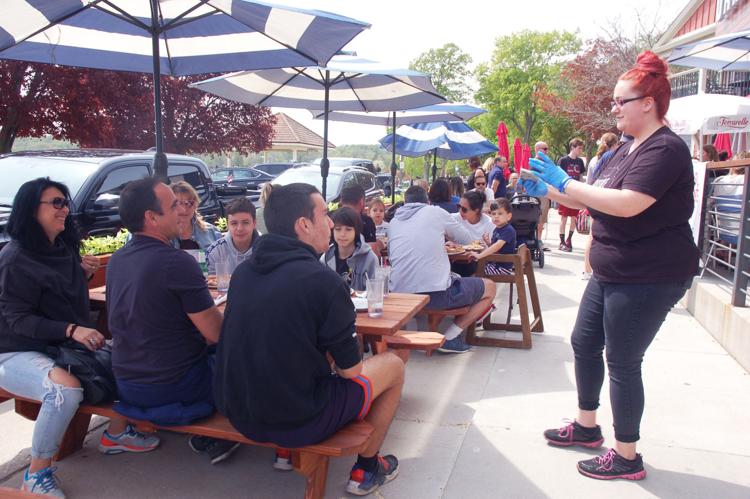 Woman relaxes on bench with her bulldog on Broad Street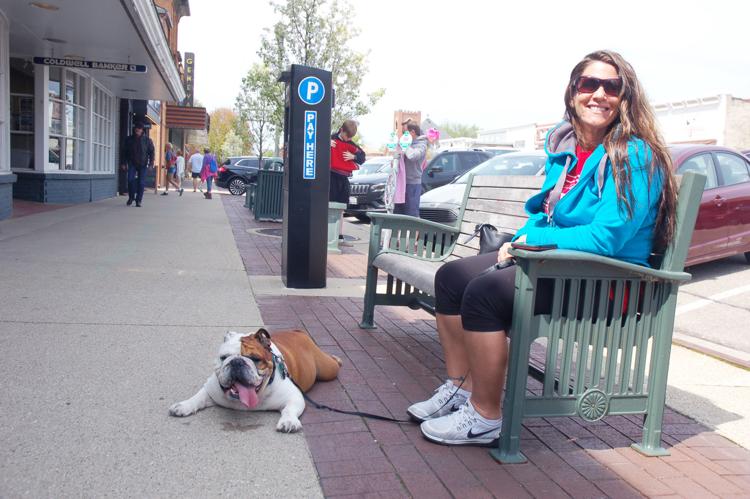 Overland Sheepskin employees prepare for returning shoppers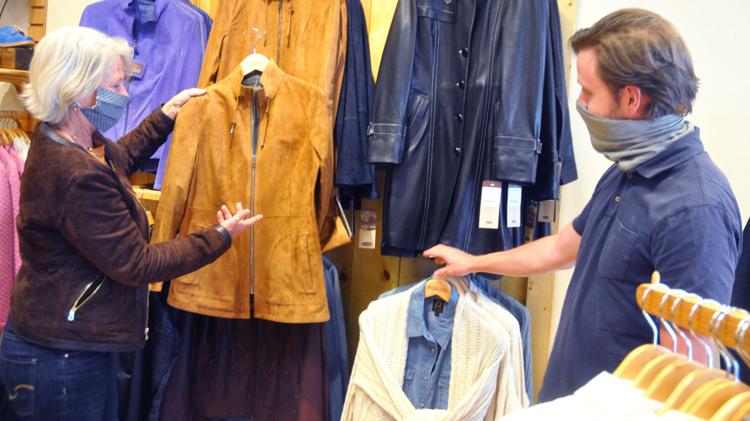 Visitors wear face masks in Library Park in Lake Geneva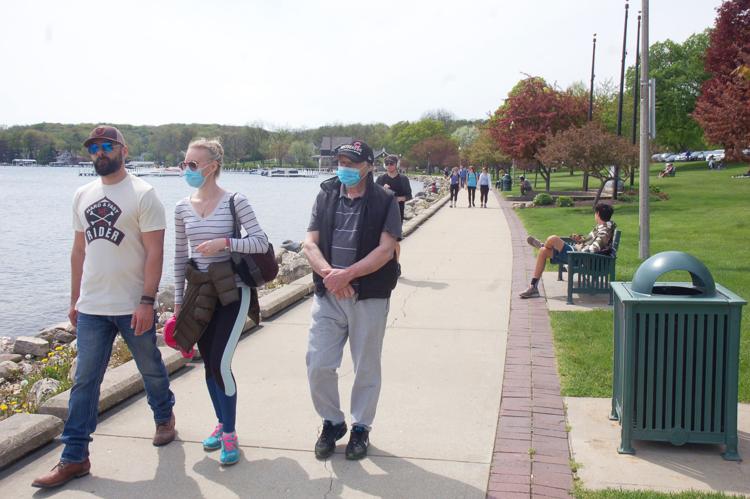 Candle shop worker gets candles ready for shoppers
Shoppers seek return to normalcy in downtown Lake Geneva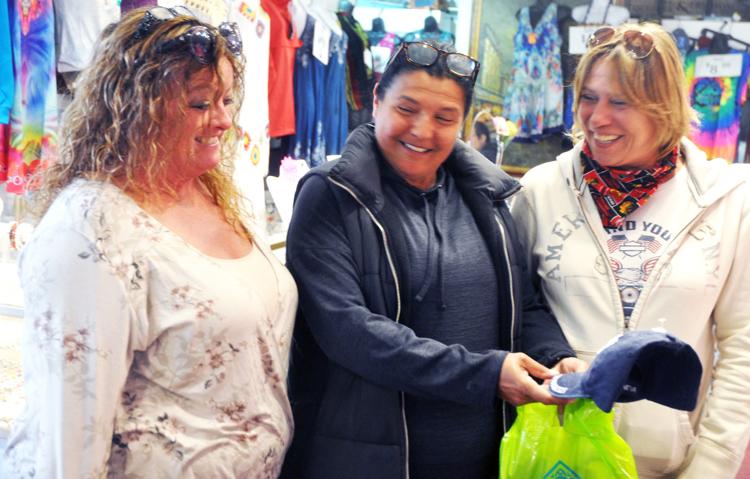 Main Street draws crowds without face masks during public health crisis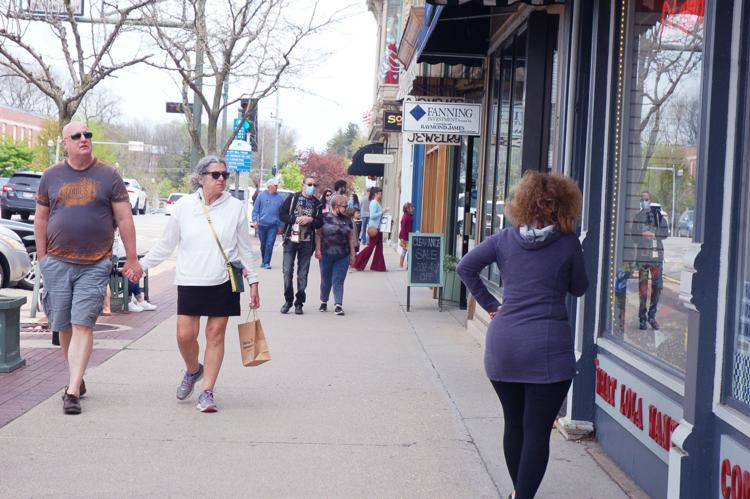 Bookstore employee wears face mask as stores reopen during pandemic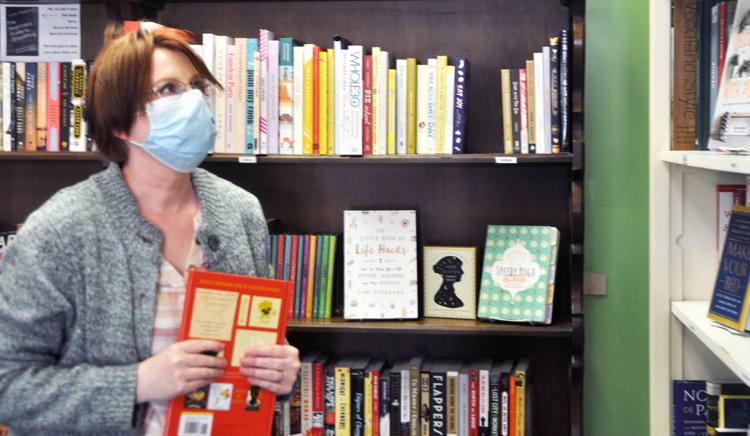 Popeye's outdoor patio fills up during first Saturday back