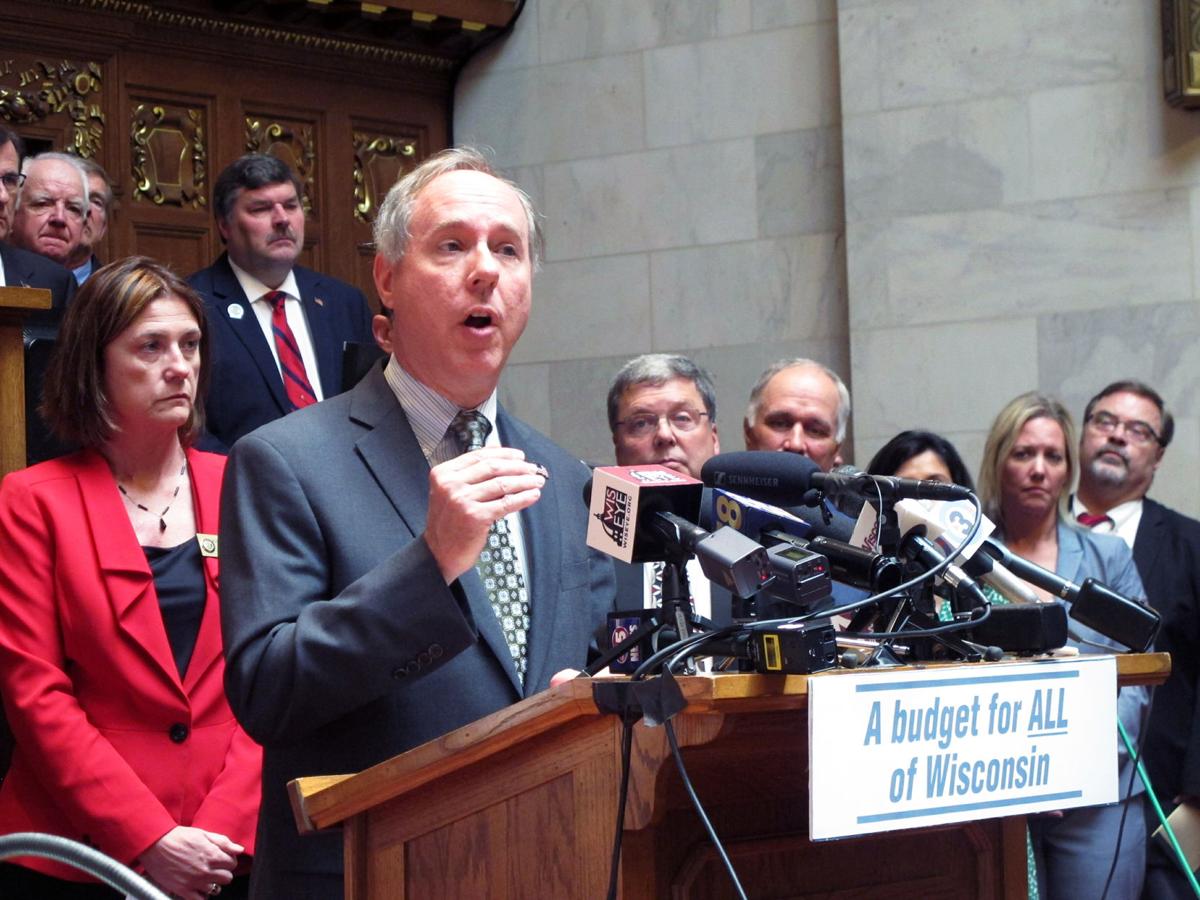 The Republican-controlled state Assembly on Tuesday approved a number of bills, ranging from a controversial, partisan bill related to testing of evidence in sexual assault cases to a bills that would increase criminal penalties. 
Despite calls from Democrats and advocates to scrap the effort, Republicans went ahead on Tuesday and passed 62-36 a new version of a bill to prevent a future backlog of sexual assault kits, abandoning a longstanding bipartisan effort to address the issue that is now unlikely to materialize this year. 
The GOP bill drew scathing criticism from Democrats, while Republican leaders defended their legislation as more comprehensive. 
"How sick do you have to be to play political games when we're talking about the testing of rape kits?" Assembly Minority Leader Gordon Hintz, D-Oshkosh, said. Other Democrats criticized the bill as an affront to victims of sexual assault.
Assembly Speaker Robin Vos, R-Rochester, and other Republicans countered that their legislation represents a reasonable approach to sexual assault kits that incorporates additional issues the Senate didn't consider. 
"Representative Hintz, his job is to be a bomb thrower and to exaggerate and create division where none should really exist," Vos said. 
The department in 2014 first discovered the existence of nearly 7,000 untested sexual assault kits in law enforcement and hospital custody across the state. Sexual assault kits can contain evidence that is crucial to finding sexual predators or freeing the wrongly convicted. With federal grant funding, Wisconsin began testing those kits in 2016 and finished in late 2019. 
A bipartisan coalition of lawmakers, joined by Democratic Attorney General Josh Kaul, proposed legislation last Spring that would implement standards for when sexual assault kits should be tested. Under the bill, health care professionals, law enforcement agencies and state crime laboratories, all of which are involved in the collection and processing of sexual assault kits, would be subject to new requirements. The bill got support from a number of advocates, health care and law enforcement professionals and victims. 
The bill passed the Senate but got hung up by Republicans in the Assembly. After being pressured by Kaul and others to pass it, Republicans decided to go in a different direction, taking up a new sexual assault bill that includes stricter standards for collecting and storing sexual assault kits but that also includes controversial provisions Democrats oppose. Those measures would allow sexual assault victims access to private school vouchers even if they wouldn't otherwise qualify based on their income, and requiring law enforcement to notify Immigration and Customs Enforcement of immigrants in the country illegally who are under arrest for sexual assault.
Beyond creating timelines for sexual assault kit collection and storage, the bill lawmakers passed Tuesday would also require the Department of Justice to provide reports to the Legislature each year, allow victims to anonymously track their sexual assault kits and provide them the right to have evidence tested within 90 days and be notified 60 days before evidence was destroyed. No  organizations have registered in support of the bill. 
Crime bills
Republicans also passed a package of bills that would strengthen criminal penalties but also come with a risk of increasing adult and juvenile prison populations, increasing state spending by hundreds of millions of dollars. 
The bills that Republicans on Tuesday passed largely along partisan lines include: increasing penalties for intimidating a victim of domestic abuse; revoking parole, probation or extended supervision if a person commits a crime while serving his or her sentence; expanding the types of juvenile crimes that can result in incarceration; and barring offenders serving time for certain violent crimes from being released on parole or extended supervision.
They bills now go to the Senate, which is likely to adjourn sometime next month, providing little time for the bills to proceed. 
Democrats slammed the package of legislation for costing too much while failing to reduce recidivism in a state that already suffers from a ballooning prison population and overcrowded prisons.
The bill that would revoke parole, probation or extended supervision for offenders committing a crime while serving their sentence is estimated by the Department of Corrections to cost $55 million in the first year and $156 million in the second year and permanently thereafter. In addition, the DOC estimated the increased prison population created by the bill would require two new state prisons to accommodate new inmates. 
Republican lawmakers downplayed those numbers, suggesting DOC may be inflating them for political reasons without providing evidence. Republicans passed the bill 61-38 largely along partisan lines, although Reps. Michael Schraa, R-Oshkosh, and Patrick Snyder, R-Schofield. 
Assembly lawmakers also passed a Senate bill that would impose a mandatory minimum sentence of 18 months in prison for a 5th or 6th OWI offenses.