VISIT Lake Geneva and a Lake Geneva bicycle shop are teaming up in an effort to provide area bikers and hikers a new and extended path to travel.
The regional tourism agency is partnering with Avant Cycle Cafe, 234 Broad St., to promote construction of a connection between Lake Geneva and the White River Trail.
The 19-mile trail currently extends from County Highway H near Elkhorn east to the Racine County community of Dover.
The plan envisioned by VISIT Lake Geneva and the Avant bicycling shop involves building a five-mile path north to Elkhorn to connect hikers and bikers with the White River Trail.
Ken Jones, bike shop manager for Avant Cycle Cafe, said bicyclists currently do not have convenient access to the White River Trail without having to travel on a busy highway.
"Unfortunately right now, you have to drive there or ride your bike on busier roads," Jones said. "If there was a direct path to get to it, it would get used a whole lot more."
The plan is in the beginning phases, and it could take up to three years before the new five-mile path is completed. There currently is no estimated cost for the project.
"We know this stuff doesn't happen overnight," said Stephanie Klett, president of VISIT Lake Geneva.
Avant Cycle Cafe is a downtown retail business that offers bicycle sales and repairs, and also promotes bicycling events in the region.
Representatives from VISIT Lake Geneva and Avant Cycle Cafe recently met with state Rep. Tyler August, R-Lake Geneva, and state Sen. Stephen Nass, R-Whitewater, to discuss the project.
August said he is excited about the possibility of Lake Geneva being connected to the White River Trail.
"It's a great partnership between VISIT Lake Geneva and the local biking community," August said. "I'm glad they've taken a great interest in this."
August said he advised VISIT Lake Geneva and Avant representatives to first meet with Walworth County officials and the Wisconsin Department of Natural Resources to determine what would be required to establish a path to the trail.
"The area of the trail mostly would go through the county," August said. "So I told them the next step would be to communicate with county planning and zoning to determine what's possible and what's not possible."
Jones said the two state lawmakers were helpful in advising project promoters which communities and agencies they need to contact, as well as what grants and other funding sources are available.
"It was really great to have those great minds in one room to tell us how to get this project started," Jones said.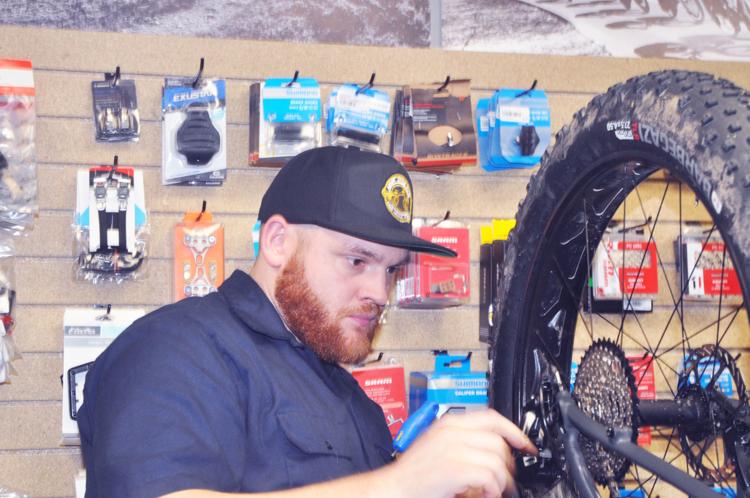 Ann Esarco, co-owner of Avant Cycle Cafe, said she hopes to meet with county officials either by the end of the year or early next year about the proposed trail.
Esarco and other representatives from the bicycle shop were planning to attend a "Route of the Badger" meeting Dec. 3 in Milwaukee. The "Route of the Badger" project is an initiative to connect bicycle trails throughout Wisconsin to establish a 500-mile regional trail system.
Esarco said after Lake Geneva is connected to the White River Trail, local bicyclists also will have access to trails in Kansasville and Milwaukee that are connected to the White River Trail. She said bicyclists from other communities also would have access to Lake Geneva.
"We say we can go to Milwaukee, but guess what: Milwaukee can come to us," Esarco said. "It goes both ways."
Klett said establishing a connection to the White River Trail would give people another reason to visit Lake Geneva. She said bicycling has become a more popular activity among tourists in Wisconsin.
"We are a lake destination, but we are also a biking destination," Klett said. "By expanding this trail, that is just going to grow."
Klett said she and representatives from Avant Cycle Cafe began discussing plans for the trail connection in July.
"It was one of those things where we were just shooting the breeze, and I realized, 'These guys are serious,'" Klett said. "Then we realized this can really happen."