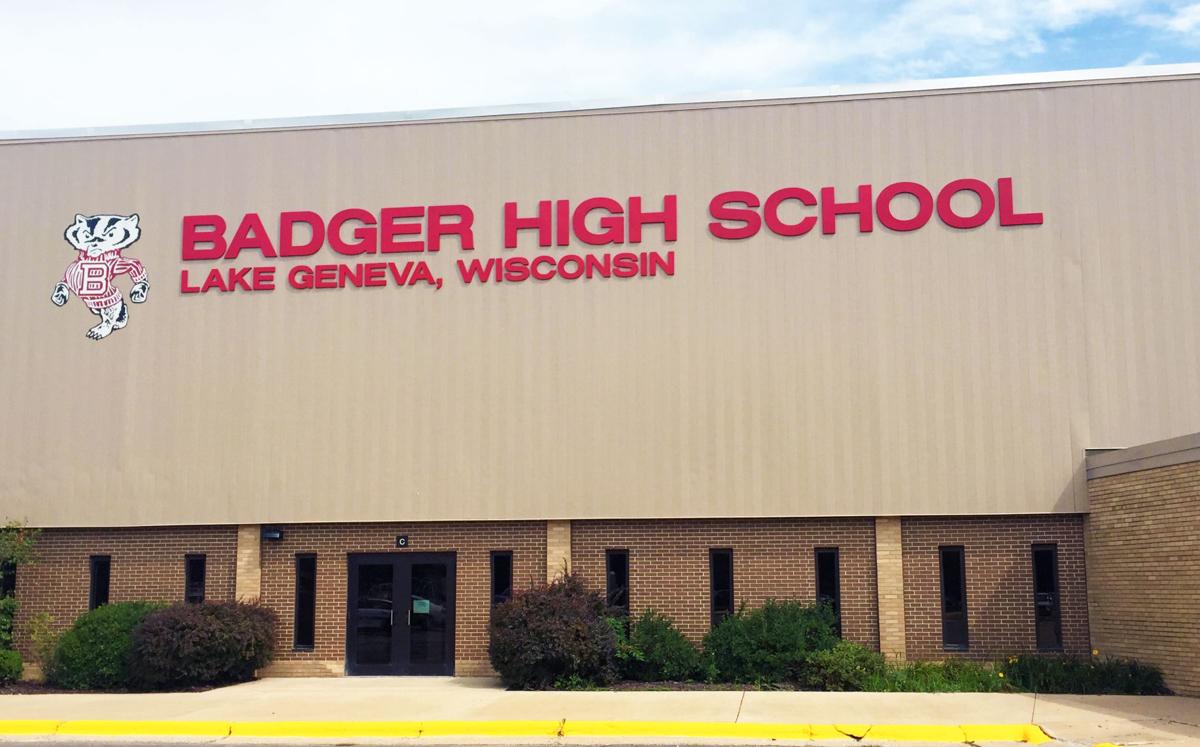 Badger High School has announced the 2019-20 second-semester honor roll.
High Honors
Grade 9: Lyric Ackley, Alexander Crew Anderson, Nina Anderson, James C Athans, Maxwell Baertschy, Zach Bauman, Matthew Beck, Dalaney Louise Bieneman, Joseph T Biermann, Toni Bishop, Anthony Bortolini, Bonnie L Bortolus, Calen M Braden, Wade G Brewington, Jesse J Broderick, Carley Anna Brown, Andrew Broz, Isaak Bruce, Brooke Brumm, Genaro T Camas-McIlwain, Jamie Carr, Elliana Joy Cervenka, Callie J Ceshker, Skylar R Challe, Xuhao Chen, Austin Chrisman, Rowdy R Chupich, Kaelin Comfort, Raul Cosme, Vannesa Cosme, Ray Dearing, Niya M Denny, Timothy DeVries, Rocio Diaz Olivares, Bennett J Doebler, Natalie A Dominguez-Cruz, Dylan Dyon, Kaylie Jade Elder, Jazmin Escobar, Adelynn Fielding, Tyler James Figueroa-Anderson, Kit M Fleck, Isabella Flores, Ava Fonk, Hayden Fowler, Aidan Francois, Kyleigh Freeman, Emily Fronczak, Nevaeh Love Fuentez, Leigha Funari, Zachary W Galitz, Madeline G Garvens, Timothy G Geils, Ethan Ghent, Jack Gleason, Owen G Goebel, August Graas, Edward J Gritzner, Emily M Hallatt, Cheyenne S Hannah, Aeneas Hayes, Isabella J Hayes, Keira L Hendricks, Erin Hensler, Anneth Hernandez, Thomas Herner, Tyler Herner, Luke J Hopkins, Cameron Louise Jansen, Julia Merri Januszewski, Seth Raymond Johnson, Sebastian Marcin Jurczyk, Andrew Karnatz, Jack T Kayser, Hannah Lynnae Kazimier, Alexis Kerr, Ila Keyzer, Anthony Huynh Kha, Camryn R Knaack, Christopher Knaack, Lillian S Knopp, Chase Koenig, Kalen M Kramp, Aaliyah M Kruzel, Emmalee Lewellyn, Adam Lightbody, Jacob D Linn, Paige M Linneman, Joseph Peter Liptak, Olivia G Lois, Bradley C Lyon, Cole Mackay, Logan Thorpe Madison, Ivy A Marinello, Kimberly Marquez, Daniel Martinez, Robert F Mayorga, Aiya K McCoy, Jake S McDermott, Tommy McEneany, Kathryn J McKinney, Logan R Meinel, Andrea Mendez, Arturo Mendoza, Marilyn Miller, Lauren E Milligan, Megan R Moore, Angel Morales, Hailey Ann Mraz, Britany Murillo, Tyler Randall Nadel, Lilly E Narayanan, Sylvia Narut, Addisyn N Nelson, Jack R Nordenson, Kendal M Nowak, Joseph Ochoa, Ava M Ocker, Lauren O'Connor, Taylor R O'Laughlin, Kylie I Pack, Montana C Peters, Evan J Phillips, David Playa, Olivia Pohlmeier, Ethan Racine, Grace Rasch, Chloe Rawlings, Evan T Reusch, Luis Reyes-Torres, Kaden Richardson, Antonio Rodriguez, Kevin Ruiz, Aleksa Salter, Danielle Sandfer, Brandon Sandoval-Hernandez, David Cade Scheideman, Kaden Schenning, Lexi Schmidt, Joshua A. Schooley, Maegan Elizabeth Schoolfield, Mary Michelle Schoolfield, Bethany R Schuldt, Adrjana P Skinner, Crete J Slattery, Haleigh Mae Smith, Jesus Alejandro Sotelo Saldana, Patrick Sowiak, Elizabeth A Steele, Jadyn C Stelter, Victor Suarez, Zachary J Suhajda, Melanie A Sweet, Lucas M Szamlewski, William L Teale, Brian Kenneth Thometz, Evan Michael Thompson, Tinker B Trent, Acadia J Twyning, Nataly M Vina, Katelyn P Weiss, Addison Welch, August Williams, Charley Zigmund, Matthew Zinkowich.
Grade 10: Hannah Allen, Natalia Almeida, Dominic G Alonzo, Melynna Hakim Arreola Quiroga, Kiera Bays, Seth Behrens, Molly Bergstrom, Grace M Bernal, Jacob Bethel, Carson Biller, Zachary Blasiman, Rebekah Renae Bledsoe, Gwynn Braden, Nicholas Brennan, McKenzi Brewington, Nathan Buntrock, Nicolette Marie Burke, Chad Busch, Gianna Carollo, Nolan Cassidy, Ryan Chandek, Owen Chapman, Kiera M Clifford, Esther G Coltman, Makayla Cooper, Jonathan Evan D'Auria, Sara E Dickfoss, Kathryn Doane, Austinn F Donnan, Kaaden Dull, Ella Eck, Kaidynn Engel, Demetrius A Farmakis, Emma Fasano, Kasey M Faulkner, Vivian R Ford, Findley Frazier, Riley Freyermuth, Sutton Fritz, Contessa Funari, Ethan Gallo, Grace Frances Geils, Skye N Genrich, Ava Gill, Mary Gottinger, Benton Greenberg, Bergen Greenley, Kali A Griffin, Anastasia Elayne Grothe, Katherine G Harrist, Lillian Haydam, Victor M Hernandez, Haley Hibbler, Kayla Hirschmann, Joseph Hoeft, Kegan Huber, Charles Xavier Huss, Zaya Iderzul, Rylee S Johnson, Graycen Juchems, Abigail Juszczyk, Madeline R Kaufman, Aaron Kelley, Louis Kenney, Brody Kluge, Jacob Peter Koziol, Jordyn Krause, Wyatt Van Dyck Krueger, McKenna Kubly, Jacob Kuhnke, Jaiden Lauer, Christine Liang, Sofia Lyons, Noah Lytle, Joshua Ethan Machac, Eli M Marshall, Evan James Martin, James McKinney, Michael Metz, Caleb Monge, Katherine Lynn Murray, Jacob I Needle, Riley Nicholson, Mason B Parent, Grace E Parker, Khushi Dharmeshkumar Patel, Kenneth C Pedersen, Brady R Peetz, Conrad Perez, Izabella C. Prichard, Nathaniel Rafe, Milton Wilfredo Ramirez Lopez, Natalie L Ransom, Jake A Robertson, Michelle Nicole Sanchez Merino, Sabrina Marie Santana, Olivia Satterstrom, Evelyn C Scheunemann, Paige Schmidt, Vaughn Schramm, Dayton A Schultz, Stella Kathleen Southwick, Jack Spende, Phillip J Steele, Tyler Stenger, Alexis Struckmeyer, Sarah L Teske, Abraham Hemphill Thomas, Eric Thometz, Angel Toribio, Bridget Trybula, Megan Vavrina, Christian Vazquez, Adelynn Vennum, Cassandra Kay Vepley, Thomas S Verdung, Viridiana Villarreal, Katharina Edigna Julienne Vosters, Logan A. Wade, Thomas J Walton, Lilly Westlund, Thomas Gregory Whowell, Sydney N Winders, Anna E Wollaeger, Evan L Wruk, Bradley C Zawislak, Madison Zilske.
Grade 11: Luke W Abram, Jack Estes Adams, Ramon Aguilar Mendoza, Joseph A Amann, Josh Amann, Thomas J Anderson, Zachary W Anderson, Raul Aranda, Lace Atkinson, Christopher T Bakken, Joseph Baldocchi, Erika Basurto, Kaleigh Marie Bauer, Riley Bauman, Caleb Bayer, Jenna Bearder, Sierra Bernardo, Henry M Blay, Emilee Booker, Louden S Borchert, Grace Bourneuf, Molly Braden, Hilary Brewer, Jonah Brown, Gina Brumm, Emily Nicole Brzakala, Samantha Calderon, Juan Calixto, Nayeli Izabel Rivera Cangelosi, Aaron Cantrell, Madison Ceshker, Brooke Challe, Alexandrea Chrislu, Michael J Corey, Alexander Cortes, Natalie Culp, Fernando A De La Sancha, Lauren Dean, Graham Dearing, Destinee R DeCremer, Calix Denny, Hudson L Derda, Victoria Diaz Olivares, Olivia Dooley, Alexander Escobar, Moira Catherine Fahey, Joseph Fasano, Estrella Figueroa, Greta Fleer, Nataly Flores, Aran R Freytag, Anna Froelich, William Gage, Jesse Garfias, Jennifer Gibbs, Elijah Giovingo, Eleanor Goff, Nancy Gomez, Noah B Grice, Lauryn Elizabeth Grothe, Morgan A Hallatt, Madison Hart, Jonas G Haywood, Aaliyah M Henson, Georgia M Hobday, Grant M Hohman, Eleanore Jensen, Jenifer L Johnson, Gabrielle Grace Karabas, Cole J Kayser, Sydney Klein, Curtis Knaack, Ekaterina Korobovskaya, Gabriela Kozaczuk, Cassie M Kramer, Grace Kraus, Abriana B Krause, Hannah Kroncke, Avery Daniel Ladd Winders, Nicholas Laufenberg, Carter Lazzaroni, Susan Kai En Lei, Seth Linneman, Angel Lopez, Jessica L Lopez-Rodriguez, Madison Ludwig, Sean Lussmyer, Maya Rose Lyng, Abaigh MacDonald, Anthony Q Mannion, Cody P McCarron, Joshua Michael McConnell, Leslie Mendoza, Sebastian Moritz, Joseph Edward Murphy, Caiden Bradley Murry, Sydnie C Nieves, Luke Novicki, Macey A Nurnberg, Jacob Ryan Oliver, Joshua Michael Olson, Grace Liliane Osnacz, Yuliana Ovalle, Nathan Pedraza, Grant John Douglas Peterson, Ava L Pezza, Zarin Pirzada, Michael W Polheber, Kenneth Police, Kaile Ann Pollard, Allison Popenhagen, Ava Rawlings, Madison Repass, Yvonne Reyes, Samantha Ricardo, Mallory Lynn Ritzman, Shannon Rodriguez, Kyler A Rohde, Karla Rosillo, Blake Rudolph, Ethan Sanborn, David Paul Schiltz, Adam Thomas Schirtzinger, Simon Karl Schuessler, Andreas John Scocos, Bradlee J Shea, SirrNaySayKU Shoe, Blake Siczkowycz, Ethan Siczkowycz, James Sinclair, Autumn G Smith, Laura Rene Speckman, Connor M Spiewak, Noel Suarez, Ian Taddeo, Macie Todd, Marco Torres, Dallas S Toutant, Ava Trent, Bryce Twyning, Karina Uppling, Anna Cristine VanDeBerg, Joey Vavrina, Sabrina Vitullo, Luke Volchko, Eleanor Wall, Ian M Ward, Devon M Watrous, Ashlyn Welch, Charles D White, Chloe Wright, Veronica J Yakubov, Robert C. Zilske.
Grade 12: Kaitlyn Adames, Olivia Aguilar, Annabelle M Alberts, Xander M Ambers, Ava Anderson, Leslie Aranda, Courtney Armstrong, Tynan Atkinson, Kylie Auckland, Jackson Biller, Alyssa Bockelmann, Colton David Anthony Braid, Kearyn Brennan, Bella Bromeland, Elizabeth Bunge, Jenelle Terry Burke, Dalany Carlson, Regan Cassidy, Kimberly Chappell, Michael Cook, Zachary Cowan, Brandi Curtis, Jessica Dade, Cole Deering, Emma DeVries, Anna Dickfoss, Morgan Dickman, Grant DuMez, Bridget Egan, Eileen Egan, Hayley Estacion, William Faul, Aurora Figard, Ana Fisher, Jasmine Evelia Ford, Gracie A Fredericksen, Kyle Freund, Zane Gallagher, Angela Garcia, Sophia Georges, Kylie M Germann, Dulce Y Gomez, Hulises Gonzalez, Anne Gottinger, Benjamin Grueter, Kristen Hope Guyon, Nash Hale, Nathaniel Halpin, Jacob Harren, Kirsten Havens, Kaleb Heim, Leslie Paola Hernandez, Samantha Hill, Isaac Hodges, Chase Hodkiewicz, Kate L Hohman, Alexander E Humphrey, Henry Huss, Yoneli Jaramillo, Benjamin Jende, Camryn J Johnston, Phoebe Jones, Trent Junion, Riley Juszczyk, Ashley Kaddatz, KayLeigh P Kanneberg, Patrick M Kepler, Ethan Larson, Jordan Lauer, Tania Limon, Jon Alejandro Lopez, Brianna Mackey-Lord, Jenna Madison, Jacob McClorey, Mickey M McGuire, McKenzie Melton, Reese Mikrut, Makenna Moore, Kyle Mountjoy, Muneeza Munawar, David B Nicia, Mabel Nowicki, Skyler Padilla, Carter B Parent, Tyler Peek, Josef Plasil, Hayden Poltermann, Emily S Potter, Lucille V Reed, Emma Regalia, Madison Reyes, Wendy Reyes, Brendan Ring, Elizabeth G Ripkey, Faith Rossi, Madison Schoolfield, Antonio David Schultz, Salma Schultz, Marlene Serna-Rosas, Alejandro Servin, Lexi S Sharkus, Savannah Simpson, Madison Cecelia Skates, Jocelin Judith Soto Flores, Melanie Soto, Katherine Spende, Olivia K Starck, Trevor A Statdfield, Joseph R Steele, Jessica Stefaniak, Jake Stritesky, Josh Stritesky, Dylan Stukins, Hannah J Sulzer, Chase Thornton, Katie Varela, AnnaJo VonSeth, Shea N Walsh, Meadow M Warren, Kayla Watke, William Johnathan Weipert, Anna Weise, Taylor Willits, Jocelyn Marie Wilson, Destiny Wohlers-Newell, Ronald Wong, Jack Zakrajsek, Daniel Zunker.
Honor Roll
Grade 9: Alondra Abarca, Emily M Adames, Marco Antonio Alberts, Joshua J Alderton, Devin Allen, Jonathan M Amann, Kimberly Beach, Paige Behm, Joseph Salvatore Behmke, Kyle Berggren, Evan Bernales, Yasmine D Binion, Devon M Bland, Santino Peter Butitta, Dylan J Cataldo, Anthony Ceja, Damian Cordova, Austin Cowart, Shandi Crisman, Bella Cruz, Amber L Curtis, Charles Edward Dean, Adam DeAnda, Madysen Deleskiewicz, Hailey Durham, Marissa Dvorak, Bradley Ehrhardt, Madison Marie Fonseca, Kiersten Gleason, Juan Gonzalez, Mason Hatfield, Leslie Betsaida Hernandez, Cole Hess, Carter Joel Heyndericks, Ethan C Jenner, Joseph Kidd-Incandella, Emily G Kinney, Tristan Klabunde, Jackden W Knepper, Aden R Konecny, Gram LaPointe, Olivia Levitt, Sophia Lindsey, Jonathan A Linn, Kylie Lozano, Arely Martinez, Timothy J Mathison, Kara Mauritz, AnnMarie Mary Mehleis, Lidiana Mendoza, Anna M Mennella, Madalyn Sage Meyer, Michael Morehead, Lisbet Murillo, Sarai A. Murillo, Madison Brianne Murry, Evan J Nagel, Eric R O'Donnell, Riley Olsen, Caiden Opsal, Quintrell Page, Gunnar Pender, Frida Perez, Mariano Quintana, Dominic Kenneth Reynolds, Cynthia Rosales, Angel E Saldana, Ruby Mary Sanchez, Andrew J Schmidt, Emily Sertzel, Destiny E Skinner, Haylie Sommerfeld, Marjorie Soto, Daniel John Sperandeo, Jason K Tworek, Devon Lee Vaughn, Cynthia Villegas, Carter Volck, Alayna G Wakeley, Raven Rayne Waller, Kayla E Wilke, Maggie M Wright, Anthony Yepiz, Mylee Zink.
Grade 10: Halie Altergott, Amanuel Amann, Micheal James Anderson, Austin Armstrong, Angelina Marie Baccelli, Jose Baltazar, Isaac Barriga, Connor D Bates, Michael Behenna, Tatyanna M Bennett, Cole Spencer Berghorn, William Bernardo, Andrew Bethel, Erick B Bloede, Elizabeth M Borskie, Courtney Borst, Landon Haak Boyd, Olivia Marie Brown, Lillia Rose Marie Calderisi, Noe Calixto-Ramirez, Jennifer Castaneda, Damian Isaac Chavez, Myah Leigh Conrad, Hailey Lynn Costello, Colin Edward Coyne, Emma Czyznik, Tyler Deleskiewicz, Lex A Dupee, Elijah Falbo, William Henry Foley, David Fonseca, Thomas Gottinger, Arianna Goy, Aidan A Gregg, Alexis Guerrero, Lauren J Haase, Evelyn Tatiana Halford, William Emmet Heckert, Dylan Hein, Lauren Helsing, Karyme G Herrera, Ayden Hoover, William Jakic, Andrew Huynh Kha, Trinity R Knaack, Sophia Kobs, Ellen Anne Koepke, Sidney Nicholas Koschkee, Kylie C Kramer, Jazmine S Kruzel, Camden James Larkin, Jenna J Lempel, Joseph Liszek, Casey N Looze, Allison Lopez-Garcia, Chandler M Loveridge-Flores, Jenna Marie Lyng, Morghan V Marshall, Gage McGee, Thomas McGreevy, Madelin G Medina, Brandon Meier, Jonathan Mendoza, Austin T Meneces, Madison J Milinkovich, Melina S Nieves, Nancy Nova, Joshua Ordonez-Vazquez, Keila K Padilla Zapata, Sean Isaac Payton, Ella Permanian, Daniel Porras, Jorge L Porras, Marco Amir Posadas, Ethan Posey, Payton Powell, Lauryn A Princivalli, Lucas Railton-Hammerstrom, Jude D Reusch, Joanna Marie Rice, Edwin Rodriguez-Romero, Kenneth M Rosko, Leah Sanders, Tyler Schneider, John A Schneider, Lauren Siczkowycz, Bridget Eileen Smith, Joseph Smith, Brian Angel Sosa Morgan, Gavin Stam, Carter Stinnett, Kelsey Ann Stoller, Silas Doyel Thomas, Emma A Thomas, Joel Torres, Stella Voight, Zion Walker, Conor Watke, Nevaeh N Watrous, Charis Sophia Wechet, Savannah Wheaton, Max Zukowski.
Grade 11: Bailey M Adams, Lizbeth Albino, Xenia E Anagnos, Sergio Avila, Mia Barnett, Joseph P Basurto, Dulce Bolanos, Brendan Bonnier, Jeremiah Broz, William Daniels Brzinski, Mikayla R Calandra, Jaqueline Castro, Rebecca Clevenger, Andrew David Sanders Cooper, Kayla Coulman, Matthew Crader, Colton Craig, Lita Crisman, Skylah Denton, Vincent Faul, Xavier Firlik, Kayla J Flores, Alyssa Leeann Fonseca, Brayden Fuller Funderburk, Charlie J Gallo, Tannor S Garrels, Otto G Goebel, Erika A Guerrero, Aziyah I Guerrero, Haley J Guest, Braeden Hasse, Kristel Hedin, Madison Held, Calahan Hutter, Baylee Johnson, Madison P Kenyon, Sean C Kerrigan, Priscilla Jean Koster, Jacob Kratz, Blake Lancour, Zachary Larsen, Nicole Laufenberg, Kaleigh Leach, Zachary Lindbloom, Sara Kathleen Liptak, Kaleigh Lofy, Wylie Ludtke, Leonel Luna, John M Malik, William Mangold, Jacob W Marousek, Hailey Martz, Faith Meckler, Cody James Miller, Alexander Mollusky, Allison Oomens, Maya Pacholczak, Yadhira Perez, Jasmine Plascencia, Megan Ella Potter, Sophia Proksa, Izabella Rempert, Jared Samonig, Ivan Sanchez, Antony Sanchez, Sarah Seeberg, Jackson Ryan Slayton, McKenna Smith, Elizabeth Ann Smith, Henry Stehno, Samuel J Stout, Sophia Christine Strasser, Violet M Sulli, Nora Kay Sullivan, Elizabeth M Swiech, Nicholas M Szamlewski, Chance Anthony Thompson, Madison Toflinski, Jason M Toflinski, Ruben Villegas, Autumn Wolf, Brenda Zarate.
Grade 12: Ashley Grace Adams, Ezra Annen, Joanna Aileen Balderas, Travis A Bates, Zachary Behenna, Carlos J Bernal, Josef Botello, Jared Brewer, Isabelle B Brown, Frank Cataldo, Akio K Chant, Dalton A Creighton, Garrett W deGelder, Rahim Alvante Demir, Angel DiMeo, Matthew Douglas Fischbach, Sean Foley, John Frazier, Teja Rae Gallatin, Kerry Gleiter, Pahola Gonzalez, Nicole Hammond, Steven E Haworth, Marshall Hayes, Alexander Dennis Hernandez, Bridget A Hewitt, Destinee R Higdon, Michael Hodnik, Skyler P Horn, Maryrose R Huber, Kyia Huculak, Briseida Jaramillo, Louis R Kastor, Seth J Kawalec, Isabel Frye Keefe, Reece Kiel, Victoria Laramy, Delaney Lewis, Francisco Luna-Romero, Kimberly Lynch, Hunter C Magill, Dyllan McClintock, Alejandro Mercado, Gregory Miller, Daena Murillo, Bulmaro V Nova, Angel Perez, Jonathon E Peterson, Daniel Playa, Eduardo Porras, Mariana Porras, Russell J Prichard, Kylie Roberts, Joelle L Rohner, Angelina Lucia Siciliano, Calvin Skipper, Katelyn M Smith, Caleb M Spitz, Hannah Straube, Isabella R Sypniewski, Cristian Torres, Savannah Volck, Rachael E Warren, Ethan White, Isabel White, Eric Wiles, Isaac Wright.
Get local news delivered to your inbox!
Subscribe to our Daily Headlines newsletter.