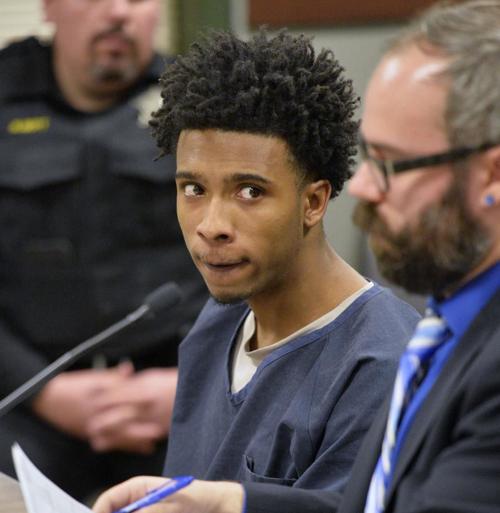 KENOSHA — A jury has convicted a Racine man of first-degree intentional homicide in the shooting death of a Wheatland man, dismissing his lawyer's argument for a lesser charge.
There was no dispute at the trial of Markeith Wilson that he was part of a crew of four people who went to Joe Riley's home intending to rob him, their actions setting off a gunfight that ended with Riley dead and his friend critically injured.
In closing arguments Oct. 24, Wilson's attorney, Brian Dimmer, acknowledged that the jury had evidence to convict his client of conspiracy to commit robbery and armed burglary.
But the state argued that Wilson, 21, was also guilty of first-degree intentional homicide and first-degree attempted homicide as a party to the crime because Riley's death and the injuries to his friend, Eva Lofton, were a consequence of the robbery.
However, Dimmer argued that Wilson, who evidence shows likely did not fire his weapon, should have been convicted of a lesser charge of felony murder.
The jury found Wilson guilty on all the charges. His sentencing is set for Jan. 9, when he could be sentenced to life plus an additional 120 years.
Wilson and his friends — Augustine Sanchez, Demarco Hudson, and Anthony Harris II, all of Racine — drove to Riley's Wheatland home on Nov. 15, 2018, with the intent to rob him of money and marijuana.
Several people from the same group had attempted to rob Riley the night before, but had been unable to get into his home.
According to testimony at trial, Wilson, Harris and Hudson went to Riley's door the night of his death, with Sanchez staying behind outside. Wilson and Harris kicked in the front door, and almost immediately gunfire broke out.
Riley and Lofton were shot, as were Hudson and Wilson. Riley died at the scene. Lofton was shot several times but survived. Hudson and Wilson fled with Harris and Sanchez, who left their injured friends at a gas station.
District Attorney Michael Graveley argued that Wilson knew Riley had been robbed before and knew that, because of the failed robbery of the night before, he would be on guard.
He argued that the would-be robbers knew Riley had a gun, and that they armed themselves with three weapons.
He said testimony showed Wilson entered the house first. A friend of Riley's who was in the house and who was not injured testified that he saw the first man come through the door, acting out what that person did when they came in.
"He's crouching in a shooting stance, prepared to shoot that weapon," Graveley said. In doing so, Graveley said, "You are responsible for what comes next."
Dimmer argued that all evidence showed that Riley likely shot Wilson as soon as he came through the door, and that Harris fired all the shots that killed Riley and injured Lofton.
He argued that after Wilson was shot, Harris' statements to police indicate that he pulled Wilson from the house and that Wilson then was helped back to the car.
Sanchez, testifying for the prosecution, said he saw Harris firing into the house from the door.
Dimmer said Harris "went rogue" by shooting into the house. He said that felony murder — it can be charged if someone is killed during the commission of another felony and that the defendant's conduct was a substantial factor in that death — was a more appropriate outcome.
Harris and the other two co-defendants are still awaiting trial.
First-degree intentional homicide convictions carry a mandatory life sentence, although the judge can set the number of years a convicted person must serve before they are eligible for parole.