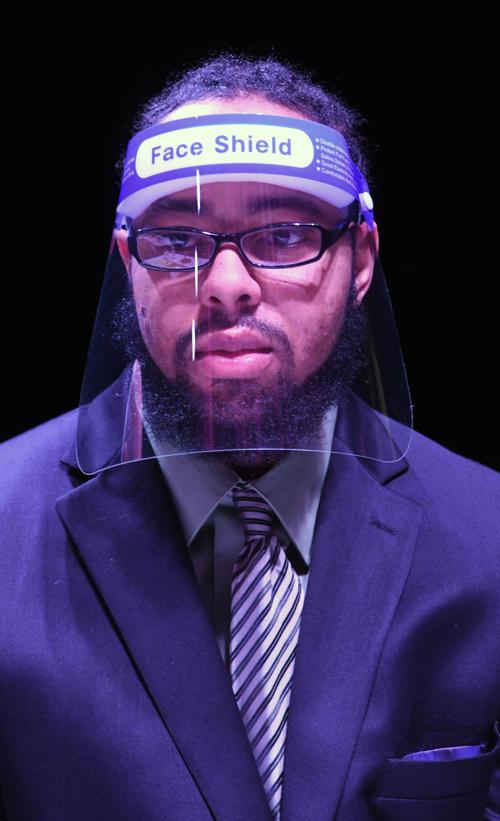 RACINE — One of the jurors in the homicide trial of Dalquavis Ward, who is accused of killing Racine Police Officer John Hetland, was dismissed due to exposure to COVID-19.
The trial broke early, at 11:30 a.m. for lunch on Wednesday and was scheduled to reconvene at 1 p.m. But the court did not reconvene until 2 p.m. at which point, Racine County Circuit Court Judge Timothy Boyle announced court would adjourn for the day and reconvene at 1 p.m. on Thursday.
On Thursday, Boyle explained that one of the jurors had been informed that she had come into contact last week with an individual who tested positive for COVID-19. The juror was tested and the test came back negative. As a precaution, she was dismissed from serving on the jury.
A total of 14 people were selected to serve on the jury for the trial, with only 12 needed for the final decision. With one gone, that brings the jury down to 13, with one still serving in reserve.
Defense attorney Charles Glynne gave an impassioned request that the court declare a mistrial, stating that the pandemic could interfere with the jury's ability to concentrate on the case. Kenosha District Attorney Michael Graveley said, "We could not more vigorously object to a mistrial."
Boyle denied the request to declare a mistrial and instead decided to allow the trial to continue according to the recommendations and requirements laid out by the higher courts in response to the pandemic.
"The court hates to use this term that is frequently used that we now live in the new normal but there is a lot of reality and truth to that ," Boyle said. "This case was thrown a curveball but that is not a curveball unknown and unexpected by the courts."
The jury was brought in and each juror was asked individually if they had any reservations with continuing to serve on the case. All jurors said they did not.
DNA analyst testified
The state called Lisa Treffinger, an advanced DNA analyst and forensic scientist who has been with the state crime lab in Milwaukee since 1997.
Treffinger said she got a call around 12:15 a.m. on the morning of June 18 informing her that she and her team would need to come to the scene at Teezers Bar and Grill, 1936 Lathrop Ave. She said that while she has gone to the scene in previous cases, it is not common practice.
Treffinger was the first of her team members on the scene; her home was closer to the scene so her team stopped by the office to pick up the equipment needed and she went straight to Teezers to get a walk-through of the scene. Shortly after she arrived at around 1:30, a Racine County Sheriff's deputy gave her a tour of the scene and explained what had happened. While State Patrol took video and photos of the scene with measurements, she briefed her team on what she'd seen and what their course of action would be.
She testified that she was "very happy" with the security in place when she arrived on the scene, which included multiple layers of tape and no traffic of people moving in and out of the scene.
As the sun was coming up, she and a few other investigators went into Teezers' basement to review security footage, which she called "extraordinary" and "extremely helpful."
She saw that the perpetrator was not wearing gloves so she noted potential touch points to swab for DNA, including doorknobs and the right side of Hetland's shirt and face, based on footage of the struggle between Hetland and the perpetrator. Treffinger stated that she and her team were on scene until 1 p.m. on June 18.
DNA was collected from Hetland and bartender Heidi Fritz so their DNA could be distinguished from the perpetrator's. She testified that a major profile was pulled from multiple sites which she believed was from the perpetrator, though the defense pointed out that she was unable to state when the DNA was deposited on the surfaces.
The perpetrator's DNA was put into CODIS, the Combined DNA Index System, which is an index of DNA profiles collected from crime scenes or from convicted individuals ordered by a court to provide a DNA sample. The CODIS system identified Ward as a potential match.
The defense showed a video taken from after the shooting which showed individuals taking their possessions and leaving the bar, implying the scene could have been contaminated. The defense also brought up the question of transfer DNA, which is when an individual transfers DNA from one person to a surface. Glynne also asked if she could know when that DNA could have been transferred onto a surface because there is no standard of deterioration.
Graveley asked Treffinger how the DNA collected on the scene compared with transfer DNA. She stated that with transfer DNA it is more challenging to get a major profile because there is a smaller amount of DNA.
Gravely also asked Treffinger if she saw anything in the exhibits or the evidence that indicated that anything had been tampered with. She testified that she did not. Treffinger also testified that the type of DNA found on Hetland, touch DNA, which provides major profiles, is typically from the last physical interaction an individual had. She stated that a scuffle, such as that between Hetland and the perpetrator would have produced touch DNA.
Sign up for our Crime & Courts newsletter
Get the latest in local public safety news with this weekly email.