FONTANA — The owners of Fontana's newest tavern have known for years that they wanted to become partners and open their own place someday.
But neither Kim Minette nor Mike Trainor anticipated the obstacles they would encounter in launching their business, which is located in a spot previously occupied by Pie High Pizza.
When the village had no available liquor license, Minette and Trainor had to pay $25,000 in an unusual arrangement to purchase a liquor license from the neighboring town of Delavan.
Then, just as they were ready to introduce their new Ninkasi Pub, they discovered that another tavern with the same name was demanding that Fontana's new place adopt a different name.
As they open for business, Minette and Trainor are philosophical about overcoming the challenges.
"Things happen for a reason," Trainor said. "It's not as bad as it sounds."
On the contrary, the two partners say their tavern at 441 Mill St. is off to a strong start since it opened Nov. 2 with the goal of offering Fontana bar-goers a new place to relax and socialize.
Rather than a loud nightspot filled with TV screens and other distractions, the soon-to-be-renamed pub is striving for a more subdued vibe, and an emphasis on customer service.
"We're here to converse and talk and have fun," Minette said.
Located adjacent to the Coffee Mill, the tavern presents a new remodeled look to the former Pie High Pizza restaurant, which closed this summer after about eight years.
Coffee Mill operator Mary Ann Bruss, who owns the building, said she was excited when Minette and Trainor approached her with the concept for a sophisticated nightspot adjacent to her coffee shop.
Bruss calls the new tavern an "adult oasis," adding that it is badly needed for people who simply want to have a drink and unwind.
"People want something a little different," she said. "I think they're gonna love it."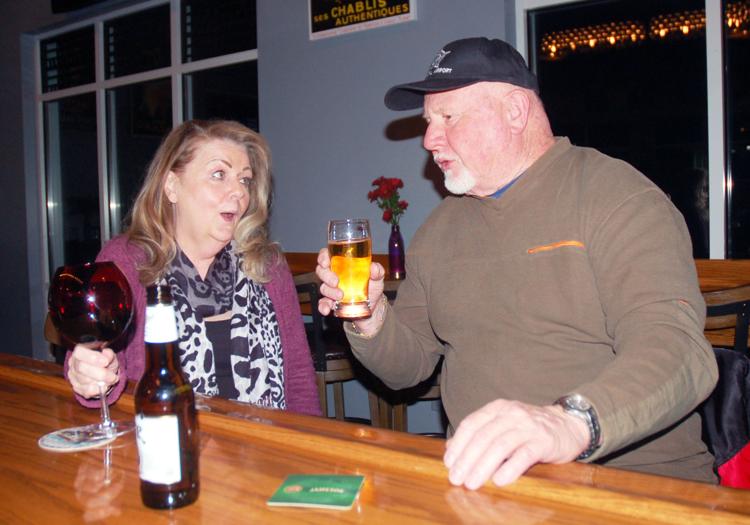 The tavern is open 11 a.m. to closing Thursday through Sunday.
For Minette and Trainor, it is the achievement of a dream that both have shared during long careers in the local restaurant and tavern industry.
Minette spent 35 as a bartender and manager at Chuck's Lakeshore Inn in Fontana, followed by eight years at Pier 290 in Williams Bay. Trainor also worked at Chuck's Lakeshore Inn as well as nearby Gordy's Boat House in Fontana. He currently works in boat fleet management at The Boat House Bar and Grill in the town of Linn.
As co-workers and colleagues, the two partners long had their eyes on establishing their own tavern in Fontana.
Noting the long histories that both have enjoyed at Chuck's and Gordy's, Trainor said: "We've always wanted to be in Fontana. We both are so connected here."
After reaching an agreement with Bruss to lease the old Pie High Pizza space, the partners hired Jason Mannon of M&M Construction to transform the old restaurant with new flooring, light fixtures, remodeling, a rectangular bar, and new interior furnishings.
The place now has about 25 seats at the bar and another 65 or so seats at tables overlooking tall windows around the perimeter.
But when Minette and Trainor approached Fontana village officials, the new tavern owners found that the village had no liquor license available; all of its licenses were spoken for. So they persuaded Fontana to approach the town of Delavan under a state law that allows one municipality to purchase surplus liquor licenses from any municipality within two miles.
The minimum cost for such an exchange is $10,000. Delavan town officials, however, decided that giving up the potential for another tavern in their community — and all the revenue that would follow — made their surplus liquor license worth more than $10,000.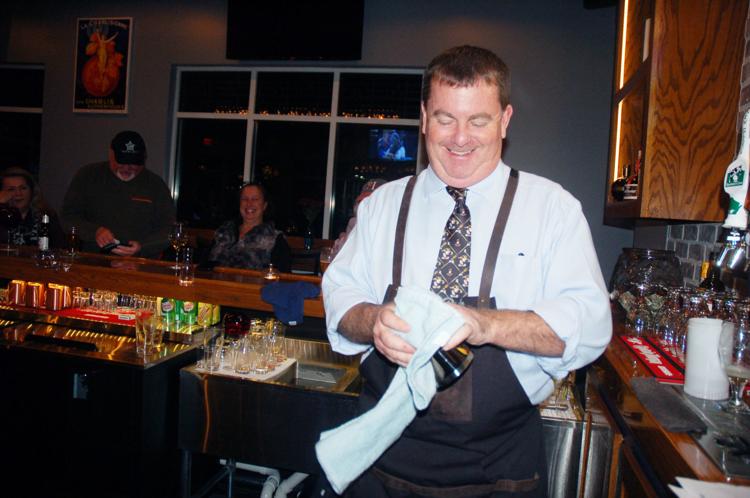 In June, the town board voted to sell the license to Fontana for $25,000.
Delavan Town Administrator John Olson said in his 20 years in municipal government, he had never before been involved in such a liquor license exchange.
Of the $25,000 price tag, Olson said: "I thought it was fair to both sides."
Fontana Village Administrator Theresa Loomer said the $25,000 cost was passed along entirely to Minette and Trainor.
The village could have shopped around to see if other neighboring municipalities would sell a license for less, Loomer said, but that would have taken more time, and the license applicants were anxious to open their new tavern.
Loomer said village officials were happy to see a new business in town bringing life back to the old Pie High Pizza place.
"We always want to have a business that wants to be here," she said.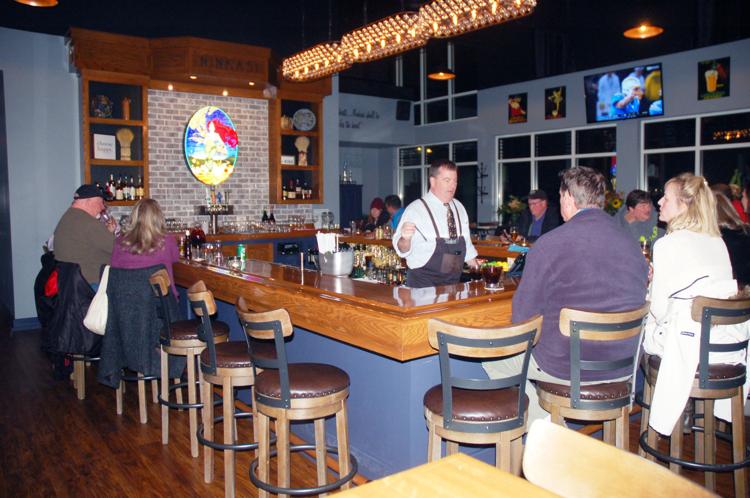 Minette and Trainor settled on the name Ninkasi Pub because "Ninkasi" is the name of an ancient goddess of beer. As it turns out, they were not the first to come up with the name.
A microbrewery in Eugene, Oregon, called the Ninkasi Brewing Co., contacted the new Fontana tavern owners and ordered them to drop the name, or face legal action.
Although they already have invested in signage, decorations and even aprons emblazoned with Ninkasi Pub, Minette and Trainor have agreed to rename their place. They have not picked a new name yet, but they hope to somehow keep the spirit of Ninkasi as a theme for their business.
"It's not going to change who we are," Minette said.
None of the obstacles or added expense have dampened the enthusiasm that the two new business partners feel for their venture in Fontana.
They are delighted with the remodeling job that their contractor performed on the old pizza place. And they are encouraged by the response of customers during the tavern's first few days in operation.
Minette said she has enjoyed seeing many familiar faces from her years in the business.
"It's wonderful," she said. "You hang out in a tavern long enough, and you get to know a lot of people."