BURLINGTON — The mother of a star football player at Westosha Central High School says Burlington High School players repeatedly called her son the "N-word" during and after a game last Friday.
Niccole Simmons, whose son, Jakob Simmons, is biracial, said the racial slurs sparked a brief postgame skirmish that left some Westosha players so shaken that they were in tears.
Simmons said she has no idea why Burlington players targeted her son for abuse — other than his race — and she is saddened that such racist behavior disrupted a high school football game.
"It's not fair. It's not right," she said in an interview Tuesday. "It makes me so sad. I'm past being angry. Now I'm just sad."
Investigation ongoing
School officials at both Burlington and Westosha declined to comment Wednesday, except to say that allegations of racial slurs during the game remain under investigation.
The American Civil Liberties Union is speaking out about the incident, calling for the Burlington Area School District to take disciplinary action against any football players who engaged in the alleged misconduct.
The ACLU chapter in Wisconsin issued a statement of support for the Burlington Coalition For Dismantling Racism, a private group that first reported the racial slur allegations and also later questioned how school officials were responding.
In a statement Wednesday, the ACLU said of the school district: "BASD should address real-world examples of racist incidents in a serious way that promotes the safety of all of their students."
It is the second consecutive year that Burlington football players have faced accusations that they used racial slurs against an opposing team, both times involving Westosha Central. District officials last year determined that a player used vulgar language but could not determine whether racist language was used.
A captain of the Burlington football team denies that anyone on his team last Friday used the "N-word" in reference to Jakob Simmons or any other Westosha player.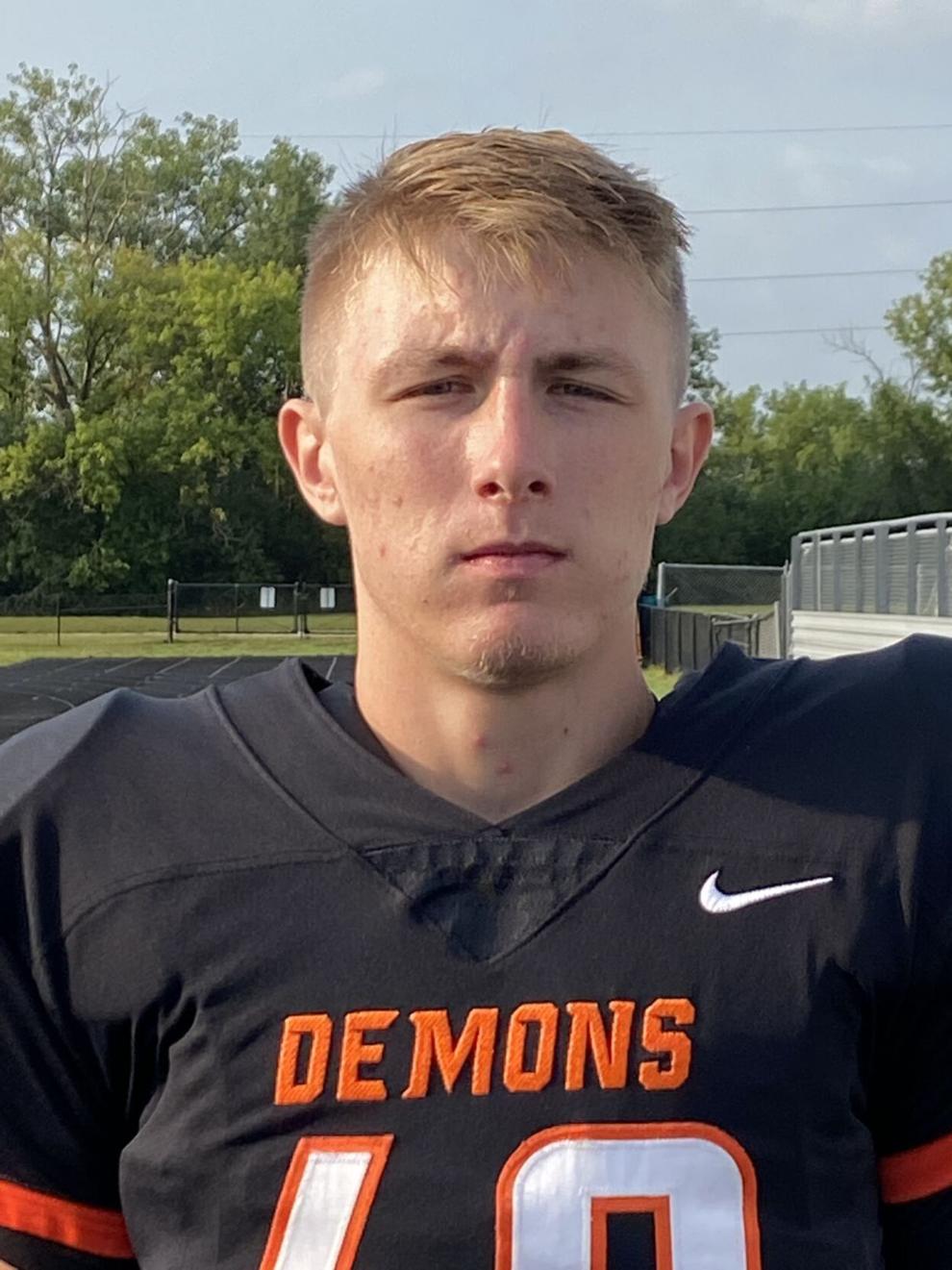 "I never heard that phrase," Colin Szymankiewicz said in an email Wednesday. He added that when the N-word is uttered on a football field, "it's pretty hard to miss."
Burlington defeated Westosha Central 20-17 on Friday in the game at Burlington.
Allegations
After the Burlington Coalition For Dismantling Racism reported that allegations of racial slurs had surfaced involving unnamed Burlington players, the school district disclosed that reports of such an incident were under investigation.
Niccole Simmons said her son, who is a running back for Wesosha Central, was called the N-word repeatedly by Burlington players. Whenever Jakob Simmons was carrying the ball, she said, Burlington players were overheard saying, "Get that n——-."
Niccole Simmons said several other Westosha players reported hearing the racial slurs. No other player was targeted for racist abuse except her son, she said.
Jakob told his mother that he did not hear the slurs, because he was too focused on running the ball. His mother also said Jakob shrugged off the incident later, having experienced racism in the past toward himself and family members.
"It's super sad that he's used to it," she said. "I hate that he's used to it."
Jakob Simmons is the son of Simmons, who is white, and a black father who died of cancer in 2006.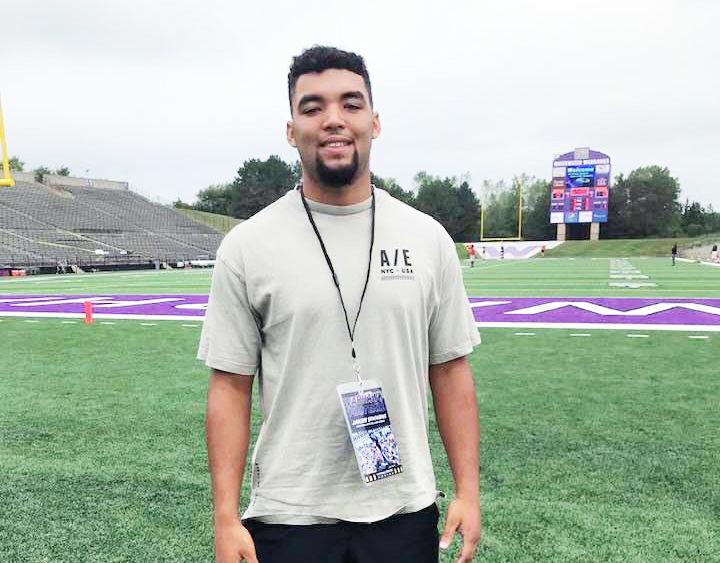 'They can't keep letting this happen'
So far this football season, the 220-pound Westosha running back is one of the top ball carriers in Wisconsin. He scored a touchdown and ran for about 200 yards against Burlington.
After the game, his mother said, a Burlington player taunted Jakob by saying something along the lines of: "Your team is trash." Jakob responded by boasting about his performance that night. When a Burlington player used the N-word toward Jakob again, a skirmish broke out, which Niccole Simmons said she witnessed, including seeing several Westosha players in tears.
On Facebook, other Westosha parents have responded with words of support for Niccole Simmons. With regard to the Burlington team, one supporter wrote in a Facebook comment: "This is nothing new."
Considering that a similar incident occurred last year, Simmons said she hopes Burlington school officials will respond with disciplinary action against the offending students.
Jakob Simmons and his teammates have been interviewed by Westosha school officials, who are cooperating with Burlington's investigation.
Niccole Simmons said she is unsure what sort of disciplinary action would be appropriate. But any students who engage in racist behavior should not be playing for Burlington, she said.
"I don't feel like they should be representing the school, talking that way," she said. Referring to school administrators, she added: "They can't keep letting this happen."
Aaron Rodgers: From baby-faced draft pick to 3-time NFL MVP — in photos
2004-10-16: Aaron Rodgers draft prospect at Cal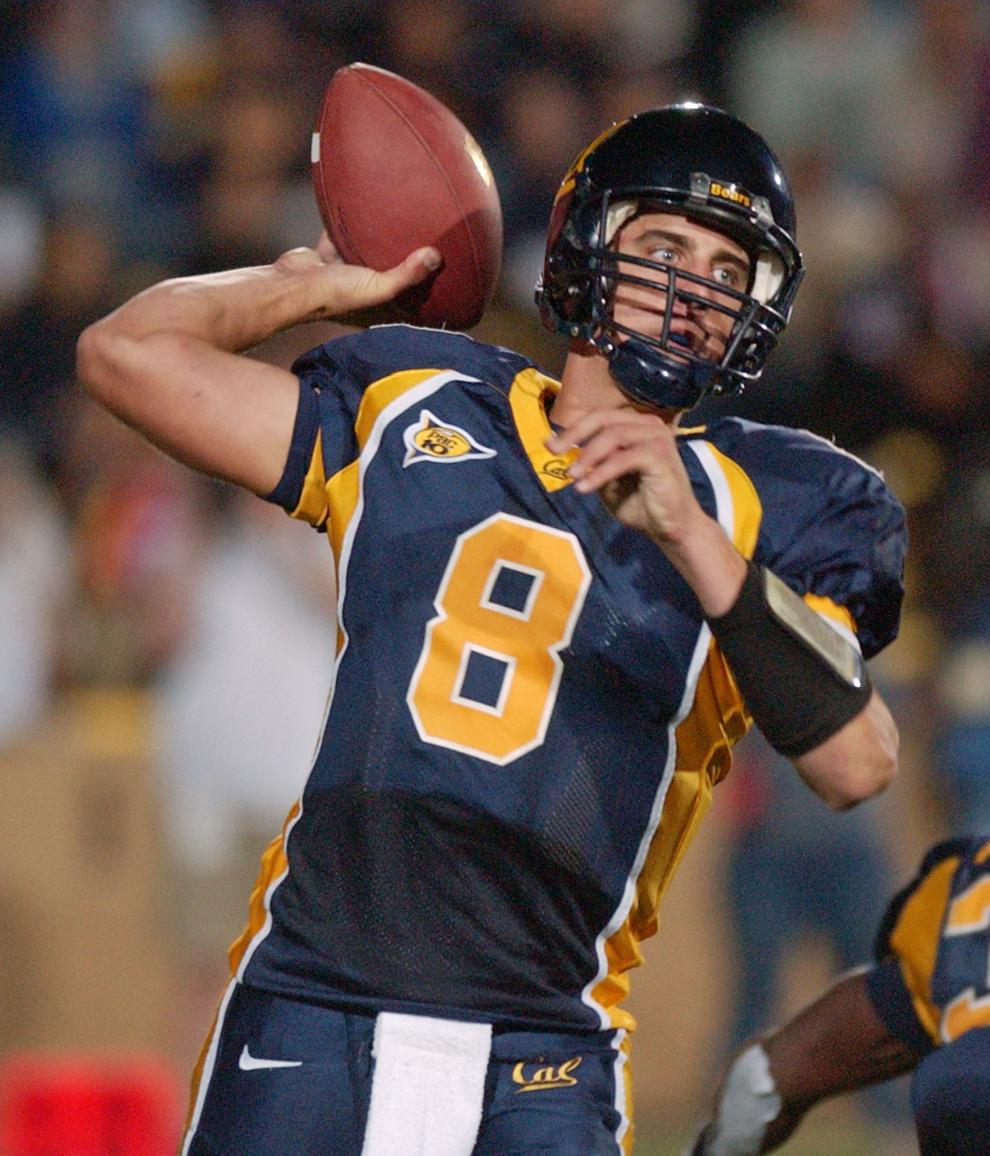 2005-04-22: NFL Draft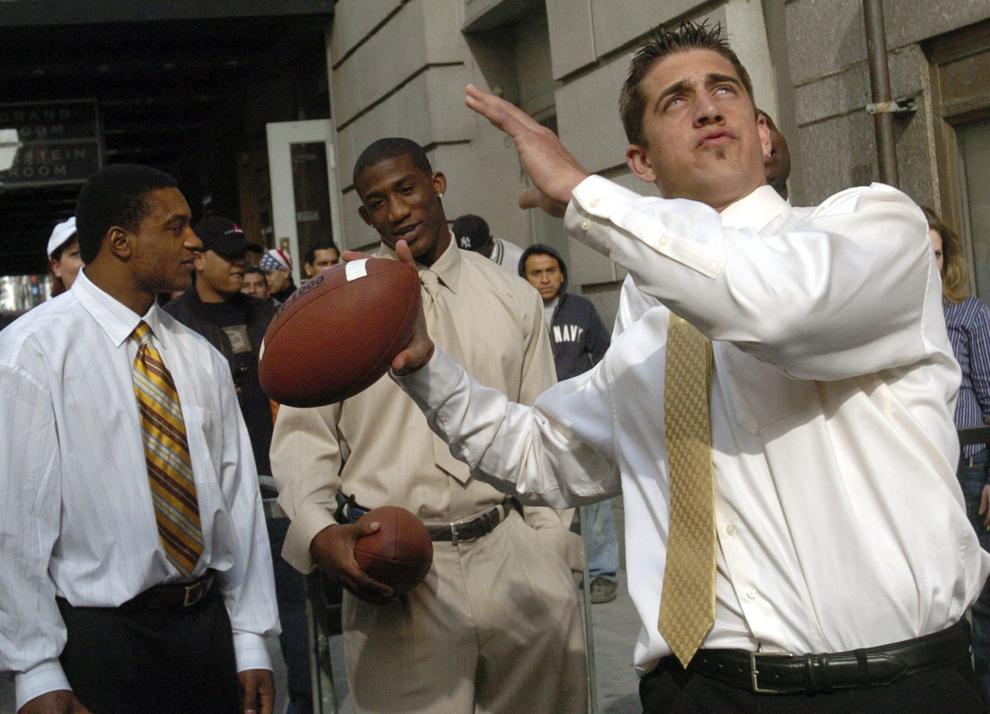 2005-04-22: NFL Draft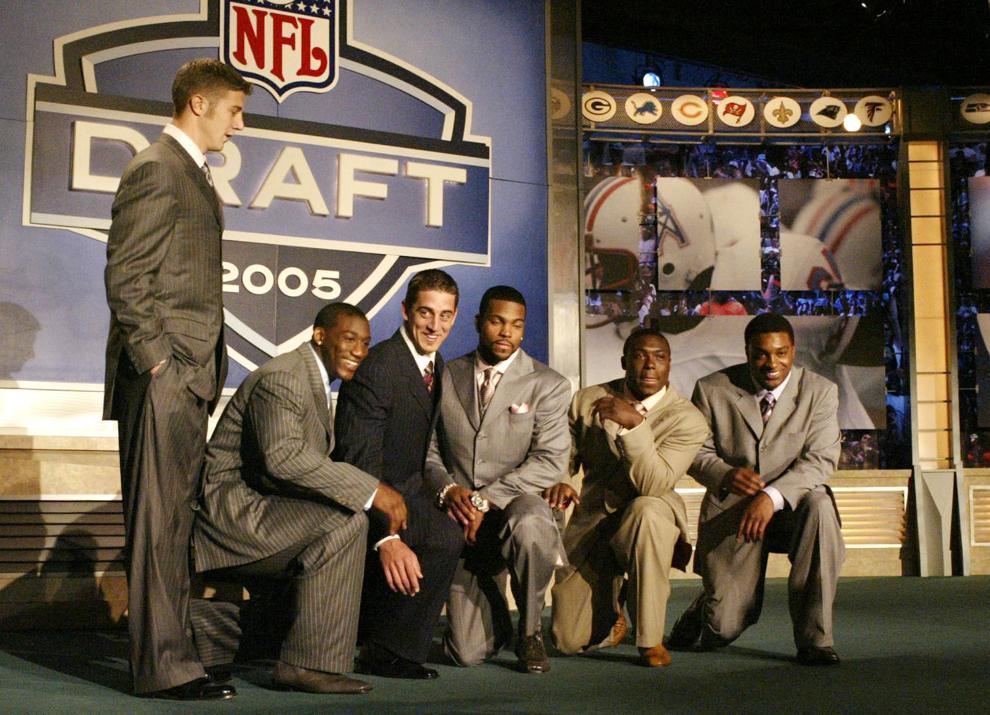 2005-04-22: NFL Draft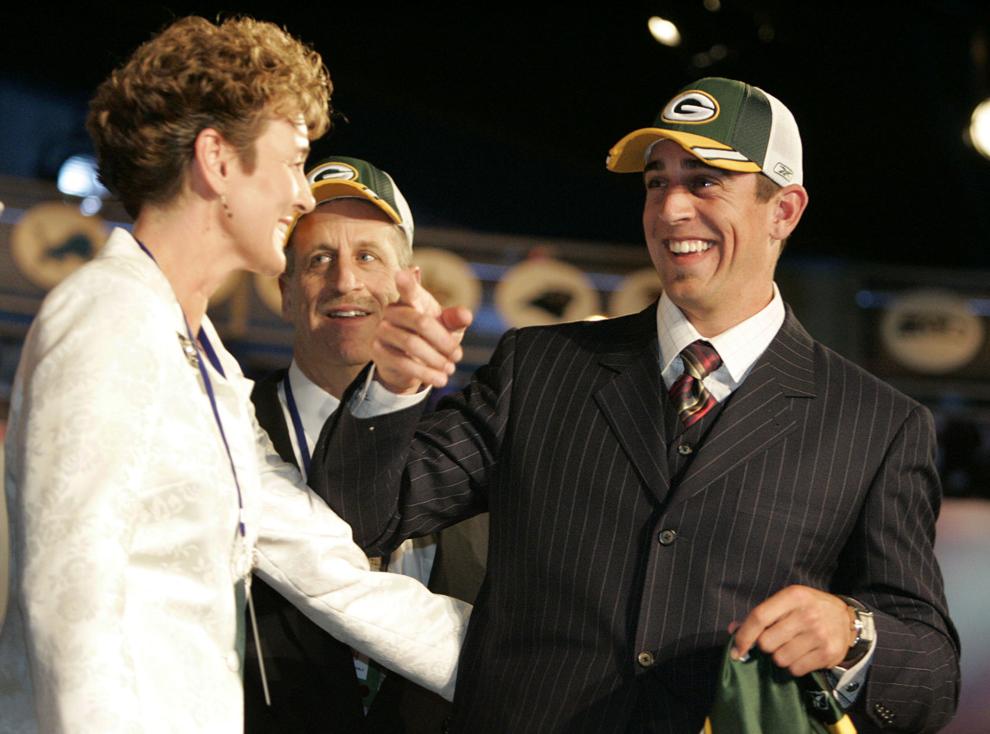 2005-04-22: NFL Draft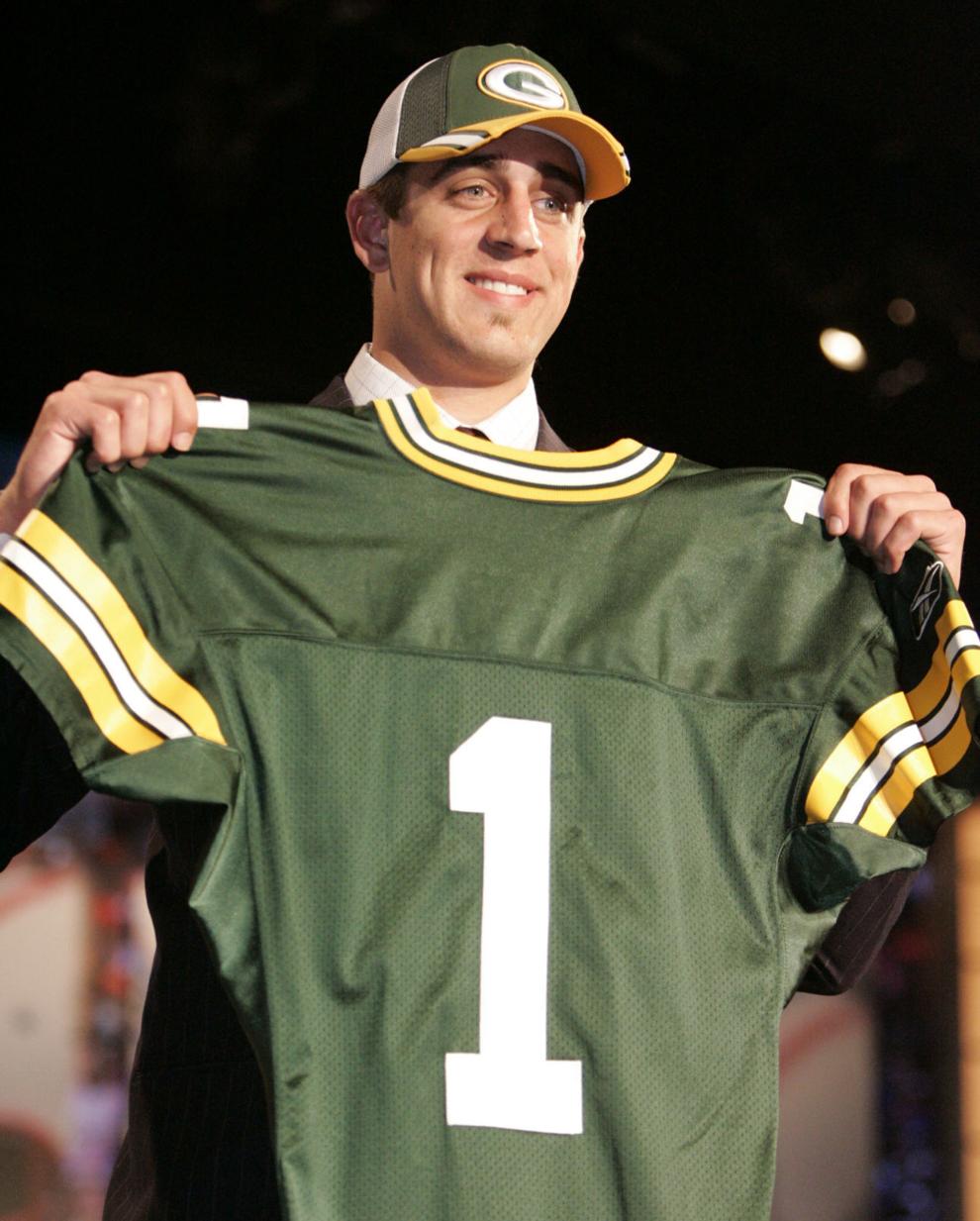 2005-04-22: NFL Draft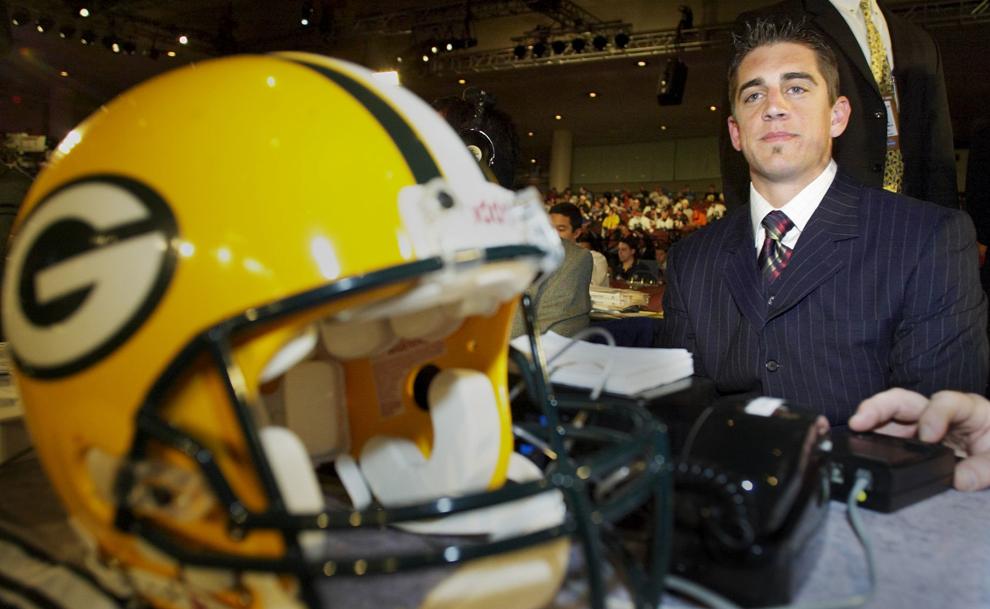 2005-04-23: NFL Draft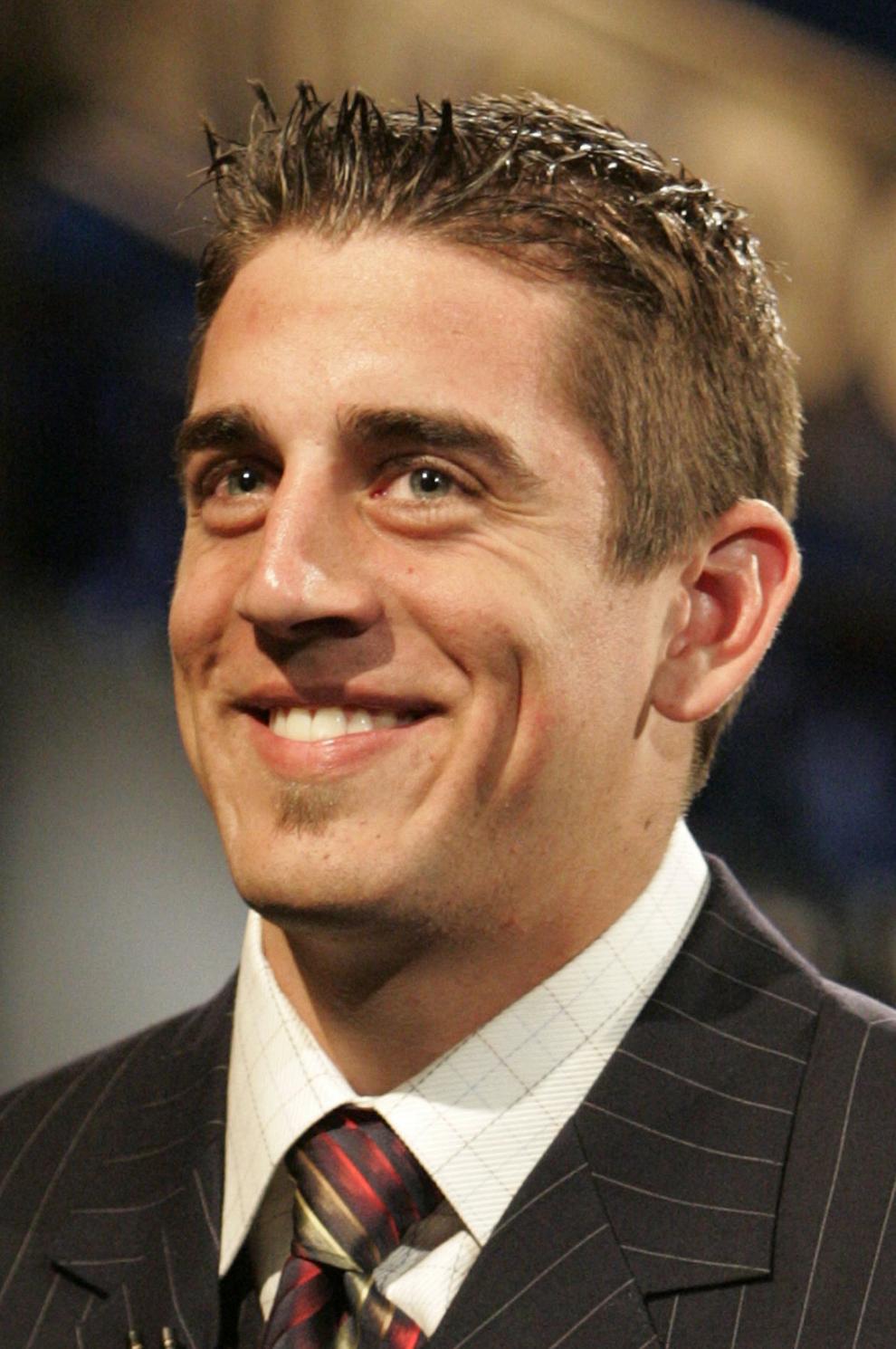 2005-04-24: Getting his number with Ted Thompson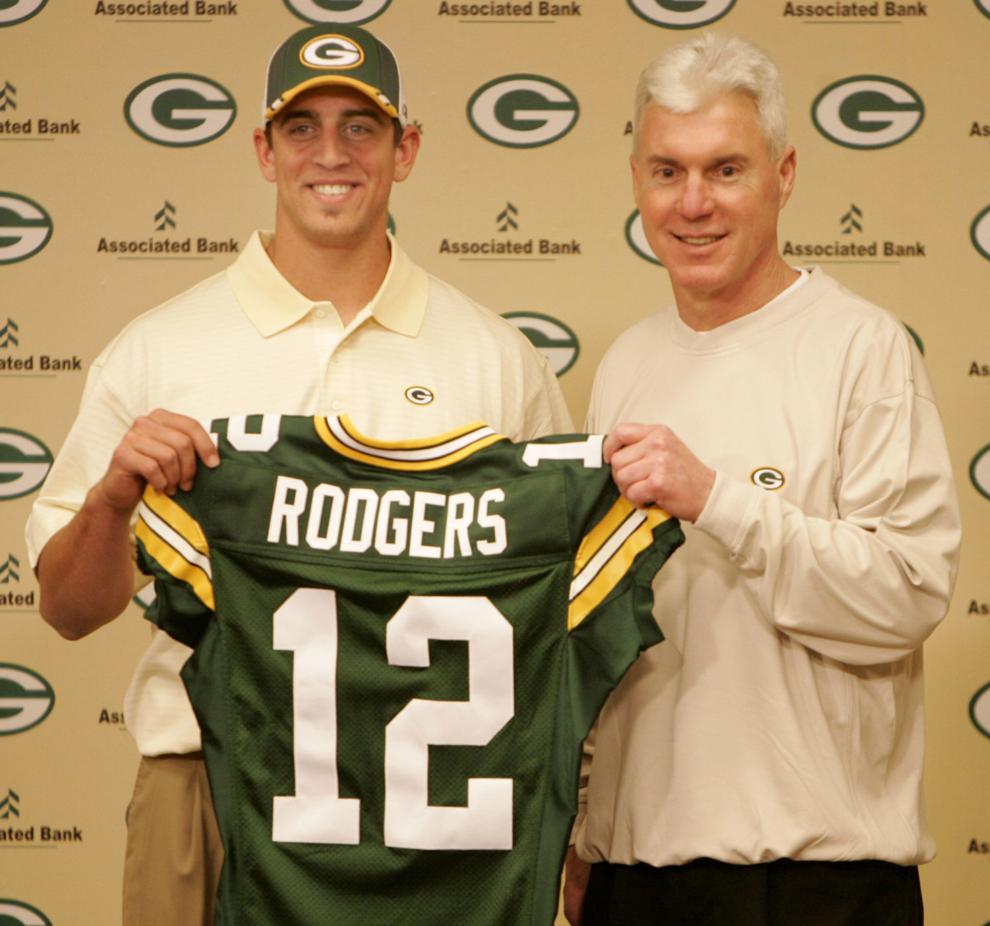 2005-04-24: Getting shown around Lambeau Field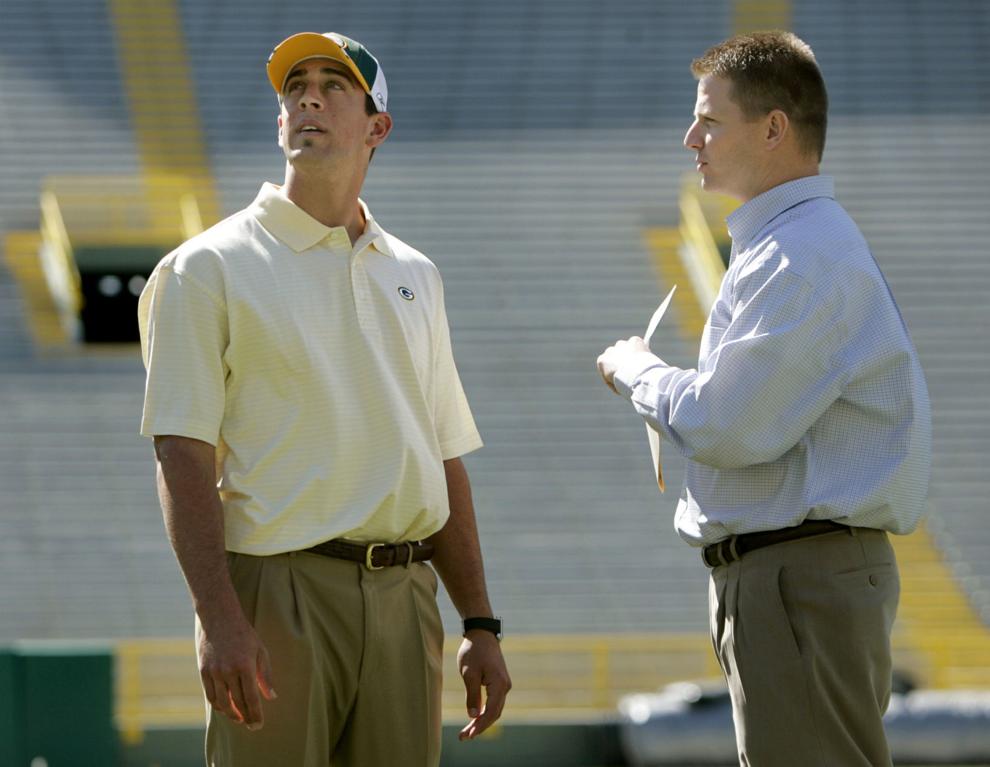 2005-04-29: Mini camp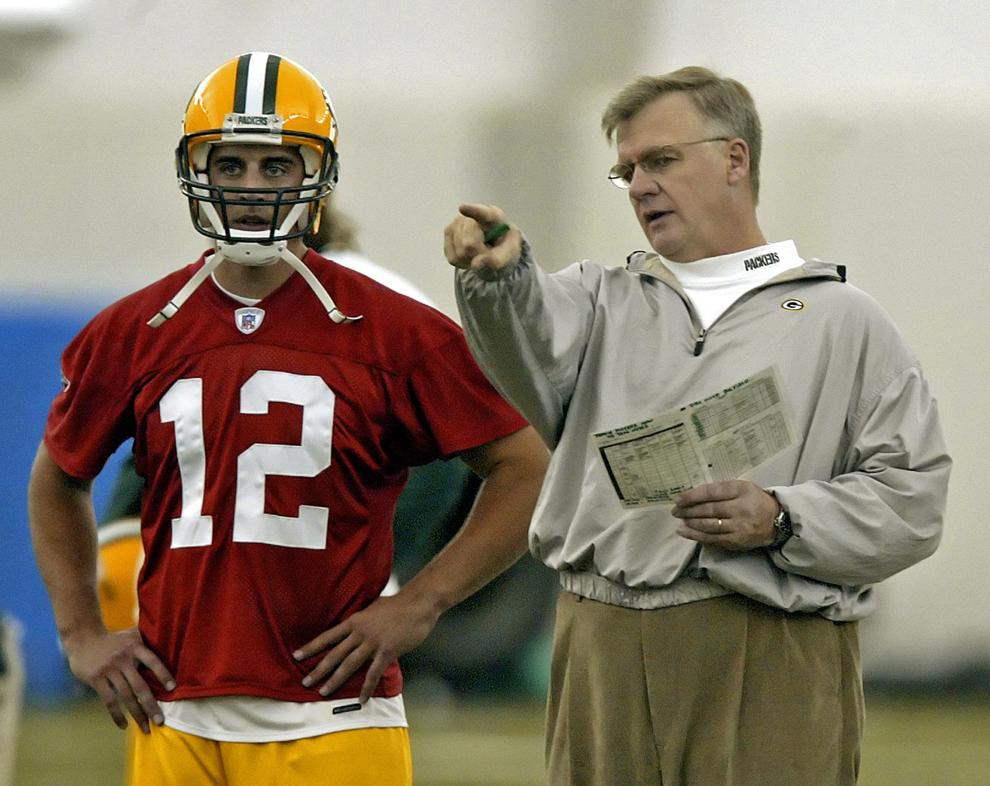 2005-06-01: Mini camp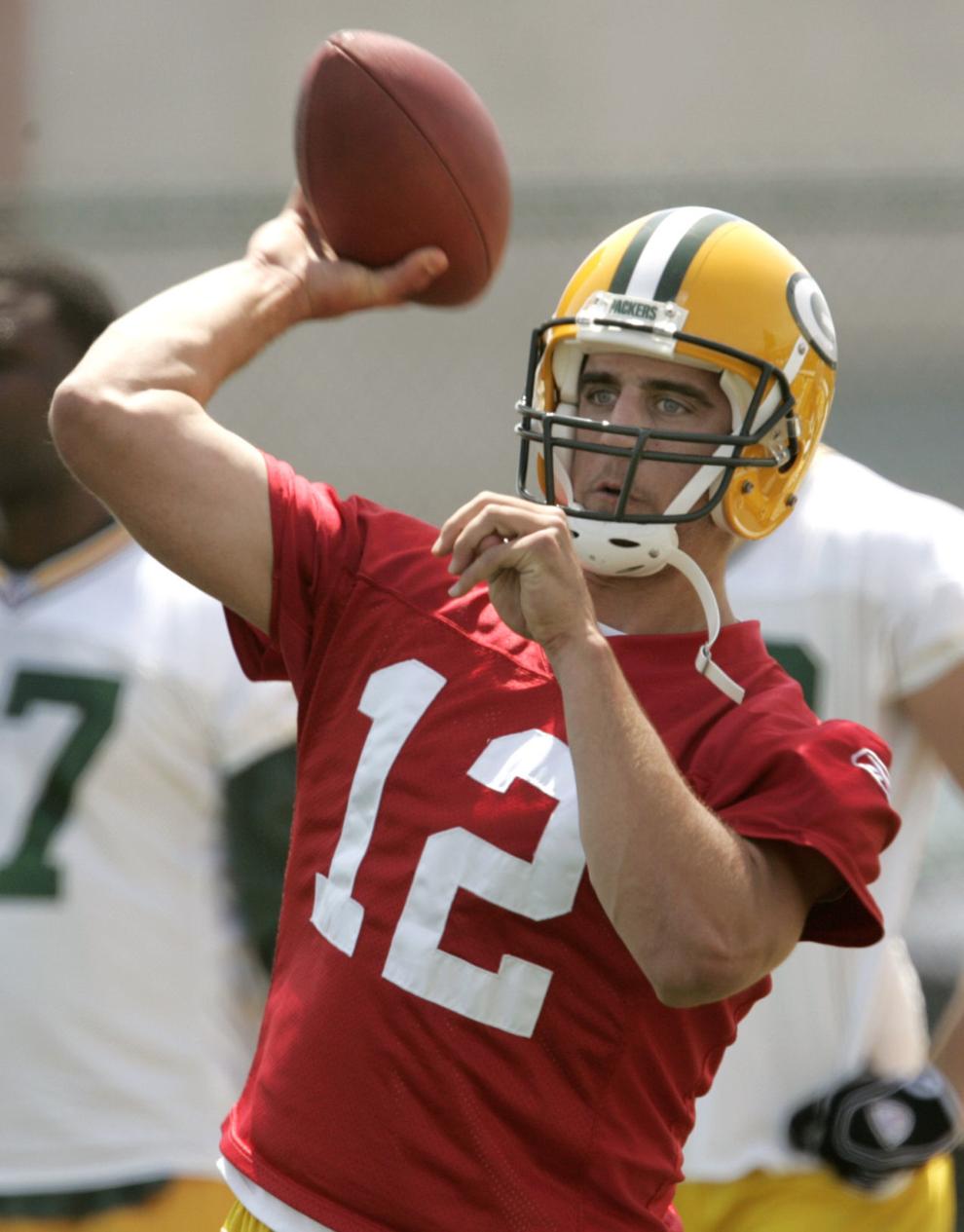 2005-07-31: Biking to training camp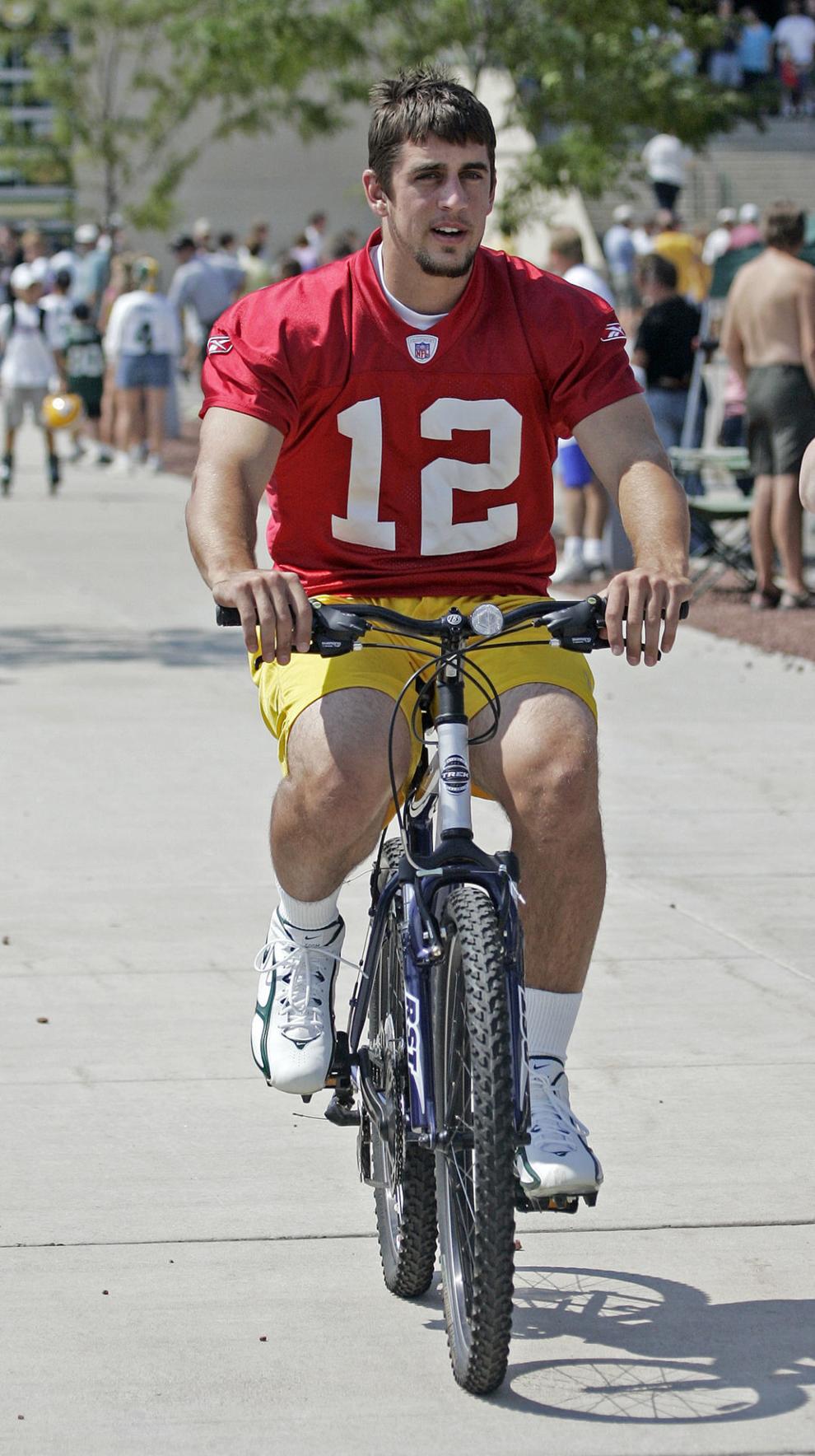 2005-12-19: at Baltimore
2006-11-19: vs. New England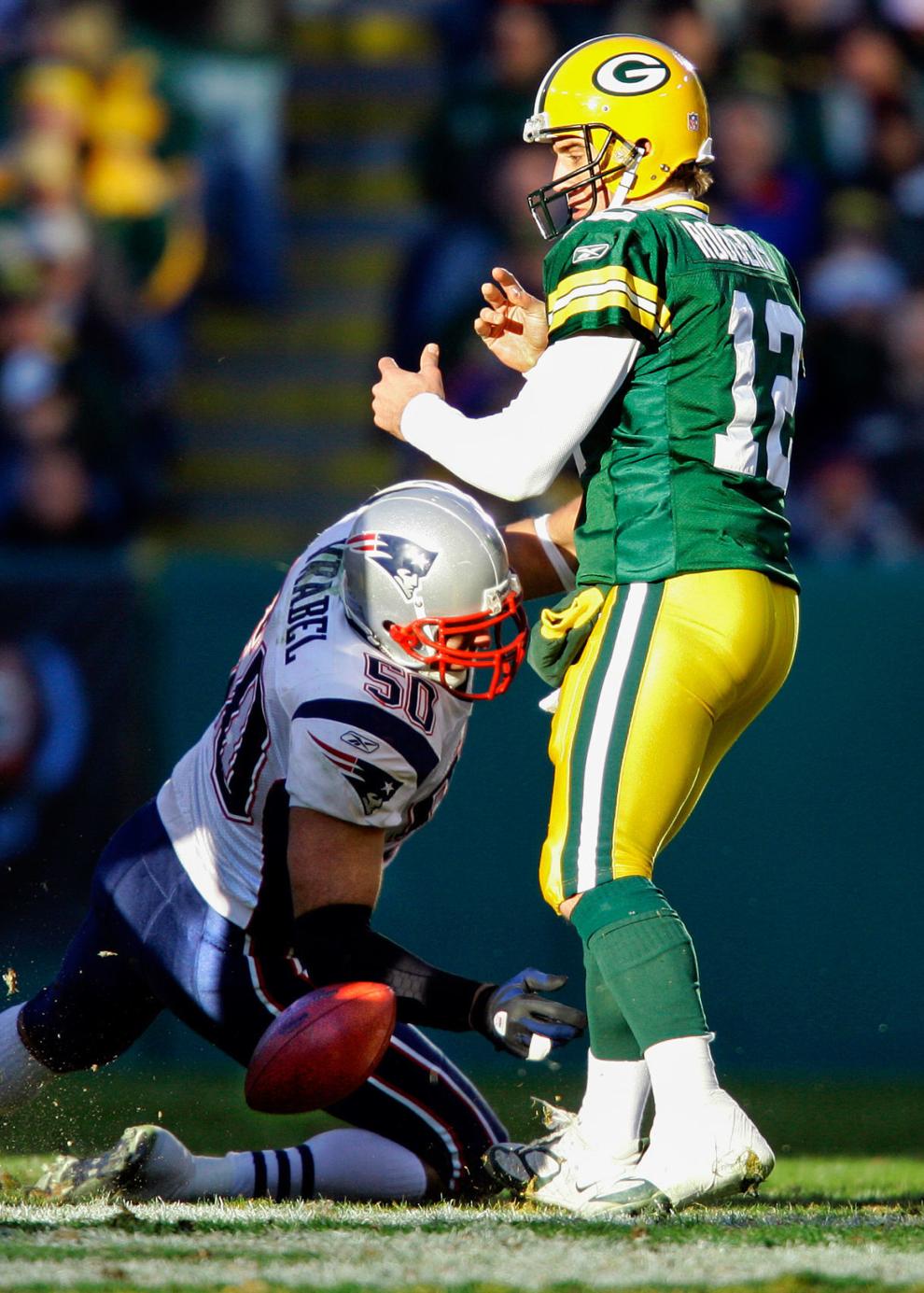 2007-11-29: at Dallas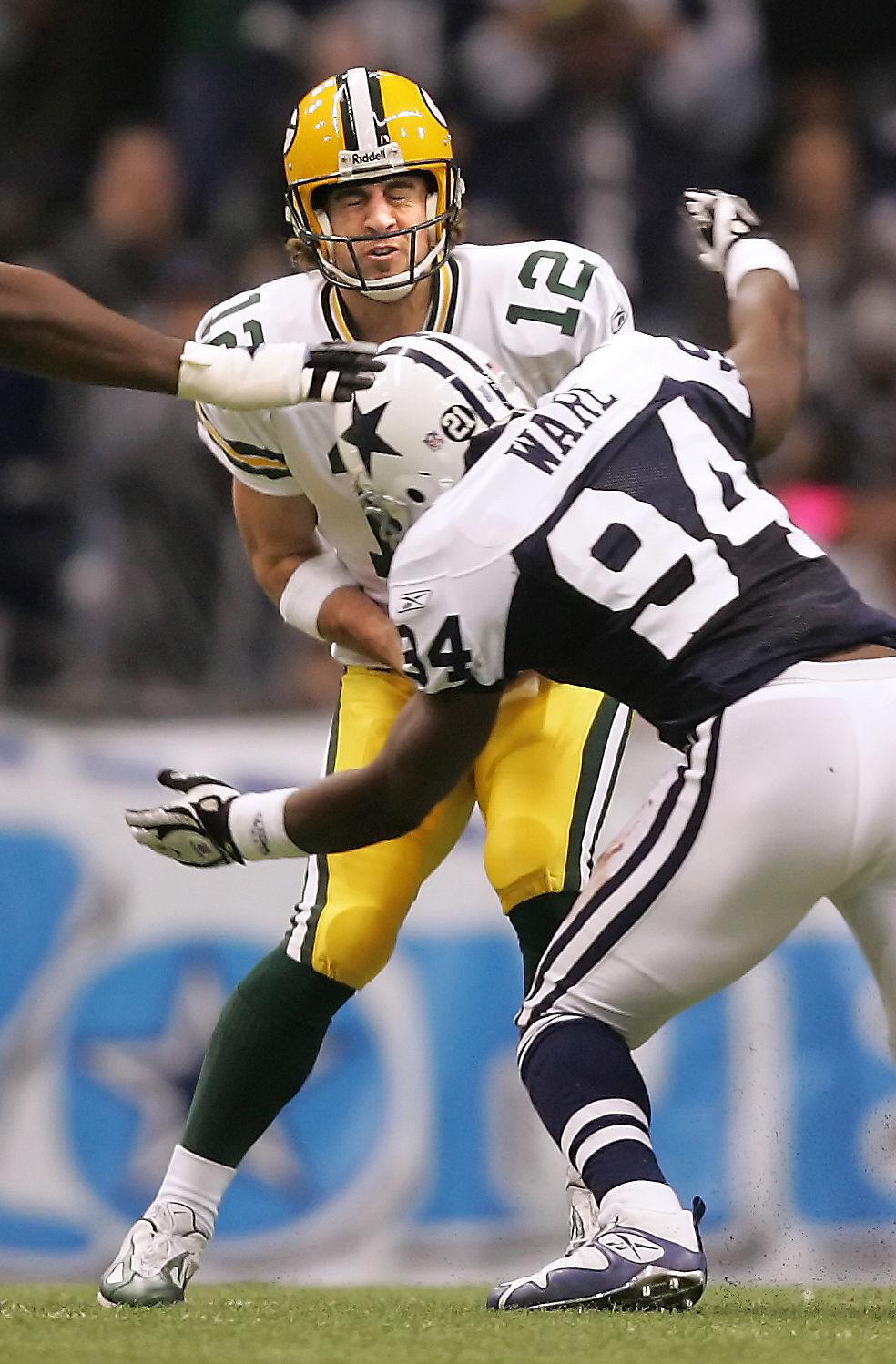 2007-11-29: at Dallas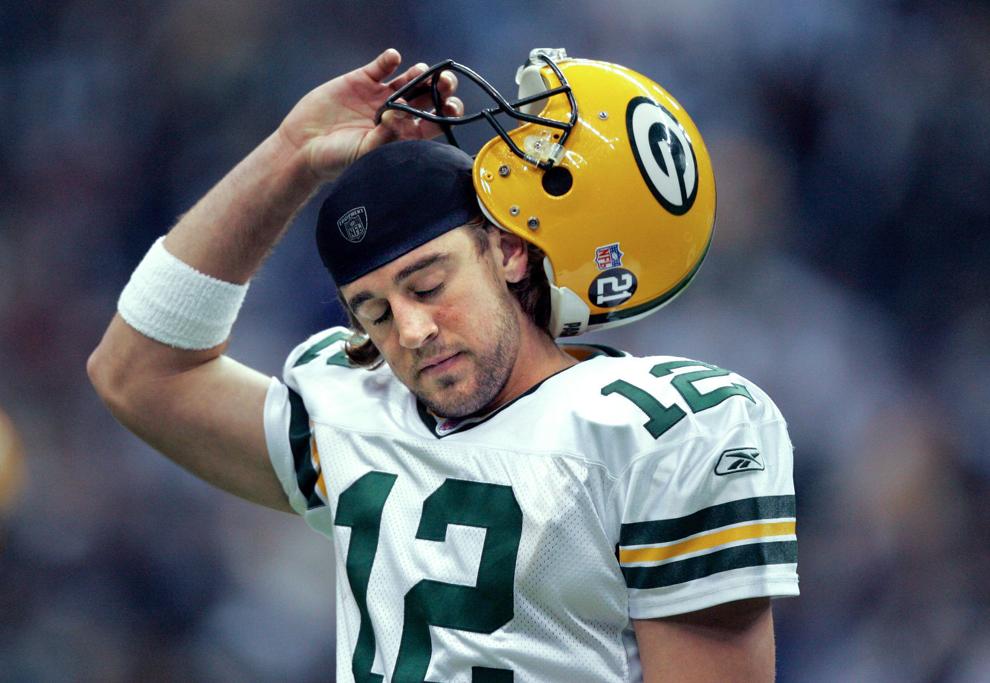 2007-11-29: at Dallas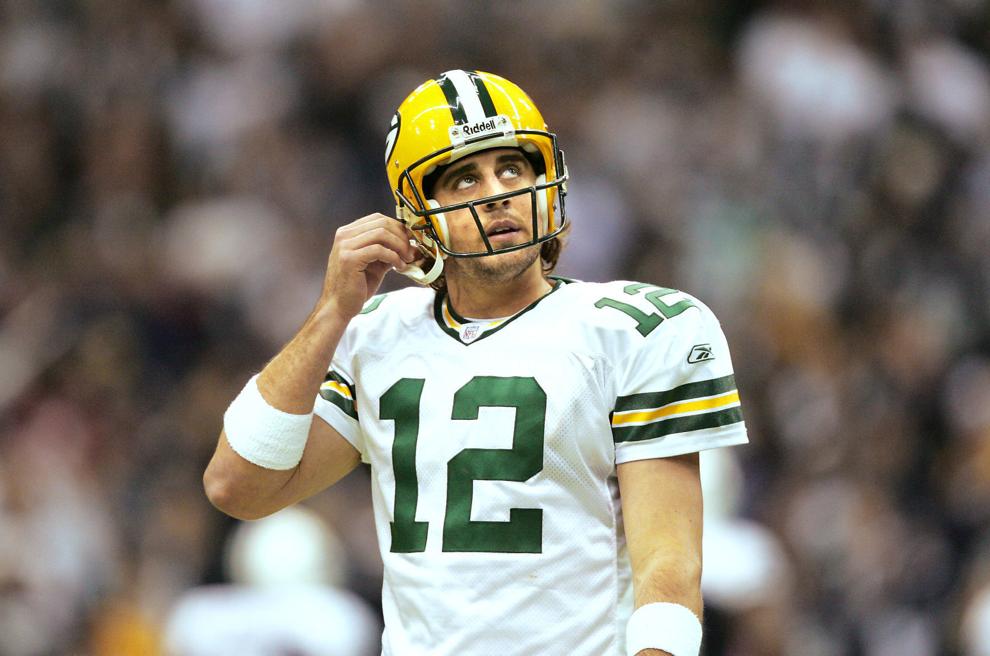 2008-09-08: Lambeau Leap vs. Minnesota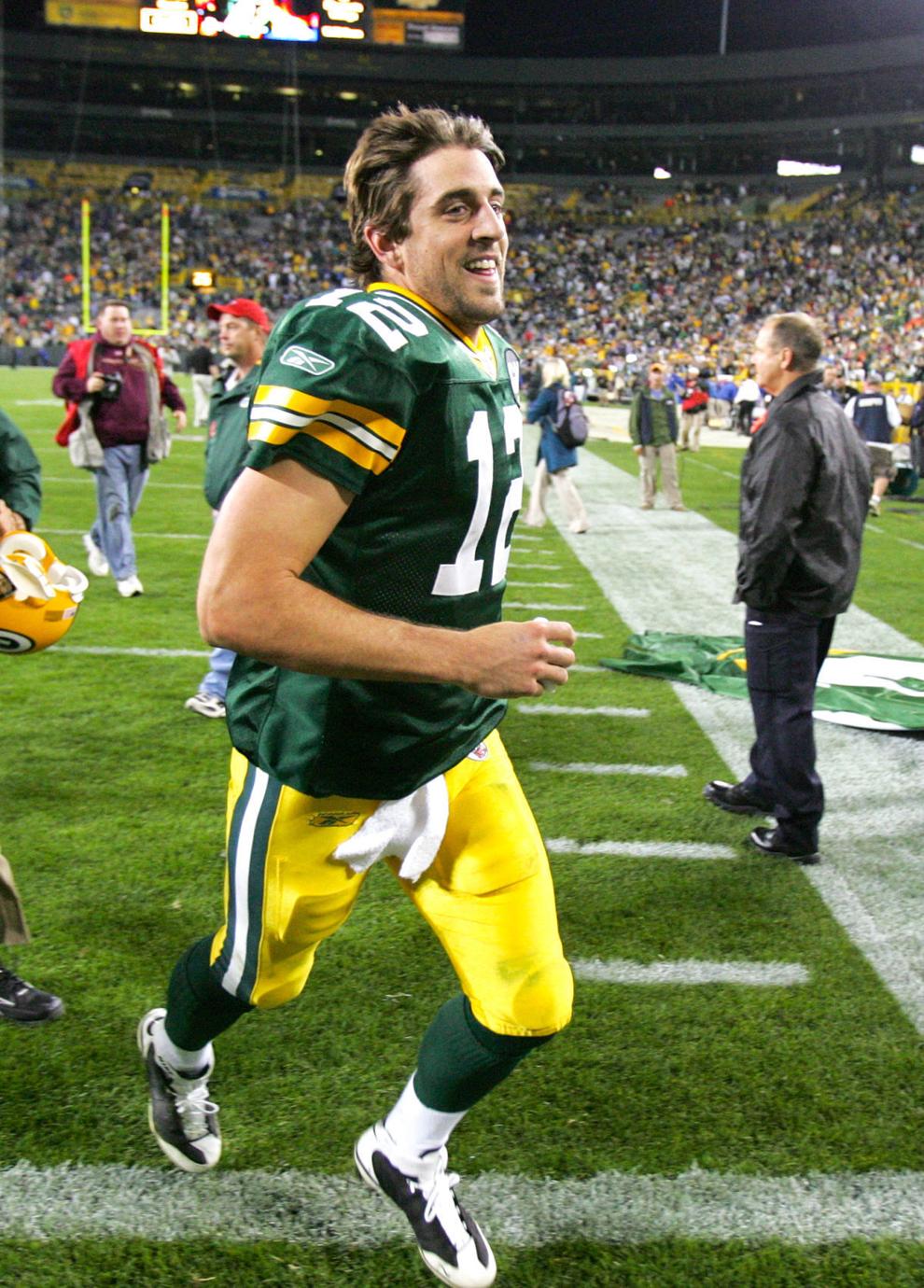 2008-09-08: Lambeau Leap vs. Minnesota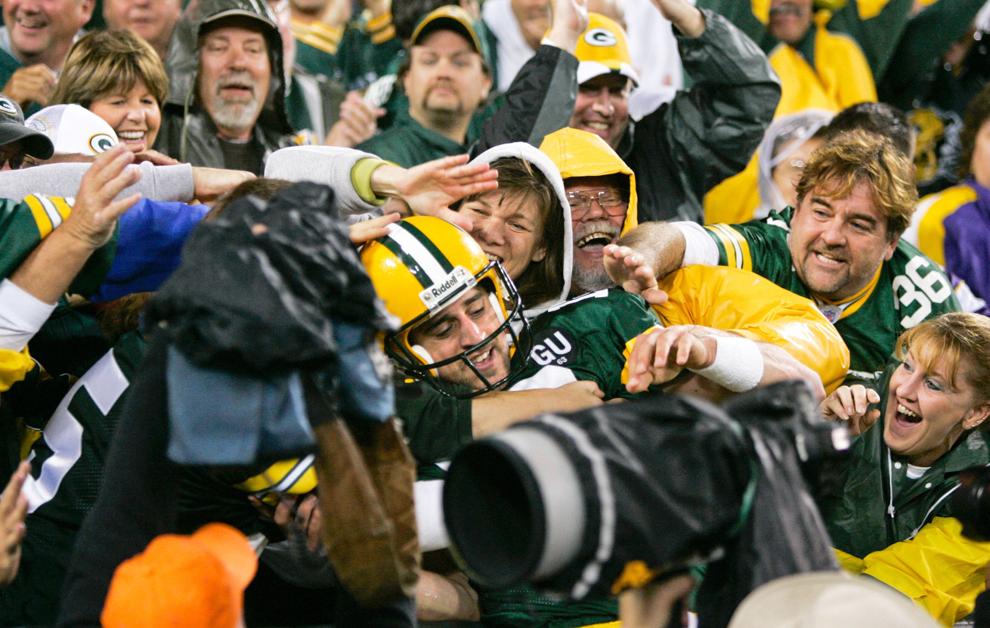 2008-09-27: vs. Tampa Bay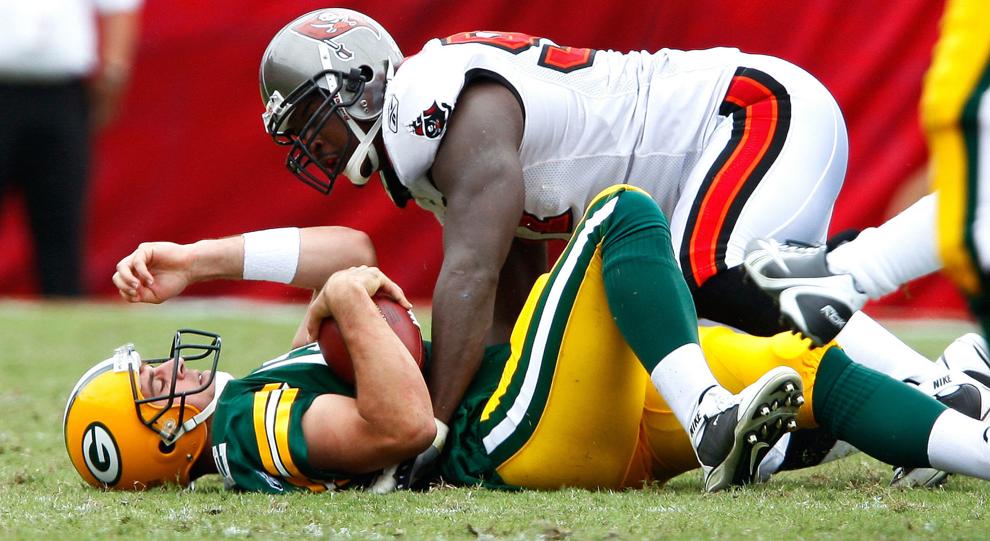 2008-10-05: vs. Atlanta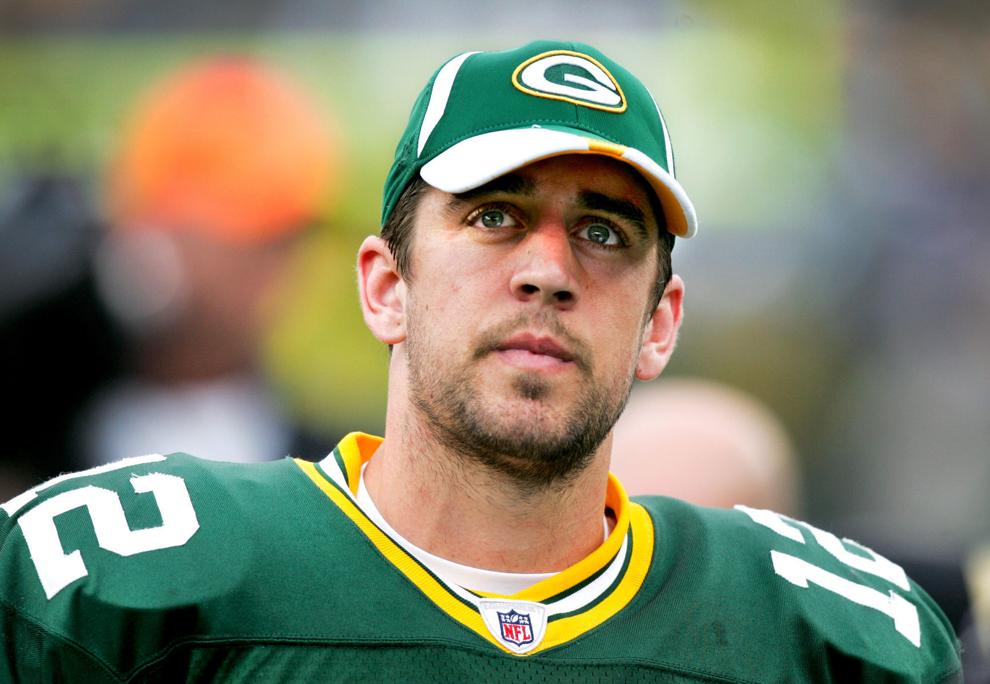 2008-10-12: at Seattle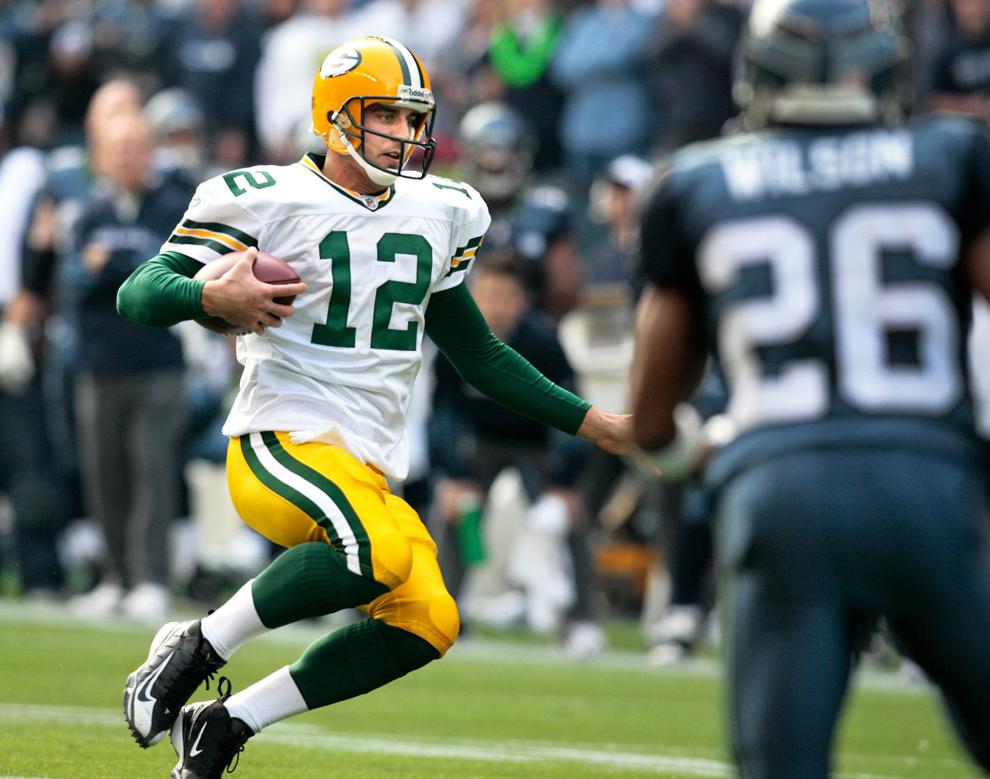 2008-11-09: at Minnesota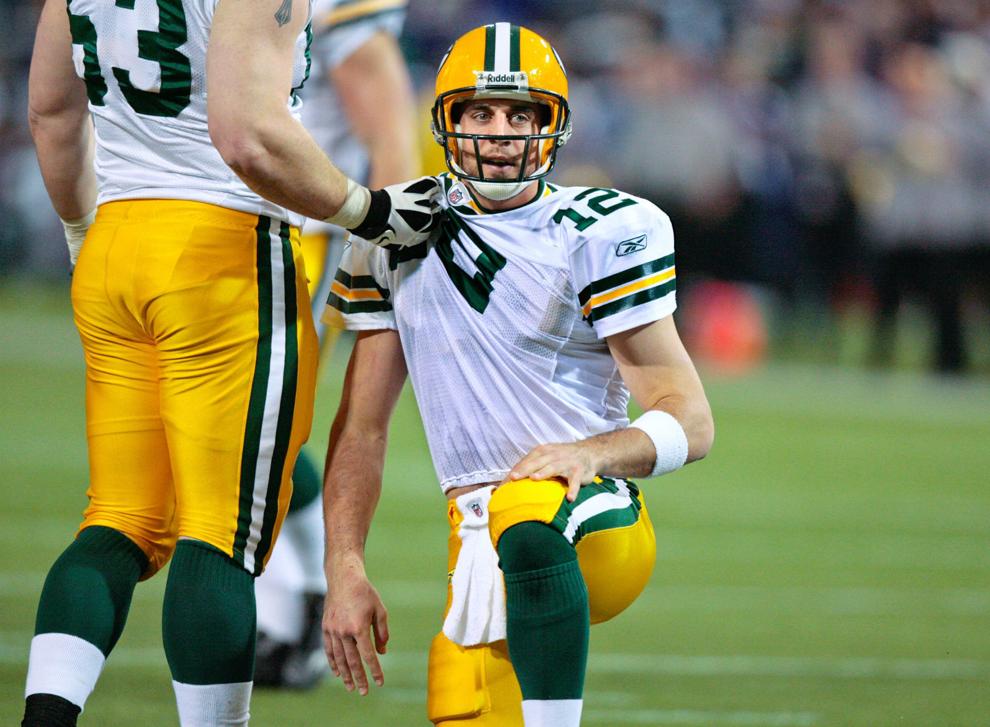 2008-11-16: vs. Chicago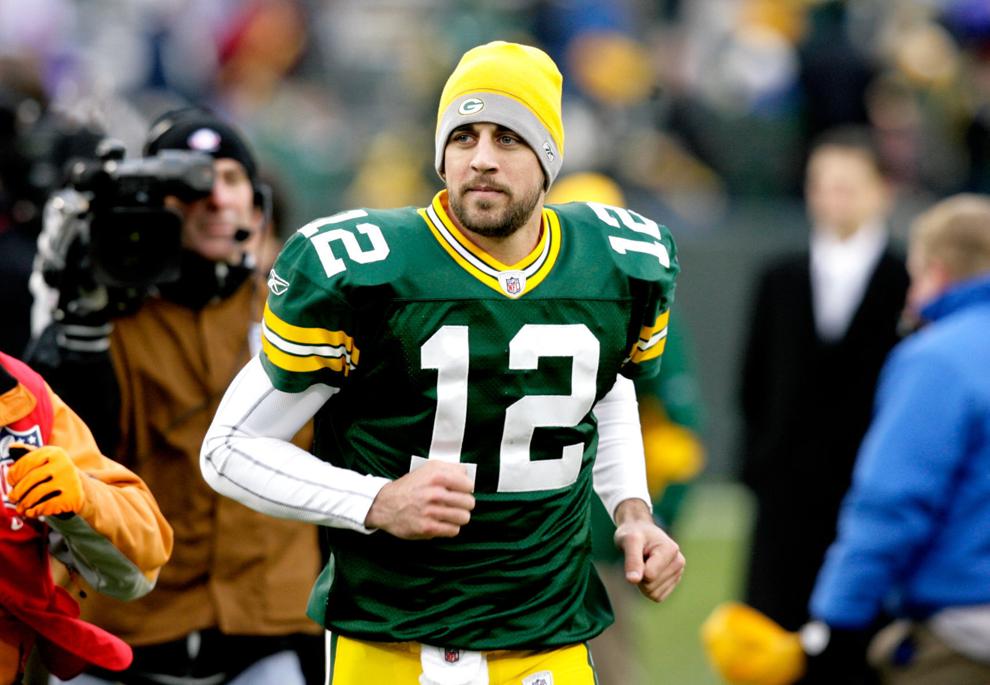 2008-11-24: at New Orleans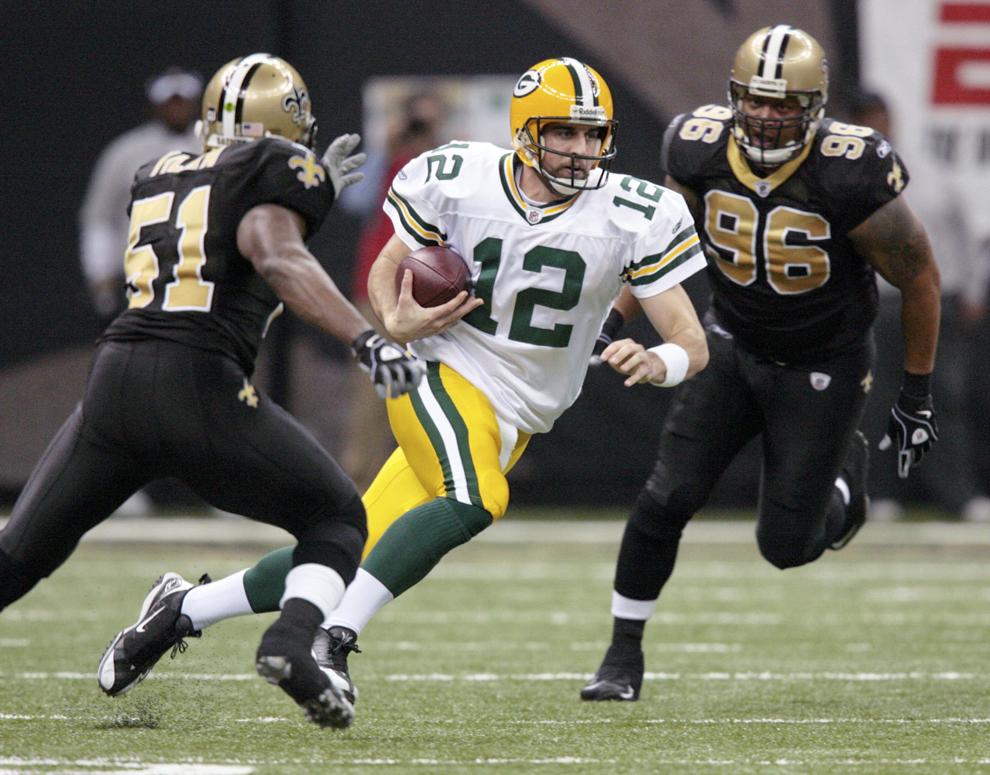 2008-11-30: vs. Carolina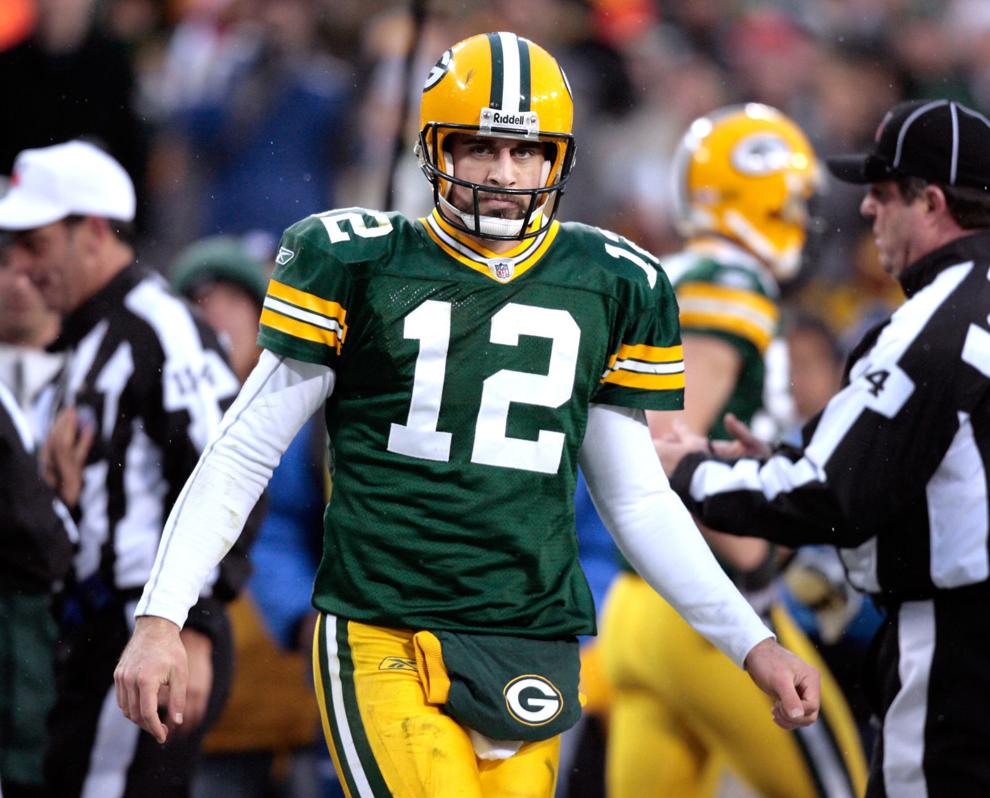 2008-12-28: vs. Detroit
2009-09-13: vs. Chicago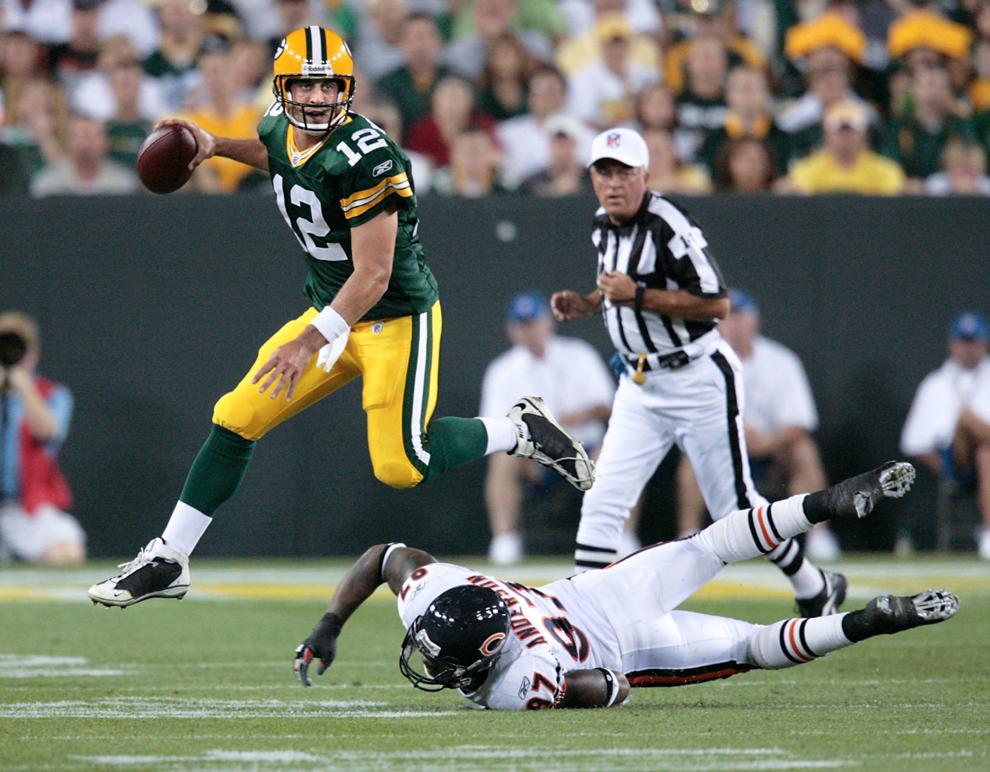 2009-09-20: vs. Cincinnati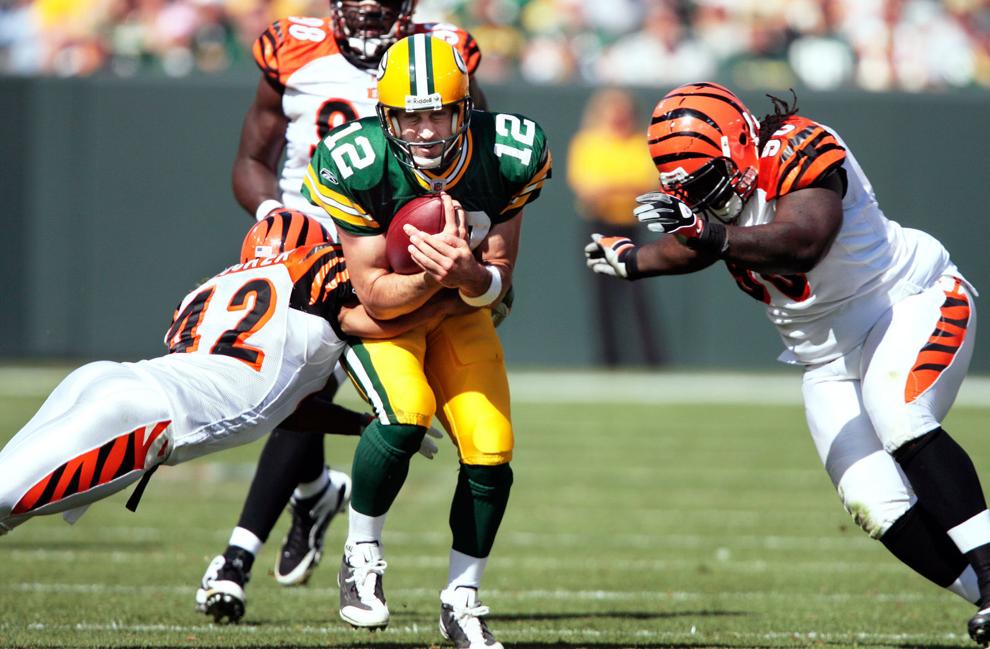 2009-10-06: After losing to Brett Favre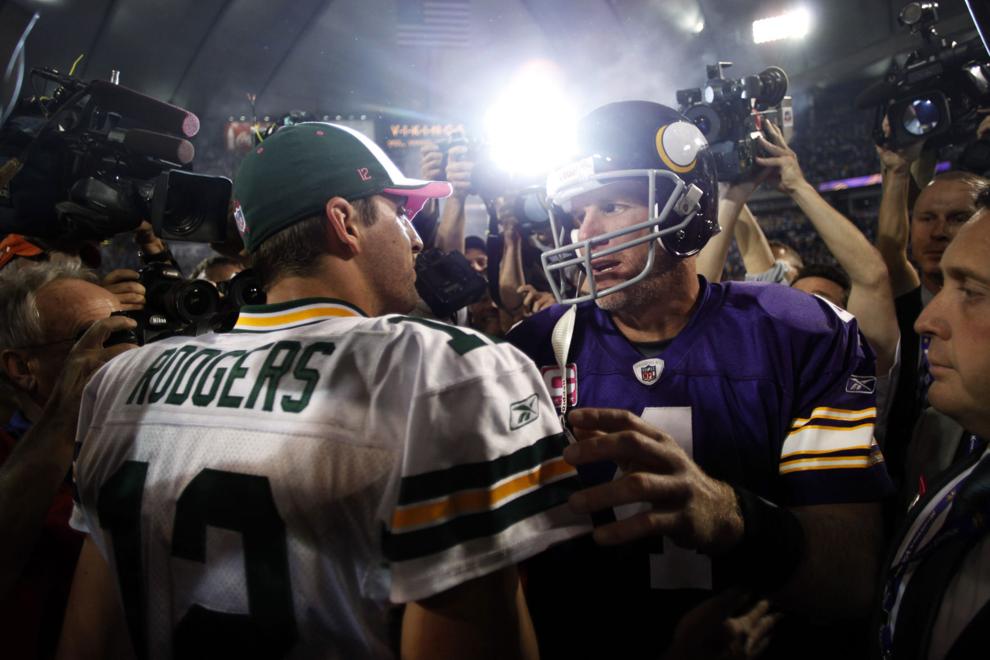 2009-10-18: vs. Detroit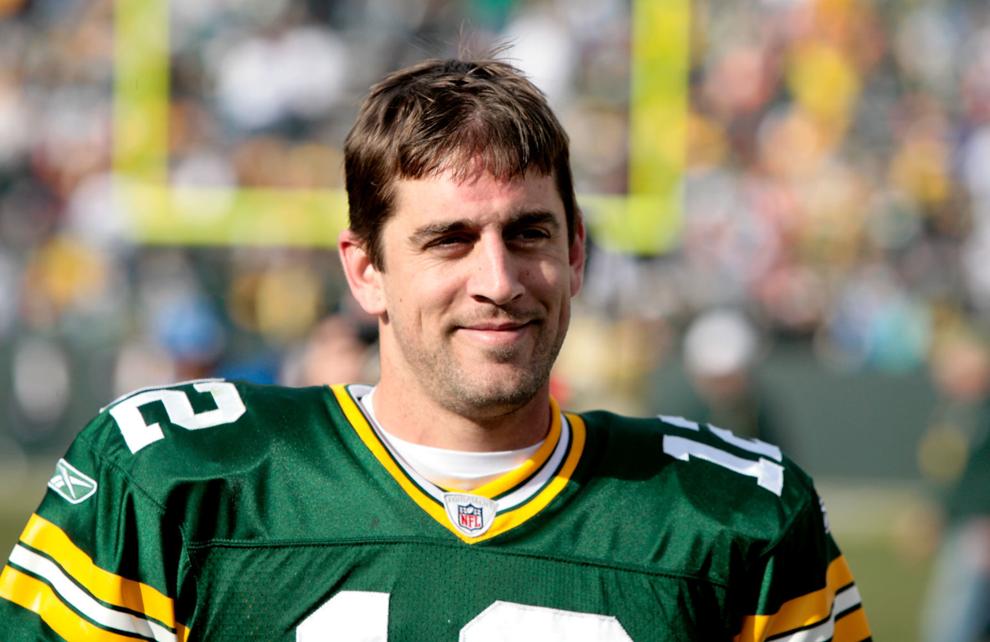 2009-11-01: vs. Minnesota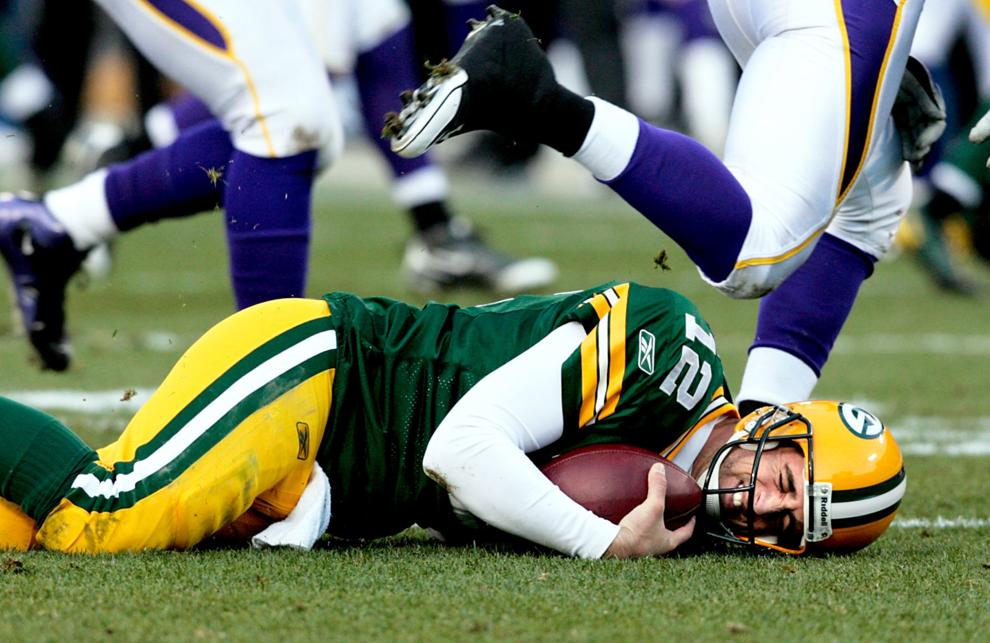 2009-11-15: vs. Dallas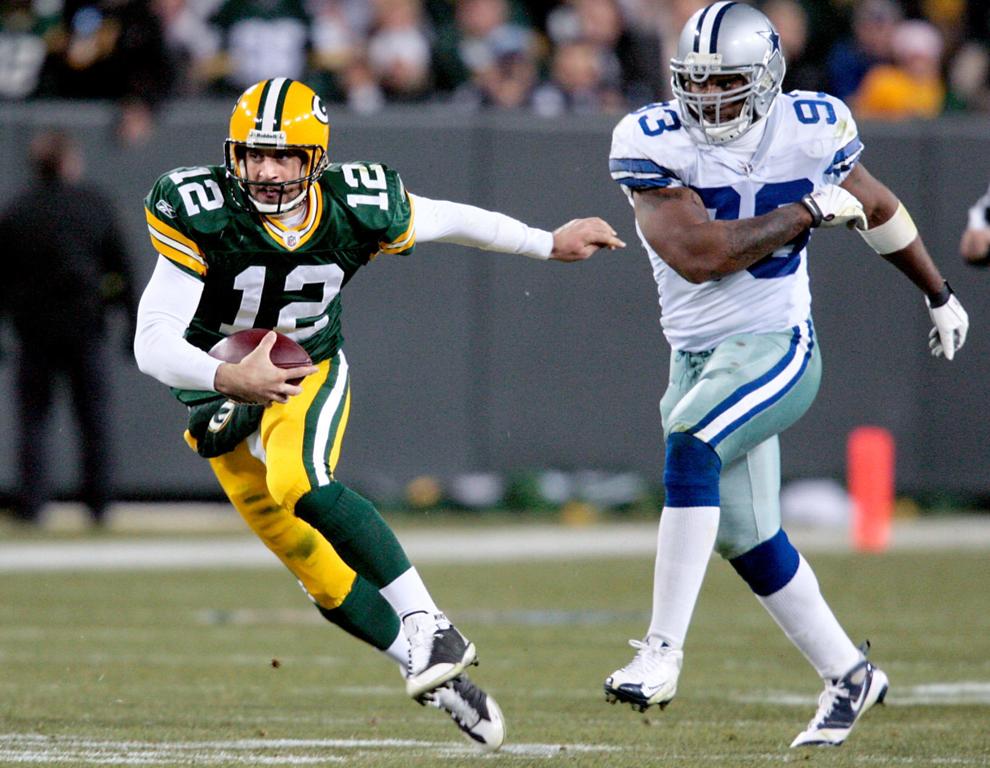 2009-11-22: vs. San Francisco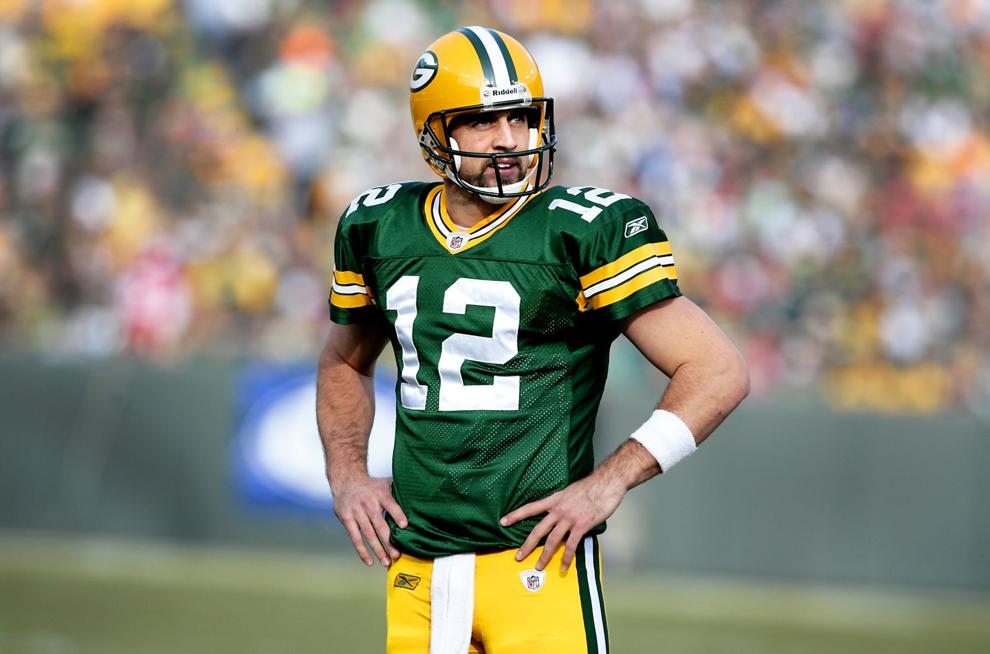 2010-10-17: vs. Miami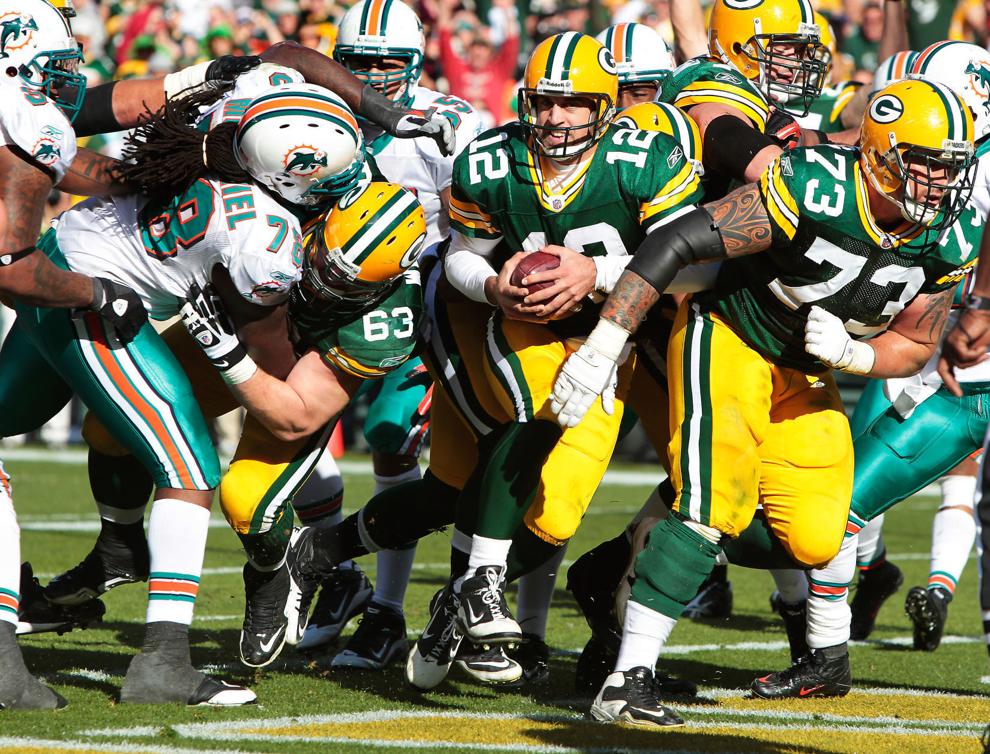 2010-10-24: After beating Brett Favre and the Vikings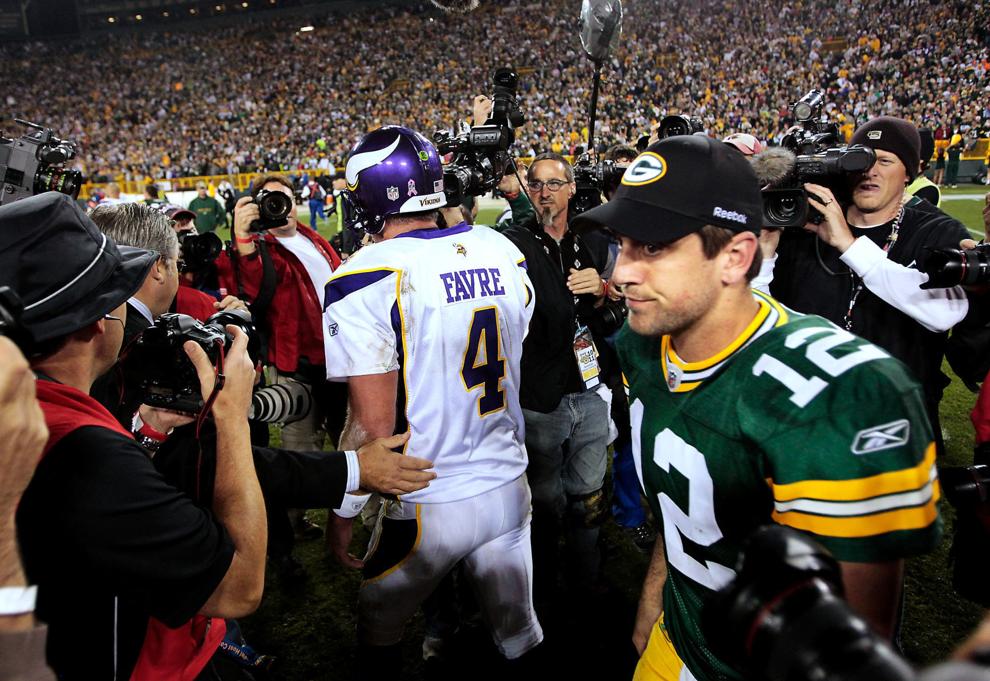 2010-11-07: vs. Dallas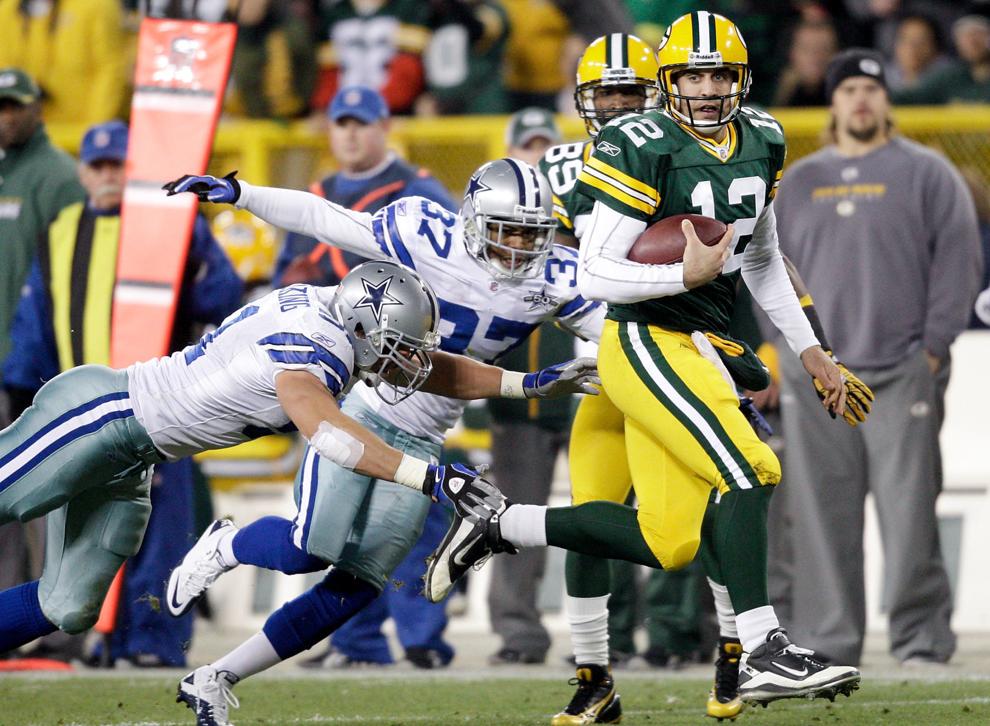 2010-12-26: vs. New York Giants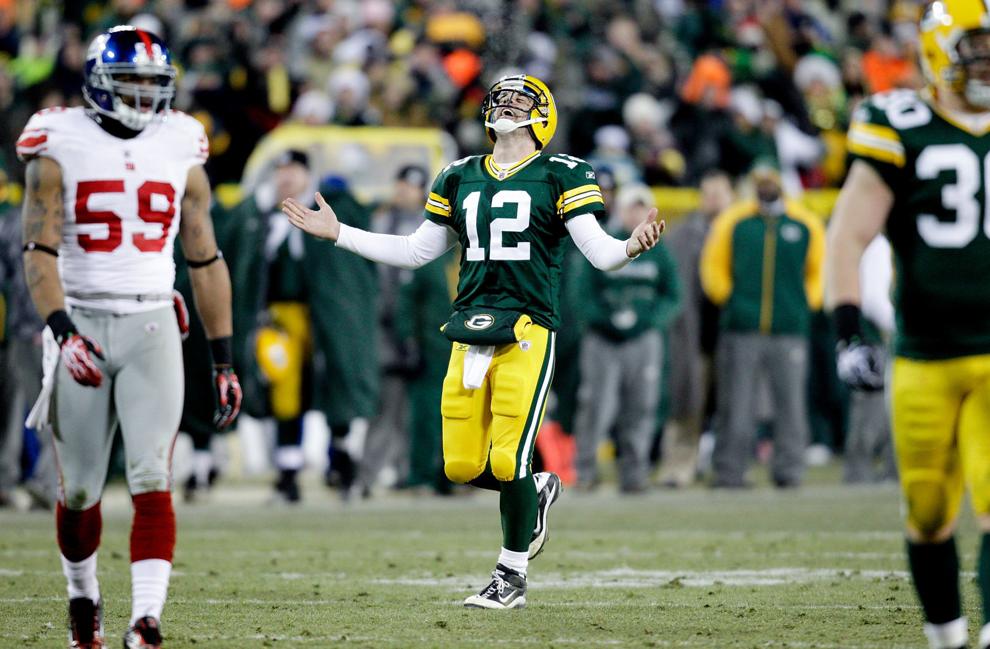 2010-12-26: vs. New York Giants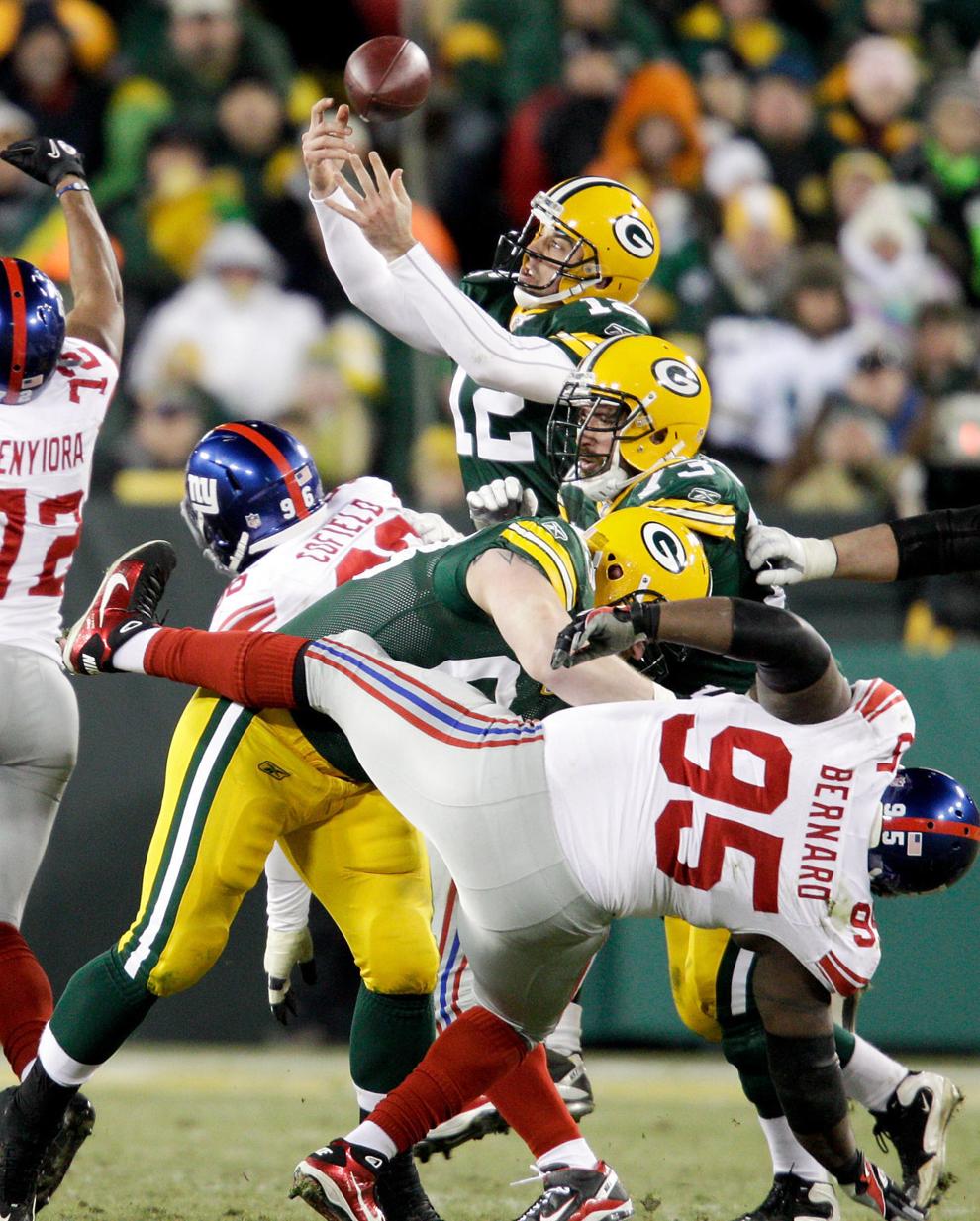 2010-12-26: vs. New York Giants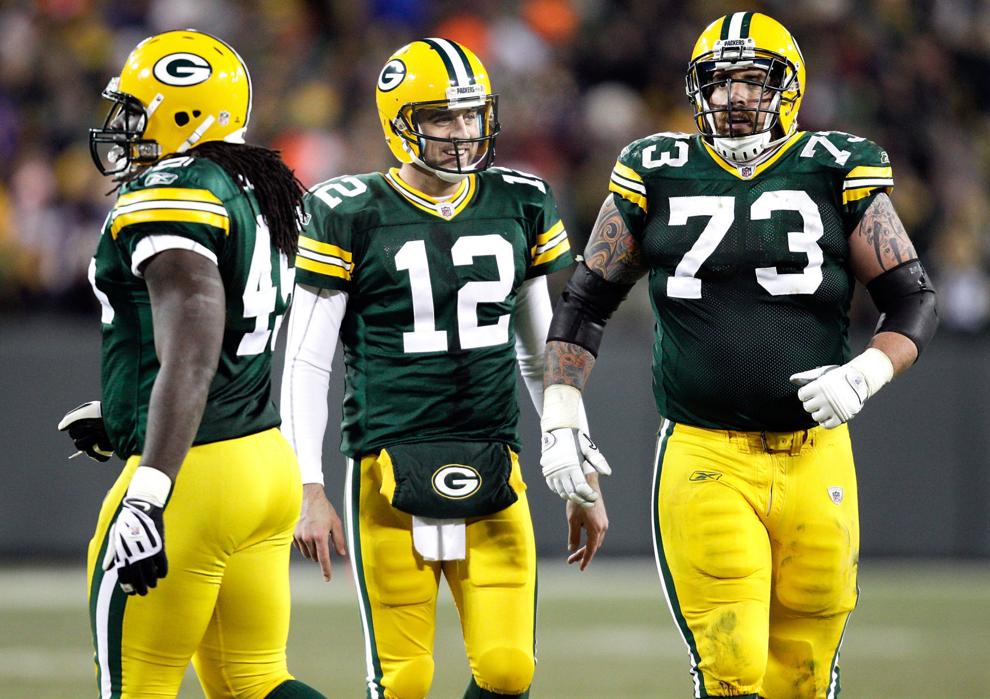 2010-12-26: vs. New York Giants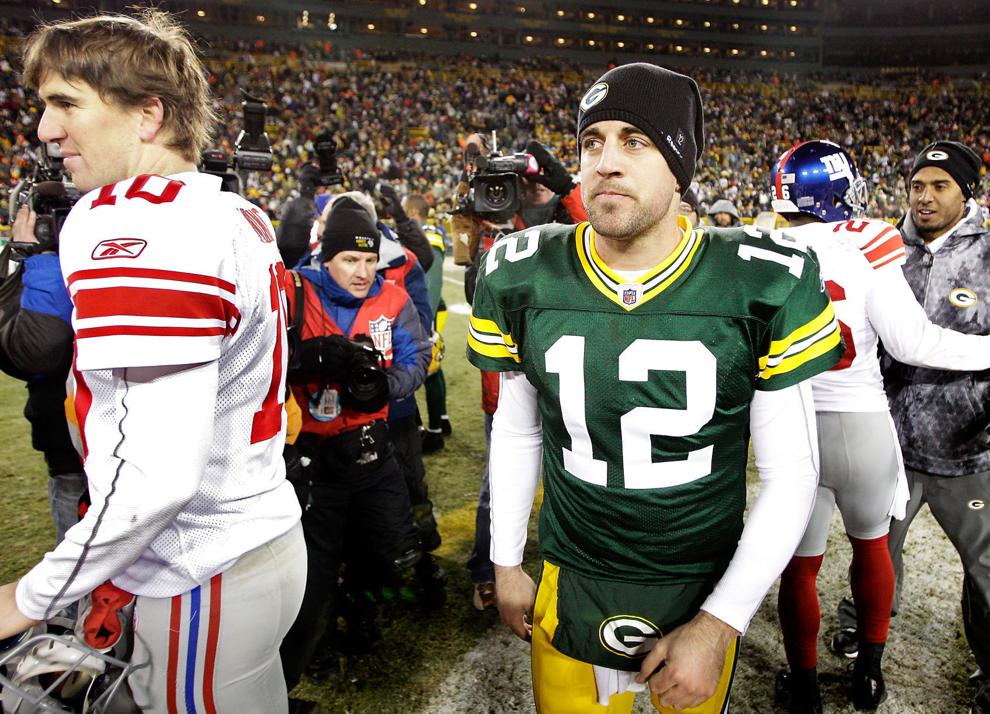 2011-01-02: vs. Chicago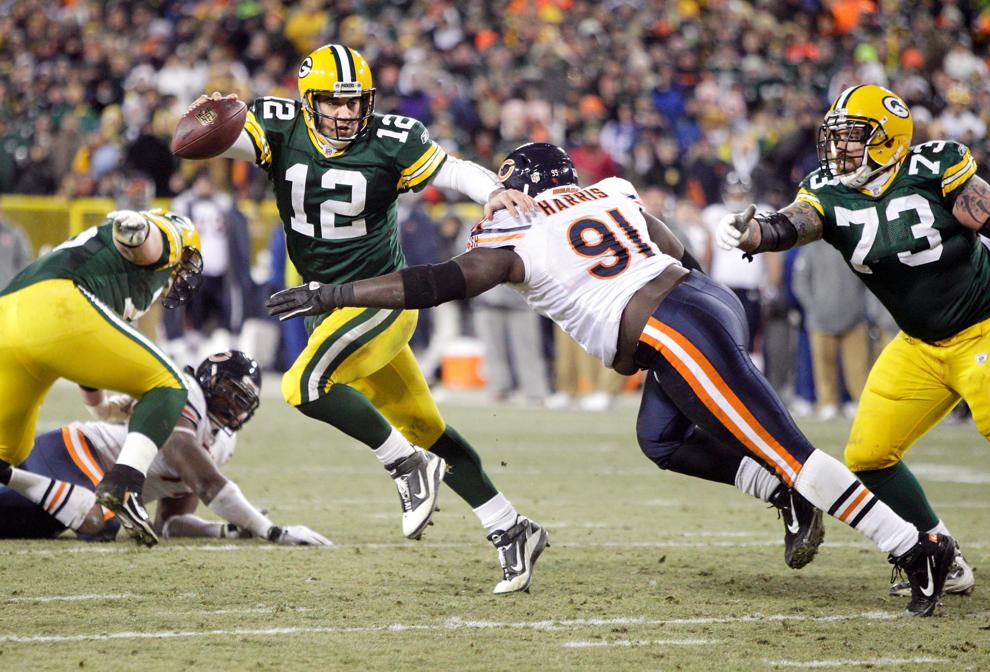 2011-01-02: vs. Chicago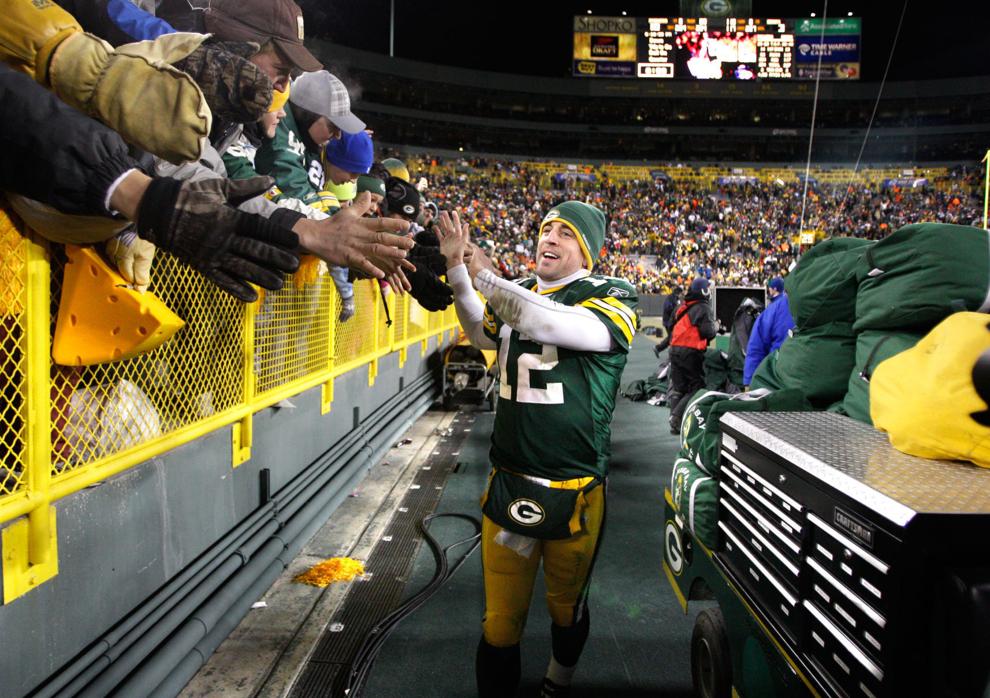 2011-01-15: at Atlanta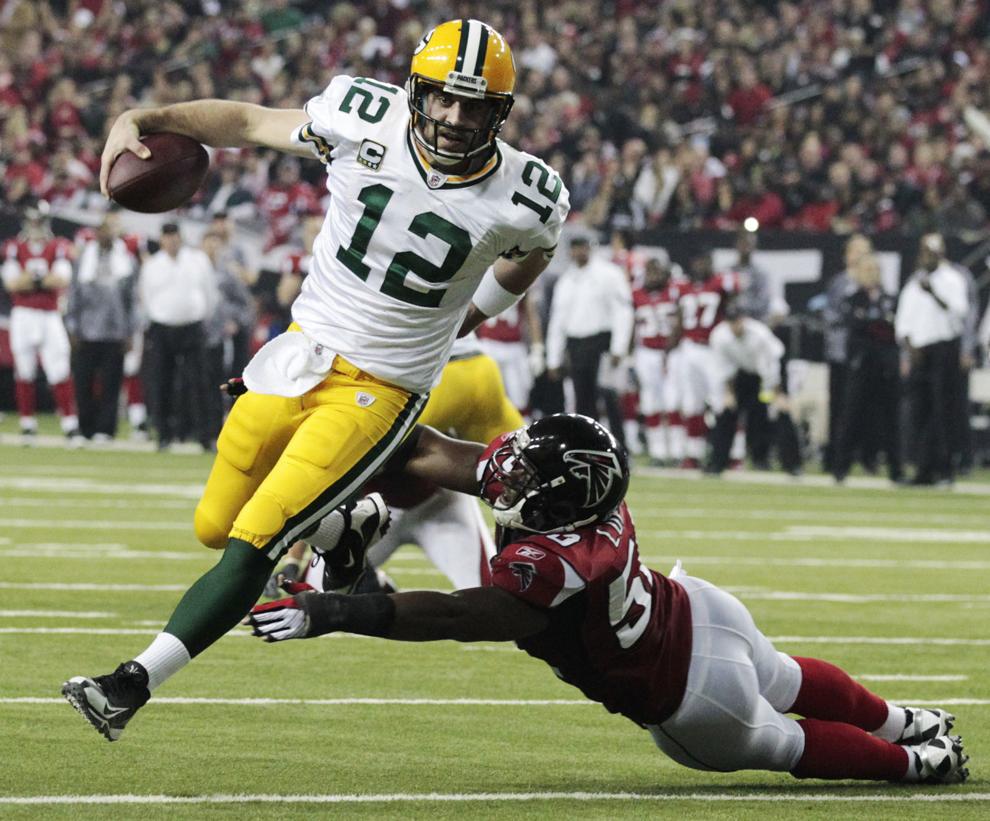 2011-01-23: at Chicago in the NFC Championship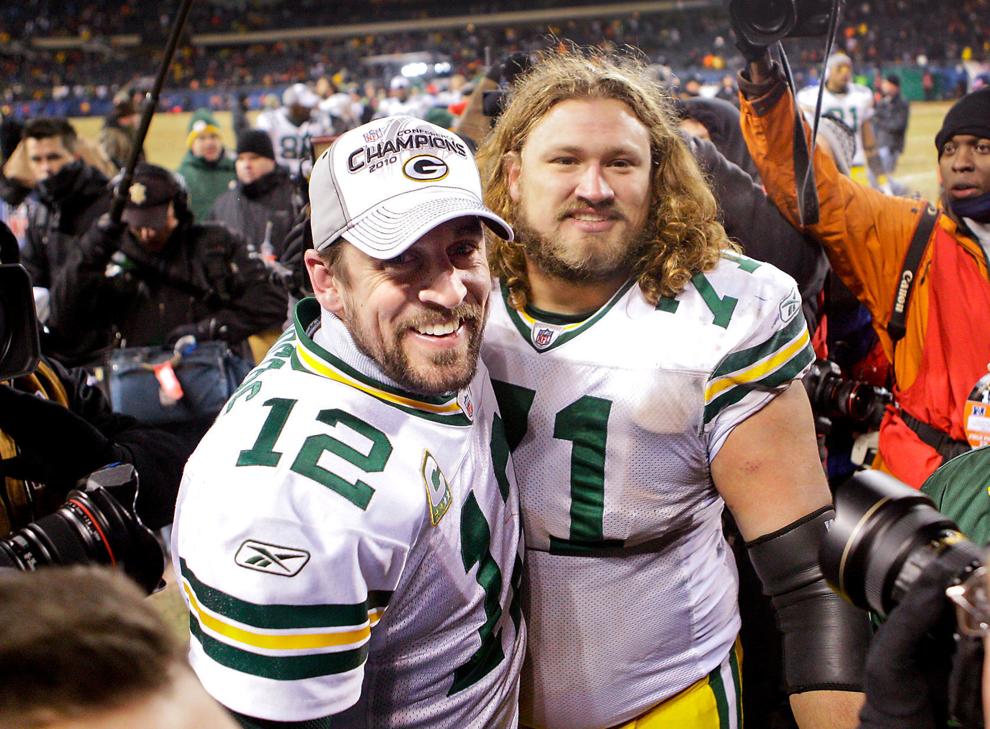 2011-01-31: Arriving for Super Bowl XLV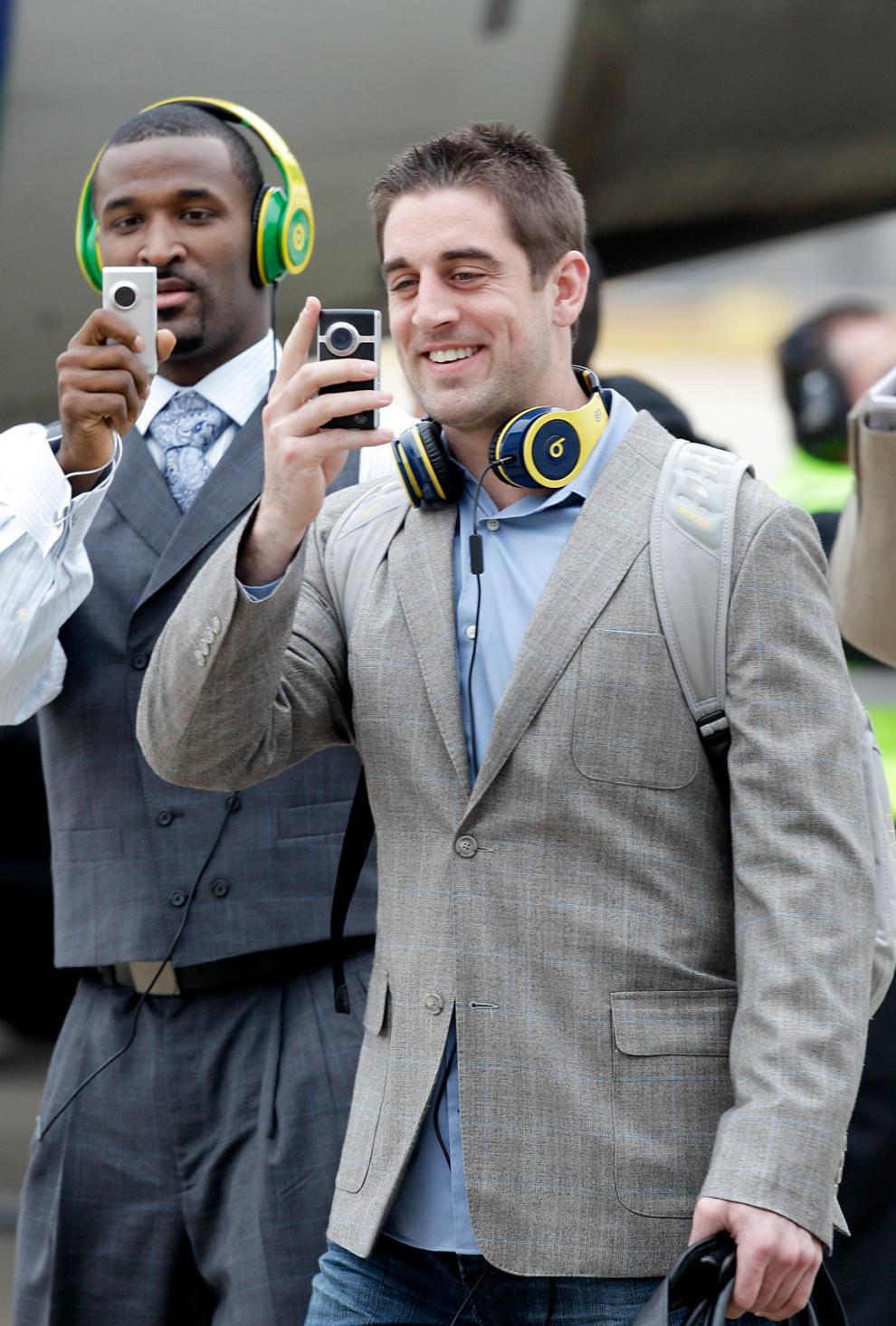 2011-02-01: Super Bowl XLV media day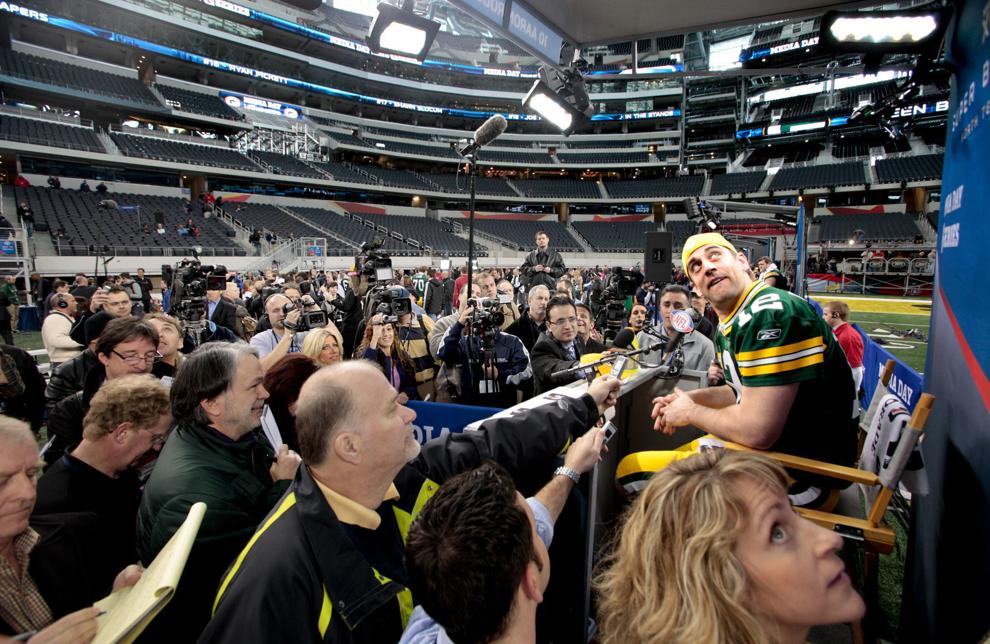 2011-02-01: Super Bowl XLV media day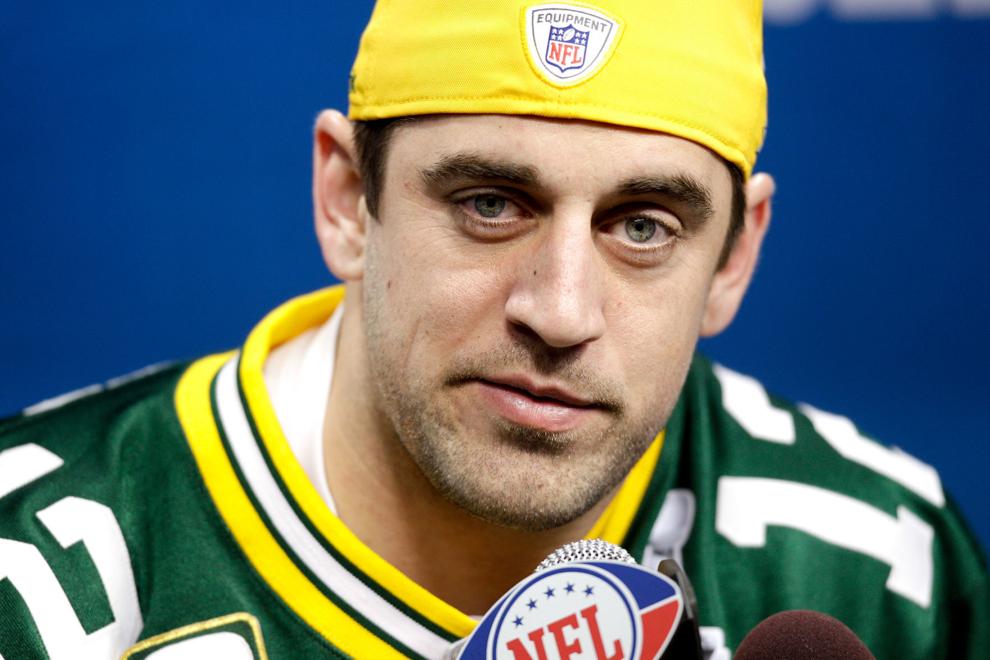 2011-02-07: NFL MVP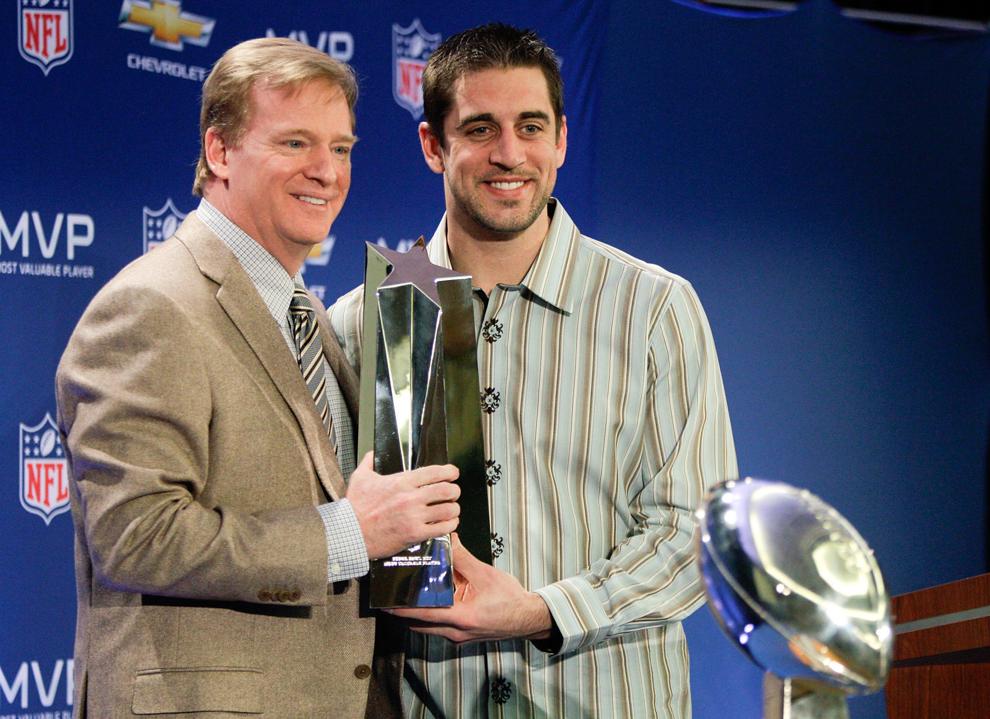 2012-07-29: Super Bowl XLV champion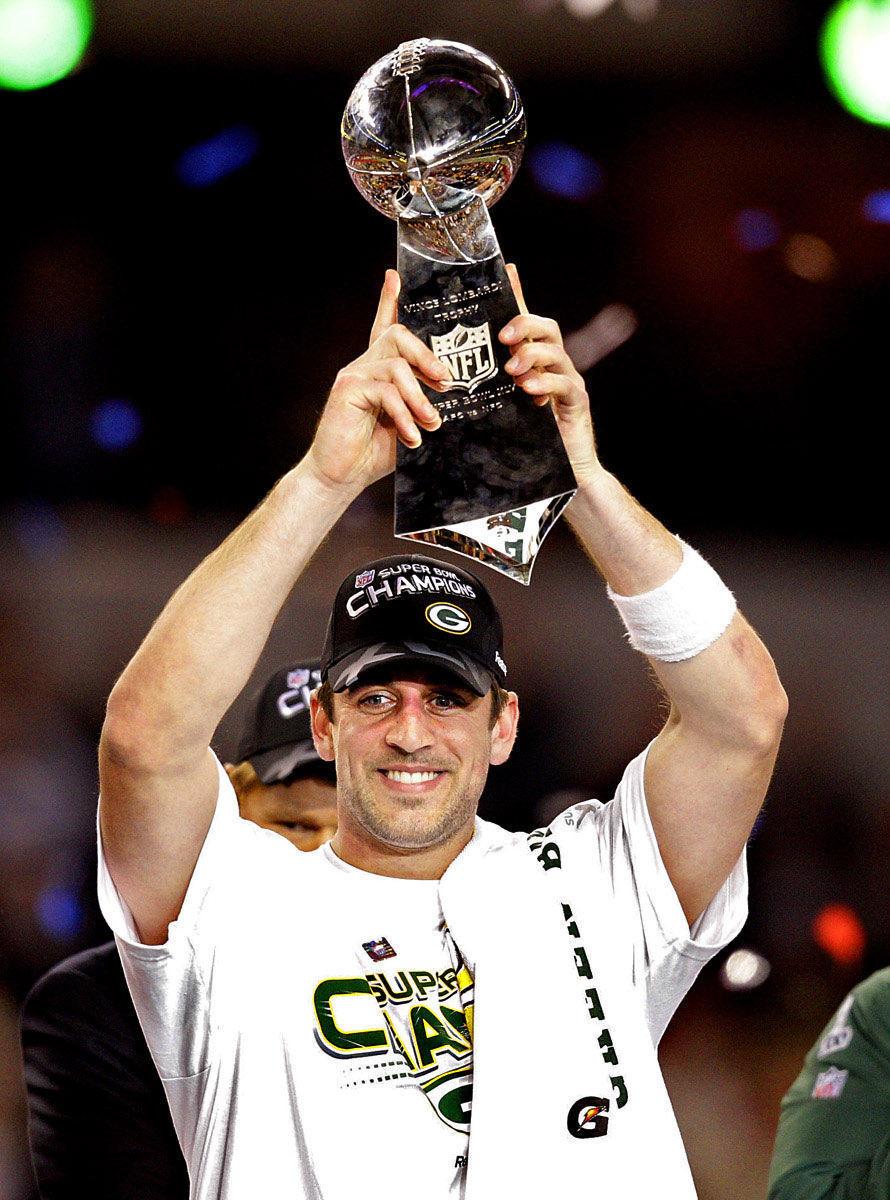 2012-07-29: Super Bowl XLV media day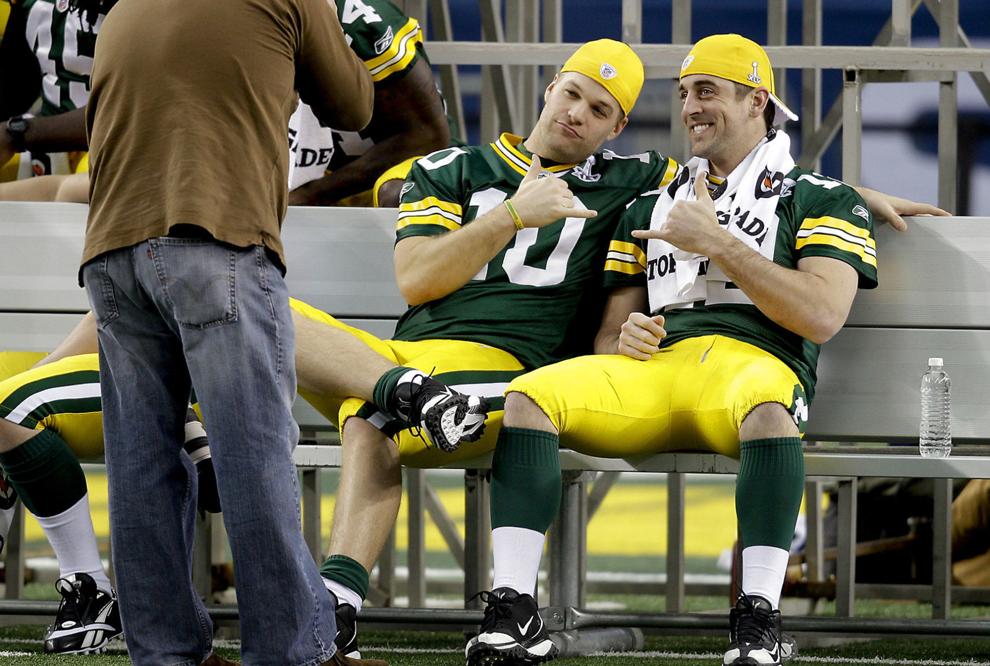 2013-09-15: vs. Washington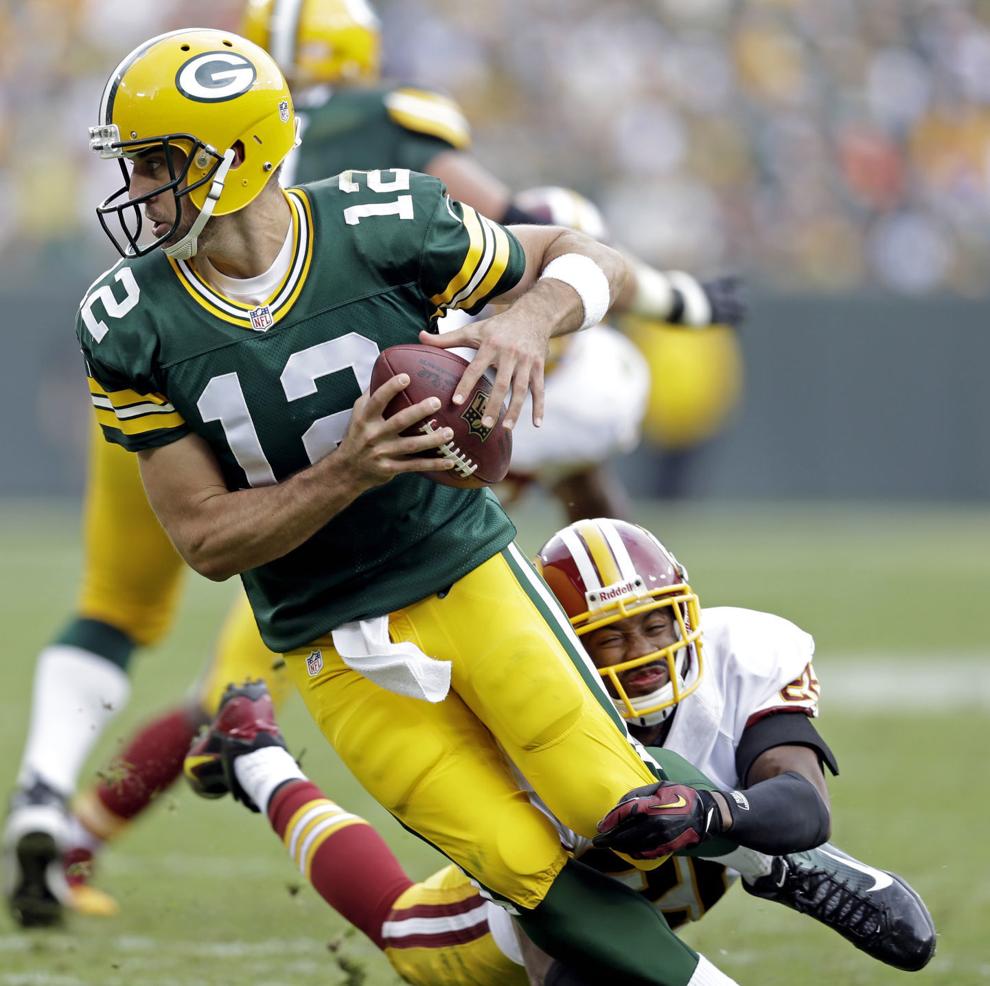 2013-09-15: with the fans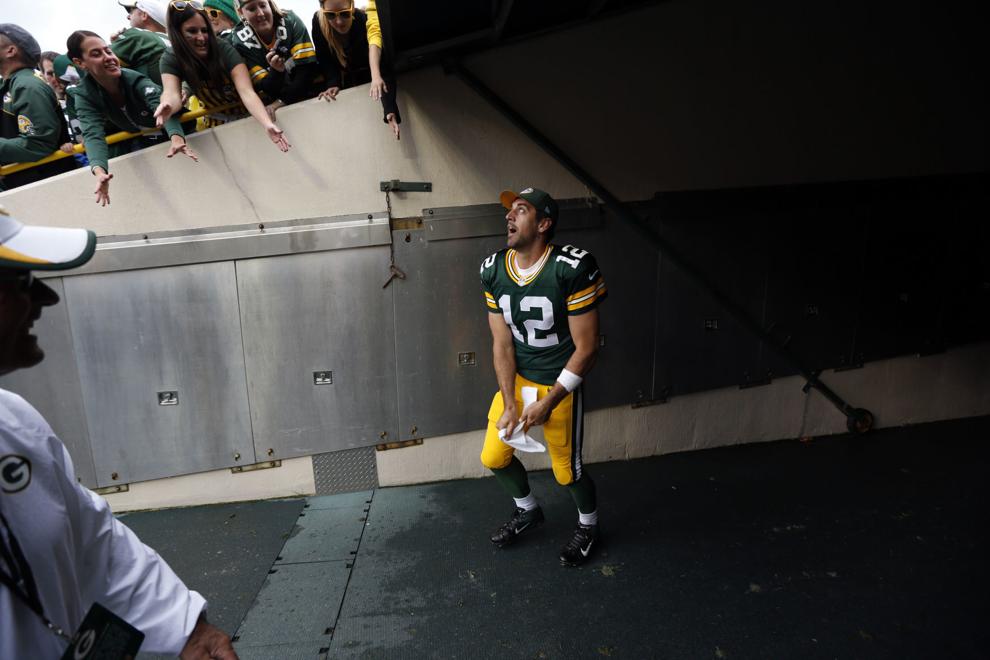 2014-12-08: Heading into the locker room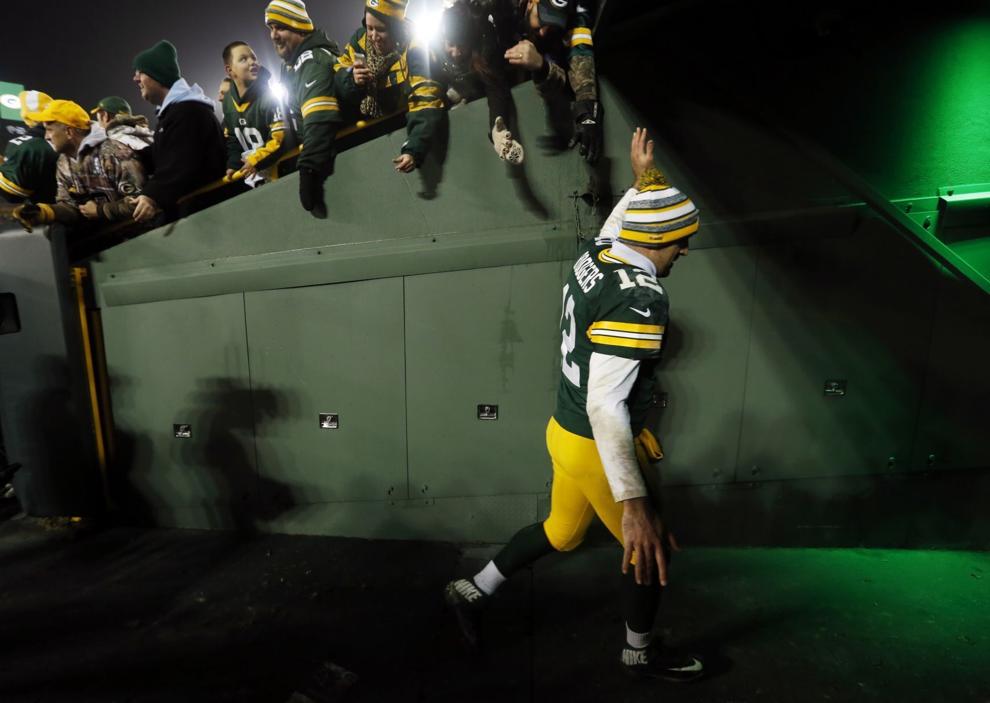 2015-09-28: vs. Kansas City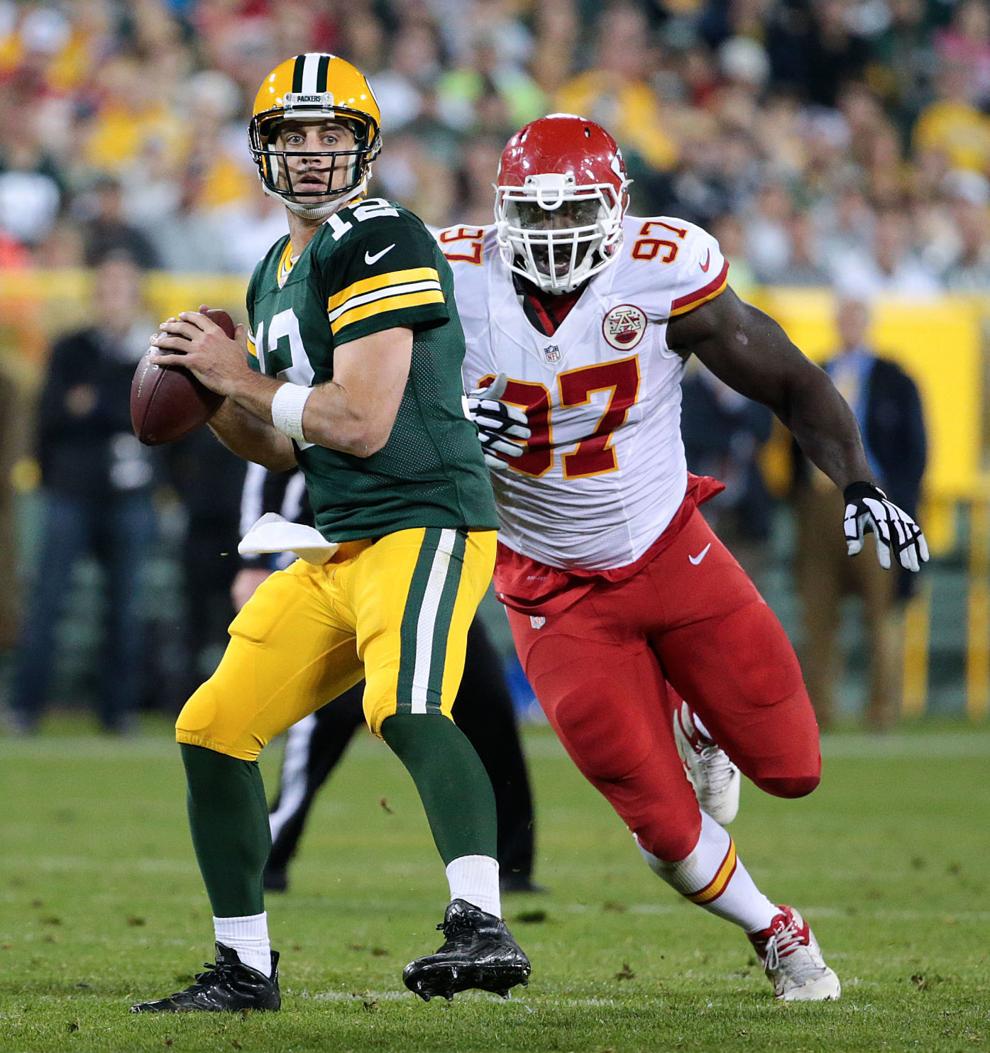 2015-09-28: vs. Kansas City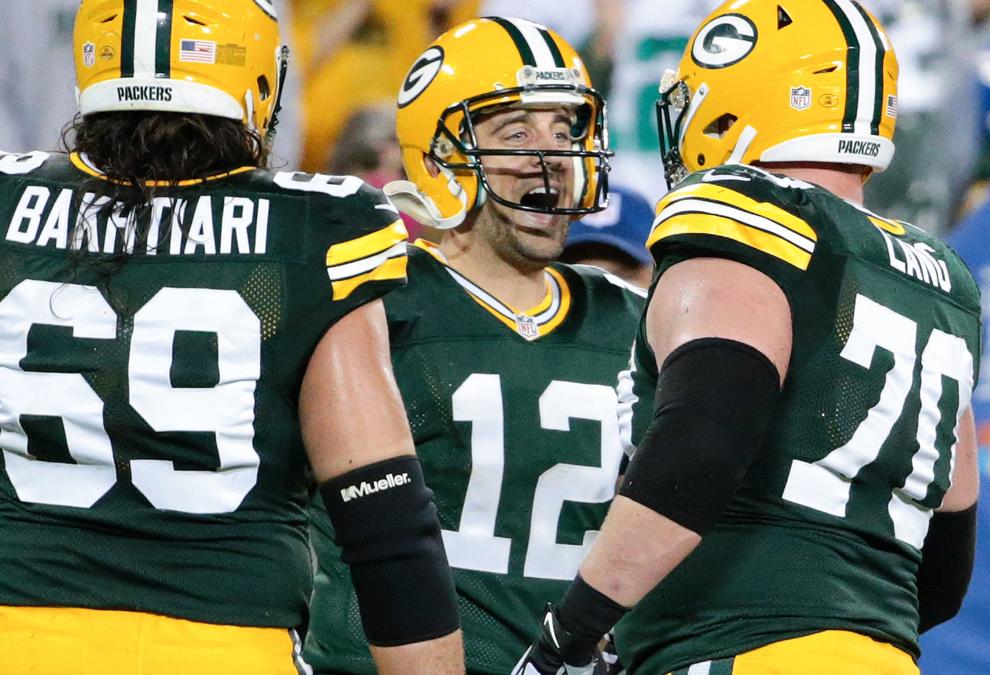 2015-10-11: vs. St. Louis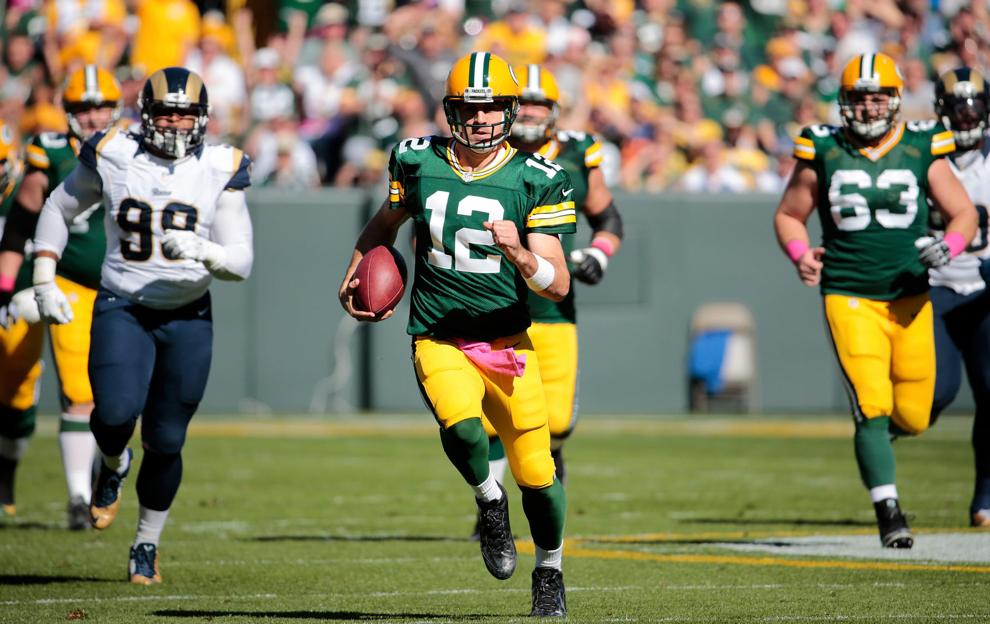 2015-10-18: vs. San Diego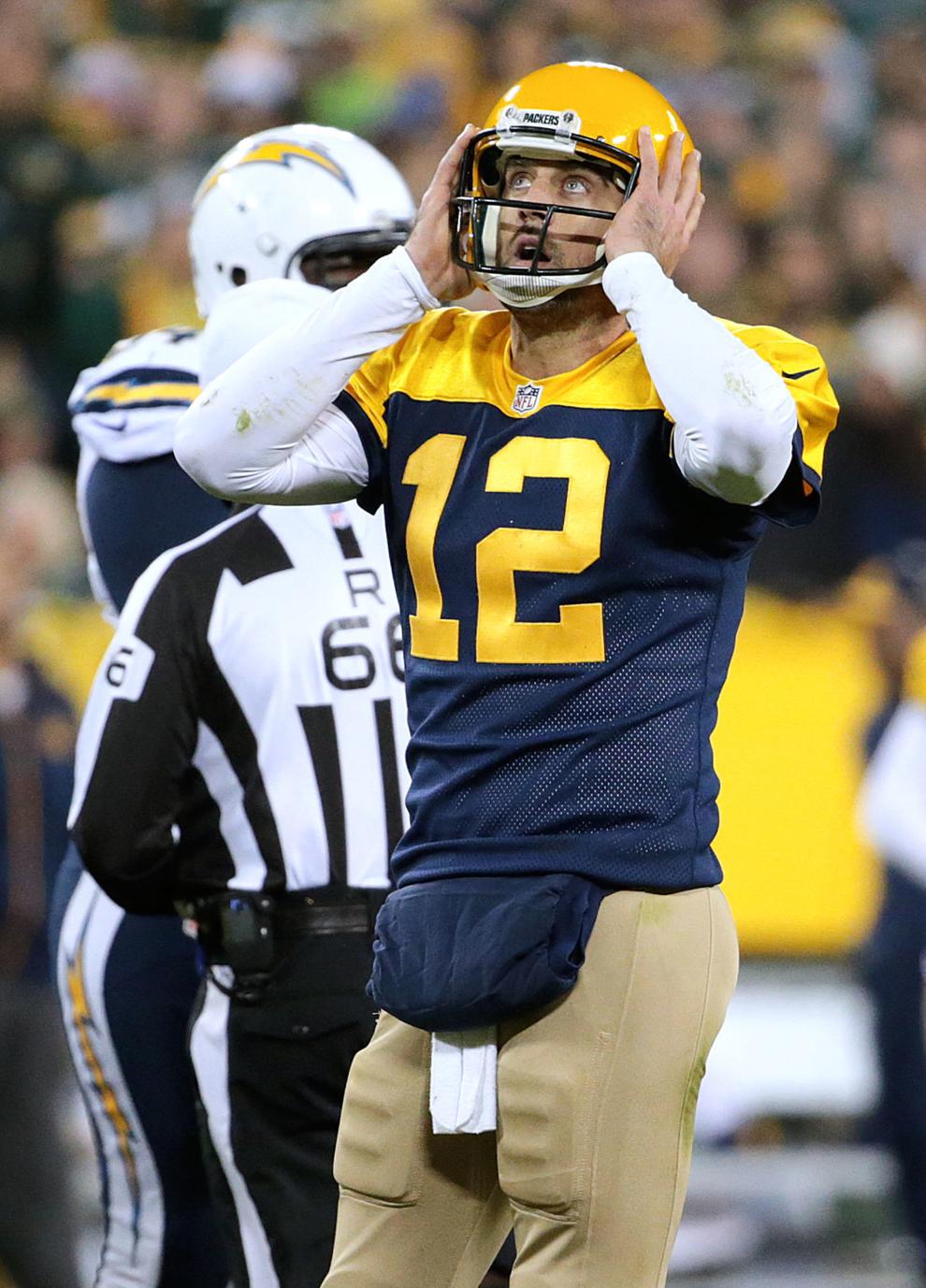 2015-12-03: Hail Mary celebration at Detroit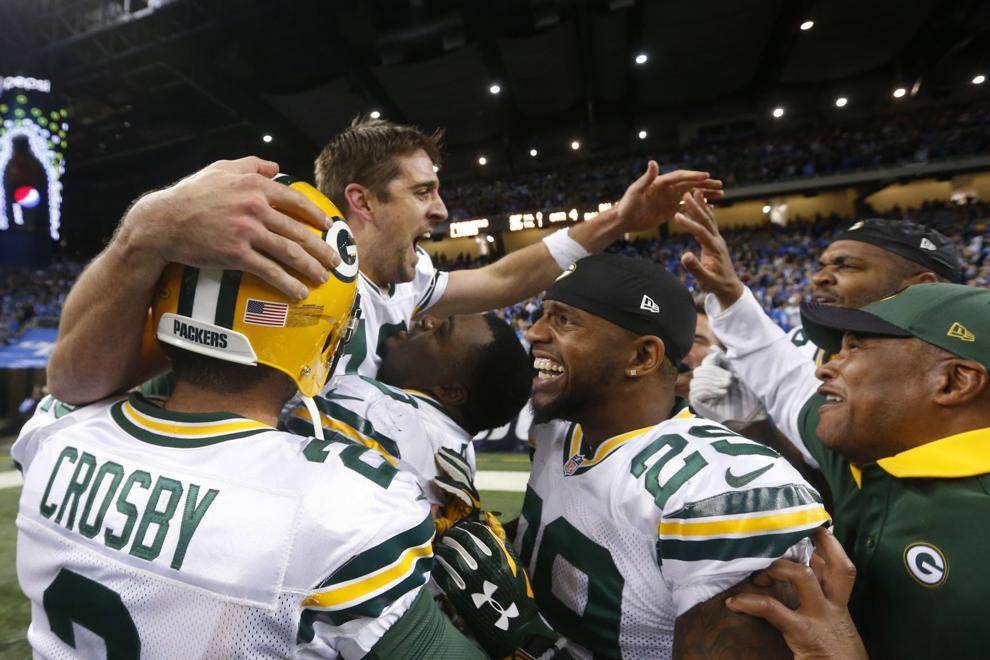 2015-12-03: Hail Mary celebration at Detroit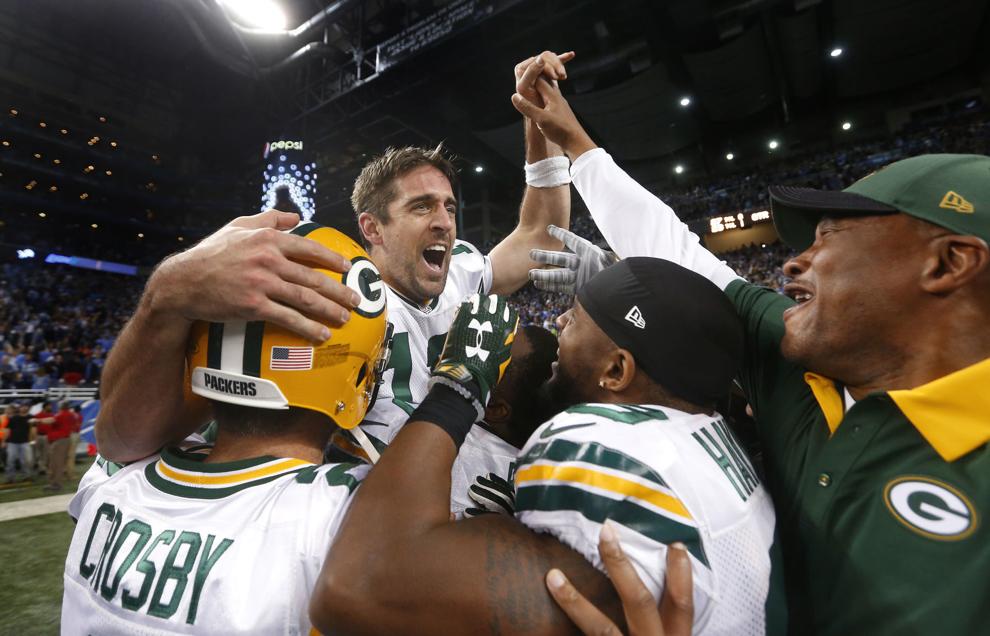 2015-12-04: All smiles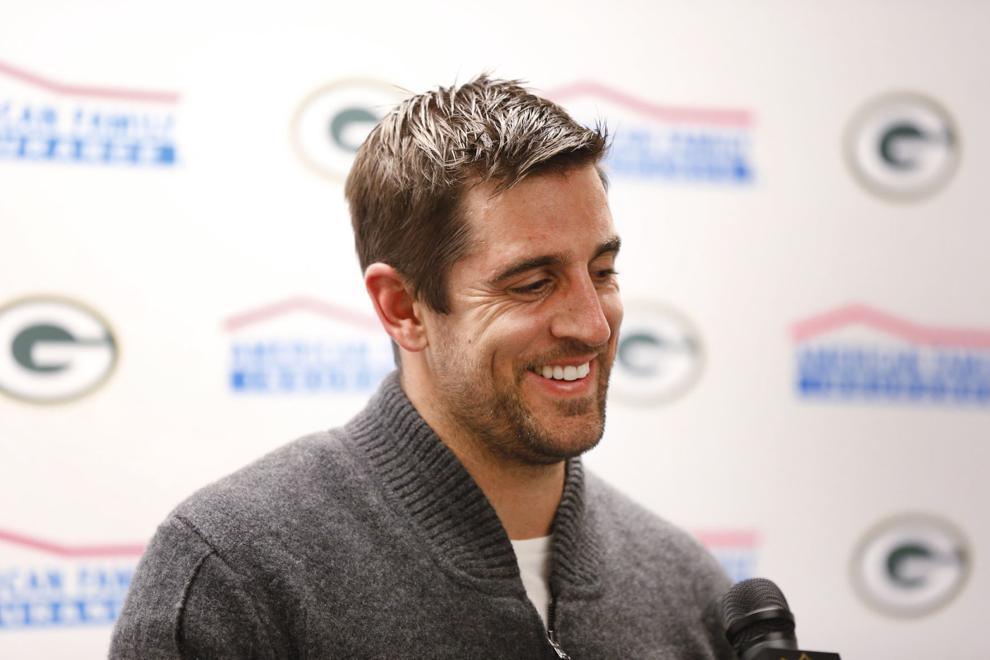 2016-09-25: vs. Detroit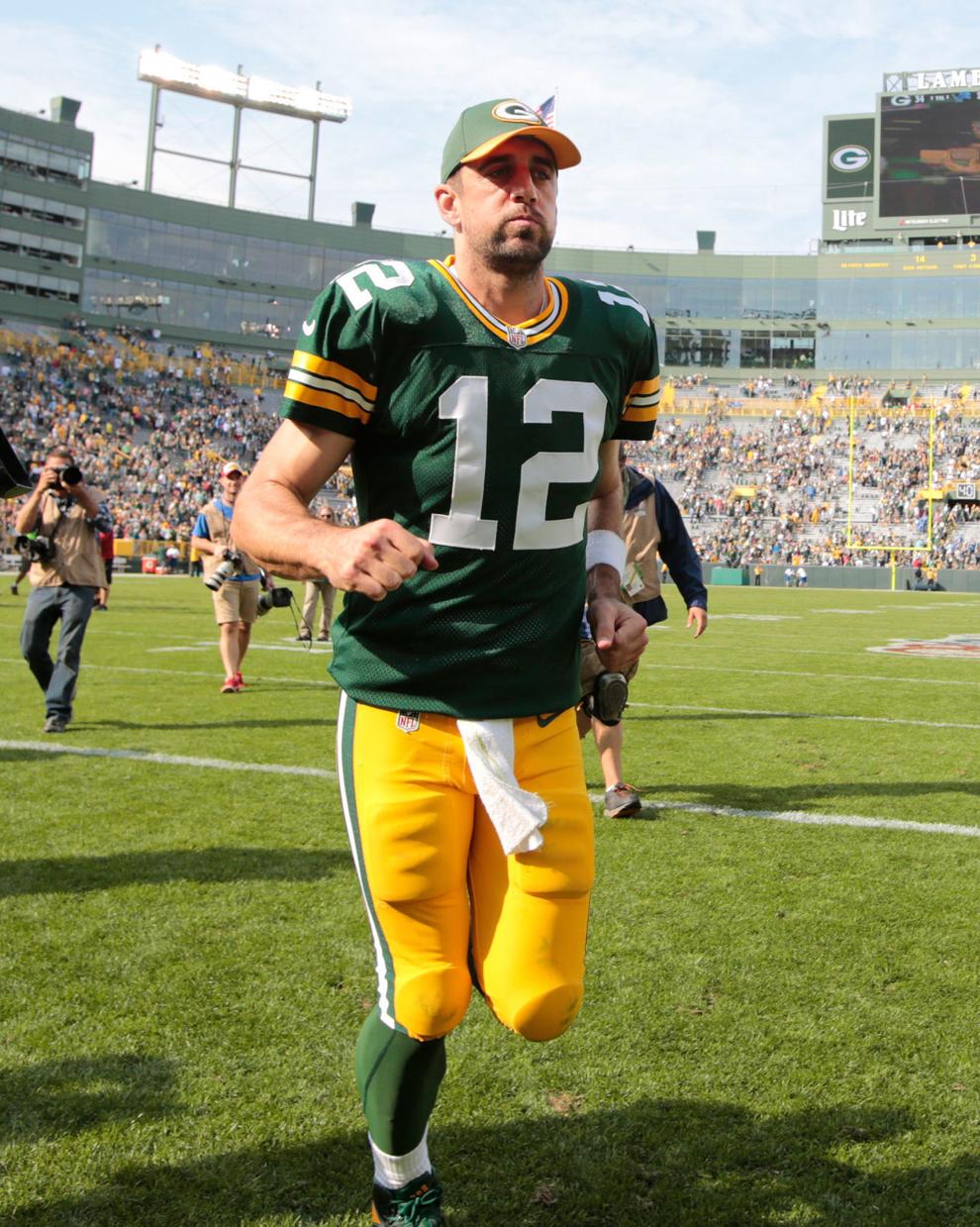 2016-10-20: at Chicago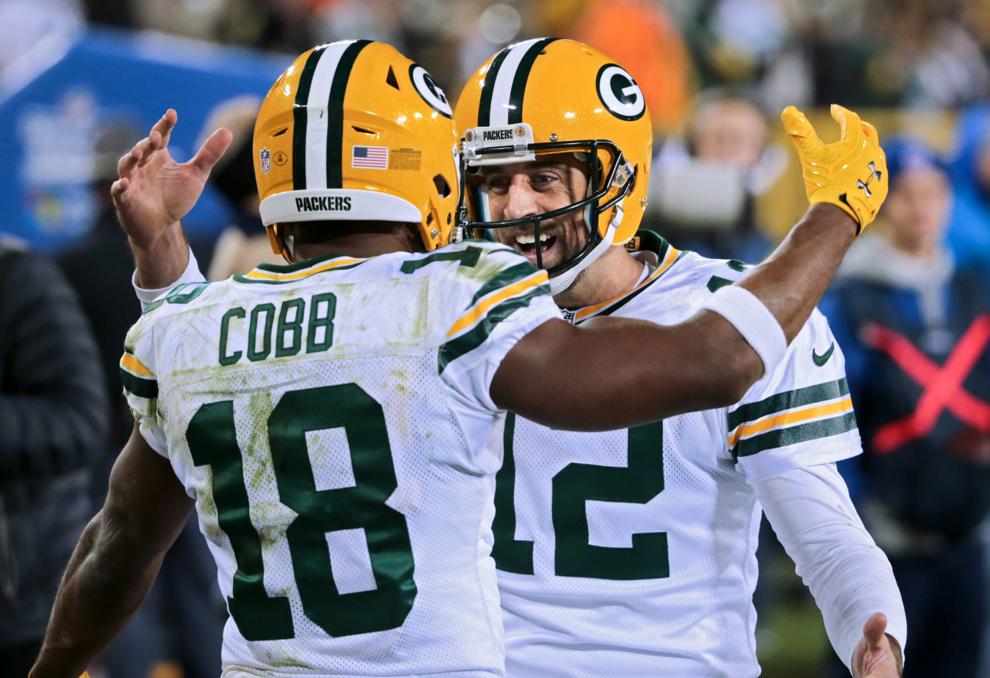 2016-11-06: vs. Indianapolis
2016-12-04: vs. Houston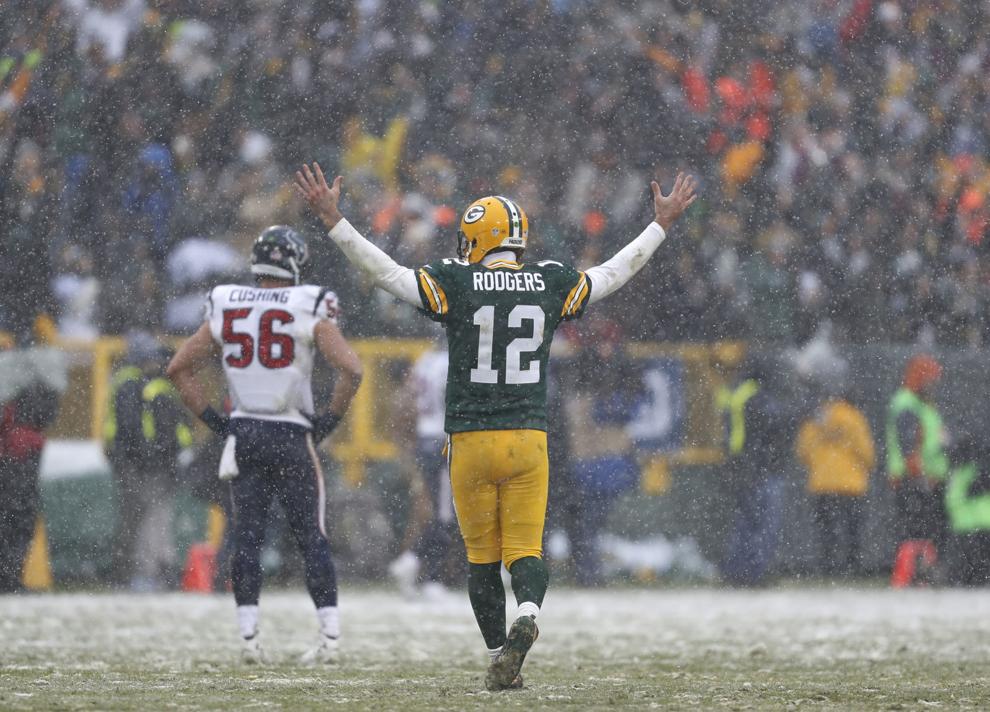 2016-12-24: Lambeau Leap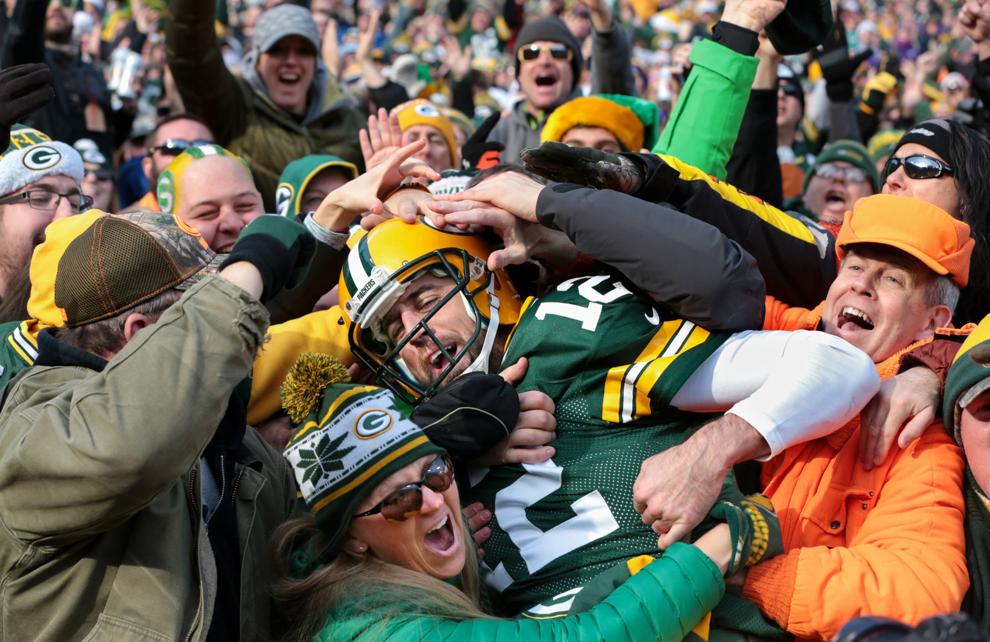 2016-12-24: vs. Minnesota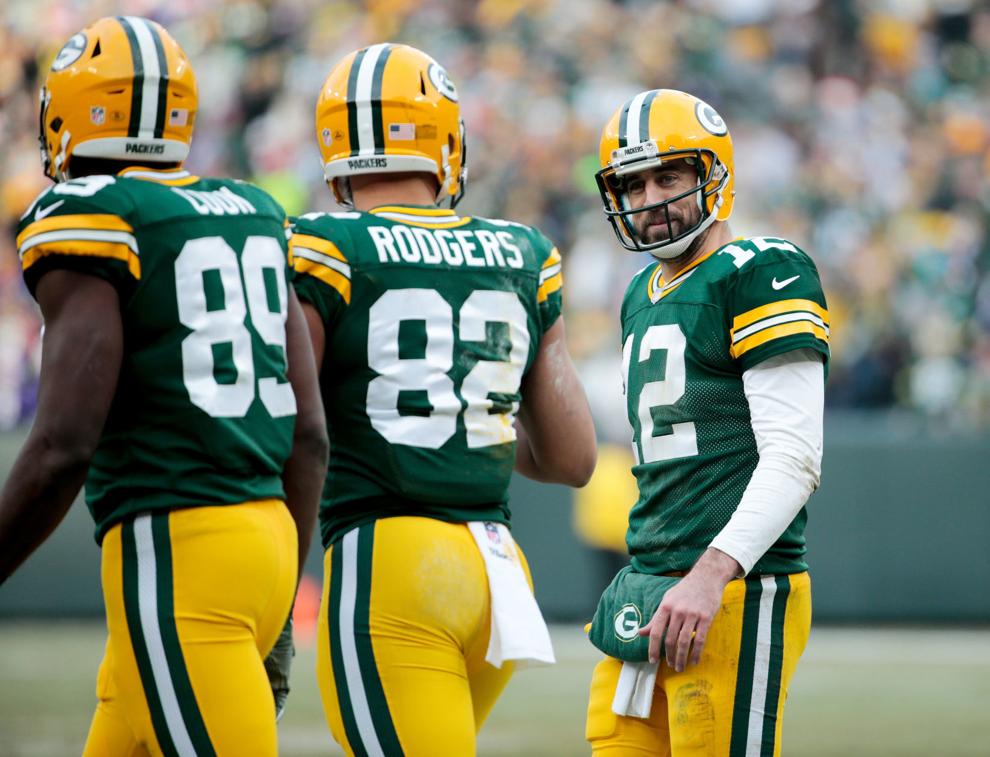 2016-12-24: vs. Minnesota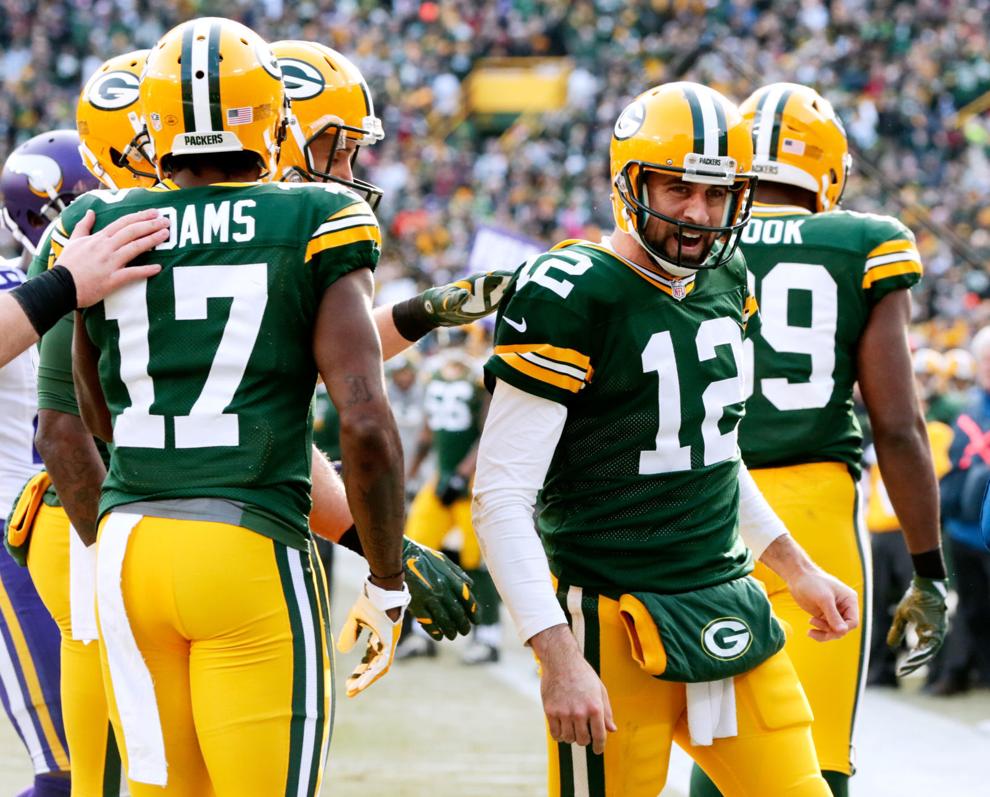 2017-01-08: NFC wild card victory vs. New York Giants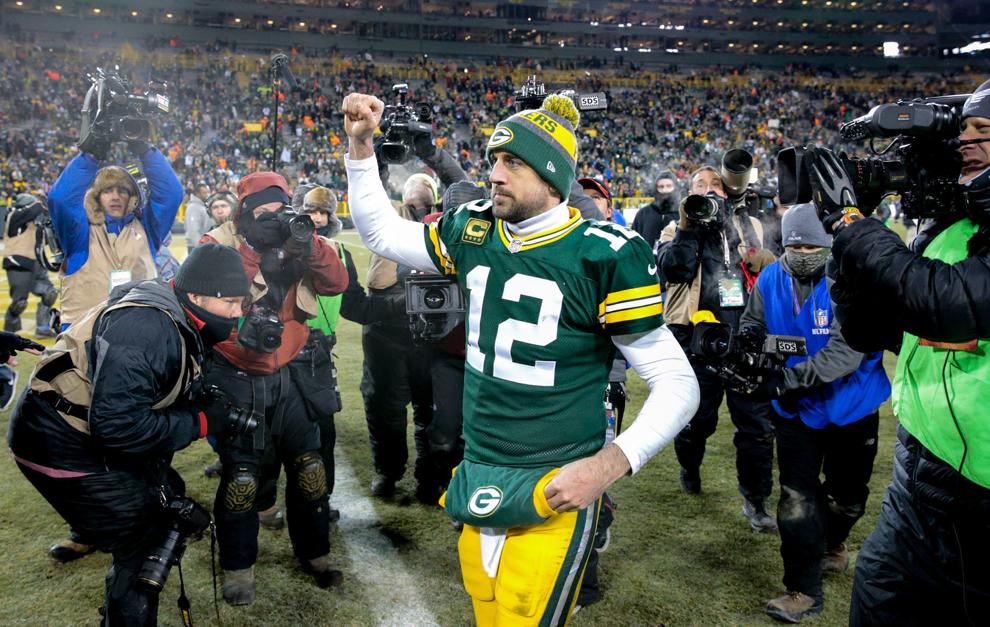 2017-01-22: After losing the NFC Championship at Atlanta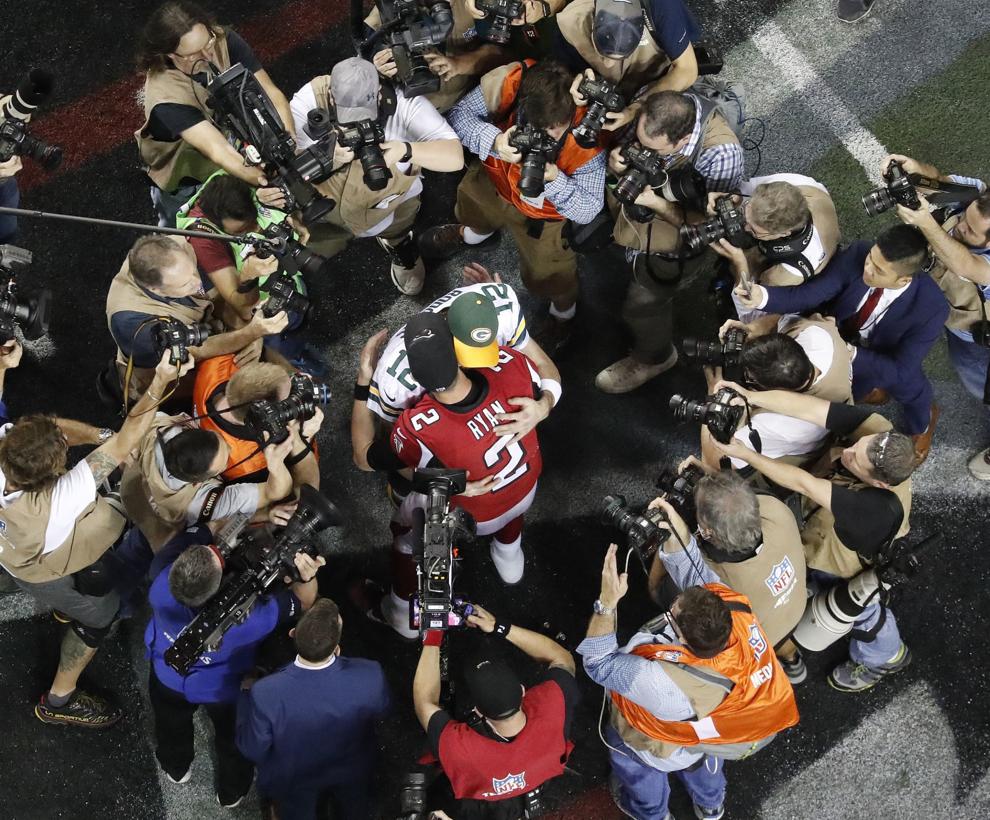 2017-09-10: vs. Seattle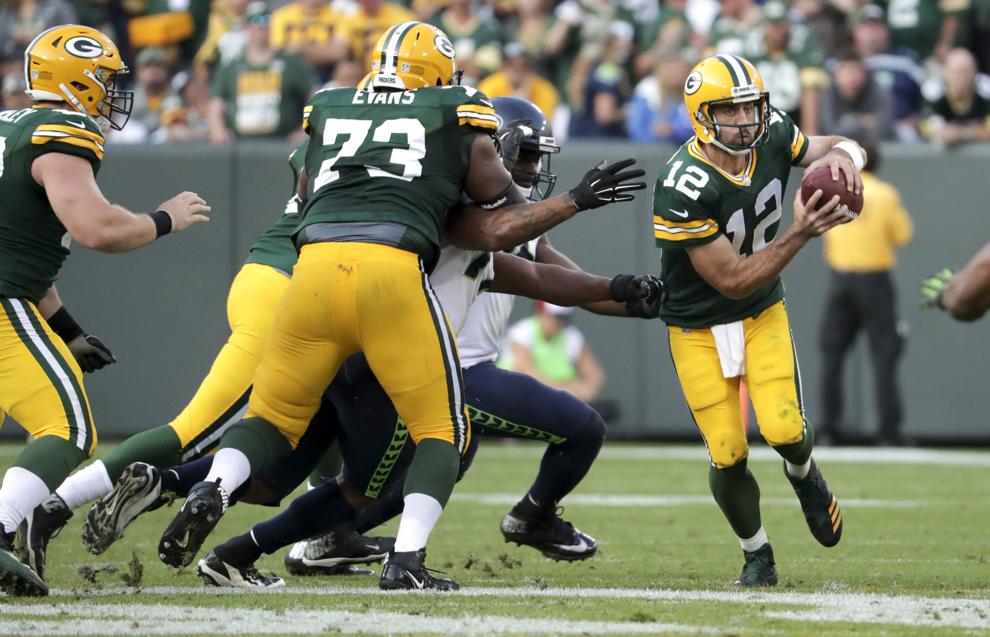 2017-09-11: after winning vs. Seattle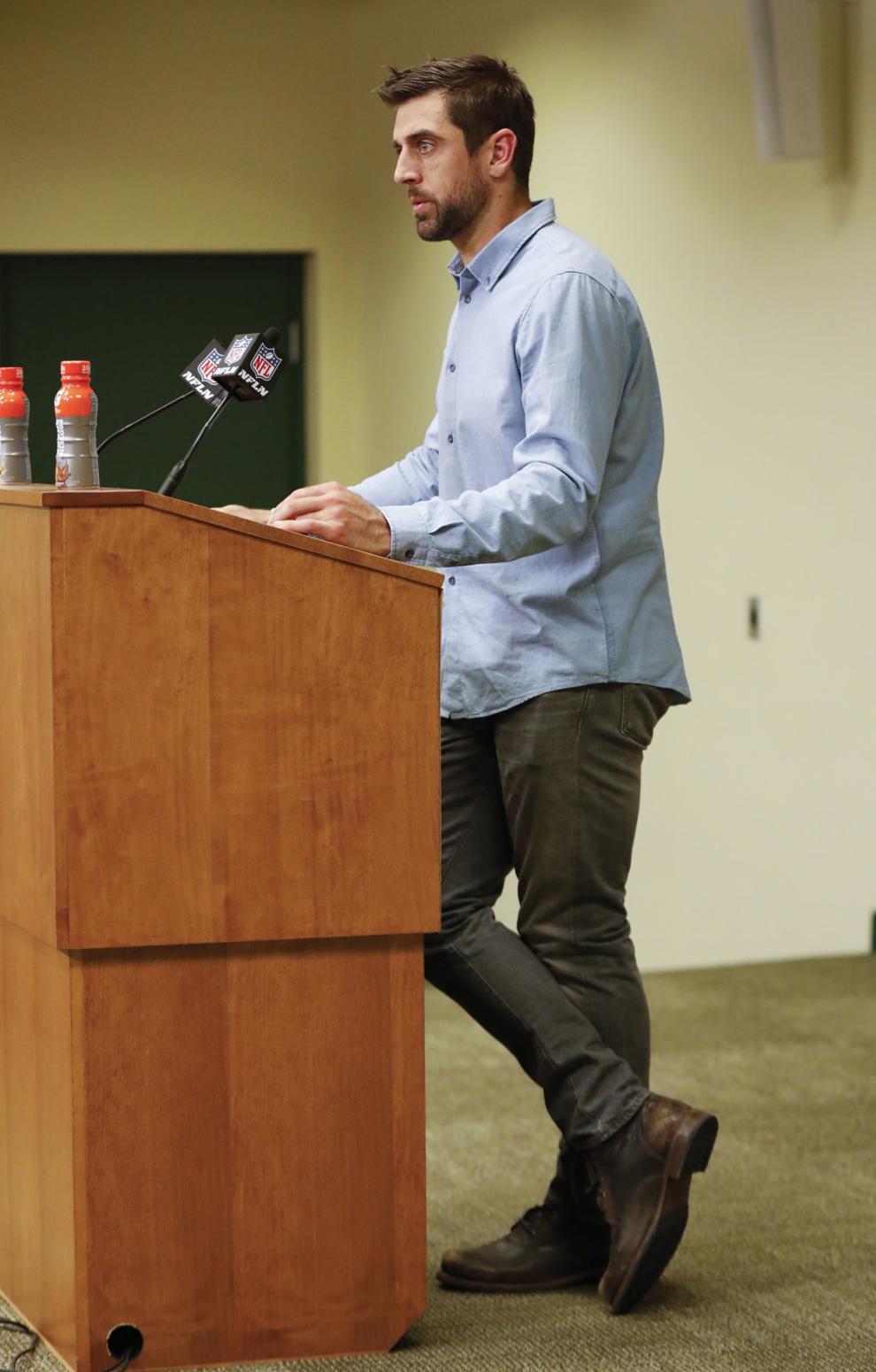 2017-09-18: After losing at Atlanta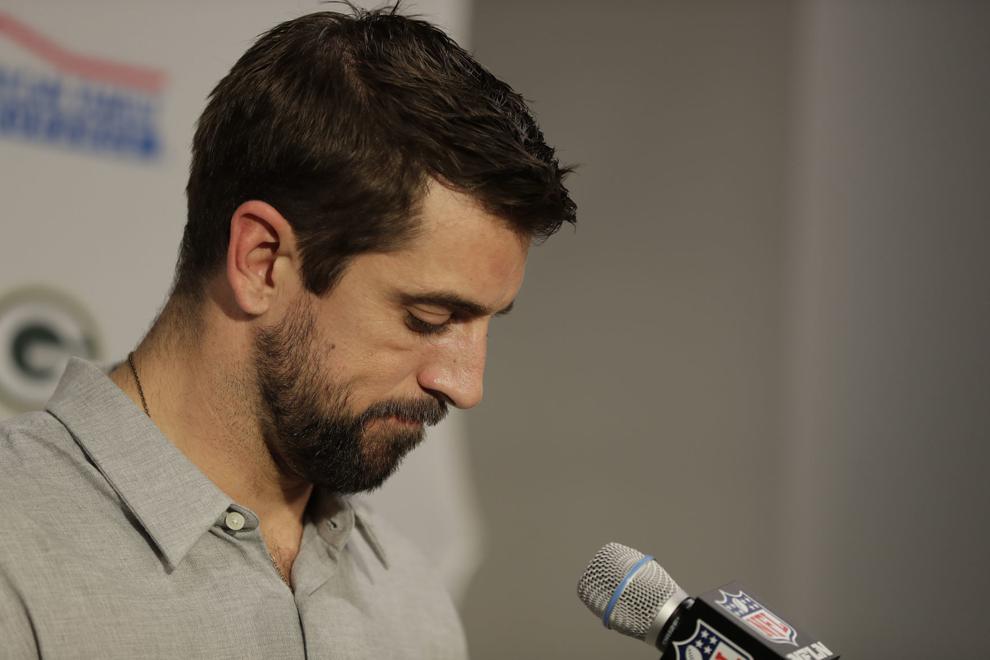 2018-9-9: vs. Bears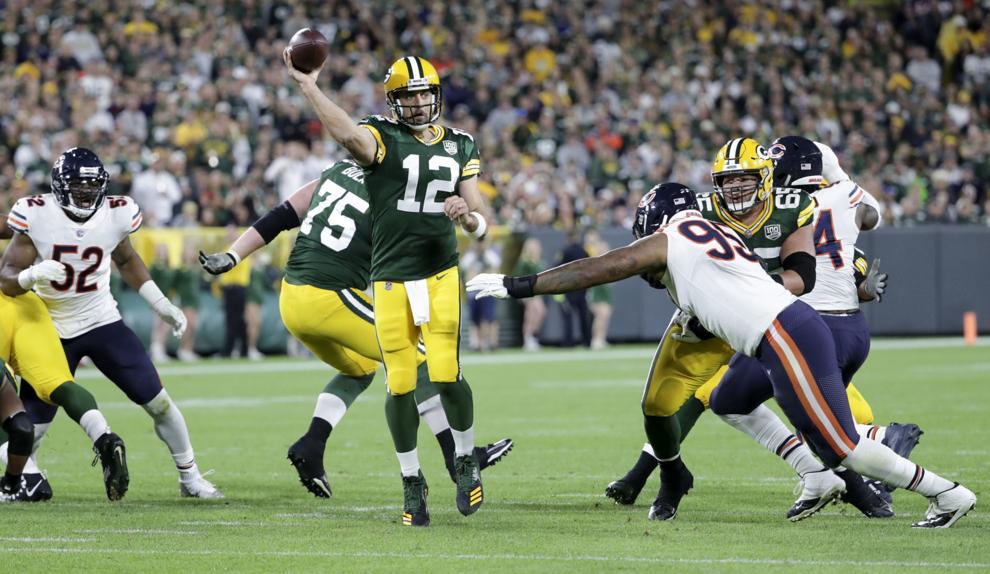 2018-10-15: vs. 49ers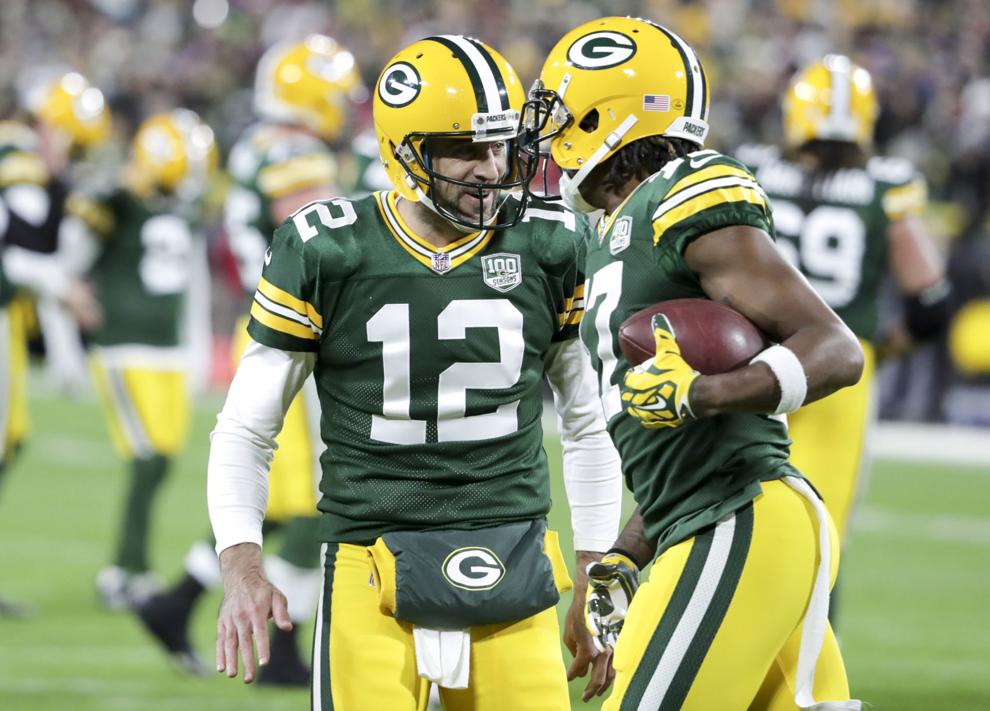 2018-12-02: vs. Cardinals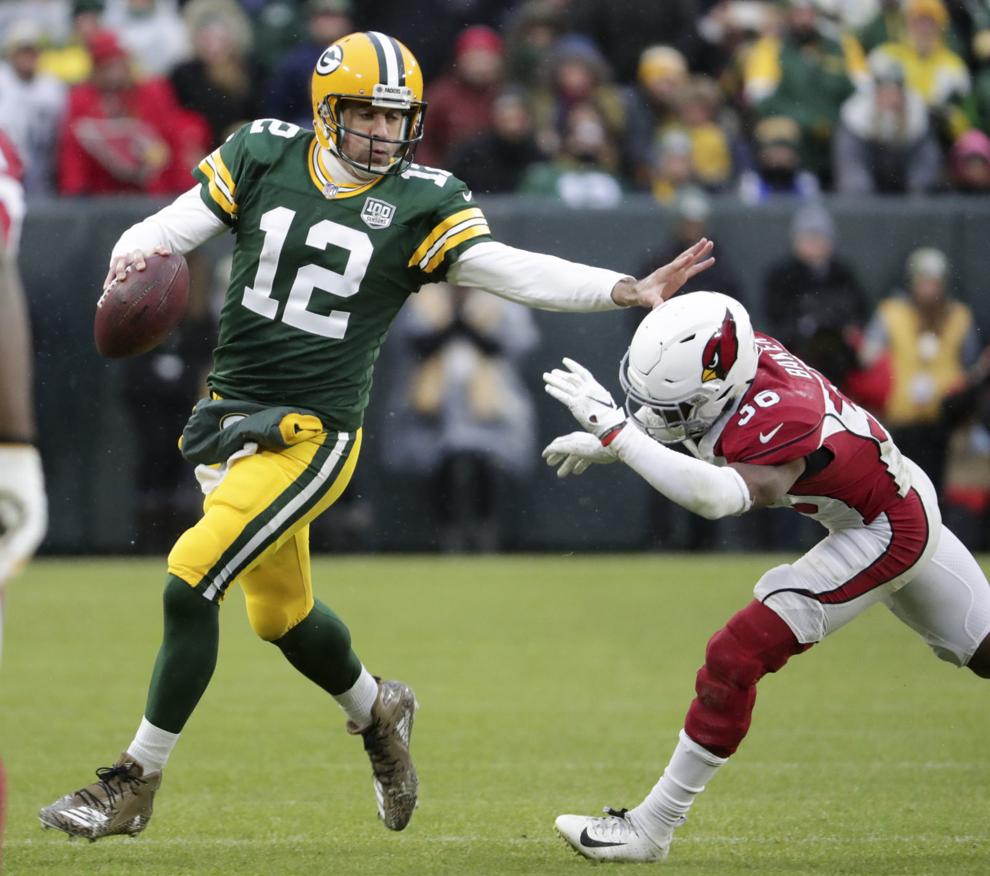 2018-12-9: Rodgers gets sacked vs. Falcons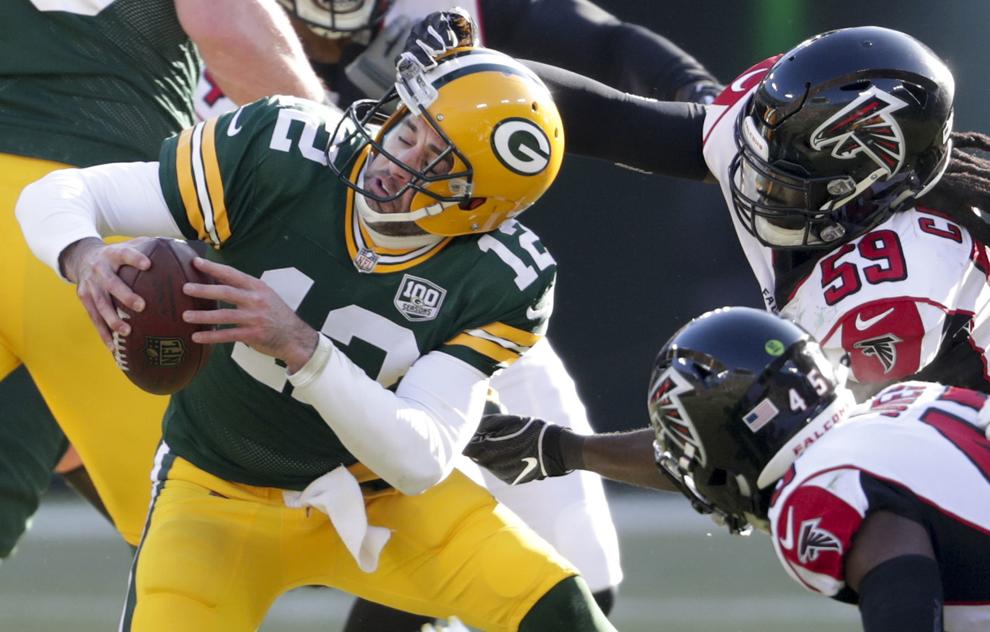 Aaron Rodgers, Danica Patrick, Packers preseason game, State Journal photo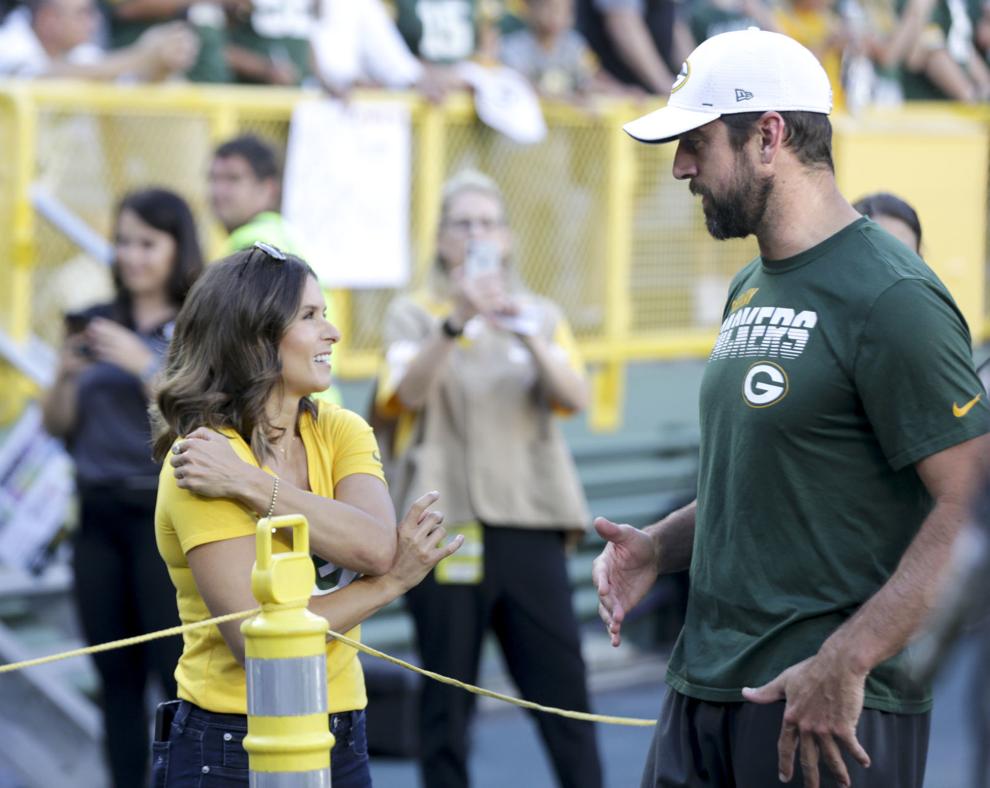 2019-9-26: vs. Eagles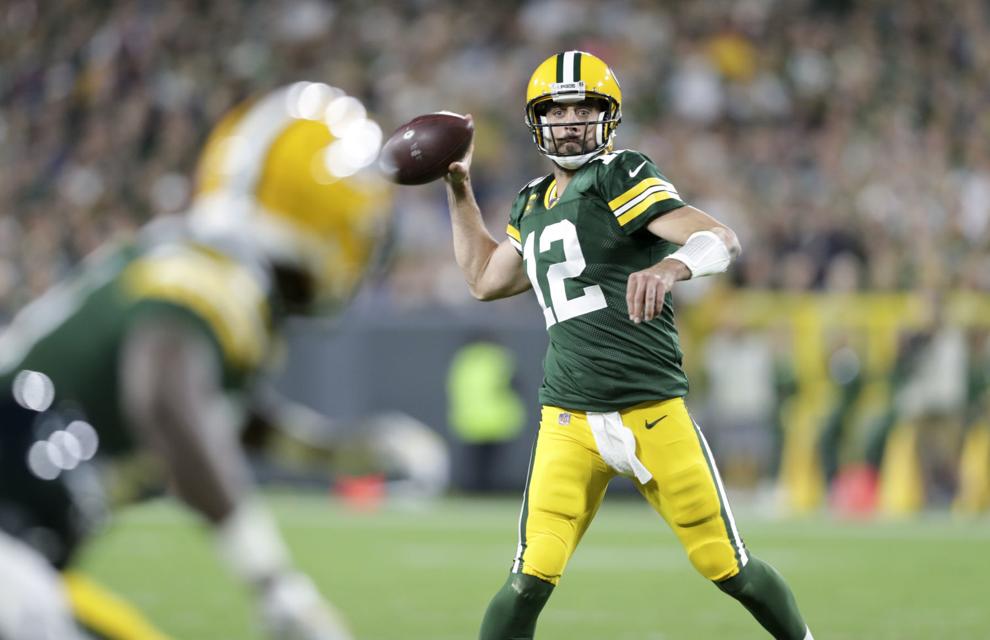 2019-10-14: vs. Lions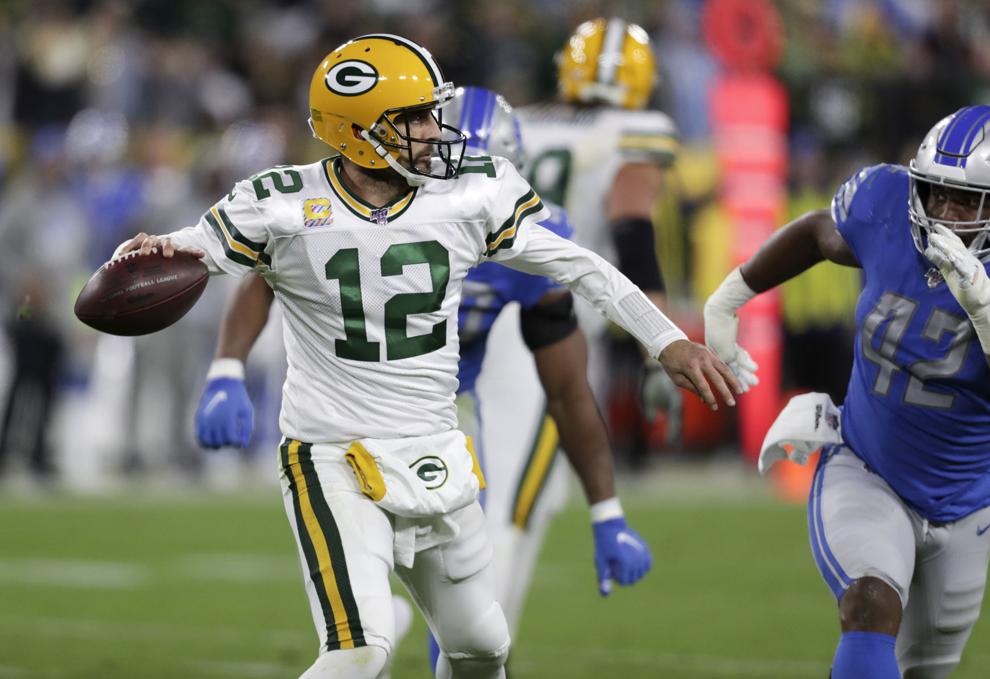 2019-10-20 v. Raiders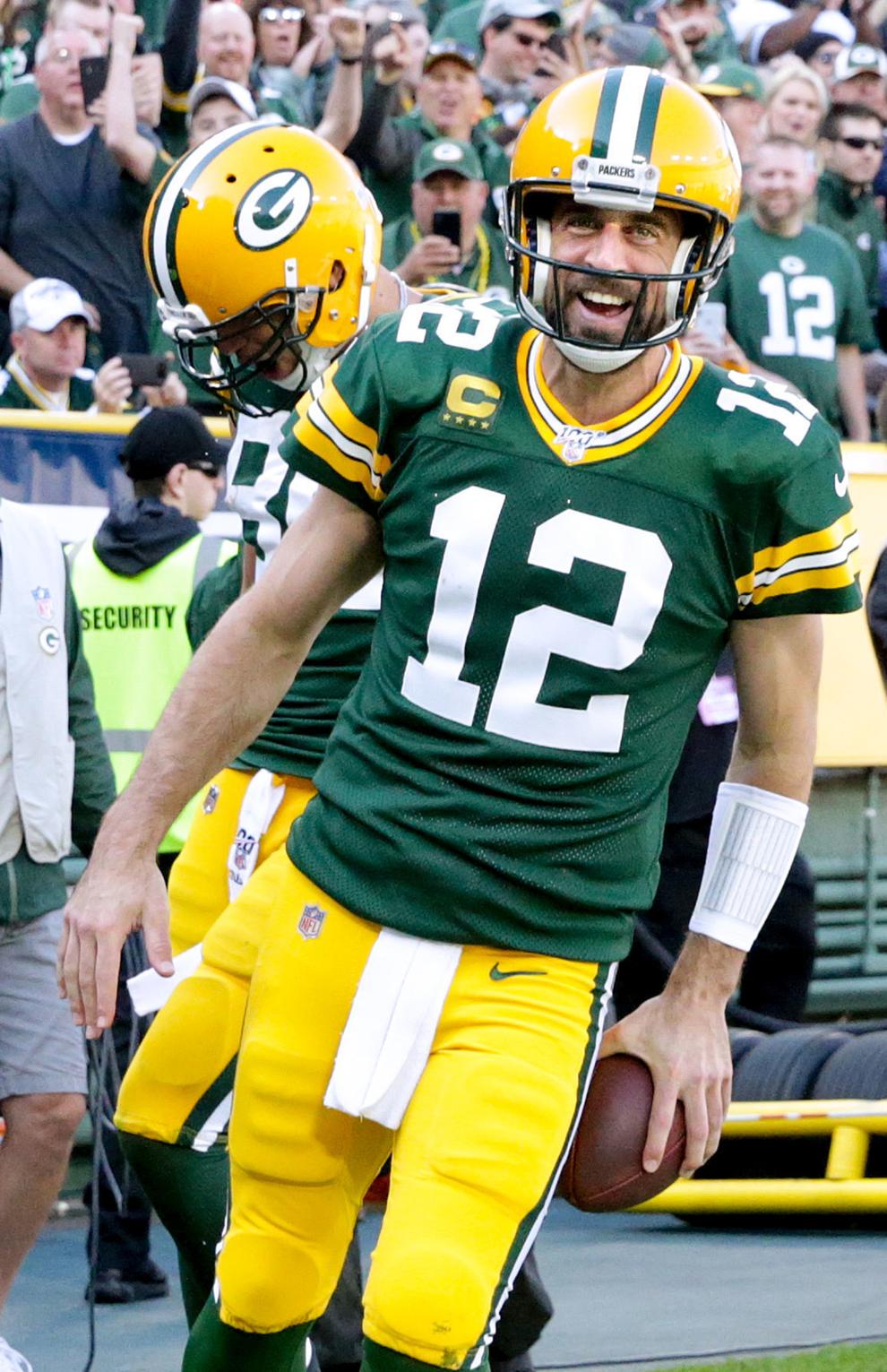 2019-11-10 vs. Panthers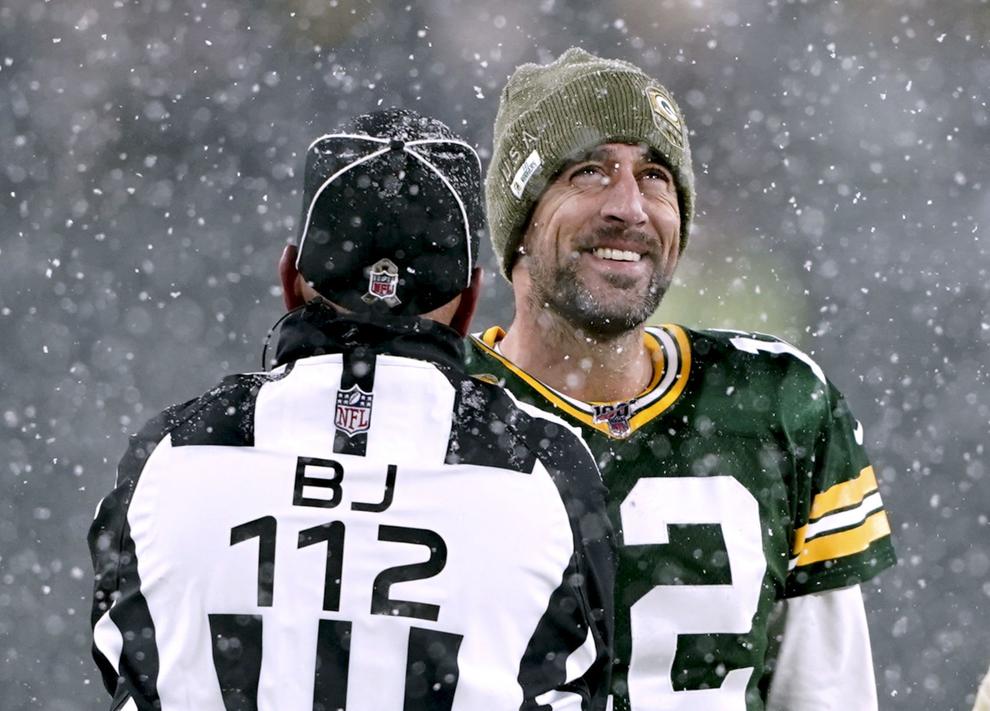 2020-11-01 vs. Vikings
2020-11-15 vs. Jaguars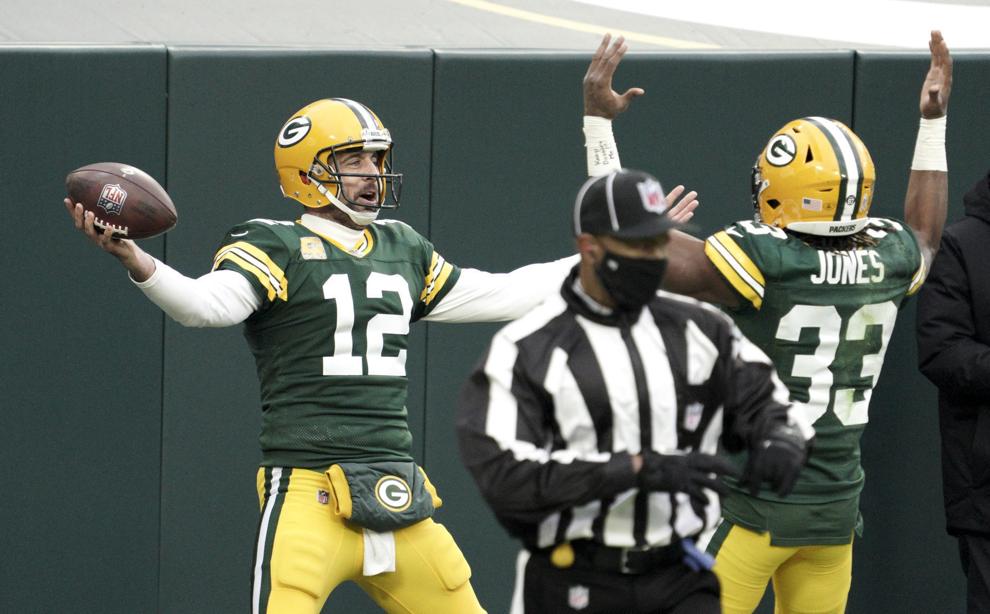 2020-12-06 vs. Eagles - 400th TD pass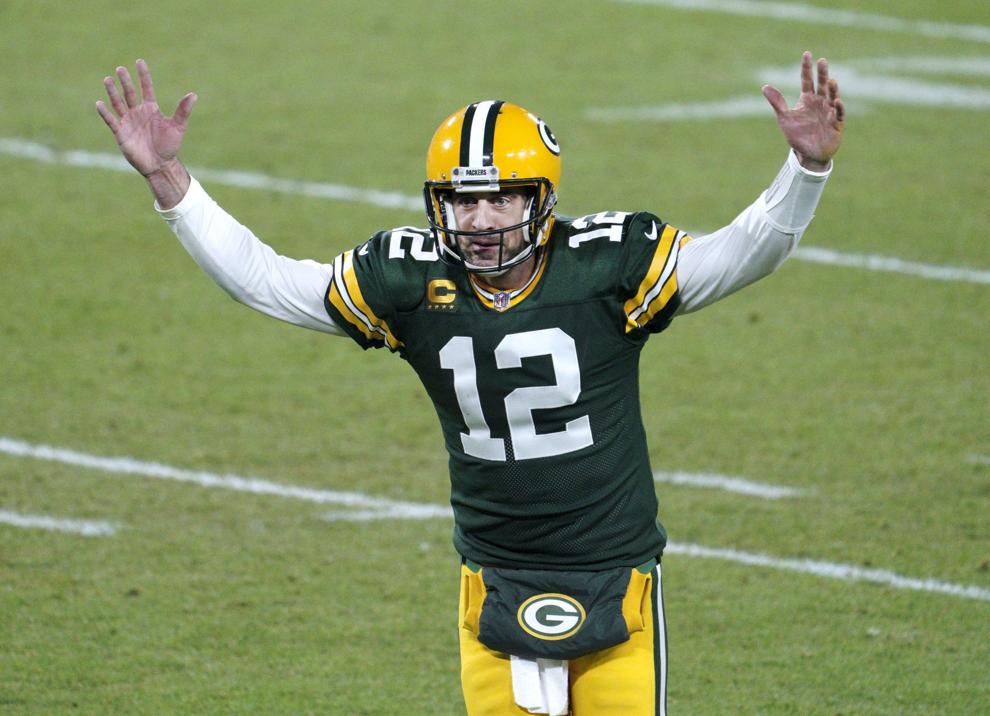 2021-01-16 vs. Rams in the playoffs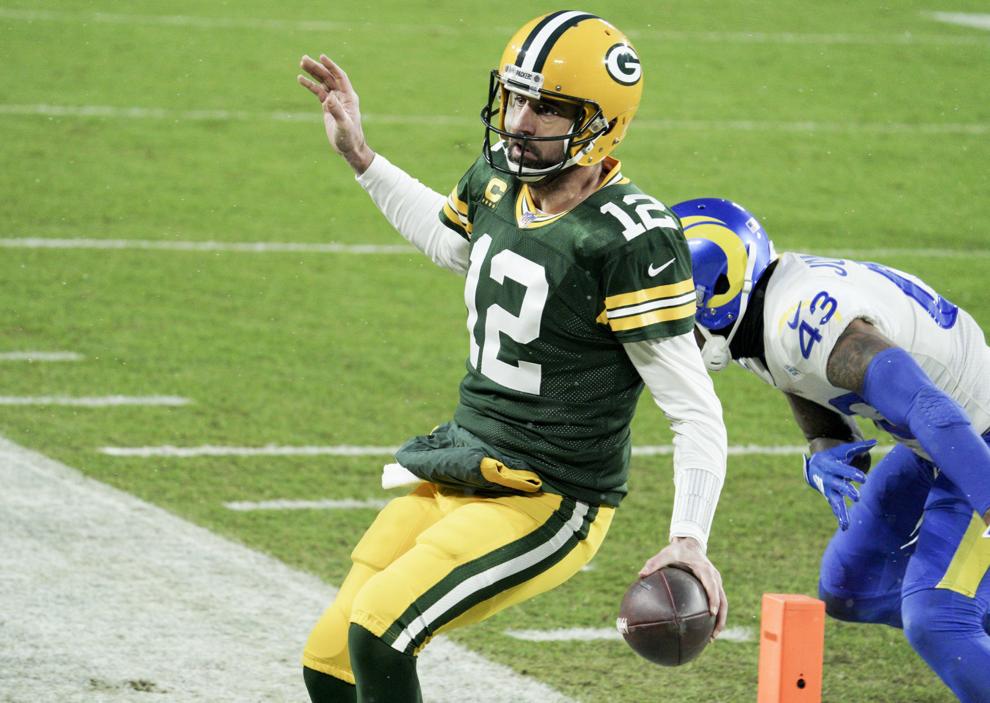 2021-01-16 vs. Rams in the playoffs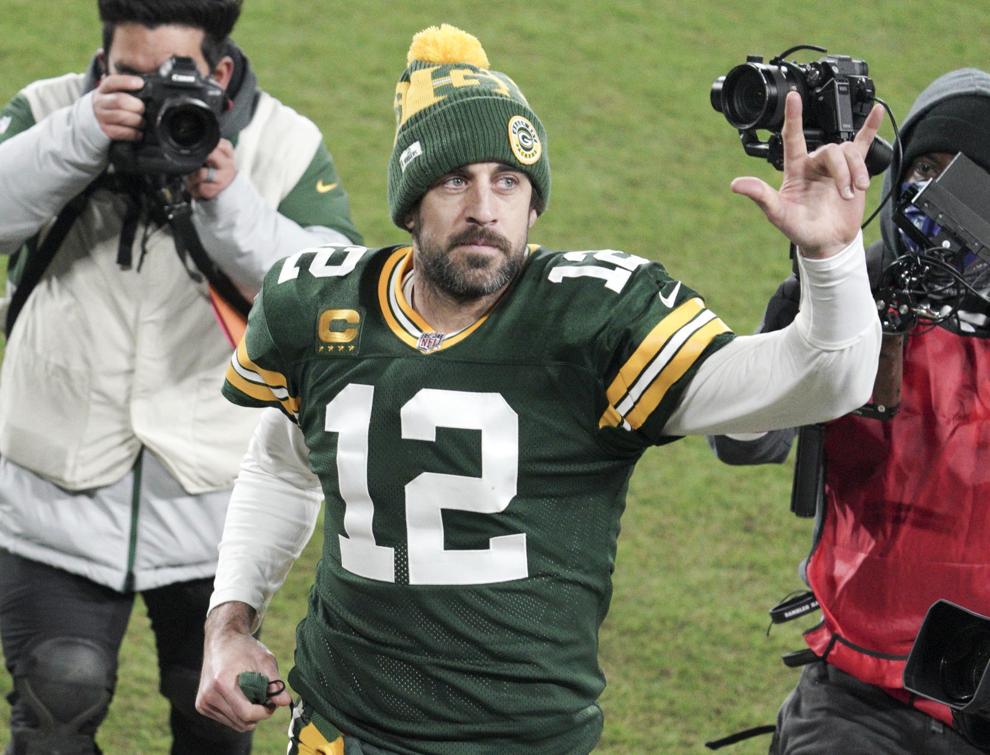 2021-01-24 vs. Buccaneers in NFC title game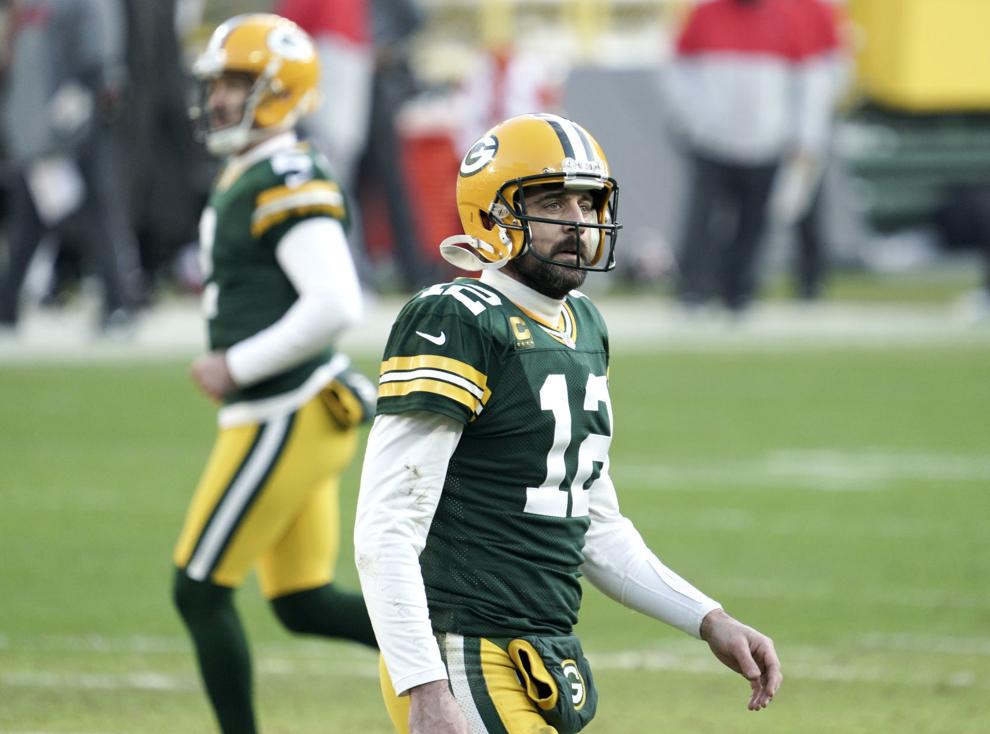 Rodgers jump page photo