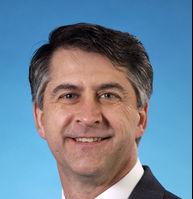 MOUNT PLEASANT — Former Racine Mayor John Dickert was formally charged May 11 for his alleged involvement in a fight at a local grocery store parking lot in late March.
Dickert, 57, of the 100 block of Westminster Square in Racine, is charged with a misdemeanor count of disorderly conduct.
Dickert was elected mayor in 2009 during a special election, and was re-elected in 2011 and 2015. He resigned in 2017 to become president and CEO of the Great Lakes St. Lawrence Cities Initiative.
Dickert was appointed in 2018 by state Revenue Secretary Peter Barca to be the administrator of the Division of State and Local Finance, a position he still holds.
According to the criminal complaint and information obtained by The Racine Journal Times days after the incident:
At 4:06 p.m. Sunday, March 22, Mount Pleasant police officers responded to Piggly Wiggly, 5201 Washington Ave., after receiving 911 calls about a fight in the grocery store parking lot.
The two suspects involved in the fight were identified as Dickert and Christian Reynoso, 19, also of Racine.
Police spoke with Reynoso, who reportedly had bloody knuckles and scratches and red marks on his neck. Reynoso said that he was in a hurry while driving to work when he saw Dickert driving and videotaping him. Reynoso said that Dickert pulled into the parking lot and followed him, and Reynoso asked Dickert why he was recording him.
Reynoso claims that Dickert got out of his car, approached his passenger-side window and leaned on his car. When he told Dickert to get off of his car, Reynoso said Dickert refused and walked around to the driver's side of Reynoso's car.
Reynoso said Dickert said something like, "Do you think you're a tough guy?"
Reynoso said he started to get out of the car and Dickert grabbed him by the neck/throat area and pushed him into his vehicle. Reynoso said he punched Dickert three to five times, and that Dickert also punched him.
Dickert told police that he saw a vehicle behind him, driving at a high speed. He said he pulled into the parking lot, and Reynoso pulled up next to him and gave him the finger. He said the two got out of their cars, and Reynoso said "What's your (expletive) deal, man?"
Dickert said he told Reynoso he did not have a problem but confronted Reynoso about his driving habits. There was an exchange of words and Reynoso threw the first punch. Dickert was observed having blood on his clothes and a cut on his cheek.
Surveillance footage from Piggly Wiggly reportedly showed Dickert walk to the driver's side of Reynoso's car. Dickert and Reynoso both took a "boxing stance," and tried to strike one another and fell to the ground, at which point it appeared that Reynoso struck Dickert four times.
In the surveillance footage, the two stand up and then Dickert is observed hitting Reynoso twice in the head and face. Reynoso then grabs Dickert and two others step in to try to stop the fight.
One witness said that it appeared Reynoso started the fight, while two others said that it appeared that Dickert hit Reynoso four to five times before Reynoso hit him back.
Although Reynoso is listed as a co-defendant in the criminal complaint against Dickert, no formal charges had been filed against him, online court records show.
Dickert is due in court for his initial appearance on July 23, online court records show.
Get local news delivered to your inbox!
Subscribe to our Daily Headlines newsletter.