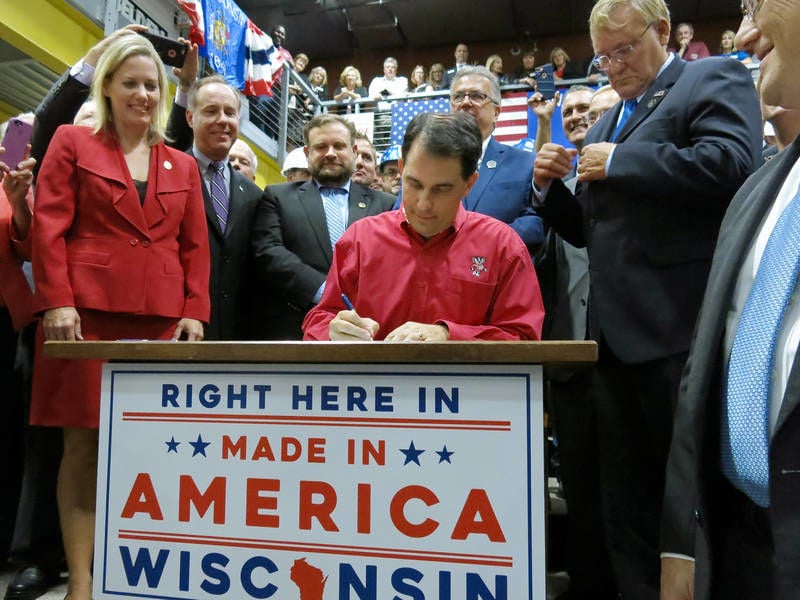 MADISON — A new George Mason University study concludes that economic development subsidies, specifically Wisconsin's incentives for the controversial Foxconn project, could cause more economic harm than good.
The Mercatus Center's study, "The Economics of a Targeted Economic Development Subsidy," looks at the economic case for and against economic development subsidies, focusing on Wisconsin's pledge of $3.6 billion in incentives to Taiwan-based electronics manufacturer Foxconn Technology Group.
"The weight of economic theory suggests that these subsidies do not work and may even depress economic activity," according to the study. "We show that under realistic scenarios, the subsidy may depress state economic activity by tens of billions of dollars over the next 15 years."
The report argues that tax cuts or subsidies for Foxconn come at a cost of higher taxes for other individuals or businesses, or reduced investment in public services. In addition, that uneven taxation is more likely to discourage economic activity, the report says.
"In short, the net effect of targeted economic development subsidies is likely to be negative," according to the study.
In 2017, Wisconsin promised nearly $4 billion in state and local tax incentives to Foxconn if the company invested $10 billion and created 13,000 jobs over 15 years while building a 20-million-square-foot campus between Milwaukee and Chicago.
The largest portion of that deal represents about $2.85 billion in refundable payroll and capital expenditure tax credits. The study describes the credits as an "outright cash subsidy," since manufacturers effectively pay no state income taxes.
"The cost alone, regardless of the viability of the project, was always the problem, because it would fail an analysis like this," said Assembly Minority Leader Gordon Hintz, D-Oshkosh, who is a member of the Wisconsin Economic Development Corp. board. "For two years, the focus of the state has been on this project, which looks to be nothing that is going to be viable for Wisconsin's economy going forward."
In addition to state subsidies, the project received $764 million in local site development subsidies — an amount that has since grown to $911 million — from Racine County and the village of Mount Pleasant.
Assembly Speaker Robin Vos, R-Rochester, and Senate Majority Leader Scott Fitzgerald, R-Juneau, did not return requests for comment. Staff for WEDC, the state's quasi-public job-creation agency, also did not reply to a request for comment.
Foxconn representatives declined to comment on the study.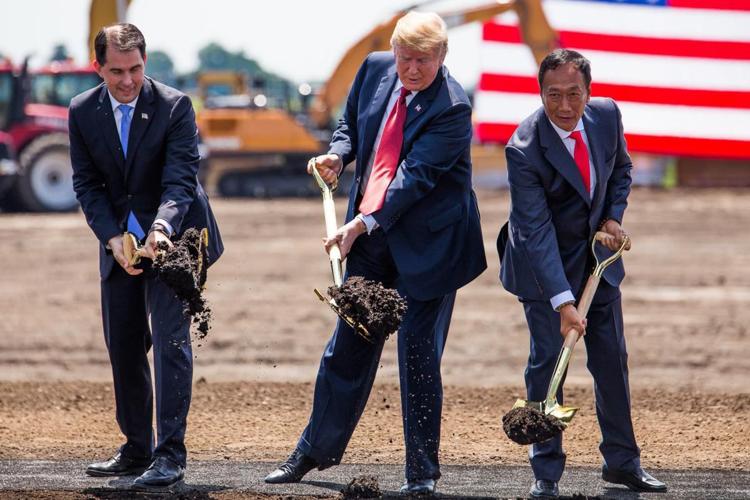 Proponents of such incentives, as with those who have supported Foxconn, argue they are necessary to attract businesses and can spur additional development.
However, the report argues that, if Wisconsin was well suited for technology manufacturing, incentives would not be necessary to spur development.
"The $3.6 billion in subsidies that Wisconsin promised Foxconn could instead have built 7 square miles of greenhouses to motivate orange growers to move from Florida," the report said in one admittedly "fanciful" comparison. "This option would certainly create new jobs and an exportable product, but such a cluster would clearly not be a wise investment in terms of Wisconsin's comparative advantage."
The Wisconsin plant is proposed to produce Foxconn's next generation of liquid crystal display technology that will be used to make display screens for cellphones, tablets and other devices. President Trump has lauded the deal as transformational for the state and national economy.
While originally promised as a Generation 10.5 facility that would build larger panels for TV screens, the project has downsized to Generation 6, which would manufacture small screens for mobile phones, tablets, notebooks and wearable devices.
The company said it intends to have its manufacturing facility up and running by the end of 2020.
Foxconn is required to provide the WEDC with an update on its progress and how many jobs have been created by April 1 to determine whether the company qualifies for state tax credits.
The company fell 82 jobs short of the minimum required to claim state tax credits in 2018.
In addition to Foxconn's southeast Wisconsin manufacturing facility, the company has pledged to create "innovation centers" in Madison, Milwaukee, Green Bay, Eau Claire and Racine.
However, the centers have been slow to get off the ground.
Foxconn also had intended to invest $100 million in engineering and innovation research at the University of Wisconsin in Madison to help fund a new building for the College of Engineering if the university raised the same amount.
Roughly a year later, the university said it had received $700,000, less than 1% of the original commitment.