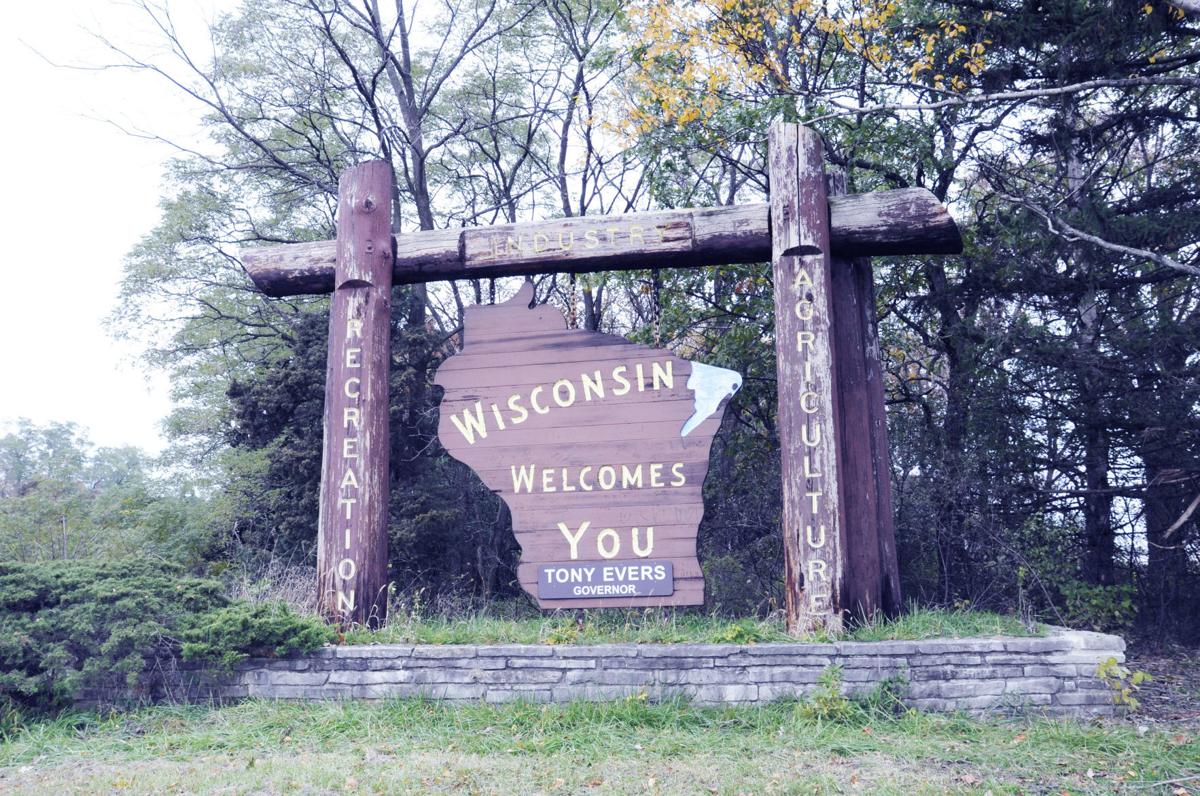 GENOA CITY — A sign welcoming travelers to Wisconsin here is not very welcoming any more, after years of wear and tear have left the structure in disrepair.
State officials are contemplating repairing or replacing the "Wisconsin Welcomes You" sign, although there has also been talking of removing it entirely.
Whatever happens, Genoa City Village President Bill Antti says that the large sign situated in his community definitely could stand to be repaired or replaced.
"When they are done, it should look new," Antti said. "It doesn't have to be new, because it depends on what condition it is in."
The sign overlooking state Highway 12 is among several rustic-looking structures around the state that greet visitors at the stateline with the message, "Wisconsin Welcomes You."
Three wooden posts are emblazoned with the words, "Industry," "Recreation" and "Agriculture."
Visitors entering Wisconsin at Genoa City, however, might struggle to read the sign, because the wood appears aged and the paint is faded.
David Fasth, who lives in Lake Geneva, drives past the sign every day on his way to work at O'Hare Airport in Chicago.
Fasth got so tired of looking at the deteriorated structure that he called the state.
"It just kind of looks bad," he said. "And it is a beautiful "Welcome to Wisconsin" sign."
When he called the state Department of Transportation in Madison to urge repairs, he learned that state officials were aware of the sign's poor condition — and had discussed both replacing it and removing it.
"It seems like that have not made a decision," he said.
At one time, the state offered travelers a rest stop in Genoa City along with the welcome sign, giving motorists a place to pull over and take a breather. But the rest stop shut down a few years ago.
State officials now say they are working with Walworth County to make repairs and give the roadside marker a makeover.
Tom Heydl, a representative of the state transportation department, said there was a plan not long ago to replace older welcome signs with new signs.
So far, though, only one sign has been replaced in Hudson, located on the Minnesota stateline. Heydl thinks there are still plans to replace others around the state.
But, he said: "Nothing might have happened because it might have been a funding issue."
The Genoa City is in a high-profile location, as hundreds of thousands or motorists pass by, arriving from Illinois en route to Lake Geneva or other northerly destinations.
Faseth said whoever he spoke with in Madison seemed happy for the feedback and willing to take action. The person even assured Faseth that state officials would try to find funding to repair Genoa City's sign.
"He was open to my suggestion, and was glad I called," Fasth said. "He said that he would run it up with his superiors and try to get the money to get the sign repaired."
Heydl said some similar signs have been replaced elsewhere with new green-colored signs along the borders.
But if the state goes that, Genoa City could lose its distinctive rustic-style welcoming marker.
"They used to have a big Wisconsin map as part of the sign," Heydl said. "And those were removed and replaced."