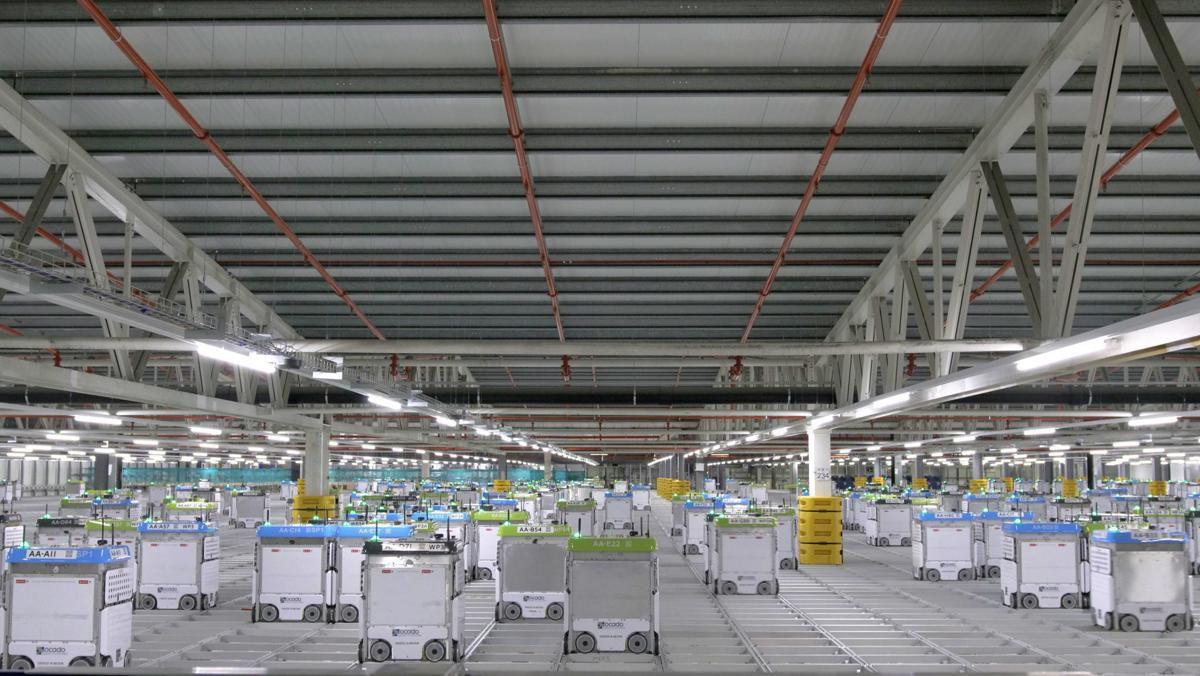 KENOSHA — Kroger Co., the nation's third-largest retailer, has announced plans to build a massive, high-tech customer fulfillment center in Pleasant Prairie.
The 350,000-square-foot automated facility is designed to efficiently serve customers in Wisconsin, northern Illinois and northwest Indiana with state-of-the-art digital and robotic capabilities.
It will be Kroger's sixth customer fulfillment center, with other locations either being planned or built in Ohio, Florida, Georgia, Texas and the Mid-Atlantic region.
The Pleasant Prairie facility is expected to create up to 400 new jobs. The exact location was not immediately revealed.
Kroger said Nov. 14 the customer fulfillment center would be operational two years after groundbreaking.
"Pleasant Prairie is honored to have Kroger join our community," Pleasant Prairie Village Administrator Nathan Thiel said.
"It's exciting to know we'll have a business that can deliver fresh groceries right to the doorstep of our neighborhoods and the entire region," Thiel said. "Kroger is an excellent community partner, and we are committed to protecting and preserving their investment in our community."
The project is a collaboration between the Cincinnati-based Kroger and U.K.-based Ocado, one of the world's largest dedicated online grocery retailers. The partnership was created to accelerate the ability to serve customers with its "anything, anytime, anywhere" motto. In June, Kroger broke ground on its first customer fulfillment center in Monroe, Ohio. The $55 million facility is expected to open in spring 2021.
"Kroger is incredibly excited to construct one of our industry-leading customer fulfillment centers in Pleasant Prairie, in a relationship with Ocado, to bring fresh food to our customers faster than ever before," said Robert Clark, Kroger's senior vice president of supply chain, manufacturing and sourcing.
"Through our strategic partnership," Clark continued, "we are engineering a model for the region, leveraging advanced robotics technology and creative solutions to redefine the customer experience for our customers in Wisconsin and Illinois."
Kroger, under its Roundy's subsidiary, operates more than 150 retail grocery stores under the Pick 'n Save, Copps, Metro Market and Mariano's retail banners in the Wisconsin and Chicago area. Kroger underwent a $19.2 million expansion in 2017 at its Roundy's commissary in Kenosha.
The project means Kenosha will have a major presence for two of the nation's top three retailers. Amazon, second only behind Walmart in annual sales, employs more than 1,000 people at its 165-acre, 1.5-million-square-foot fulfillment center in Kenosha.
"We're extremely pleased that two companies of Kroger and Ocado's stature are the latest to choose Wisconsin for their operations," said Missy Hughes, secretary and chief executive officer of the Wisconsin Economic Development Corp.