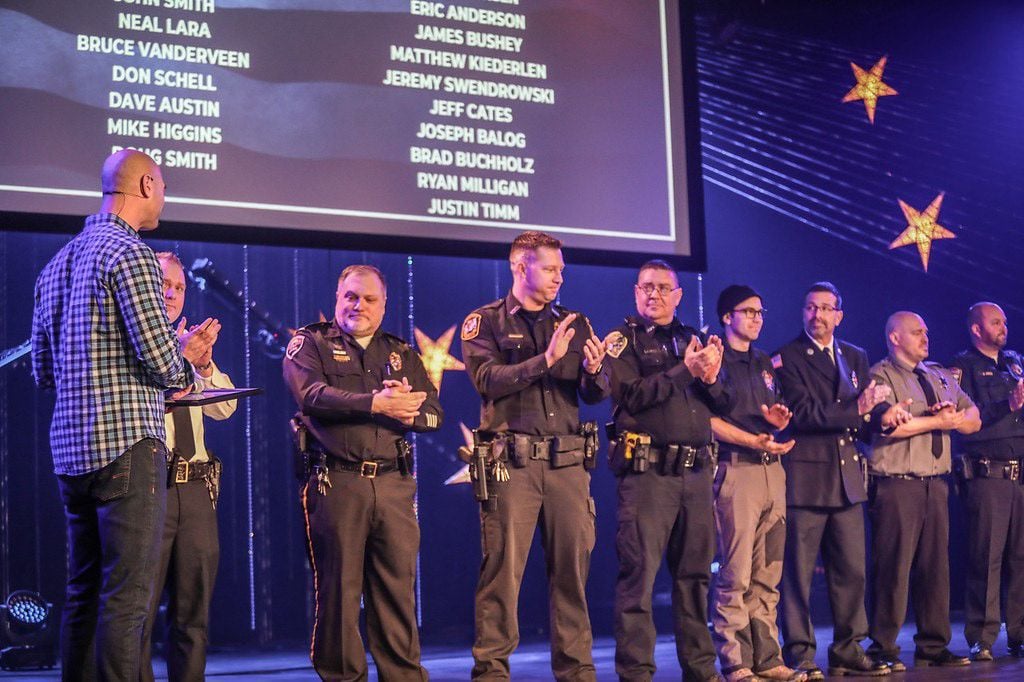 WILLIAMS BAY — Lakeland Community Church has begun a three-week venture of donating $75,000 to 100 various government organizations throughout the county.
The church at N3181 state Highway 67 began with $750 donations to 34 different police, fire and rescue departments in Walworth County, announced during a Jan. 12 service.
Mayors and village presidents received donations on Jan. 19, and school principals and superintendents are scheduled to receive contributions on Jan. 26.
The donations are part of an annual effort by the church to make contributions during the winter holidays. Last year, the church offered comparable contributions toward the construction of a church in Honduras.
But this year, senior pastor the Rev. Josh Amstutz said he wanted to take a more local approach to the donations.
"I've always wanted to give back in a practical way to our community; for years I've really wanted to do this," Amstutz said.
With the church receiving congregants from a number of communities like Williams Bay, the Town of Geneva, Lake Geneva and Delavan, Amstutz said the church has previously wrangled with how to approach a local government donation. He added that to ensure all of the congregants' municipalities received donations, the church decided to make small contributions to organizations throughout the county.
Amstutz said the church chose to donate to three categories of government agencies he felt are heavily relied on by their communities — but sometimes receive less credit than deserved.
"I think everyone can get behind this and say these are organizations that serve our community, we value, and want to thank," Amstutz said. "Sometimes they are overlooked or underappreciated, and we just wanted to say thank you to them."
Fontana Police Chief Jeff Cates attended the Jan. 12 service and said he was grateful that police, fire and EMS departments had been considered for the donation.
Cates said his department has yet to decide what the $750 will be used for, and has a made a notice to his staff members, asking them to come forward with ideas on how the funds could be best utilized.
"We want to put it toward something beneficial," he said. "We don't want to buy new squad car tires; we want to put it toward something that can be seen and can make a difference. We're just waiting for that idea to pop up."
Cates said the donation is just one of the ways he has seen community support for the department, and that he appreciates the public's backing in an age when police departments are not always viewed in the most flattering light.
Church office manager Jen Yunker said many of the donation recipients are likewise still determining what to do with the funds, because they were unaware the contributions would be made.
But that they can use the funds wherever they believe they are needed.
"It's up them what they want to invest that in," Yunker said. "If there's something in their heart, if they want to put it toward a special project or even if they just want to treat their team to a special lunch, they can feel free to use it how they see fit. We just wanted to bless them with that money."
Yunker said the funds for the annual donation are raised each year through contributions from the church's body of more than 1,200 weekly attendants and other less frequent congregants.
"We love it when people give from their hearts," Yunker said. "We don't ask for a certain dollar amount; it's not pushed upon people. Whatever God is calling them to give, they give."
According to Lakeland's 2018 annual report, the church received $2.4 million in donations through 2018, of which $1.5 million was used for building expansion and $176,285 was used for mission ventures.