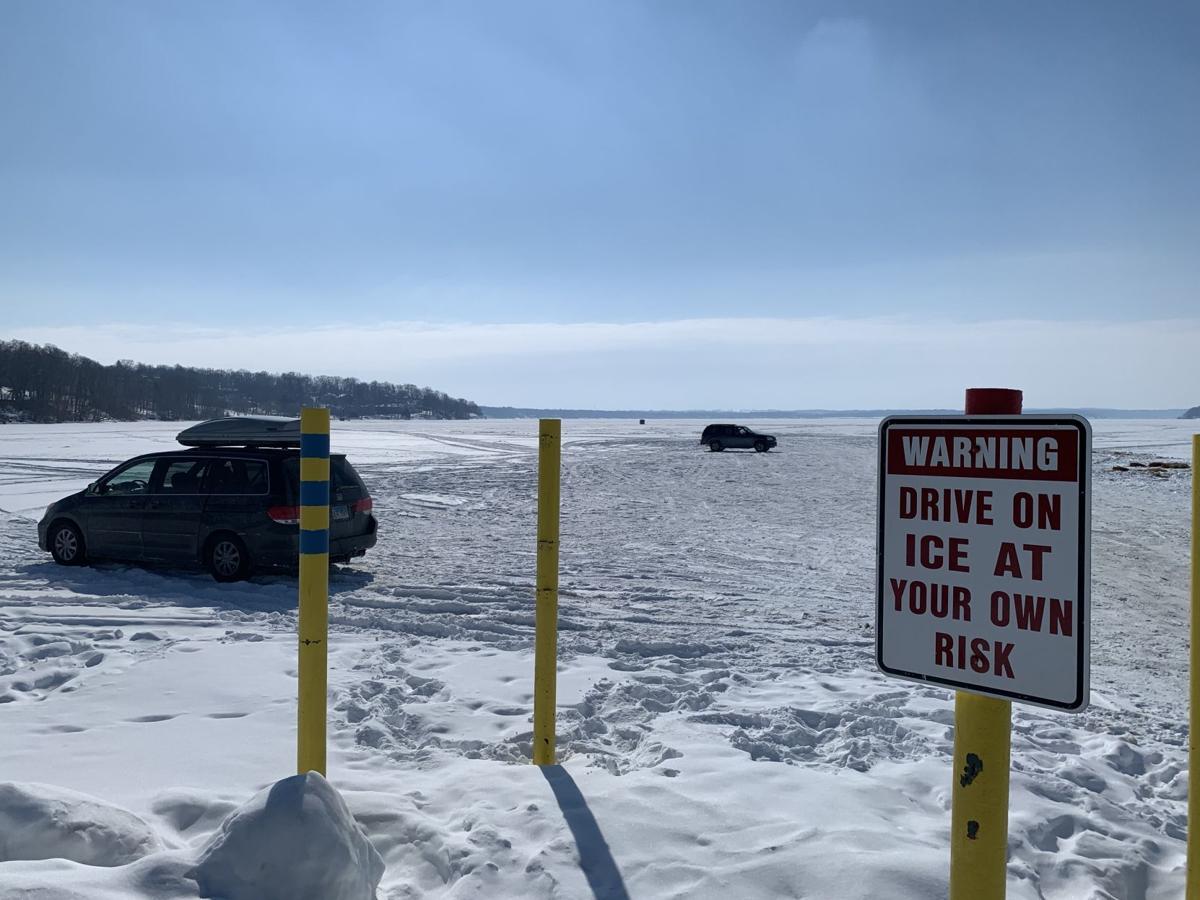 This month marked five years since the Winterfest of 2016 when Lake Geneva made national headlines when over a dozen cars parked on the ice fell through. 
But that bad news from five years ago is not stopping some people from still doing it. Several vehicles were parked on the frozen Geneva Lake near the lakefront area of Lake Geneva, Feb. 18 and 19, garnering a lot of attention on social media.
At the boat launch on Wrigley Drive across from the Baker House a sign by the lake states, "Warning drive on the ice at your own risk." 
City officials said Lake Geneva does not have an ordinance regarding people parking their vehicles on the lake. 
DNR Warden Jason Roberts said some municipalities have weight limits on what vehicles can drive onto lakes. But he confirmed Geneva Lake does not, adding there is no state law with lake weight limits.
Delavan has set a 2,000 pound weight limit for Delavan Lake, which means no cars are able to drive on the lake, Roberts said.
Roberts said if your car goes through the ice state law requires you to get it out.
"That can be very expensive," Roberts said.
While there is no state weight limit, he said, "People use their best judgement."
He said people need to be careful. Even if they think the ice is thick enough, it can be thin in inlets or outlets and it can be compromised as the temperature changes, freezing and unfreezing the ice.
People need to be careful parking near the edge of the lake because the ice melts near the edge first, he added. 
In addition road salt can contribute to the ice melting near the shore. 
Five years ago, when the cars went through the ice during Winterfest, one of the problems was how close the cars parked together.
"It was a parking lot out there. That is a whole lot of weight in a small area," Robert said.
Cars need to spread out. "It makes common sense," he said.
People need to always use caution. "No ice is safe … People certainly take risks, but ice is so variable in its condition."