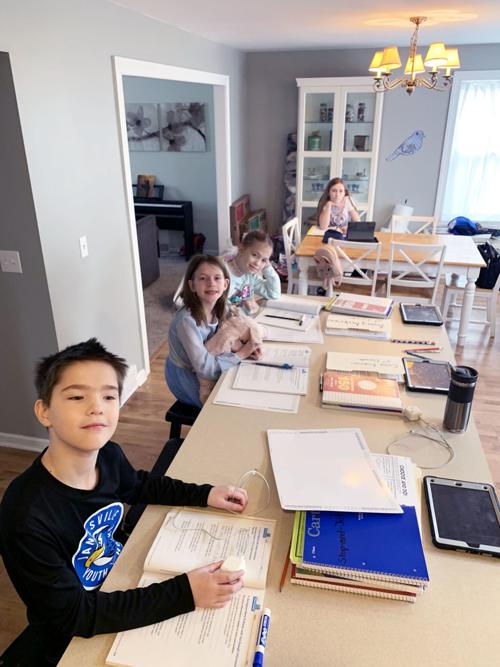 GENOA CITY – From FaceTime to Google Classroom, schools are employing a variety of online services to continue student learning during school closures prompted by the coronavirus emergency.
Woods, Traver and Reek schools are all using Google Classroom to help teachers stay connected with students who are missing classroom time during state-ordered school closures that began March 16.
At Woods, the program is already in use with students in fifth through eighth grades. With younger students, teachers are looking for other online resources to try their hands at distance learning.
Woods School Administrator Alyson Eisch said staffers also have worked to get students set up at home, and to keep parents informed about free internet access and other helpful tools.
"Teachers have each shared a plan with families around how to continue learning," Eisch said.
Teachers at Woods are sending weekly communication to families.
Some school employees are using FaceTime or similar apps to provide virtual face-to-face lesson time with students. Facebook Live is another option under consideration.
"We will continue to add more options for staying connected with students and families," Eisch said.
In addition to using the Google Classroom program, Traver and Reek are using a program called "Zoom," which helps teachers and students keep the learning going. Zoom is a free video-conferencing tool that allows people to host and record virtual group meetings.
"We are 'Zooming' with our kids daily to check in and keep the connections that we have made," Traver Administrator Allyssa Andersen said. "We fear that we will all feel isolated, and Zoom has helped us connect and feel like we are together."
Andersen is also posting daily questions for students on the school's website as a fun way to connect. Students are asked to name a favorite food, favorite sport and so forth.
"It is just a fun way to have the kids check in," she added. "It is just a way to open up the learning process before they go on to their teacher's stuff."
At Reek, teachers and students are using enhancement programs like I-Excel, which helps with reading and math, and Raz Kids, which is easier for younger students.
"We are using quite a few online programs to help our students at this time," Reek Superintendent Samantha Polek said.
Even with elective classes, the school is reaching out to keep students moving forward. Officials also are maintaining an online calendar with links related to music or art.
Since the state ordered schools to close indefinitely to prevent the spread of coronavirus, the Wisconsin Department of Public Instruction has set up guidelines for online learning.
Polek said the experience could help students prepare for college, where online learning is sometimes more commonplace.
"Every university has the same online learning platform," Polek said. "Possibly, we are preparing students for part of their future."
Get local news delivered to your inbox!
Subscribe to our Daily Headlines newsletter.