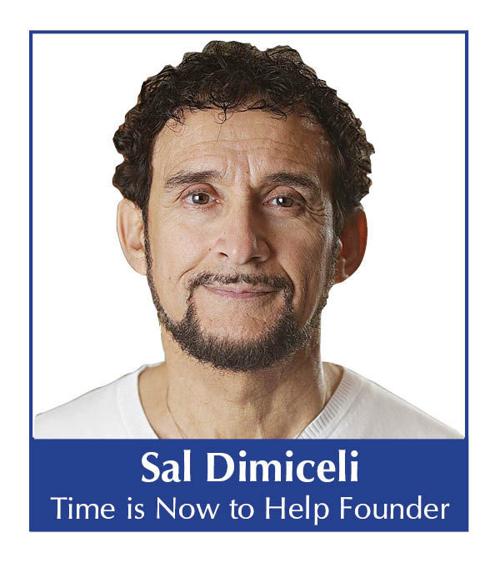 My daughter was in a car accident last week that totaled her car. She suffered a broken ankle that will keep her from her job as a waitress for at least six weeks. She was struggling before this happened due to having fallen behind when she lost her job last spring. My daughter has one child and is a hardworking single mother. The father of my grandson has never paid his child support so all the responsibility falls on her. I am not much help as I am disabled and just get by each month. I also am at very high risk to complications if I catch Covid so I am not even able to see my grandson or daughter right now. I am so worried my daughter and grandson will be evicted and become homeless. I cannot have them move in with me due to my risk factors and because I live in a studio apartment in subsidized housing. Could you please contact my daughter to find out more about what she is going through?
Readers,
The woman who wrote this letter requesting assistance for her daughter is going through what many people are going through right now. She cannot see her daughter and grandson or help them financially. It is a terrible feeling knowing you cannot help your own child when they are going through something difficult. Now we have the pandemic that makes that even more prevalent. After we did our own research into the woman I knew we could help her and this mother feel better by doing what she asks in her letter and contacting her daughter.
I called the daughter and when she did not answer I left a voicemail telling her who I was and why I was calling. I told her I would be calling her back soon and if she needed to know more she should call her mother to confirm she had written a letter to our charity. The second time I called the woman she answered her phone immediately and the first thing she told me was how thankful she was that her mother had written a letter. She asked some questions about our charity and I explained how our charity operates. I told her how we have already helped over 500 people this year with rent, utilities, food, clothing, new beds, car repairs, car payments and other daily needs. I explained how 100% of our donor's contributions are used for poverty relief, the kind of poverty relief that her mother had requested for her.
After answering her questions I began to ask mine. I had questions about the car accident she was in; she had hit a deer and she felt it could have been avoided if she had been driving a car that didn't need new tires or have bad brakes. The woman admitted she had not been able to afford routine maintenance on the car and only had minimal insurance because she had not been able to afford it. Her car was a complete loss but she told me it had been in very bad shape even before she had hit the deer. The woman was just grateful her son had been in school at the time of her accident and not in the car with her. We discussed her injuries and in addition to the broken ankle she had suffered some bruising and cuts. She would need a full six to eight weeks to recover completely as her job required her to be on her feet. We talked about other jobs she could possibly do even some that would allow her to work from home. She said she would look into that possibility.
We talked about her job and how she had been in and out of work for the past six months. It had started with the stay at home orders earlier in the year and the restaurant she worked at closing. She had finally gotten back to work as a waitress when she became sick a few weeks later. Over the summer both she and her son had contracted Covid 19 so she had been off of work for three weeks due to her lingering respiratory problems. Understandably her employer had not wanted her waiting tables with a cough even though she had tested negative. She had already been behind in rent and utilities at that point. Even with the stimulus money she struggled to keep up as she had never been approved for unemployment. The woman thought she could finally put these struggles behind her when she was able to return to working both the breakfast and lunch schedules when her son was back in school. Now the loss of her car and ability to work had the woman in tears. She was afraid and overwhelmed by what could happen next.
Before committing to any assistance we reviewed her budget line by line. I found her budget to be reasonable and something she should be able to keep up with under normal circumstances, but this year has brought anything but normal circumstances. Circumstances this year have brought stay at home orders, a pandemic, job loss, shortages and isolation for many vulnerable people which has brought a lot of these people to our charity for assistance. Our assistance to this woman and her son would be most valuable by paying her overdue rent and utilities. We also would pay some into the future to carry them through this next difficult period while the woman is unable to work as her ankle heals or until she finds a job she can do safely from home. There are companies looking for people who can work online from home. We also would provide gift cards for food, toiletries and household necessities. This assistance would be their lifeline over the next two months while the mother recovered.
I told the woman about our plan for their assistance. She cried as I listed the assistance we would be providing, the rent, utilities and most of all the food. The woman finally said, "We would have been homeless and hungry if it wasn't for your charity. Thank God my Mom wrote you a letter. I can't wait to call her and tell her how you are helping us. She will be as happy as I am right now." I could hear the woman crying but I was relieved to know they were now tears of relief.
We talked for a while longer and discussed her need for a car. I assured the woman she would be on our list for a car once she assured me she would be returning to work. As the request for cars is overwhelming right now we are putting first priority on those that have jobs that require a vehicle. The key to many of our fellow creations success is having reliable transportation so they are able to earn a decent living.
As the hour was getting late we said our goodbyes. Her nine year old son would need to be up early for school and the mother told me how she liked to make him a good breakfast and sit with him in the morning. She said, "He is getting so big now and I don't want to miss a minute of it." I told the woman a volunteer would be stopping by the following day with her checks made payable to her landlord and utility companies. We also would include gift cards for food and other daily necessities. The woman was very grateful as she said over and over, "Thank you, thank you."
I am relieved we were able to help this woman and her son before it was too late and they had become another homeless statistic. For many people contacting us at this time it is already too late. There is an epidemic of homelessness, worry over pending homelessness and stress over how our fellow creations are going to be able to pay their bills, especially if we go through another shutdown. While we can't remove this stress and worry for everyone we certainly can remove it for many of them thanks to "You". With your continued support right now we will be able to bring our assistance to even more people over the upcoming difficult winter months. We together can bring the light of hope and healing in our communities.
We are blessed to be able to provide this assistance and so much more thanks to your donations. We continue to work hard helping many people who are turning to us for a helping hand. Hundreds have been provided poverty relief over the past year as many have suffered due to this virus and poverty in our communities. Thank "You" and God Bless "You" for your support.
Health & Happiness, Love & God Bless Everyone, Sal
Please Help: There are many coming to us in desperation. Our good fellow creations need our compassion. Together we make a big difference. Make checks payable to: The Time Is Now to Help, P.O. Box 1, Lake Geneva, WI 53147. The Time Is Now to Help is a federally recognized 501©3 charitable organization licensed in the states of Wisconsin and Illinois. You will receive a tax deductible, itemized thank you receipt showing how your donation provided assistance for the poverty stricken.
A Very Special Thank You: Green Bay Packers Foundation, Paul Ziegler, Ziegler Charitable Foundation, Mr. and Mrs. Robert Schuberth, Gerald and Cheryl Kuhn, Kunes Country Auto Group, Alfred and Susan Didominick, Sullivan Family, Robert and Rita O'Brien, The Holmgren Charity Fund, Fairwyn Symphony Bay Give Back, Lake Geneva Area Realty, Paper Dolls, John and Kristi Hugunin, Shari and James Loback, Michael and Barbara Lakin, Lois Crubaugh, Kathleen Gallagher, Richard and Carol Kerkman, Walter and Laverne Fredricks, Jane and James Weis, Charles and Diane Palma, Ruth Howard, Laura Johnson, Bob and Millie McCormick, Rev. Hugh Fullmer, Robert and Patricia Davis, Anton and S. Kapela, Thomas and Mary Lyonss, Mary Dunham, Beth and Jody Rendall, J.N. Hackman, John and Marian McClellan, Nicole Jossart, Jonathan and Sara Kaplan, Phil and Barbara McMahon, Maureen Gleason, all of our anonymous donors and ALL of you who support The Time Is Now to Help donation boxes. Anyone who would like a Time Is Now donation box in your business, please call (262) 249-7000.
Prayer Chain: The power of prayer and positive thoughts comes from the true healer, our Lord answering our prayers. Please pray for healing for the following people: Talyn, Mike, Sylvia, Richard, Jennifer, Jayden, Maria C., Alex, Lily, Kaitlyn, Sheila, Rhonda, Deda Lee, Betty, Marilyn, Helen, Dennis, Mary, Joseph, Sal, Jordan, Jean, Tom L., Dr. Peter, Alyce, Matthew, Pam E., Jenene B., John S., Patricia H., Darlene, Ron K., Marian K., Judy, Wendy, Eric, Rogelia, Anthony and Mary.
Furniture Donations: To donate furniture please call Love, Inc. in Burlington, WI (262) 763-2743 or Circle of Friends in Elkhorn, WI (262) 723-8177. Please visit: www.timeisnowtohelp.org
Damaged mailbox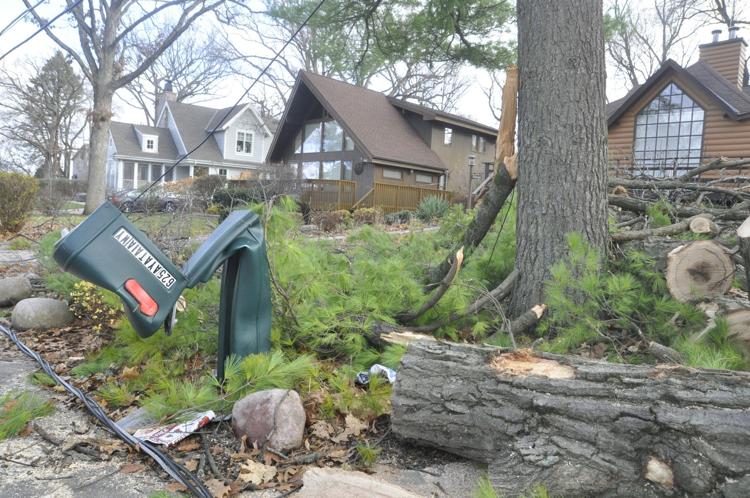 Roof damage from tree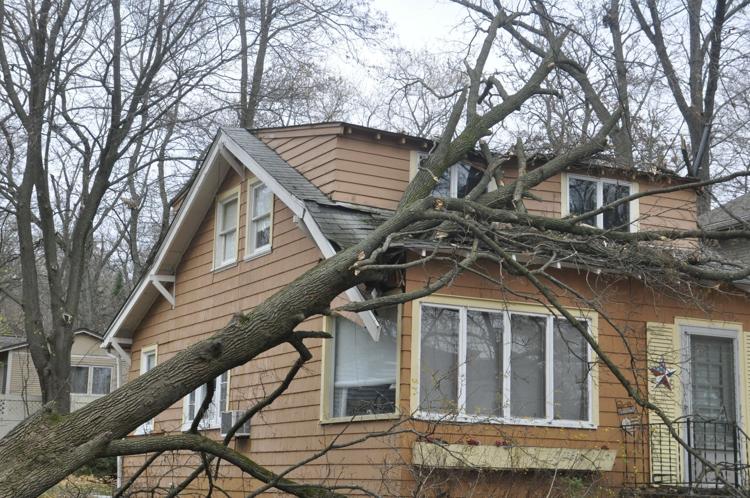 Downed tree on roof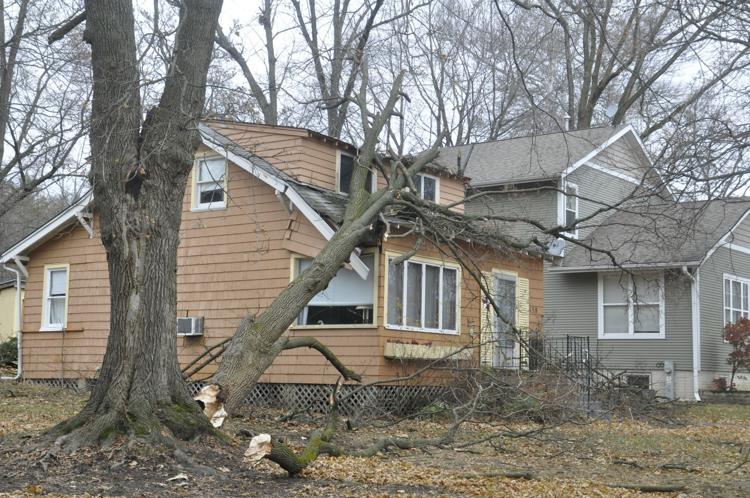 A lifeguard stand at Riviera Beach blew over during a storm that hit the Lake Geneva area Tuesday afternoon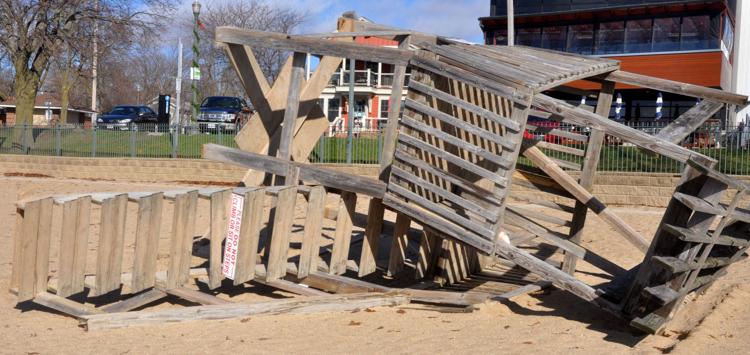 Tree on home in Fontana
Downed electrical transformer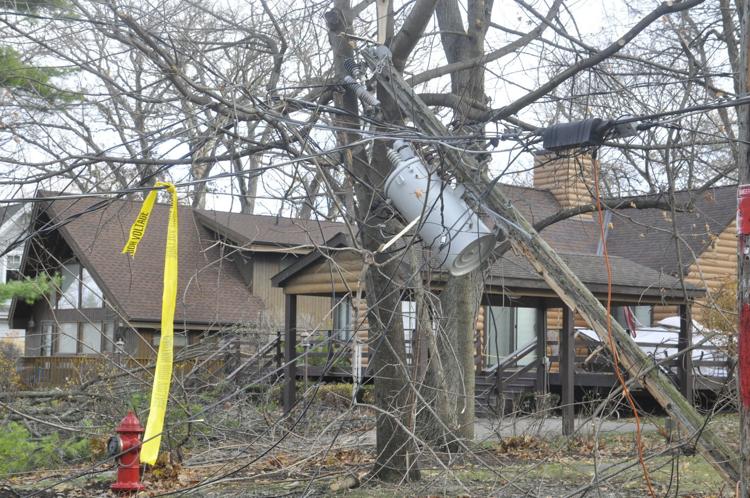 Indian Hills damage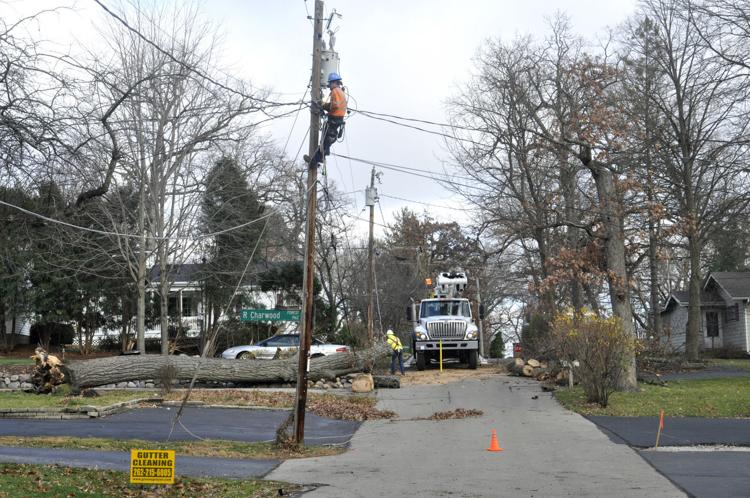 Tree limbs downed by storm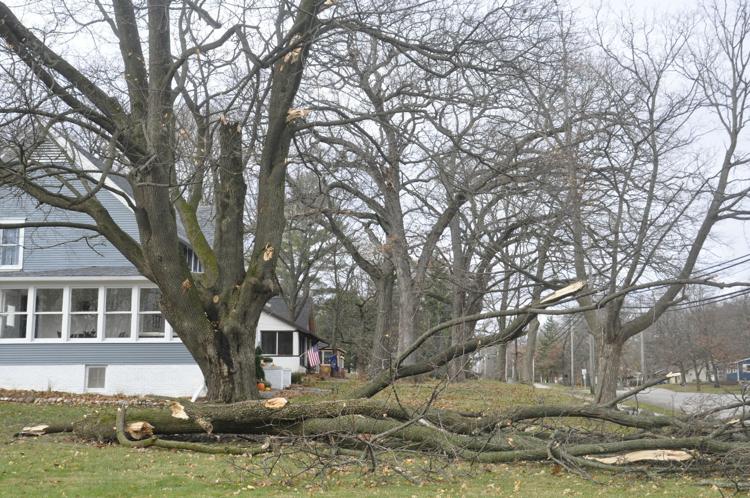 Downed tree on Indian Hills home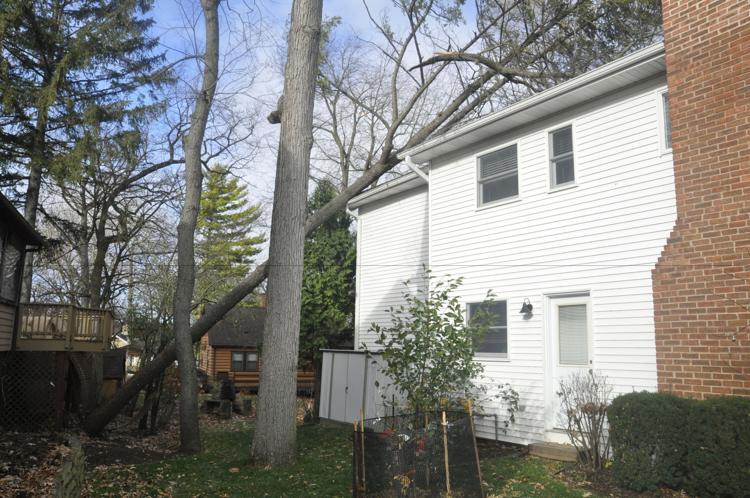 Tree limb on Fontana roof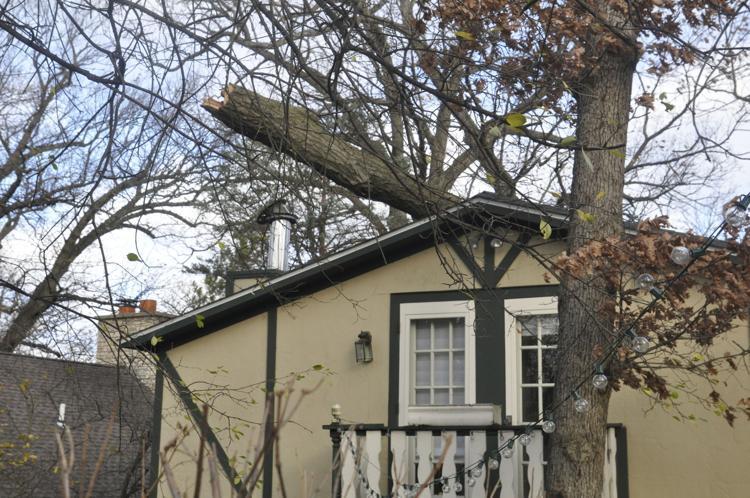 Indian Hills downed tree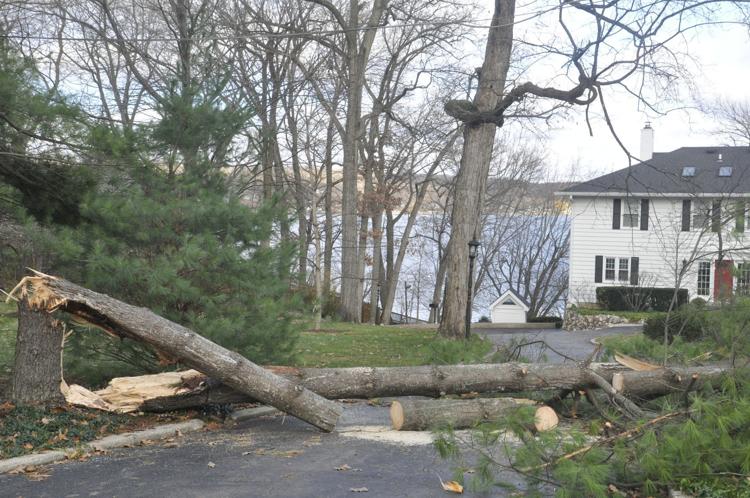 Yerkes Observatory campus tree