GENEVA — There is a new café in town at the House of Music on Highway H, which is the former Lumberman's Lodge.
Back in the 60s and 70s, the sound of cooks buzzing, silverware clanking and up to 300 guests gobbling all-you-can-eat lumberjack specials could be heard at the former Lumberman's Lodge at N3241 County Road H, about a mile north of Lake Geneva.
In recent years, the sounds have changed with the former restaurant transformed into the House of Music, a performance-based music school where musicians are able to hone their skills and learn to confidently perform.
Now, Chris Buttleman, the owner of the House of Music, is working to put together both the history of the building with its current music focus.
A new caféInside the new café that opened in April there is free wi-fi and a menu board filled with music-themed specials for the House of Music Café.
The coffee is made by East View Coffee Company, which is brewed locally in Kenosha. Specialty drinks include "Livin La Vita Mocha," a cherry mocha with whipped cream and cinnamon, "Build Me Up Buttercup" a latte with caramel, butter toffee, hazelnut and whipped cream, and "Sweet Emotion," with honey, lavender and raw sugar.
"I'm the king of bad puns," Buttleman said while reading through the menu items.
There is also a "Cold as Ice" cold brew, and an expresso menu entitled "Hit Me With Your Best Shot."
There is also a large selection of teas including "Purple Rain" lavender tea and "Lemon Tree" a lemon tea. The menu also includes "Sweet Chai of Mine" and a food list that includes "Rolling Scones," and "Glazed and Confused" donuts.
Besides coffee, the café also serves beer and wine and plans to offer CBD infused lattes.
The café is currently open Monday through Friday 7 a.m. to 11 a.m. and 3 p.m. to 7 p.m., with music in the café on most Friday evenings. On Saturday and Sunday it's open 8 a.m. to noon.
The building also houses the Lake Geneva Balloon Company, a hot air balloon company, and the Spirit of Grooming, a pet groomers. So if conditions were just right, you could catch a glimpse of a hot air balloon while sipping your coffee.
More comingThe new café is just part of the plan for the House of Music. They are completing construction on a new outdoor stage and the plan is to pave the parking lot as well as have an outdoor patio beer garden area.
When it's done there will be four areas where students and non-House of Music entertains can. They will be able to perform in the café, in the beer garden patio area, on the new outdoor stage and in the restaurant.
Buttleman wants to open the restaurant as soon as this summer. But it's one step at a time, starting with the café.
When the restaurant is up and running it will continue to play on music puns and feature selections such as "Fleetwood Mac and Cheese," "Phish Tacos," and "Stone Temple Pizza," among other offerings.
Before Buttleman settled in Lake Geneva and set up shop here, he previously worked as a guitar technician and toured with Elton John, the Eagles and the Beach Boys, to name a few. But eventually, he wanted to settle down in Lake Geneva.
He discovered the former Lumberman's Lodge, an approximately 10,000 square foot building on about four acres of land. When he first toured it before buying it, all the wood was covered in paneling. Prior to House of Music, the building was used as a daycare, which had rainbows on the walls.
Since purchasing the property, fixing up the former lodge and bringing the building back to its original glory has been a labor of love for Buttleman.
Up until last year, Buttleman did not have much time for the project. But one of the advantages of the year of coronavirus was time. He finally had the chance to really put his ideas into action — with his first plan being to build the outdoor stage and open the café.
"So many of the ideas are coming together now," Buttleman said.
When Lumberman Lodge was in operation, it ran like the Paul Bunyan restaurants in Wisconsin Dells and Minocqua, with antique décor and large all- you-can-eat lumberjack-style meals and a motto, "Nothing is large at Lumberman's Lodge, it's lumberjack size."
Buttleman is not planning on recreating Lumberman's Lodge in its entirety. But he is planning on honoring the legacy and calls the restaurant he is opening "a rustic rock n' roll roadhouse with a bit of romance."
When the building was a Lumberjack Lodge, a huge lumberjack greeted guests. His name was Peter Colemann, named after the owner's grandfather, according to a 1970s Lake Geneva Regional News article on the restaurant.
In the future, Buttleman envisions a massive lumberjack holding a guitar, bringing together the history along with the present music focus of the property.
He'd love to find the original lumberjack that was on the property, but if he cannot, he is talking about having someone create one for him or find a replica.
In photos: A look back at Lumberman's Lodge and a look at the new House of Music cafe
Lumberman's Lodge north of Lake Geneva on Highway 12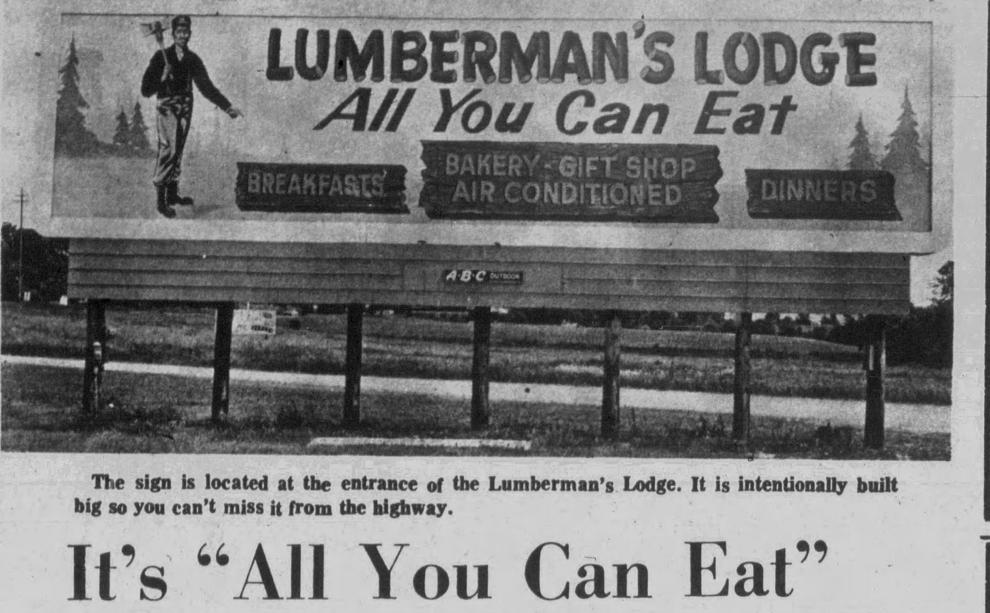 June 27, 1968 Regional News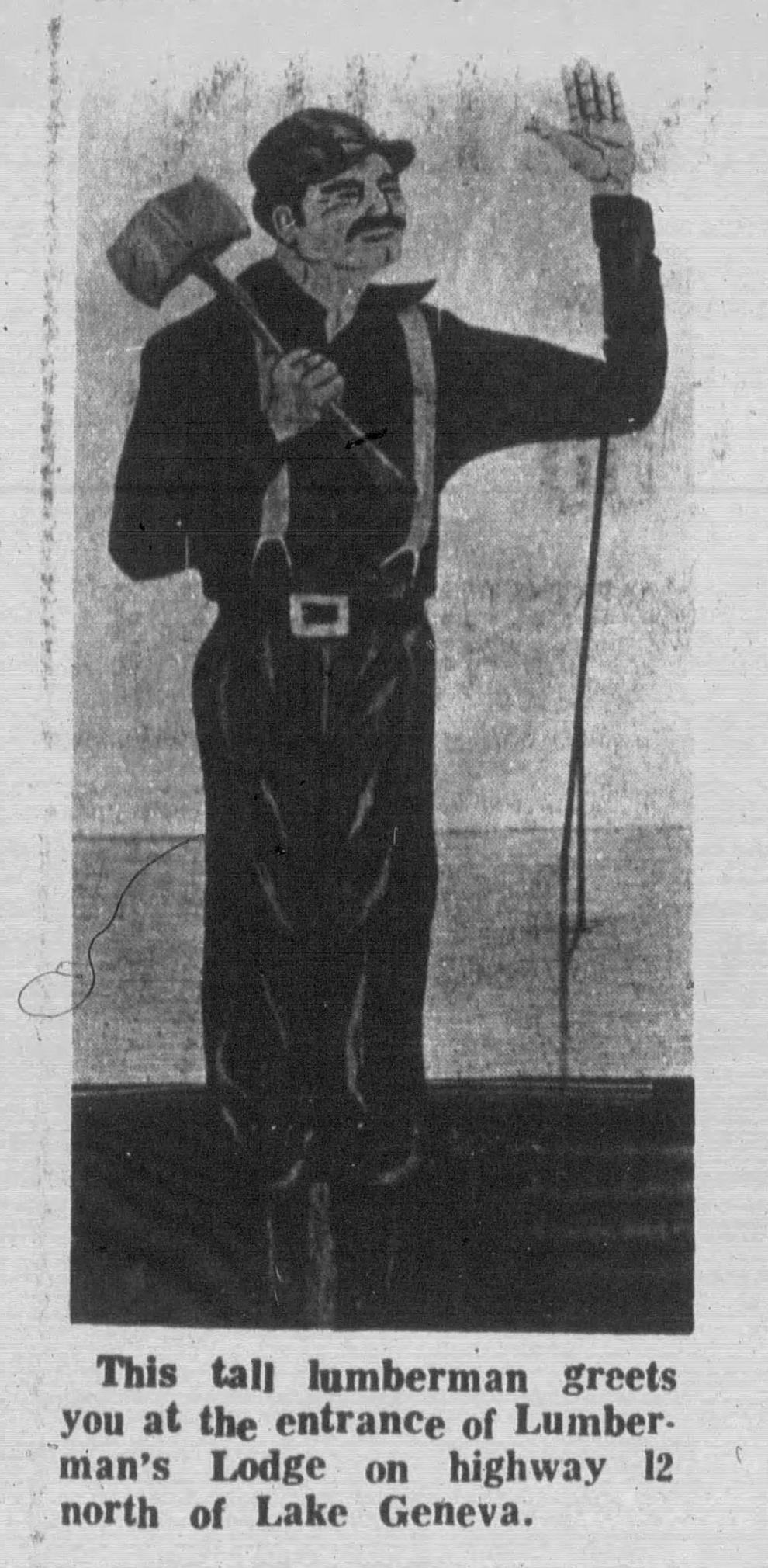 Aug. 20, 1970 Lake Geneva Regional News

June 27, 1968 Regional News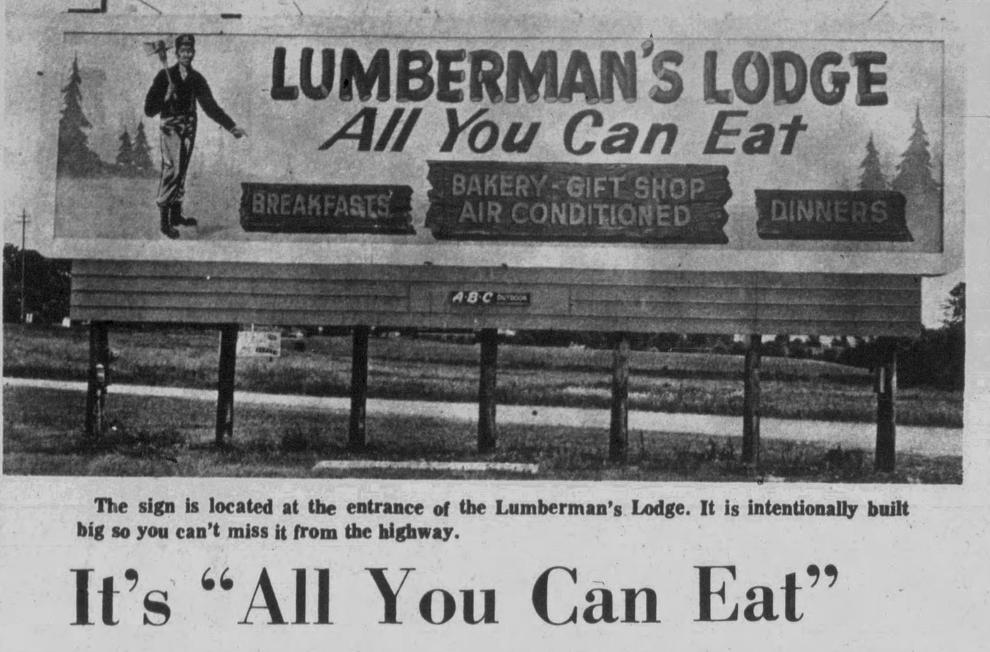 Lumberman's Lodge.jpg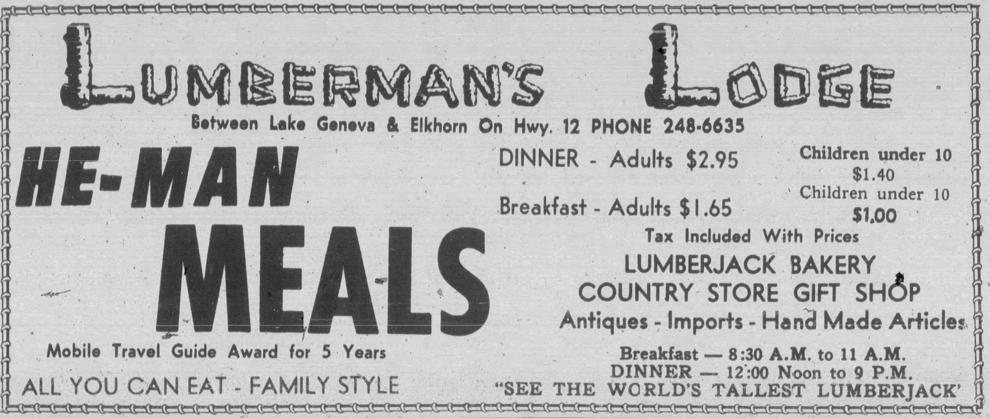 House of Music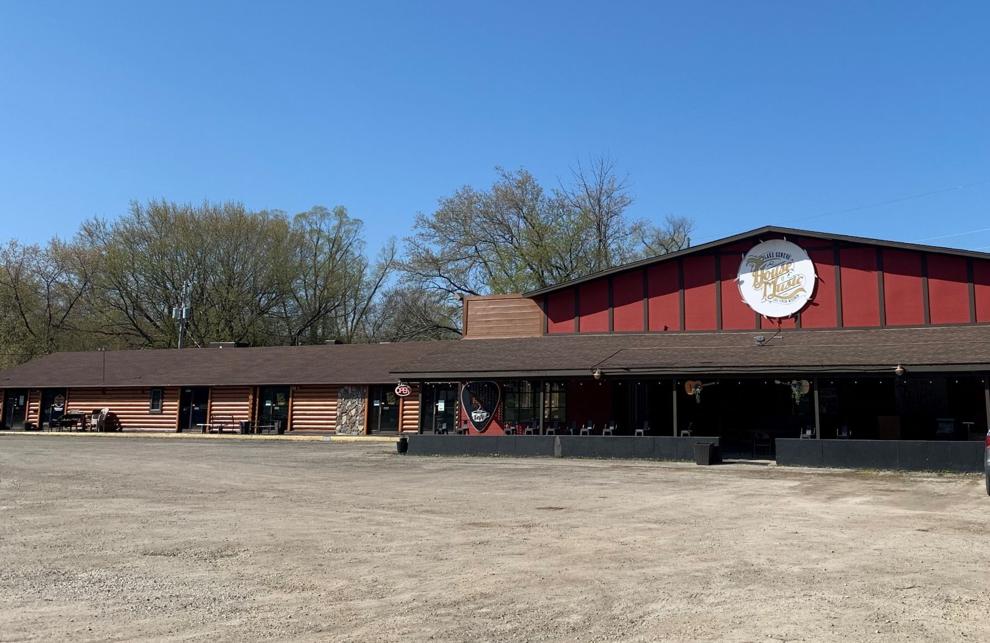 House of Music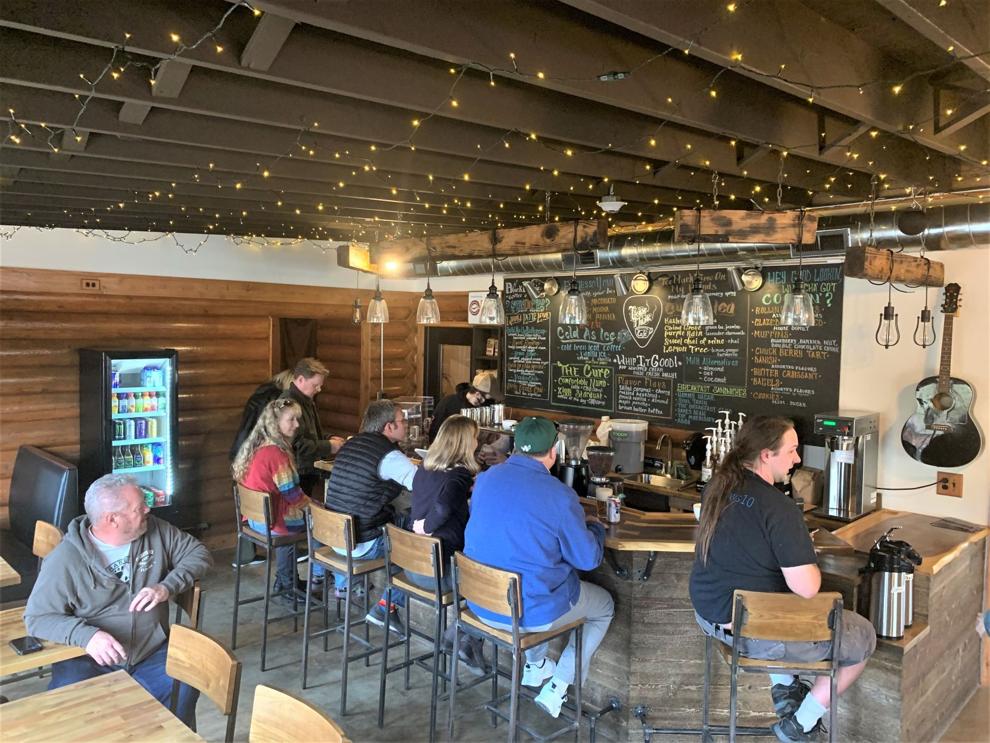 House of Music cafe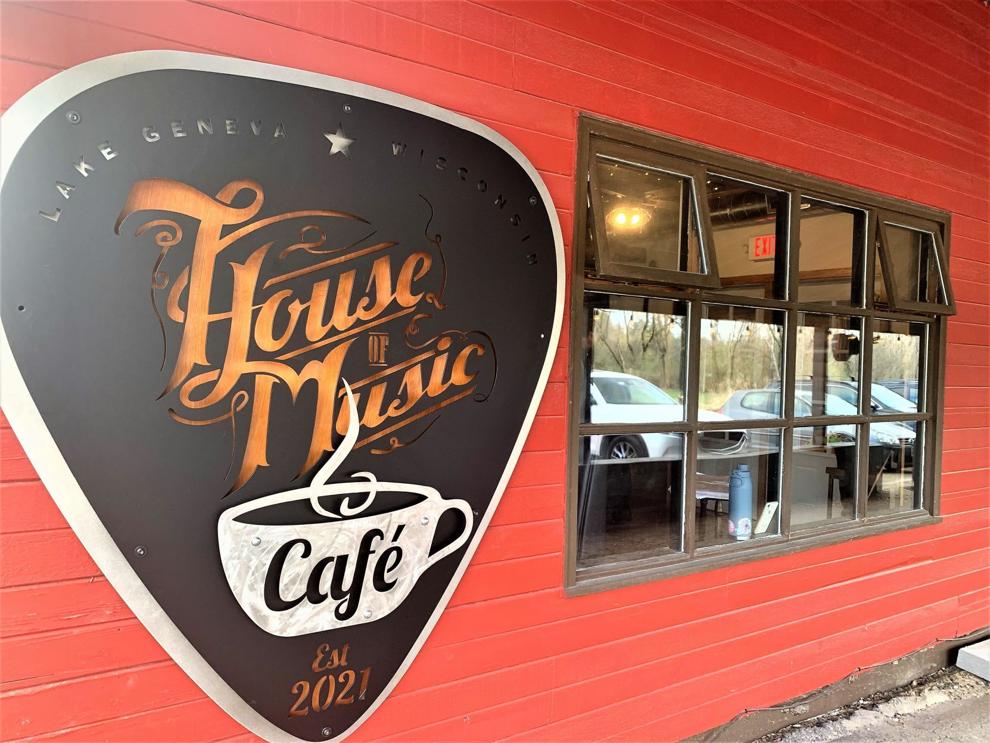 House of Music Cafe