UNION GROVE — Tiny Hooves. Big hearts. Can't resist.
Beca Thompson, Tiny Hooves Sanctuary's founder and president, wants anyone who comes to the farm — volunteer or visitor — to fall in love with the rescued animals there, learn more about compassionate farm animal care and maybe even go vegan.
"Which is hard," said Thompson, who runs Tiny Hooves, 1117 N. Britton Road, as a vegan organization. "In Wisconsin, it's all about meat and cheese."
One of the ways Thompson likes to practice the sanctuary's mission in action is by inviting volunteers to come on designated work days throughout the year. The sanctuary is all-volunteer-run on a daily basis, but Thompson opens the farm up a few times a year when big jobs need to be done by more people.
On Sunday morning, the big jobs included clearing out the pasture after the long winter and building a separate, small enclosure for three special needs sheep at the sanctuary. About two dozen volunteers showed up.
"Being a volunteer myself, seeing a village come together to help out is so hopeful," said Thompson.
"This would be one of our first larger events," Thompson said, adding she hasn't been able to let many volunteers on the farm in a long time.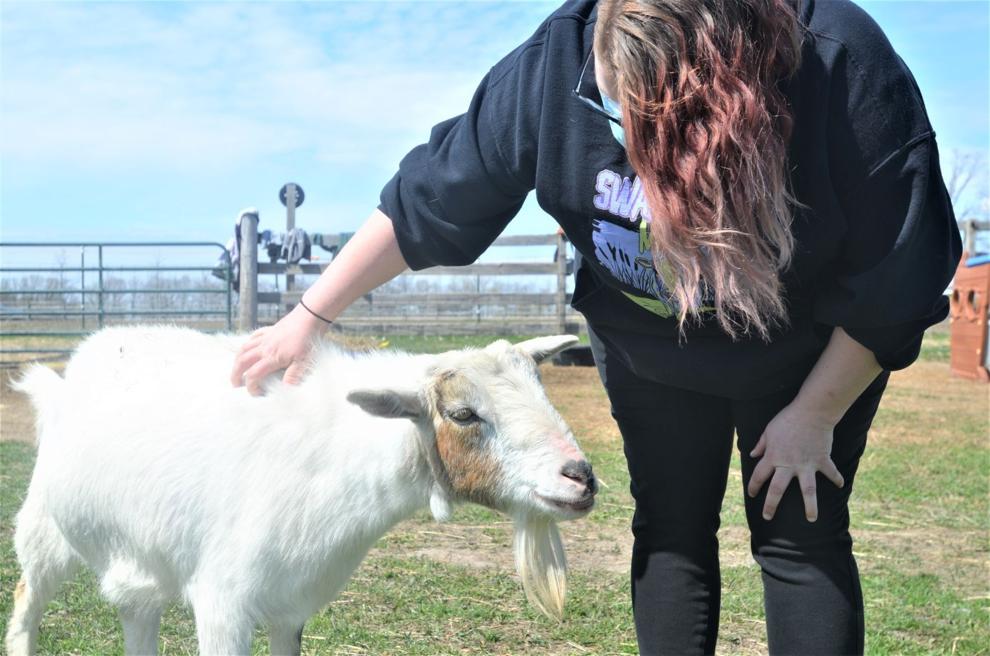 Teaching veganism
The sanctuary shelters goats, pigs, sheep, cows, miniature mules, donkeys, horses and bird species.
The non-profit organization aims to educate all who come in about veganism and how it helps animals. Most of the regular volunteers at the sanctuary are already vegan, Thompson said, but first-time visitors typically aren't.
Working alongside the once-farm animals — who were either abandoned, neglected, abused or unwanted at their farms — helps people empathize with animals more, she added.
"We try not to scare people away from the word 'vegan,'" Thompson said of how she educates visitors about the lifestyle. "Our main message is to show compassion to all. The animals are their own ambassadors."
While petting one of the pigs on the pasture, Thompson said: "I've met people who stopped eating pork just by meeting him."
Volunteering
For the past five months, Janine Putzer has been driving from Milwaukee to Union Grove at least once a week to volunteer at Tiny Hooves. Putzer said she has been working with animals for the last 40 years, and currently works in health care.
"It's knowing you're doing something really good for the animals," Putzer said. "If you can give them happiness, the happiness comes back to you."
Elizabeth Meadows-Kile, from Mequon, has been volunteering at Tiny Hooves for almost two years. She said she wants to invite visitors to sign up for volunteer days because it's a unique experience of working alongside the animals you're directly helping.
"It gives you a sense of a community," Meadows-Kile added, of meeting other volunteers and other vegans.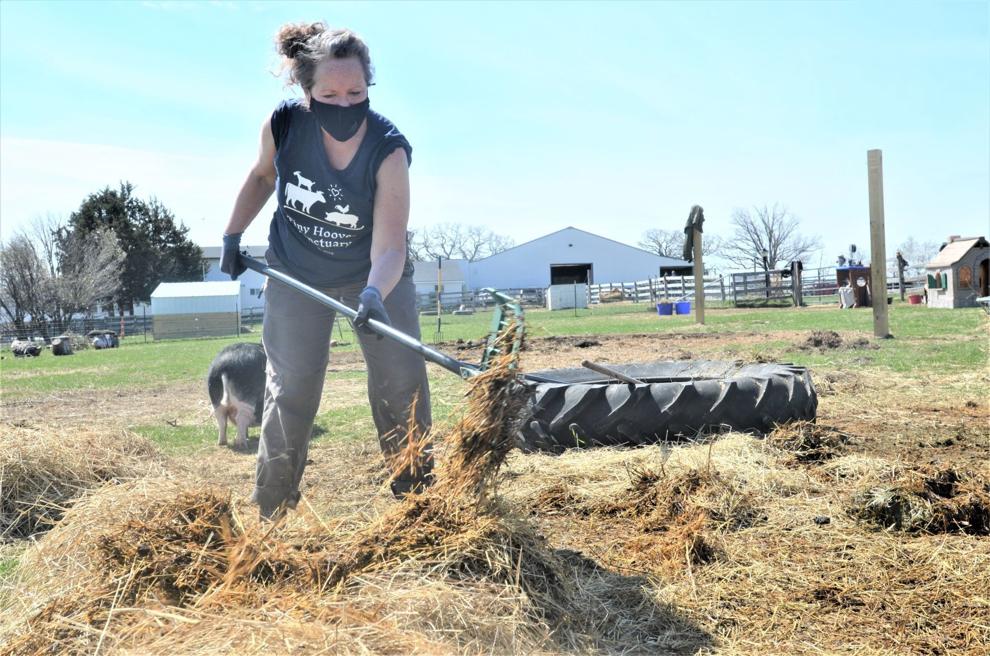 Thompson said not many farms open up for volunteers to help them given their tight schedules around meeting production deadlines.
The animals kept at the sanctuary, however, are always going to be there, and always going to need help, she added.
"Every rescue (animal) grounds you," Thompson said.
Amber Schaner and Marisa Merkl said they especially love working alongside the animals at the sanctuary.
"It's very symbiotic," Merkl said. "They're comfy with us, and we're comfy with them."
"They teach us what they need," Schaner said.