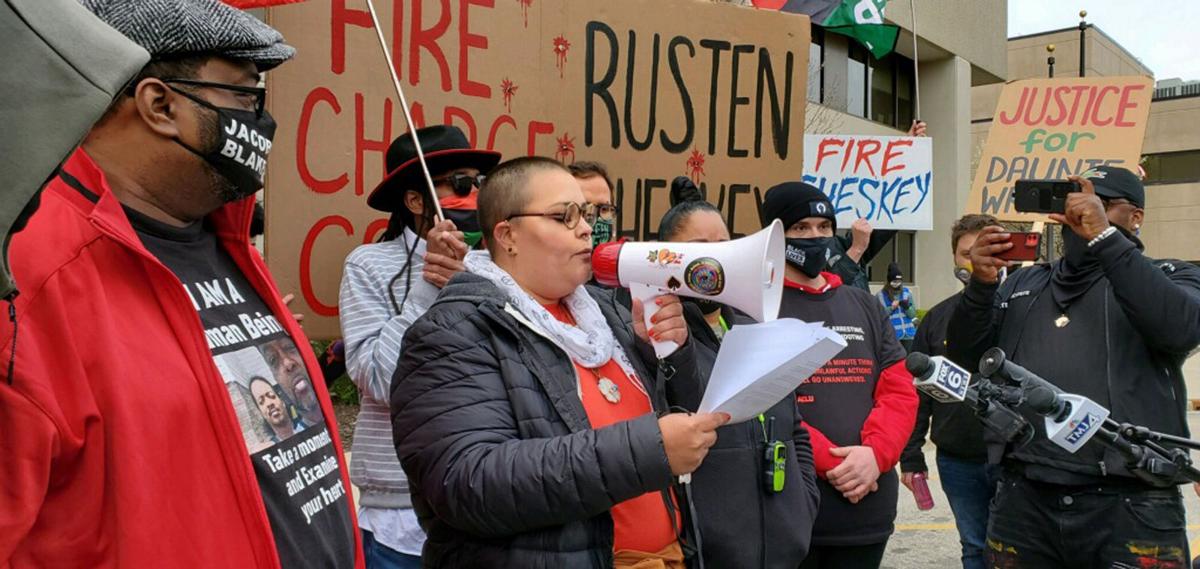 A protest calling for the firing of the Kenosha police officer who shot Jacob Blake led to the arrest of three protesters Sunday, including Blake's uncle.
The protesters held a sit-in outside the Kenosha Public Safety building Sunday evening, demanding that police department leadership meet with them to address their demands. At about 10 p.m., three protesters, including Blake's uncle Justin Blake, Pastor Jonathan Barker and Joseph Cardinali, were arrested for disorderly conduct. Blake had an additional recommended charge of obstructing law enforcement because he refused to identify himself.
All three were later released on bond and are expected to return for an initial court appearance in May. All three men arrested have been active in social justice issues, including as members of the Wisconsin 7 who recently took part in a 22-day fast to support climate change legislation.
The rally Sunday began at 3 p.m. at Regimen Barber Collective, 1345 52nd St. before protesters marched to the Public Safety Building, 1000 55th St., blocking the main entrance in peaceful protest. The Public Safety Building, still boarded over from the civil unrest which rocked the city after the Blake shooting, was also the backdrop of speakers who called for their demands to be heard.
Once at the Public Safety Building, several of them locked arms. Whitney Cabal, aka Billy Violet, along with Cardinali, Barker and Justin Blake said they would not leave and would remain camped in front of the door until either Police Chief Dan Miskinis or Deputy Chief Eric Larsen, specifically, addressed their demands.
According to Sgt. Christopher Hannah of the Kenosha County Sheriff's Department, there were initially about 25 protesters outside the building beginning at about 5 p.m. He said that group declined to about 10 over several hours.
In a text, Tanya McLean, executive director of Leaders of Kenosha, said the men were sitting in front of the door to the building at the time of the arrests. Cabal was not arrested.
Hannah said the men were taken into custody, handcuffed and taken to an awaiting van that brought them to the jail intake entrance in the same building.
They called for the firing of Kenosha police officer Rusten Sheskey's, who was the officer who shot Jacob Blake last August. They also wanted an immediate public release of every departmental investigation completed in connecting with the Blake-Sheskey case; an explanation for why he was issued a gun while his use of force/conduct was allegedly being investigated; an explanation of what the department's plans are for Sheskey moving forward; explanations of policies involved in the decision not to charge Sheskey; and a written and public apology from Miskinis and/or Larsen to the Blake family for not warning them that Sheskey was returning to work.
Miskinis officially retires at the end of the month with Larsen to take over as interim police chief.
According to a statement from the sheriff's department, the sit-in blocked the public entrance to the building for about five hours, with several members of the public who came to the building during that time having to be escorted inside through a secure employee entrance or who "became dissuaded due to the entrance being blocked."
"The Kenosha County Sheriff's Department attempted to compromise with the group of protesters asking them to stop blocking the entrance and allow the public that wanted to conduct business access to the Public Safety Building," according to a statement from the sheriff's department. The entrance is used by people who want to make a report to the Kenosha Police or sheriff's department, along with access to the records department and for those trying to post bond for people in jail.
"These targeted arrests of the three protesters that were blocking the door to the Public Safety Building should not ignore that the majority of people today had been out for hours during an incredibly peaceful protest," the department stated.
Greater transparency
Cabal insisted on greater transparency from police and city officials.
Surrounded by supporters and media, she said the Blake family, local activists and the community at large "have been left in the dark" on investigations and decisions involving Sheskey, his employment status, and reports about his weapon.
Police would issue no comments on a Milwaukee television station's report that a service weapon issued to Sheskey had been stolen nor on a separate ongoing internal investigation in the matter.
Those in attendance included Jacob Blake's father, as well as members of Leaders of Kenosha, Wisconsin Working Families Party and other local activists.
Miskinis announced April 13 that Sheskey, who had been on paid administrative leave since shooting Jacob Blake on Aug. 23, had returned to duty on March 31.
"Officer Sheskey was not charged with any wrongdoing," Miskinis said in a statement on Sheskey's return. "He acted within the law and was consistent with training. This incident was also reviewed internally. Officer Sheskey was found to have been acting within policy and will not be subjected to discipline ... Although this incident has been reviewed at multiple levels, I know that some will not be pleased with the outcome. However, given the facts, the only lawful and appropriate decision was made."
On Monday, Miskinis issued a statement in response to the protest, saying he would "not entertain the unlawful termination of a police officer."
"I am extremely disappointed that some of the people making demands are people who have had regular contact with me or a member of my executive staff," Miskinis stated. "We are always open to constructive communication; however we cannot effectively communicate with those that seek a spotlight to create and further facilitate a false narrative."
Mayor John Antaramian also issued a brief statement, following the protest. "As we in Kenosha move forward from what has been a challenging year for our city, it is important that we do so mindful of the facts. There is a call for greater accountability and transparency from police and city officials. There must be the same from those who say they speak for the community," he stated. He said his office is his office is continuing to work with faith-based leaders and community members on a task force formed following the Blake shooting.
Officer on desk duty
"While we are aware an investigation is ongoing into the negligence and whereabouts of Rusten's missing weapon — given the severity of injuries sustained by Jacob Blake and the civil unrest that followed, it is our belief that we should have been made aware when Rusten was issued a gun and when he lost it while he was on paid administrative leave," Cabal said. "KPD has consistently demonstrated an unwillingness and inability to adhere to public demands calling for accountability and transparency in any capacity and we're fed up."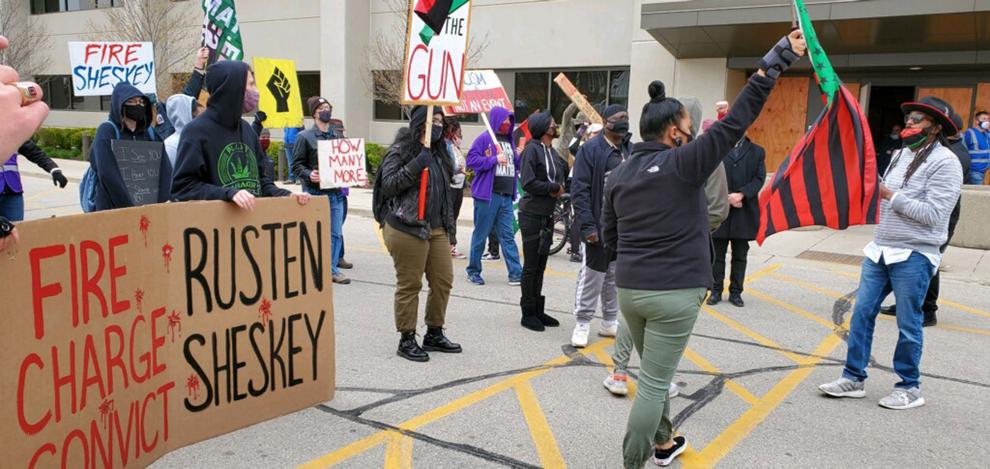 Cabal said not only was the officer a danger to himself but he is to others, as well.
"The release of him to administrative work — especially without any warning — is unacceptable and the potential release of him to traditional policing field roles is explosive by design," she said.
Sheskey, who is white, shot Blake, a Black man, after being called to the 2800 block of 40th Street for a domestic disturbance with the mother of Blake's children. The shooting — captured on a video by a bystander and shared worldwide on social media — led to widespread protests.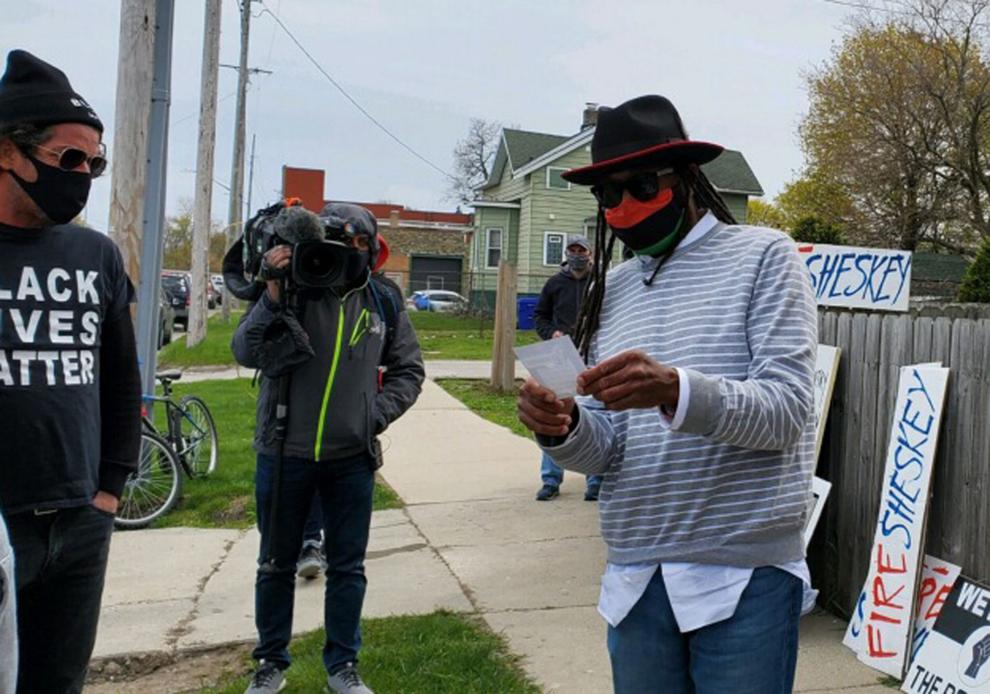 The shooting was followed by months of investigation by a state agency, as well as continued local protests, discussion and arguments over the need to reform policing in the city, racial justice and the impact of racism in the community.
Federal lawsuit
Minutes before the march, Justin Blake told supporters said he wasn't satisfied that his nephew received a fair and impartial investigation.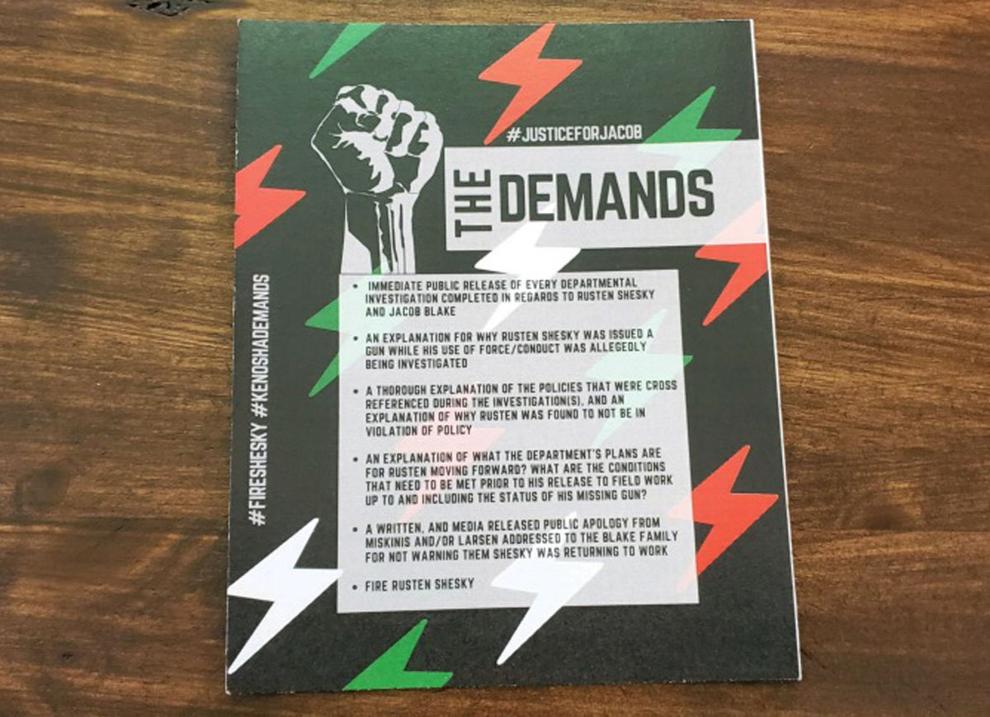 "We don't believe we truly have one. It's almost like being in Mississippi or Arkansas back in the day when the sheriff was a member of the Ku Klux Klan," he said. "I believe any body in any circumstances similar to this deserves a day in court. It deserves to be heard by the citizens of whatever town or municipality you live in. Let the people decide."
'Deserve to the safe'
Ahead of the rally, McLean, spoke of the need for justice, healing and safety amid the call to reform law enforcement.
"Justice comes before the bullet, but our community deserves to heal," she said. "Safety and healing can't happen when an officer who fired seven shots into an unarmed Black man's back — on a block where our children walk to school and our families go to church — returns to work like nothing happened.
"All of us — Black, white, brown, native and newcomer — deserve to be safe in our own neighborhoods, and that starts with accountability for the attempted murder of Jacob Blake," she said.
In his statement, Miskinis said department leadership has been meeting with people in the community, "participated in listening sessions and we are active in Mayor (John) Antaramian's plan for equity and inclusion," have sought additional training for staff and are implementing a body camera program this year.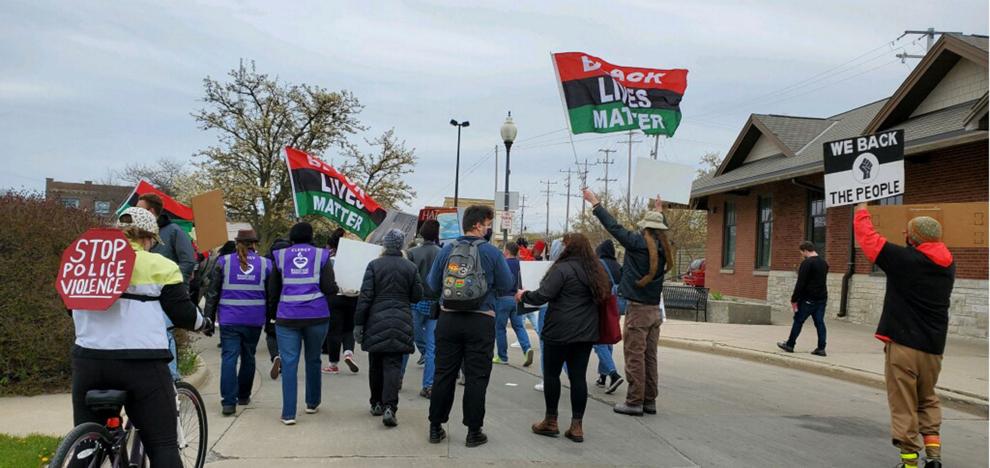 McLean added later that she believes Kenosha law enforcement does not respect communities of color.
"To me it feels like they don't respect us. And 'Did you really even really hear our concerns and why we feel the way we feel?'" she said of police and city officials. "Because, I feel if they had, there would've been a conversation. And, there was no conversation. And here we are."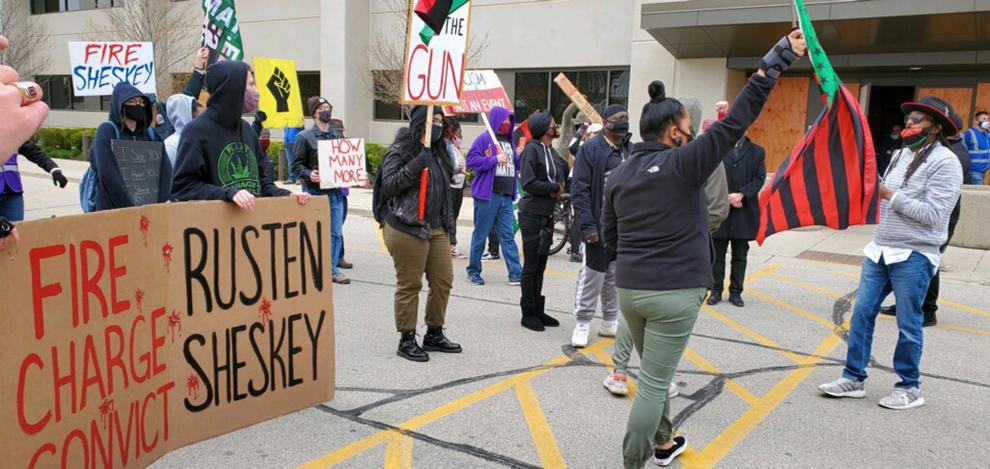 WATCH NOW: Videos of Downtown march, protest April 25 in Kenosha
Watch now: Protesters call for firing of Kenosha police officer
Watch now: Kenosha protesters share demands before sit-in
Watch now: Demands of Kenosha protesters outlined
Watch now: Tanya McLean speaks ahead of Kenosha rally
Lock arms.jpg
Whitney Cabal reads list of demands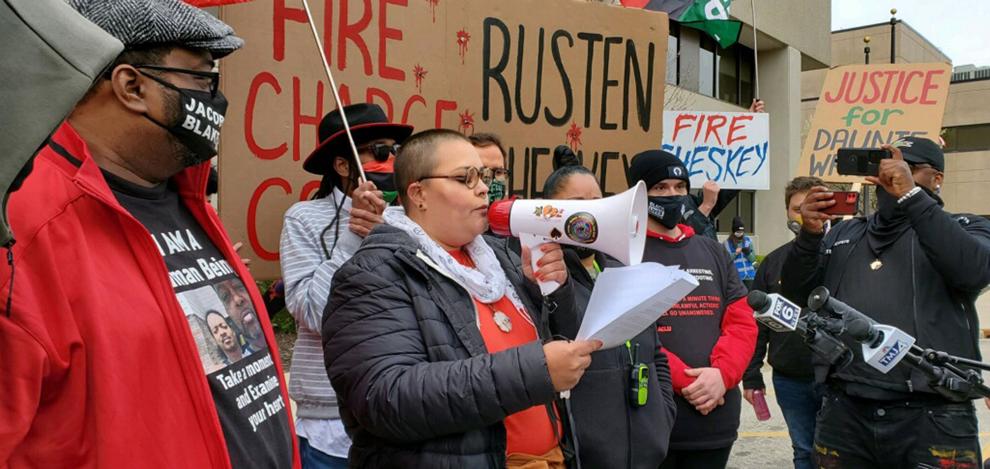 Justin Blake speaks