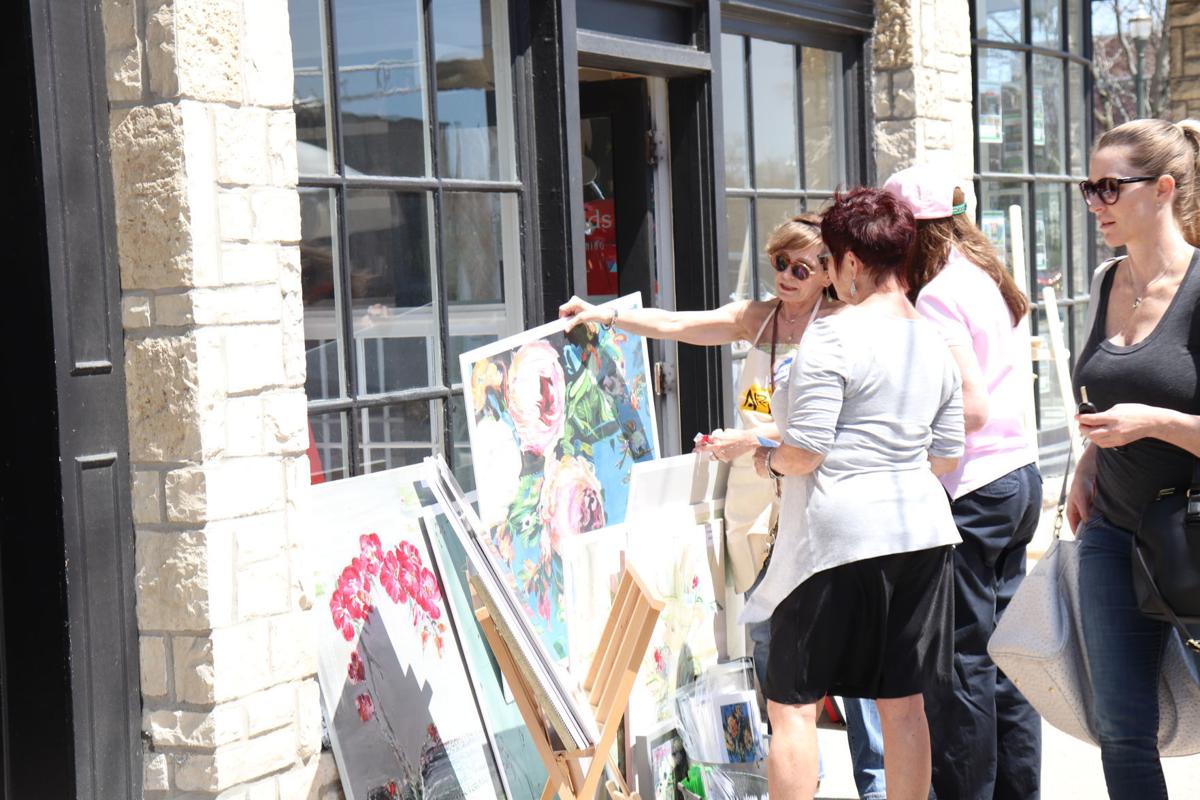 April in Lake Geneva brought the full spectrum of rain, hail and snow. Now with the arrival of May, alongside spring flowers, the city hosted the Lake Geneva Art Festival from May 4 to May 6.
The art festival utilized downtown Lake Geneva's easy-flowing outdoor event set-up. The three-day festival included original art booths adorning downtown shops, live music performances, communal art projects, live mural painting, art demonstrations and pop-up theater performances.
It was a canvas of experiences for local artists and audiences.
The weather rewarded festival visitors with a warm sun and cooling breeze throughout the duration of the event.
Approximately 25 artists were out sharing their work and conversations on art styles, techniques and training strategies with anyone interested.
Lake Geneva resident Jillian Nay said, "I wanted a small painting by someone local, but also left learning how to etch designs in leather."
Some people purchased that special piece for their until-now unmatched item or unfinished spot. It was an event as open and varied as there were art styles on display.
Lynn Withers, visiting from Chicago, said her parents decorated their home with paintings that they bought in Lake Geneva that have been in the family for more than 50 years.
"I'm planning on adding another one to our collection," she said. "I hope my daughter will, too, someday."
Downtown Lake Geneva has a deep history with the arts. It would be a long list of known creative minds who spent time on the grounds and waters of Geneva Lake. The Lake Geneva Art Festival aims to honor this history by continuing to foster local talents, organizations and markets.
Adding new downtown experiences, arts, culture, entertainment and creative conversations are also goals of festival organizers.
Bridget Leech, executive director of the Lake Geneva Business Improvement District, said organizers would like to "fill the downtown with artists."
The festival began in previous years as a "Paint-In" put on by the business district and the Geneva Lake Arts Foundation. This year, the Paint-In was expanded into the first Lake Geneva Art Festival, and organizers hope to expand further in the new multi-day format.
Leech said organizers want to consider adding such features as a film festival, large-scale chalk artists, a night market and nighttime activities.
"I think this event has great potential to really bring the community together," she said. "I'd really like to see it bring locals to the downtown area."
The first Lake Geneva Art Festival is now in the history books, and organizers hope it has a bright and colorful future. Festival organizers know that a great way to usher in the spring and summer seasons is by hosting colorful experiences in downtown Lake Geneva.
As one visitor to the festival said: "It's so beautiful. Looks like one of those paintings."