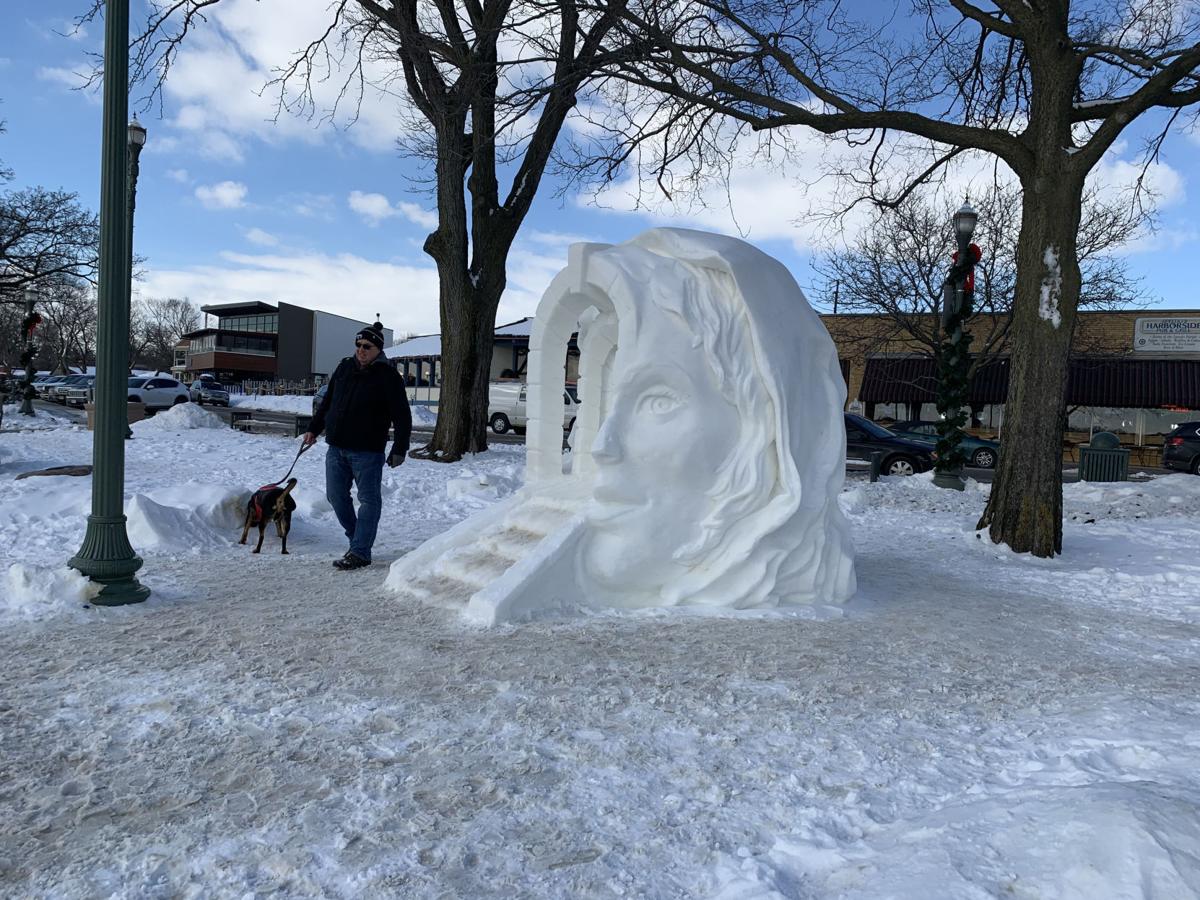 Well, one thing Winterfest had going for it this year: Nobody had to worry about the attractions melting.
After last year's warm temperatures, Mother Nature accommodated our prayers a bit too literally for the 2021 version. It was cold enough to freeze your breath. To set your teeth chattering. To make toes feel like icicles.
An arctic blast, though, can't keep hardy Wisconsin souls from visiting and enjoying their Winterfest favorites. Same for those tough Illinoisans. (OK, had to add that for Bill, who whines when it's cold like his downstate Illinois roots are the next thing to Florida beaches.)
In all seriousness, though, it was really cold out there.
How cold? Real temperatures in the minus-15 range, with wind chills suitable for a Siberian sojourn.
Yet Lake Geneva was packed, the good times were rolling and the cash registers were ringing. That's testimony indeed to the all-in commitment from the community.
Consider some of these results:
First and foremost, it was safe. The main attraction, the snow sculptures in competition, were spread out between the Riviera and Flat Iron Park. That allowed lots of room to roam while maintaining proper social distance. And people almost universally were seen to be wearing masks.
Municipal parking during Winterfest generated more than $30,000 for the City of Lake Geneva's coffers. Wow.
Traffic was up more than 20% on Visit Lake Geneva's website. Instagram reach this year was up more than 200% from the prior month. Those are market indicators showing widespread interest in Winterfest activities.
There were 26 ice sculptures located in the heart of downtown, helping to draw visitors into our retailers, coffee shops and restaurants. Since Winterfest wrapped, we've heard broadly from retailers and restaurant operators that sales were on par with last year's event, pre-pandemic, which is a strong accomplishment.
Most local hotels, resorts, B&Bs, inns, VRBOs and motels tell us they were sold out or near maximum occupancy.
Hovercraft rides reported sold-out business levels.
Out-of-town press turned out with a swarm of positive stories. Articles and broadcasts were carried in such media as the Milwaukee Journal Sentinel, Chicago Tribune, Wisconsin State Journal, Fox-TV, CBS-58, WLS and WGN. In the tourism business such content is referred to as "earned media," the kind of unpaid messaging that extends reach with a calculated value. Winterfest brought Lake Geneva more than a million dollars worth of earned media.
By the way, let's not neglect our hometown favorite, the Lake Geneva Regional News, which as usual did a bang-up job promoting and covering Winterfest.
There were well known folks and dignitaries dropping by to enjoy Winterfest and help promote the event, including United States Congressman Bryan Steil. We appreciate his "style," so to speak, and thank him for visiting.
As for the snow sculpting championship itself, we're proud to report one Wisconsin team captured top honors and another Wisconsin group placed third.
A surprise hit among the sculptors was the team from Florida. That is not a misprint. The team abandoned the Sunshine State for the frigid temperatures of Winterfest and created quite a stir during the competition. These good-natured folks are welcome back any season.
While not an official part of the downtown Winterfest festivities, the unbelievable Ice Castles display on the Geneva National grounds also was a beneficiary with this year's temperatures being more conducive for the show. Compared to previous years, because of the weather Ice Castles was able to accommodate visitors longer with sell-out after sell-out.
Like many of the endeavors over the past year of uncertainty Winterfest organizers, volunteers and the business community had to place a bet and hope for the best. Despite the cold or, in some sense, because of it, Winterfest exceeded expectations and can be chalked up as a major success for the community.
Thanks to all who gave that extra measure of commitment to get 2021 off to a solid start for our visitor-friendly region.
Stephanie Klett is the President and CEO of Visit Lake Geneva, and the former Secretary of the Wisconsin Department of Tourism. Bill Barth is the former Editor of the Beloit Daily News, and a member of the Wisconsin Newspaper Hall of Fame.