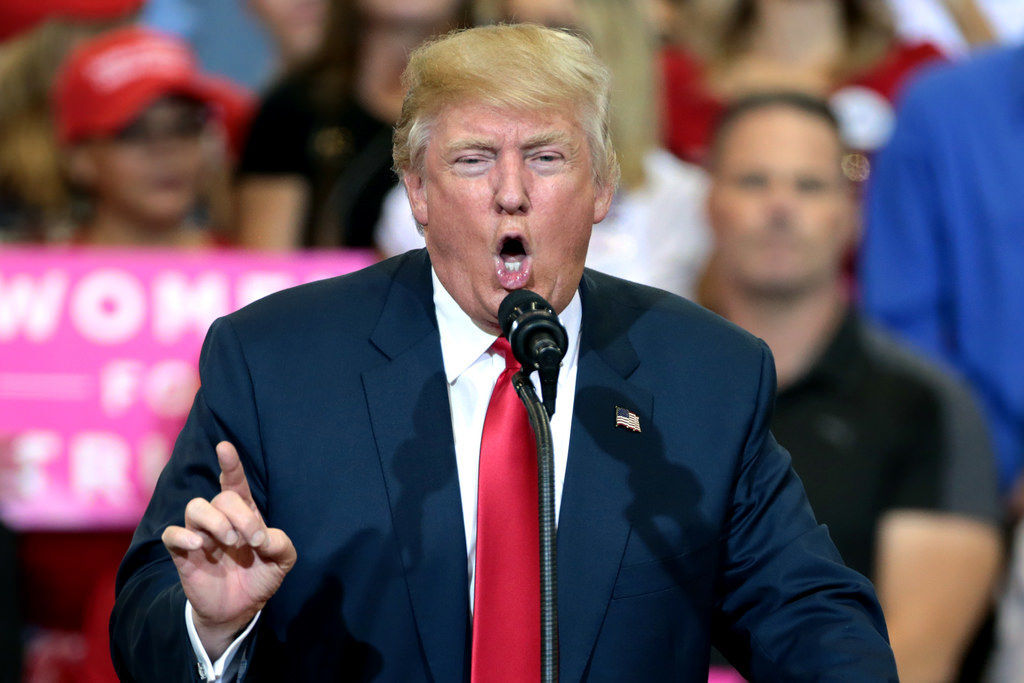 "I think my language is very nice," President Donald Trump said.
All too frequently, Mr. President, it is not.
You've encouraged people protesting you to be "roughed up."
You referred to an NFL player protesting racial injustice as a "son of a bitch."
When addressing law enforcement officers, you said, regarding putting handcuffed suspects — those suspected, but not yet convicted, of a crime — into the back of a squad car: "When you guys put somebody in the car and you're protecting their head, you know, the way you put their hand over? I said, you can take the hand away, OK?"
On Twitter, you repeatedly refer to the free press, exercising rights guaranteed by the First Amendment of the Constitution, as the "enemy of the people." Often "enemy of the people" is in all capital letters.
We understand that you say these things as a play to your political base of support. You're not the first, nor will you be the last, to say things to "fire up the base." We presume that you don't expect your supporters to take action outside the political arenas of casting votes, making campaign contributions and peacefully expressing themselves.
The problem is that we can't count on every supporter of a political figure to be mentally stable. Some people might hear and read your violent rhetoric and interpret it as a call to arms. Some unstable person might take such violent talk coming from the president of the United States as a presidential endorsement of violent political action.
Some have already done just that.
At least four times a week over two months last fall, Cesar Sayoc parked his white Dodge van plastered with stickers supporting you and depicting some of your critics with targets over their images on a street in West Palm Beach, Flordia, CNN reported. Sayoc was arrested Oct. 26 after federal authorities said he sent 14 pipe bombs through the U.S. mail to prominent Democrats around the country. None of the bombs detonated, and no one was injured. He has pleaded guilty to charges that could send him to priosn for life.
Christopher Paul Hasson, a U.S. Coast Guard lieutenant accused of being "bent on committing acts dangerous to human life that are intended to affect government conduct," was arrested Feb. 15 by the FBI and the Coast Guard Investigative Service at his home in Silver Spring, Maryland. He was posted as an acquisitions officer at Coast Guard headquarters in Washington, D.C.
Apparently, some of the doomsday notions he was espousing in emails and other correspondence were fueled by partaking from his supply of "at least 100 pills" of the opioid Tramadol, Newsweek reported.
Hasson faces possessing opioid drugs and weapons charges.
"The defendant is a domestic terrorist bent on committing acts dangerous to human life," the indictment reads.
Documents seized when Hasson was arrested show searches for "most liberal senators;" "where do most senators live in dc;" "do senators have ss [secret service] protection;" and "are supreme court justices protected."
A heavy opioid user with more than a dozen guns and 1,000 rounds of ammunition had been searching online for the homes of U.S. senators.
Please, Mr. President — tone down your rhetoric.
This editorial is reprinted with permission from the Racine Journal Times.