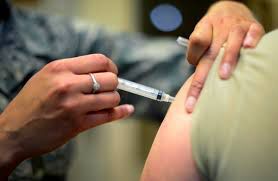 RACINE — It's always a good idea to get an annual flu shot.
This year, it's an especially good idea. That's the advice from the Journal of the American Medical Association.
First, a refresher: The influenza vaccine, commonly called the "flu shot," helps decrease the likelihood of becoming sick with seasonal viruses that cause influenza. Influenza viruses, spread by coughing and sneezing, circulate yearly in the U.S. from late fall through early spring. Influenza typically causes an acute short-lived illness but can be fatal, especially in high-risk people. Between 2016 and 2019, influenza is estimated to have caused 34,200 to 61,000 deaths in the U.S. each season, according to a JAMA report on Aug. 28.
But it's a JAMA report from eight days earlier that gives the flu shot a 2020 perspective.
"As the U.S. heads into influenza season with the novel coronavirus pandemic still raging, public health authorities stress that it's more important than ever for people to get their flu shot," the Aug. 20 report states. "Although influenza's disease burden varies from year to year, evidence clearly shows that vaccination can reduce flu severity and prevent hospitalizations — critical considerations at a time when the health care system is burdened by COVID-19."
While Racine-area hospitals have been able to handle local COVID-19 cases, it's a different, more tragic story this month in northern Wisconsin hospitals.
At the beginning of the pandemic, Aspirus Wausau Hospital, which has 10 hospitals in its system, planned for up to 25 beds for COVID patients, the Milwaukee Journal Sentinel reported Oct. 19.
"We have been adding a lot of beds. We have about 98 beds throughout the system that are COVID-designated and we only have about 18 left, so that means we have about 80 people in COVID right now that are pretty sick," Matthew Heywood, CEO and president at Aspirus, told the Journal Sentinel. As of Oct. 24, 1,243 people were hospitalized in Wisconsin with COVID-19, according to the Wisconsin Hospital Association; 1,745 had died from it, according to the state Department of Health Services.
A flu shot won't stop you from testing positive for COVID. But a flu shot will go a long way toward keeping you out of the hospital at a time when some state hospital staffs have their hands full dealing with COVID.
As with wearing masks to prevent, knowingly or unknowingly, passing coronavirus to another person, the flu shot prevents you from passing an influenza virus to another person.
Get a flu shot. Not just for yourself, but for those around you. And this year, for the front-line workers in our hospitals.
This editorial is reprinted with permission from the Racine Journal Times.