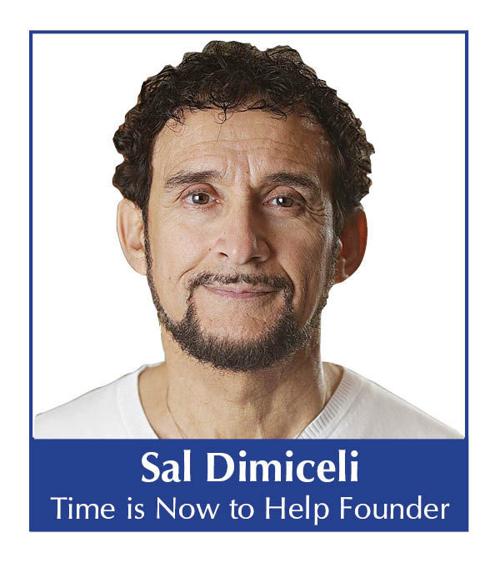 When I sat down to write this week's column, I noticed this week marks the 900th column that will be published. That means we have been sharing with you each week one person or family helped for over 17 years.
In those 17 years, we have provided poverty relief to over 10,000 fellow Americans in need. In those 17 years, we have seen a lot of changes in our world and our communities, but our mission to remove the pains and suffering of poverty has stayed the same. This year has brought even more people to our charity for assistance than ever before.
Over the past week, we have provided assistance to 18 fellow creations. People seem even more desperate, as we receive multiple letters and emails, many including the words, "Please help." It's not easy reading some of these requests, as there often is much suffering in what is sent. Health problems, accidents, job loss, hunger and pain are what we witness every day.
I spend many hours on the phone now, since COVID-19 has made our original method of providing assistance through home visits unsafe. I spend hours comforting and counseling people who have nowhere else to turn. They've exhausted their options. There is no other way out of their pending homelessness or other loss other than to ask us, The Time is Now to Help, for assistance.
Thanks to our charity, these fellow creations do have somewhere to turn. Thanks to all of you supporting our charity, we are able to be the option that is able to provide assistance with rent, utilities, food, car repairs and other daily necessities of life. When I think about how all of you have supported our charity work for these past 17 years of 900 columns, plus all the many people who have not been shared in our newspaper column, I am moved to tears.
We would not have been able to help most of these 10,000 people if it was not for your support over the years. I am grateful for every column I've been able to share with you, and every fellow creation that has been spared from the pains of poverty thanks to you.
Dear W.C.,
My family has had to drastically cut back on food since my income has been drastically reduced due to the virus. In fact, for several weeks, I have not had any income. I had to give up my job when COVID hit, because I have a child with severe diabetes. She has had many complications, including becoming legally blind, been through surgeries, and has been through so much already.
I know it would be very difficult for her to survive this virus. She and my younger son are home-schooling for now, because it is just unsafe for them to attend school. Without them in school, I cannot leave them home alone to go to work. I am now behind in my rent and utilities, because the remaining funds I had in my checking account went towards my daughter's medications and our food.
I really have nowhere else to turn for help. I am so afraid of what the future holds, and I am pleading for help.
Dear Readers,
It is hard to ignore a plea for help, especially when there is a child with special needs involved. I have known the pains of hunger myself as a child, and I never want a child to endure those pains if I can help them. When this mother reached out to us, I knew I needed to speak to her to find out more about her situation and to find out how we could help.
I called the mother and we introduced ourselves. The first question I had was about their food insecurity. She confirmed they had been struggling to keep up. I immediately set up a delivery of food and grocery gift cards with one of our volunteers. Even if we did not provide any other assistance, I would make sure they had enough food.
Once I had a volunteer set up to provide these things, we moved on to talking about her children. She told me about the many trips to the hospital with her daughter, the surgeries and procedures. The mother cried while she shared with me the hours spent at her daughters' bedside while she was unconscious or recovering from surgery.
I know from past conversations with parents who care for their children with life-threatening conditions that it takes a strong parent to raise a child with such troubling medical problems. This mother may have been shedding tears over her daughter's suffering, but she was still one of the strongest mothers I've talked to. I was relieved when the mother told me how her daughter is more stable now than in previous years, and she would do anything to keep her that way. After hearing her story and knowing the financial impact this would have on their lives, I told the mother we would be able to help them get through this difficult period.
We discussed the many financial challenges they have faced this year due to her job loss, and now the loss of her unemployment. She told me how she had spent hours on the phone this week, and on the mountain of paperwork she sent me pictures of, but she was hopeful she would once again receive some assistance. While waiting for her unemployment to begin again, she had fallen behind in all areas of her budget, including rent, utilities and enough money for food beyond the small amount she was receiving from food stamps.
She sent me pictures of her bills, and we went over her budget together. Her rent was not unreasonable as long as her landlord did not raise it again this year. She also struggled with her utility bill, due to the need for air-conditioning over the hot summer. She said: "My daughter cannot handle the heat at all. She can very easily get heat stroke and end up at the hospital."
Since they were not going outside much, due to the risk from the virus and the high summer temperatures, the bill was much higher than it would normally have been if they had spent their days outside, in school or at her job. We would pay off their overdue utility balance to allow them to catch up on other bills. We also would pay her overdue rent and pay two months ahead to remove the strain of that expense.
I noted the overdue bills and wrote down the information I needed to provide checks for this assistance. These checks would be delivered the next day by a volunteer to her doorstep without any contact. The mother mentioned she had been having a difficult time getting disinfectant spray, so I made sure we would include two cans along with her other assistance. It was especially important for her daughter to be kept from this virus, so she was vigilant with sanitizing everything that came into her apartment.
I asked the mother about her car, and we discussed in detail its need for repairs. These repairs were needed especially if she had an emergency trip to the hospital or needed to get to one of her daughter's doctor appointments. Her daughter's condition needed constant monitoring, and this required trips to Milwaukee. I made arrangements for her car to be serviced. This reassured the anxious mother, as she worried about not being able to get to the hospital or doctor when needed.
Soon I heard the children telling their mother someone had knocked at the door. The children told their mother they saw someone outside the window. The mother thought this could be the volunteer, as they were standing at a safe distance and waving. She noticed bags outside her sliding door so she stayed on the phone with me as she opened her door and saw the bags of food. I heard her call to the volunteer and thank her for her help. She asked me to hold on while she carried the bags inside.
I could hear the excitement from the children while she brought everything in. She then put me on speaker phone, and I spoke to the children while they watched their mother carefully unpack everything. One of the children asked, "Who brought us this food, Mom?" The older sounding child asked, "Do we have a guardian angel?" I heard the mother laugh and answer the children, "The man on the phone is our guardian angel, I think."
We all laughed, and I told them, "You have many guardian angels now."
When the mother was through cleaning the items that needed sanitizing, I heard her tell the children to wash their hands so they could eat. When she came back on the phone, she was again crying. She said: "I just opened an envelope that was in one of the bags, and there are gift cards for more groceries, too. How can I ever thank you?"
I told her about all of you — her many guardian angels — and how your donations make our assistance possible. She said: "Please let those guardian angels know how much this food means to us. You have no idea."
Actually, I do have an idea. I have known the pain of hunger, and I wish there had been a guardian angel to show up at my mother's door and leave bags of food when I was a child.
Since I knew this mother must be hungry and I wanted to let her eat with her children, I asked, "Is there anything else I can help you with?" She hesitated for a moment before telling me about her daughter's need for a new bed. Due to her condition, she had many "accidents" and was in desperate need of a new mattress. The mother said this all in a whisper, explaining her daughter was very embarrassed about this and would never want to know she had told me. When I asked about the other child's bed, she said it had been a hand-me-down that was many years old. I told her I would have two new beds delivered, and that way the older child would not feel singled out.
The following week, I received a phone call from the mother. She again was in tears as she relayed the incredible relief of stress and hunger we had provided them. Her endless worry about being evicted and having utilities disconnected were removed. The shame her daughter felt every time she got into her old bed was removed. The fear over arriving safely to their doctor appointments or the hospital has been removed.
Together we have provided a safe environment for this mother and children to isolate during this dangerous time for those at high risk. Thanks to our grocery gift cards, they will not go hungry. Thank you and God Bless you for allowing us to provide poverty relief to those most in need in our communities over the past 17 years.
Just because we have finished the COVID-19 Help Your Neighbor II $50,000 Matching Challenge does not mean our work is done. The extra poverty being caused by the COVID-19 virus means we will continue to work hard to bring poverty relief in our communities. We will all get through this together. Thank you and God bless you for your support.
Health and happiness, love and God bless everyone, Sal
Catch the latest in Opinion
Get opinion pieces, letters and editorials sent directly to your inbox weekly!