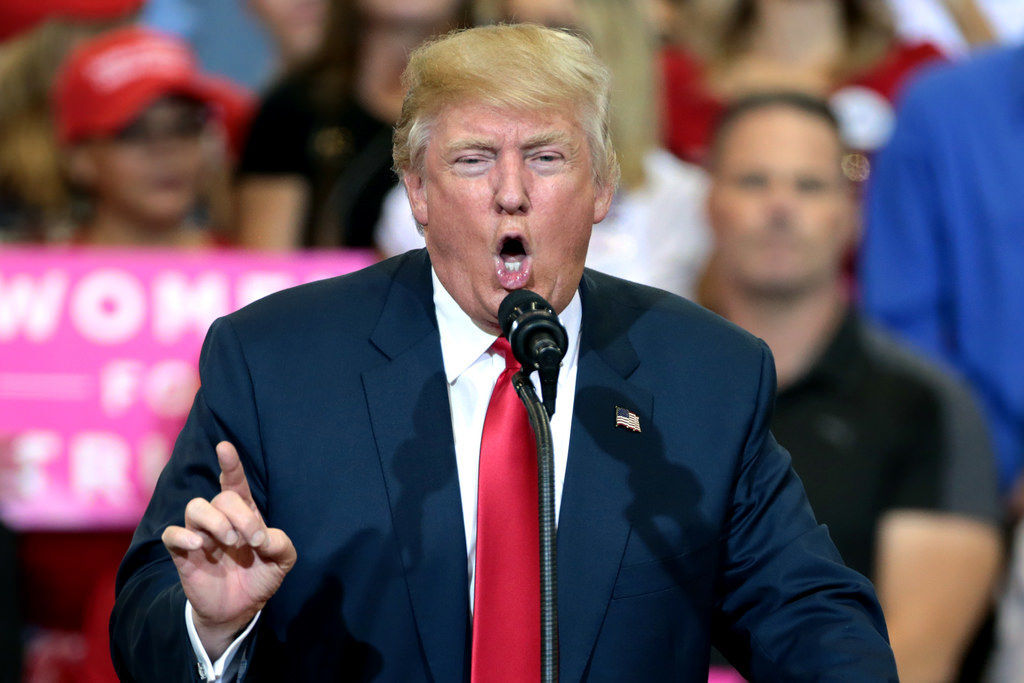 President Trump is a strong leader who will not back down. He is just what we need right now.
He supports law enforcement, not defunding the police. To help departments optimize, he made the Safe Policing for Safe Communities executive order. After the riots, he visited Kenosha, offering anything needed. He has law enforcement endorsements, including the Kenosha County sheriff. Biden has none, and has wavered on defunding the police.
Biden lacks understanding of the violent leftist forces here, claiming, "Antifa's an idea, not an organization," then failing to even criticize the idea. Rioting for months in places like Portland requires money and organization. Portland's "Rose City Antifa" organization has their own website; it takes more than an idea to have a website. Here and in Europe, many other Antifa organizations are linked online. Like communism, Antifa is an "idea." Like Communist Parties, Antifa groups are dangerous.
Years ago, President Trump recognized the danger of the Communist Party in China. The foreign affairs establishment looked to partner with China for global stability, while China looked for global domination. Cheap labor and new markets benefitted global corporations. I believe Trump's threat to the status quo with China is the main reason the Washington establishment has constantly tried to ruin him.
Nonetheless, the president has succeeded in foreign affairs. He has increased the military budget and will not reduce it. Territory once controlled by ISIS has been liberated, their leader Al-Baghdadi is dead.
The Iran Nuclear Deal signed under the Obama-Biden administration released billions of dollars to Iran, but did not discourage Iran's ambitions. They violated the deal. President Trump withdrew us and has applied economic sanctions.
Iran's military leader Soleimani continued regional terrorism. When an Iranian-backed militia attacked the perimeter of the U.S. embassy, President Trump had Soleimani killed.
Biden immediately condemned this. He also opposed President Obama taking out Osama bin Laden. Syria used chemical weapons against its own citizens. Despite having declared it would be a "red line," the Obama-Biden administration did nothing.
Biden is too weak to lead America. He will again cut the military budget, resume the dangerous Iran Nuclear Deal, and he lacks the fortitude to take action if needed against our enemies.
President Trump is not a militarist, however. He has overseen peace agreements between Israel and two Gulf Arab states, and will continue diplomatic efforts. He reduced troops in Iraq and Afghanistan, and is pushing for a new arms-control agreement with Russia. He negotiated the United States-Mexico-Canada Agreement benefitting farmers. His foreign policy successes will only continue.
Biden and the Democrats continue using "pre-existing conditions" to sow confusion about health care plans. In fact, insurance continuation for people with pre-existing conditions with employer coverage has been guaranteed since the HIPPA Act of 1996. Any Republican plan would always provide coverage for people with pre-existing conditions.
The ACA marketplace plans may be "insurance," but insurance is not health care. The plans have high out-of-pocket costs and very limited physician availability. As in Canada, care is delayed and reduced.
President Trump is working on arrangements to allow workers to pay for insurance with pretax dollars, and allowing small businesses to band together in association health plans. He supports price transparency so consumers can compare. He will not reduce Medicare or Medicaid coverage.
Biden's claim to have a superior plan for combatting the health problems from COVID-19 is an empty platitude. Other than a federal mask mandate and shutting the economy down more quickly than the president, there is nothing new. He and his running mate have irresponsibly cast doubt on vaccines' safety despite the hesitancy already present in many people. He could start his economic plans for the COVID crisis by pressuring Pelosi to come to the table for a stimulus package right now.
Under President Trump, our economy thrived. The corporate income tax rate (previously the highest of first world countries) and excessive regulations were reduced. In 2019 the median household income grew 6.8%, the largest annual increase on record, nearly 50% more than during the entire eight years of the Obama-Biden administration. The 2019 overall poverty rate declined 1.3%, becoming the lowest ever.
President Trump is leading us back to economic success. In August, 1.4 million jobs were added to the economy, the fourth largest gain in American history. Biden will reverse the changes that made the 2019 economy possible.
For our economy and our safety, we need to re-elect President Trump.
Pamela B. Wolfe of the town of Geneva is a member of the Republican Party of Walworth County.
Catch the latest in Opinion
Get opinion pieces, letters and editorials sent directly to your inbox weekly!