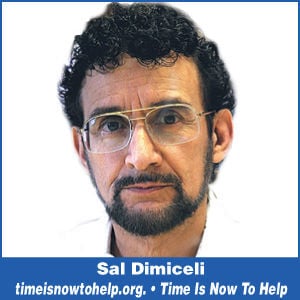 The Holidays feel different this year. Almost everyone I have talked to over the past few weeks has said the same. It began with the cancelation of Christmas parades and much-loved events. Then the question of risking family gatherings during a pandemic, shipping challenges and online shopping instead of a trip to your favorite store.
While all these things have caused most of us to have less than our usual amount of holiday cheer, these things are small compared to the reality many of our poverty-stricken neighbors are facing. We need to all keep this in mind as we face a non-traditional Christmas. This is just temporary and most likely we will all be back to our family gatherings filled with food, gifts and holiday spirit next year.
This past year has been a year of change and challenges for our charity as well. For over 30 years I have walked into the homes of strangers and seen firsthand how our fellow creations are living. I have opened empty refrigerators and seen children sleeping on rags on the floor.
I have seen the one insubstantial meal a day a poverty-stricken senior citizen could afford. I have seen the handicapped trapped in their homes due to lack of transportation, wheelchair ramps and even lack of wheelchairs all together. The hardest thing this year for all of us has been the lack of human contact. I miss the hugs and the warmth that almost everyone has shown me over the years.
This year I had to change to using my phone to see things that I would have seen in person in the past. When I ask about food insecurity, I need to know just how empty people's cabinets and refrigerator are. What shape is their car in? Do the children need a bed? Do they have any children?
Do they have any pets? All those years of home visits have taught me the questions to ask and the assistance that is often needed but not often asked for. Our volunteers have had to adapt to these changes as well. No longer do they have that human contact as all drop offs are done from a distance.
The type of assistance requested this year has changed from years in the past. This year we received more requests for food than we have received in years. As jobs were lost and many waited on unemployment that never was approved the lines at food pantries grew longer.
What if you are ill or injured or working during the times of food pantry hours? What if you do not have transportation to get to food pantries or grocery stores? We also provided assistance to more homeless families this year than in any year prior. Many motel rooms were provided to families as a temporary shelter until more suitable housing could be found. We also paid overdue rents to landlords who were struggling themselves due to the inability of their tenants to keep up with their rent during the shut down and into the summer months when jobs in our tourist area were not as plentiful as in the past.
More than 600 people have been helped this year thanks to your generosity. We are still working with over twenty people in finding apartments and repairing cars.
There is a waiting list for cars and wheelchair accessible vehicles and a growing list of people waiting for our assistance as we work hard to answer everyone that is turning to us as their last hope.
That is what we hear over and over again, that our charity is their last hope. To be a last hope means that these fellow creations have gone down every other avenue for help before either being referred to us or hearing about the help we provide. Our hope is that our assistance is the last assistance these people ever need.
One of the people recently helped is Christy. She is a single mother of two school age children and their much-loved dog. Christy had fallen behind in her rent when she had lost her job due to Covid and was only able to find jobs that would not pay enough to cover all their expenses.
After several months of falling farther and farther behind her landlord decided to not renew her lease when it was up for renewal. This mother, her children and small dog were living on her grandmother's couch until they had worn out their welcome in the senior only housing she resided in. Thanks to a friend referring her to The Time is Now to Help we were able to provide two months' rent and a security deposit in an apartment she could afford going forward with the changes we made to her budget. We provided much needed new beds and household necessities.
We had Christy's car repaired and provided gas cards to help with her commute to work. We also encouraged Christy to look for another job that could provide enough income for her revised budget and within a month she found this job. When we see the positive changes our charity brings to the lives of people like Christy and her two children, it is the best gift we could receive this holiday season.
Don and Mary have been married for 38 years. They both were working until this summer when Don was diagnosed with cancer. Don had to give up his job as he went through surgery and debilitating treatments.
Mary worked when she could in between care for Don and her own health problems. Don passed away last month, and Mary was left with many unpaid bills including several months rent and utilities. A dear friend contacted us about Mary and after our long phone conversation we were able to remove some of the stress and worry from her life during this difficult time.
Mary is now back at work and with some changes to her budget she will be able to get by on her own. We were a ray of light in an otherwise dark time in Mary's life. We hope we can be a ray of light for many more people over this holiday week.
For over 30 years The Time is Now to Help has provided poverty relief not just during the holidays, but throughout the year. These gifts of poverty relief are the ones that truly matter to our fellow creations far beyond the holidays.
Safe shelter, reliable transportation, a warm bed and steady meals are a priceless gift we can give to our fellow creations in need that last far into the new year. These holiday gifts are all thanks to "You". Your generosity has helped us through this year of changes and great need. We are very thankful for your support.
While this Christmas may be different than ones in the past, we can't overlook the true meaning of the day. If you are well it is something to be grateful for. If you have food give thanks. Enjoy the beauty of the lights, music and decorations. Celebrate the significance of this day! We are celebrating the birth of our Savior! Merry Christmas!
Thanks to your generous support the Barnabas $5,000 Christmas Matching Grant has been matched. This week we will be working hard distributing this matching grant, so it truly is a Christmas gift to many. $10,000 in assistance will be provided to the handicapped, senior citizens, working poor families and those struggling due to illness, job loss and unexpected challenges.
As has been our policy since we founded this charity over 30 years ago, 100% of your donations are used to provide poverty relief. We are continuing to work hard bringing our poverty relief to as many people as possible. We thank you for your support that allows us to do these good works. Thank "You" and God Bless "You"!
Please Help: There are many coming to us in desperation. Our good fellow creations need our compassion. Together we make a big difference. Make checks payable to: The Time Is Now to Help, P.O. Box 1, Lake Geneva, WI 53147. The Time Is Now to Help is a federally recognized 501©3 charitable organization licensed in the states of Wisconsin and Illinois. You will receive a tax deductible, itemized thank you receipt showing how your donation provided assistance for the poverty stricken.
A Very Special Thank You: Marilyn G. Schawk, John and Valerie Lincoln, Barnabas Donors, Paul Ziegler, Ziegler Charitable Foundation, Paper Dolls, Donald Schwab, Mr. and Mrs. Robert Schuberth, Kunes Country Auto Group, Electronic Specialties, Colleen Heffernan, Mr. and Mrs. Peter Vanderveld, Jeff Martin, Halverson Door, Lake Geneva Area Realty, Steven and Deidred Trumble, Mr. and Mrs. Peter Vanderveld, Jay and Karin Hiller, Jon and Karen Bird, George and Barbara Partyka, George and Karen Noldan, Richard and Lucille Bergman, Alliant Energy Foundation, First Congregational United Church, Albert and Ellen Burnell, Peggy Cardiff, Ada Duffey, Mr. Mark and Dr. Sandi Schmitt, Gene and Linda Krauklis, Bob and Millie McCormick, Doris Kranitz, Denise Hubbard, Bonita Breit, Nancy Ferguson, Loretta Adsit, Patricia Jankowski, Margaret Rifken, James Dyer, Charles and Kathleen Heinz, Susan Paddock, Orval an Barbara Keltner, Excel Family Chiropractic, J.N. Hackman, Steve Fejes Insurance Agency, Richard Jais, Saints Simeon and Anna Anglican Church, Martha Nyrkkanen, Jean Perpich, Dennis and Evelyn Schulz, Kyle Koenig, Margo Goldberg, Margaret Plevak, Kelly Tomaske, Gregory Swanson, James Phillips, Jeanne Allen, Bradley Dorn, Estelle Reeder, Jeffrey Arnold, William Norton, Karen Martin, William Davit, all of our anonymous donors and ALL of you who support The Time Is Now to Help donation boxes. Anyone who would like a Time Is Now donation box in your business, please call (262) 249-7000.
Memorials: Bradford Petrie in memory of Mary Lou Petrie.
Prayer Chain: The power of prayer and positive thoughts comes from the true healer, our Lord answering our prayers. Please pray for healing for the following people: Talyn, Mike, Sylvia, Richard, Jennifer, Jayden, Maria C., Alex, Lily, Kaitlyn, Sheila, Rhonda, Deda Lee, Betty, Marilyn, Helen, Dennis, Mary, Joseph, Sal, Jordan, Jean, Tom L., Dr. Peter, Alyce, Matthew, Pam E., Jenene B., John S., Patricia H., Darlene, Ron K., Marian K., Judy, Wendy, Eric, Rogelia, Anthony and Mary.
Furniture Donations: To donate furniture please call Love, Inc. in Burlington, WI (262) 763-2743 or Circle of Friends in Elkhorn, WI (262) 723-8177. Please visit: www.timeisnowtohelp.org
Health & Happiness, Love & God Bless Everyone, Sal