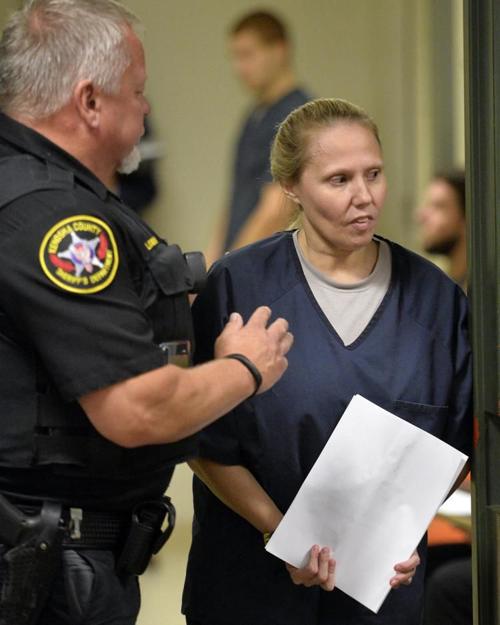 KENOSHA — The mother of two Paddock Lake men accused of running a large-scale black market THC vaping manufacturing ring has joined her sons in jail.
Courtney Huffhines, 43, was arrested Sept. 30 on suspicion of being involved in the alleged drug operation.
Sgt. Christopher Hannah of the Kenosha County Sheriff's Department said Huffhines was taken into custody "for multiple charges related to the recent illegal TCH operation involving her sons."
When investigators served a search warrant on Huffhines' real estate office in Union Grove, a detective called Kenosha County Sheriff David Beth from the scene.
"He said, 'We hit the jackpot,' " Beth said. "In the backroom of (the real estate office), when the drug unit went into it, they found it was basically a lab similar to the one that was in the Village of Bristol condo."
Huffhines was charged Oct. 1 with six felonies connected with the same THC vape manufacturing business that led to her sons' arrests in early September.
According to the criminal complaint, Courtney Huffhines, a real estate agent from Paddock Lake, is alleged to be directly involved in the vape manufacturing business, including allowing the vape cartridges to be manufactured at her Realty Executives office, 1023 Main St., Union Grove.
Her sons, Tyler Huffhines, 20, and Jacob Huffhines, 23, have been in jail since Sept. 5, facing a series of felony charges related to an alleged THC vape manufacturing business that was operated from a rented Bristol condominium.
The alleged operation came to light after a teenager from Waukesha went to police there with information about THC vapes being sold at a Waukesha high school.
That information sparked an investigation that ultimately led to the Huffhines.
At a court appearance for the brothers Sept. 16, prosecutor Lesli Boese said investigators were still looking into Courtney Huffhines' role, saying there were conflicting statements about whether she knew about her sons' alleged drug operation.
Courtney Huffhines, a real estate agent, was the agent for the Bristol condominium where the vape manufacturing operation was based, according to statements Boese made in court.
That condominium was rented under a false identity, according to the prosecution.
According to statements in court and the criminal complaints filed against the brothers, guns, paraphernalia associated with drug sales, and a small amount of cocaine and marijuana were also found in the Paddock Lake home.
"In terms of her knowledge of the enterprise, that is something we are still investigating," Boese said on Sept. 16.
According to investigators, Tyler Huffhines was the ringleader of a black-market business manufacturing THC vape cartridges.
When investigators served a search warrant on the condominium, they allegedly found more than 100,000 filled and unfilled vape cartridges, three money-counting machines, 18 pounds of marijuana and 57 mason jars, each filled with refined liquid THC — the oil in each jar valued at approximately $6,000.
The filled cartridges contained approximately 1 gram of THC.
Also allegedly found were vape packaging material, lines of chairs and tables "set up like a manufacturing line," and branded T-shirts and sweatshirts for the business.
Tyler Huffhines told investigators he had 10 employees who manufactured the vapes, according to the criminal complaint.
Before the brothers were arrested, investigators from the Kenosha Drug Operations Group had been tracking their activities, including watching the home and condo and following them to a suspected drug sale, according to the criminal complaint and statements in court.
They also tracked Tyler's social media as he traveled to California over Labor Day weekend for what investigators said was a trip to purchase THC oil. Jacob Huffhines met Tyler in California for that trip.
According to Courtney Huffhines' social media posts, she joined her sons on an earlier trip to California.
"Huntington Beach family time with my boys," she wrote on an Instagram caption to a photo that purports to shows her standing between Jacob and Tyler, with the ocean in the background.
Tyler Huffhines is being held on $500,000 bond, charged with maintaining a drug-trafficking place, identify theft and three counts of possession of THC greater than 10,000 grams.
Jacob Huffhines is charged with possession of a firearm by a convicted felon, possession of cocaine, possession of a controlled substance, possession of drug paraphernalia and possession of THC.
Be the first to know
Get local news delivered to your inbox!