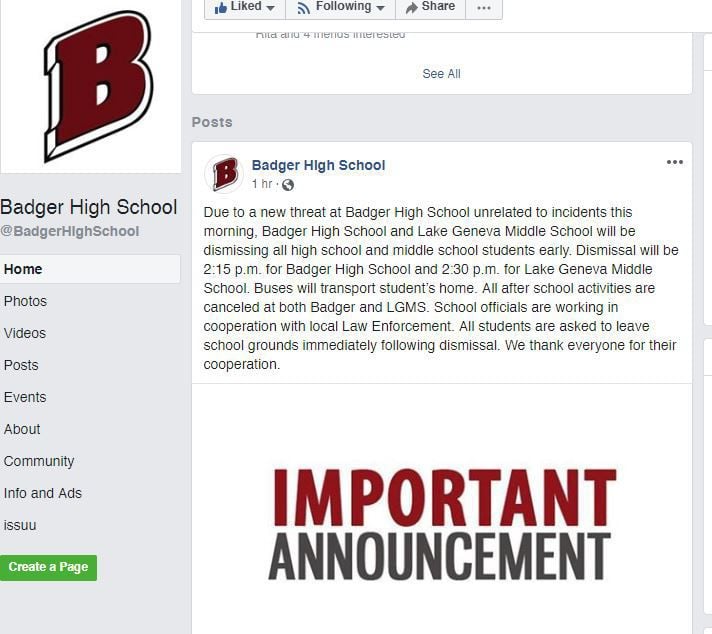 Students at two Lake Geneva schools were sent home early Nov. 20 after what officials described as a threat of a school shooting.
Classes were dismissed and extracurricular activities were canceled at Badger High School and Lake Geneva Middle School on the final day before the Thanksgiving holiday break.
School Superintendent Jim Gottinger reported that a message of "Shoot 2:30" was found inside a restroom stall at Badger.
It was similar to messages with bomb threats found written on restroom walls in recent weeks at Big Foot High School and Sharon Elementary School.
Badger High classes were scheduled to resume Nov. 26 after the holiday break, and Gottinger urged parents to talk with their children about threatening violence at school.
"Please have discussions with your student(s) about the seriousness that comes with actions such as the events of November 20," he wrote. "This is not anything that can be considered a 'joke' or a 'prank.'"
Lake Geneva police were working with school district officials to try to determine who was responsible for the threat.
In his Nov. 24 letter to parents, Gottinger wrote that the situation began Nov. 19 when police received a report of a threat against Badger. The report was determined to be not credible.
After another report on the morning of Nov. 20 of a threatened shooting, officials stepped up police patrols at Badger. When the restroom wall message was found about 1:30 p.m., officials decided to send students home early.
Although there was no threat involving Lake Geneva Middle School, Gottinger said, students there were dismissed early, too, because of the logistics of the school bus schedule.
Early dismissal occurred at 2:15 p.m. at the high school and 2:30 p.m. at the middle school.
The Lake Geneva Police Department was offering a $500 reward to anyone with information that leads to a conviction of a suspect in the threat incident.
Gottinger said he feels optimistic that school and police officials will be able to "find the perpetrator of this hoax and impose the highest level of consequences that such a disruption requires."