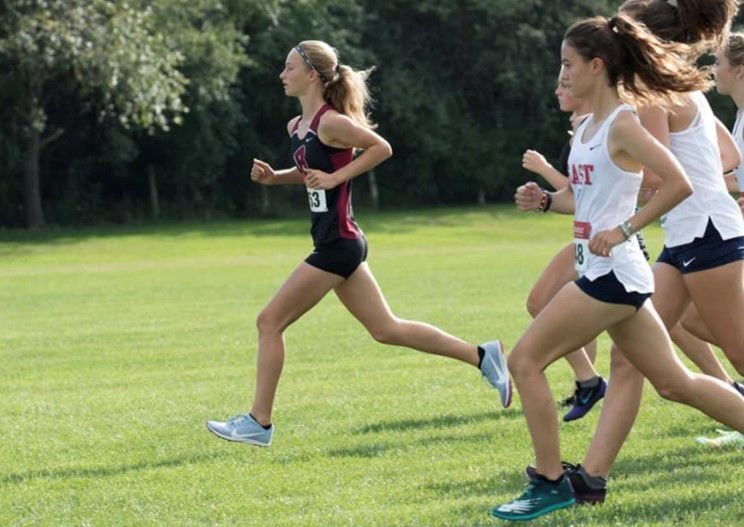 Badger High School freshman Molly Deering set a new school record of 19:16 in the 5K during the Midwest Invitational in Janesville back in late September.
Deering beat the previous record, which was held by former Badger Ava Trent, by 26 seconds. For Badger High School girls' cross-country coach Stephani Reynolds, it was not surprising to see.
"She (Molly) has been a good runner and we have kind of had her on our radar since she was in the sixth grade," Reynolds said. "She's outstanding. She's one of those athletes that you don't get very often."
With the high expectations for Deering coming into the season, Reynolds still realizes that she is just a freshman. From the start of the year until now, she has seen a lot of growth.
"She came in as a quiet freshman and now she's opening up a lot more. Even as a freshman, she has great leadership qualities already emerging at the end of the season," Reynolds said. "She's always asking questions of teammates, she asks me questions, and it has been really special to see her come out of her shell."
Reynolds, who has been the coach for 15 years, attributes Deering's success to her work ethic, the goals she sets for herself and the fact that she's always focused.
"She's a great student and she's a great athlete," Reynolds said. "I always tell the girls that what makes a great athlete is being a good student first."
For Deering, one of those goals before the season was beating the 5K school record time of 19:42. Reynolds said for someone who has as many personal records that she sets in cross-country, this specific record stands out.
"I'm proud of how much hard work and dedication it has taken," Deering said. "I was very excited and almost relieved that I finally got it."
Deering joins her twin sister, Delaney Deering on the cross-country team, but cannot help but acknowledge how important the upperclassmen have been in making her feel comfortable.
"This team has been amazing. The seniors are great leaders and have helped me," she said. "They have helped me open up and made cross-country an even more fun experience."
Not only has the success of individuals on the team impressed Reynolds, but the team leadership has been even better.
"We have a lot of new talent, we have a young team, which has been disheartening for some of the seniors, but the senior girls have still remained great leaders for the younger girls," she said. "Some seniors have lost their spots to freshman, but they have totally taken on a new role for us at being leaders and helping the younger runners."
The Badgers girls' and boys' cross-country team will be in the conference meet beginning at 4 p.m. Thursday at Fox River Park.