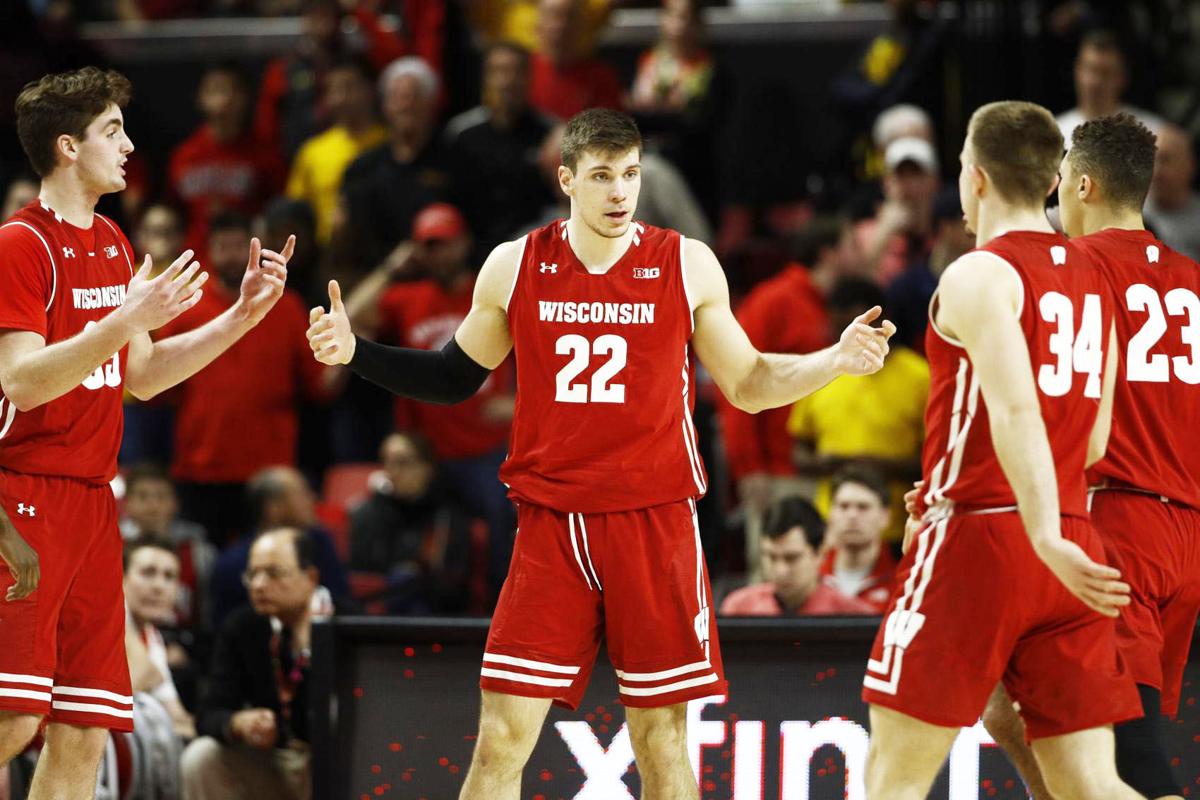 MADISON — Ask anyone close to the University of Wisconsin men's basketball program what it will look like on offense without Ethan Happ in the middle, and they immediately start talking about yesteryear.
They reminisce about the balanced, versatile offensive teams UW put on the floor a decade ago. At least, they do that if their memory is intact.
"The film is so grainy on those," assistant coach Joe Krabbenhoft said with a laugh, "that I can't remember what it looked like."
Krabbenhoft was a stalwart on UW's 2007-08 team, which went 31-5 and won both Big Ten Conference championships, all with an equal-opportunity offense led by Brian Butch at 12.4 points per game. Krabbenhoft also was there the next year, when UW won 20 games with Marcus Landry as the top scorer at 12.7 points per game.
Those were old-school UW offenses in which the Badgers often had five players on the floor who could score via the 3-point shot or a post-up move. They ran the swing offense of former coach Bo Ryan and wore down opponents with their cutting and passing.
"It was pretty good," Krabbenhoft said. "We spread it out. We had a lot of shooters. The championship team in '07-'08, I don't think we had a guy that averaged more than 11 or 12 points a game, but we had a bunch of guys right in that area. I don't know what it was like to guard us, but it had to have been pretty hard. Anytime we put together a scouting report on a team that's that well-balanced, you just don't know who you focus your attention on and, boom, the guy you didn't think would hurt you, hurts you. Every single night there was somebody different."
Although UW was pigeonholed as a swing-only team under Ryan, the truth is the coaches adjusted to fit the personnel all the time. When Jordan Taylor was the point guard, they used a ton of high ball screens. When the Badgers went to two NCAA Final Fours with 7-footer Frank Kaminsky and friends, they were again an equal-opportunity offense, one marked by incredible efficiency.
In the four seasons since then, Happ, a 6-10 All-American, became a fixture in the low post and the focal point of the offense. And since Happ didn't shoot the 3-point shot — 1-for-16 in his career — UW's offense changed dramatically. On most possessions, he handled the ball with everyone else playing off of him.
With Happ graduating and taking his 2,130 points and 423 assists with him, UW is expected under Greg Gard, Ryan's longtime lieutenant now in his fifth season as coach, to become less stagnant, to return to some version of its old, five-man motion game where everyone on the floor can score from anywhere.
The benefits could be huge. The offense should promote more ball and body movement, which should get everyone more involved and engaged. The style should fit a roster in which the top eight players have all demonstrated some ability to hit the 3-point shot. And the improved spacing should open up the lane for drivers.
"I think when Frank and those guys were here, the offense was Frank-heavy still," senior guard Brevin Pritzl said. "But Frank did a lot of his scoring out of the flow of the offense. He knew where to get his buckets. Whereas with Ethan, given that he couldn't shoot from the outside as well, we kind of had to formulate the offense and get him the ball in his spots to score. So I think we're going to go back to the old mold where everybody's cutting and moving in one unit together to score."
That's not a knock on Happ, who had one of the great careers in UW history. Nor is it a knock on Gard, who built an offense around Happ that maximized his many skills.
It wasn't UW's traditional way with Happ on the floor, though, and a return to a more balanced, movement-based offense should help the Badgers reduce the frequency and duration of the scoring droughts they suffered through the past two seasons. At least that's the plan.
When he becomes eligible, transfer Micah Potter is expected to replace Happ at center. Potter doesn't have Happ's low-post game — who does? — but he is strong and has a solid shooting stroke.
"I think whenever you lose a guy the caliber of Ethan Happ, not only with the amount that we gave him the ball and the amount we played through him and how incredible he was, it's obviously a great challenge," shooting guard Brad Davison said. "But what comes with great challenge is great opportunity. Micah will step into that role, but it's going to take a collective effort to fill that void. It'll look new. Offensively, we'll play a little different. The floor will be open, we'll have five shooters on the floor at all times. With the 3-point line moving back, that just means there will be more space for us all to go to work and create. When you have a lot of different guys that can do a lot of different things, the floor opens up and those are hard teams to guard."
Wait a minute, did he say the offense would look only "a little different?"
"I'd say a lot different," Davison said upon further reflection. "I think we tended to be a little predictable last year with certain things. Ethan was an incredible player and we played through him a lot. Now when the floor is more open, it opens up a lot of opportunities for a lot of different guys to do a lot of different things that people probably haven't seen. The cool thing about this team is we've got a lot of versatile weapons that are fully capable of taking advantage of all those opportunities."
With Happ and small forward Khalil Iverson — 1-for-6 from 3-point range — playing heavy minutes last season, UW often had only three outside shooters on the floor most of the time. That allowed defenses to pack the paint and made scoring at the rim difficult for everyone.
UW's top eight players this season have all had their moments shooting the deep ball in college, which should spread the floor. Pritzl, Davison, guard D'Mitrik Trice and forwards Nate Reuvers, Kobe King and Aleem Ford all had at least 49 attempts from 3 last season. Guard Trevor Anderson, coming off knee surgery, was 35-for-93 from 3 as a freshman at UW-Green Bay three years ago. And Potter was 23-for-71 on 3s in two seasons at Ohio State.
"We're a program that normally promotes our bigs to shoot," assistant coach Alando Tucker said. "I think a lot of times last year, the defenses were packing the paint. When you look at our team now, you have at any given point five guys on the court that will be able to extend their range, which could be dangerous because now it opens up driving lanes. It works great for the swing. Our swing offense is predicated on getting the ball in and then kicking it out. We have guys like Nate Reuvers that can post, we have Brad Davison that can go to the post, we have Kobe King, Aleem Ford, Micah Potter, guys that can post. But they're two-way players. They can play inside and out."
Indeed, between the number of outside shooters and the extended 3-point line, the Badgers should be able to space the floor better, creating less-crowded post-up opportunities for Reuvers and opening up driving lanes for Trice, Davison and King. Especially King.
"Personally, having that floor a little bit more spread where I can get to the rim and not worry about a guy being in the paint but still shoot it a little bit as well, I think it will open up a lot of things," King said. "It makes it more like an NBA style of play, which I like. There were times when (Happ) had the ball so much you just kind of stood around playing off of him. You wanted the ball in his hands, so you were not really looking to attack, looking to make plays. That will be the biggest difference this year, just the opportunity that opens up."
There should be ample opportunity for everyone to get involved. Happ averaged 17.3 points per game last year, with only three others above 6.9. In 2007-08, UW had six players average between 12.4 and 7.6 points per game.
"Without Ethan in the middle, you would call it a big hole in terms of scoring punch because there goes 18, 19 points," Pritzl said. "But that presents an opportunity for other guys to upgrade their output. There's going to be a variety of scoring, moreso than just one guy dominating the ball. A lot of people are talking like when coach 'Krab' was here and they had five guys that were all like at 8 to 12 points. Everybody's right in the middle, everybody's involved, everybody's using it at the same time. That's nothing to take away from the great scoring ability of certain guys, that just means your whole team is working well together. I hope that will be the look we have because that means our shooting percentages should be better. It means we should be more efficient."
We've seen it work before. There's no reason it can't work again.