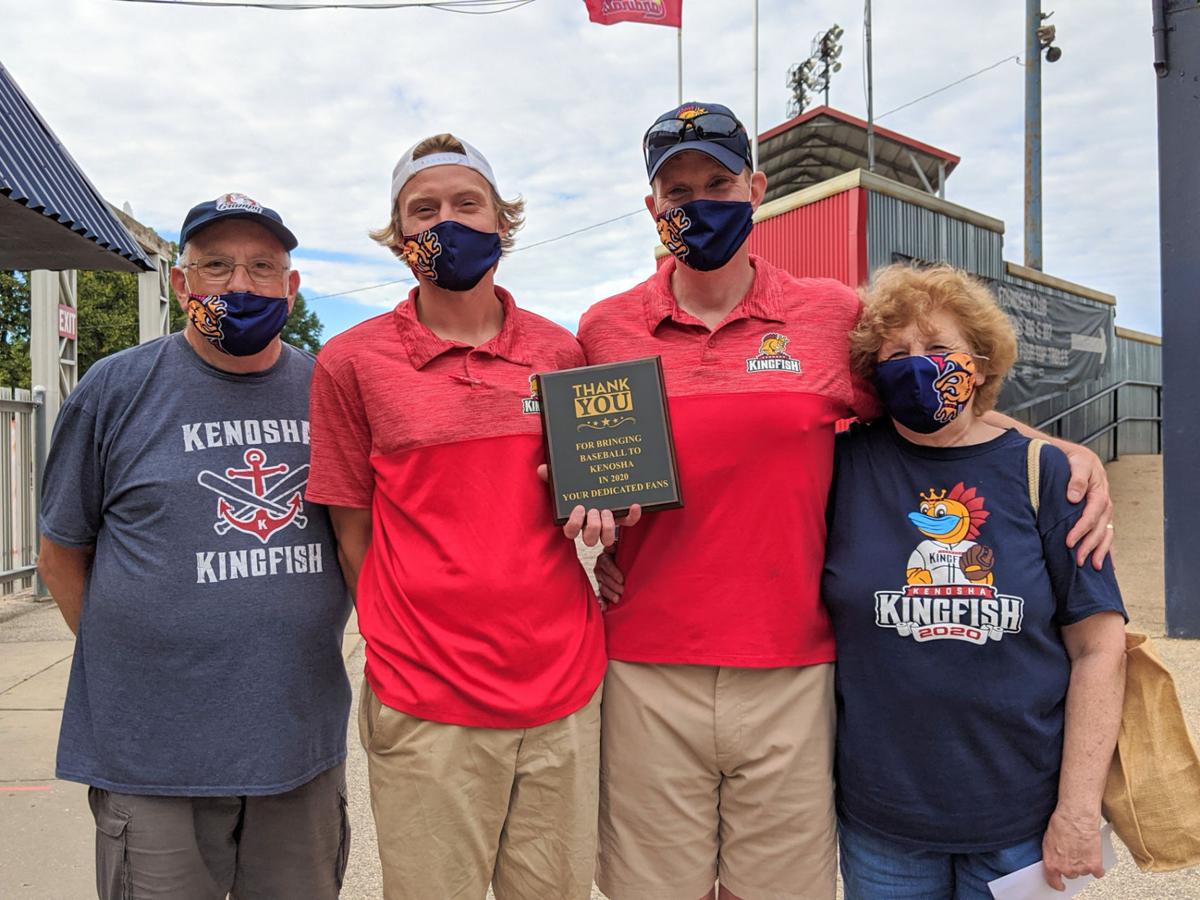 While Major League Baseball struggles to keep teams healthy and on the field — with games scratched this week after a COVID-19 outbreak — the 2020 Kenosha Kingfish season keeps running the bases.
There are now two home teams to cheer for: Our own beloved Kingfish and the newly formed K-Town Bobbers. The teams are playing all their games at Simmons Field against each other. That way, the players aren't traveling out of Kenosha, risking more exposure to the coronavirus.
Doug Gole, the Kingfish general manager, said the support of the team's local fans made it all possible.
"We did it because Kenosha said they wanted us to," he said. "Survey after survey. Phone call after phone call: 'We want Kingfish baseball.'"
Thursday evening at the ballpark, fans showed that support.
Rick Johnston, a Kingfish fan who is also a host family for the team's players, was looking for a way to show his appreciation for this 2020 season.
"We are so happy the team is playing this summer," he said, "and bringing our national pastime to Kenosha in these trying times."
He had a plaque made that thanks the Kingfish organization for playing during the coronavirus pandemic. Though he presented it, Johnston stressed that it's from all of the team's devoted fans.
Gole — who accepted the plaque with Ryan Goralski, the team's corporate accounts manager — gave all the credit to the Kingfish staff.
"It's guys like Ryan who do all the work," Gole said. "We went from zero to 60 to get these games started, which took a lot of work, figuring out creative ways to play this summer."
The biggest change, of course, is the creation of a two-team series, making this the Kenosha version of a league of their own, as the Kingfish and Bobbers face each other all season.
"We had to scramble and find host families for the Bobbers, along with the Kingfish players," Gole said. "There are a lot of moving parts involved. It was a real challenge getting everything up and running, but we're doing it."
Caryl Davis, who attends Kingfish games with Johnston and also hosts players at her home, said it's been a different sort of summer experience.
"We can't mingle with the whole team like we used to do, but we are finding things to do with the players we're hosting," she said. "We've gone out to eat and showed them the downtown area. I also showed them where I grew up out in the county."
Johnston added, "They're all good kids, they really are. We have no complaints. I love hosting players at my home."
Despite Kenosha's huge affection for its Kingfish team, fans have taken to the K-Town Bobbers, too, at least judging by the popularity of the Bobbers merchandise.
"We can't keep it on the shelves," Gole said of the Bobbers shirts and hats.
Also, history was made Thursday night at Simmons Field when the Bobbers' mascot — an inflated beach ball — rode down the zipline to start the action, in place of King Elvis.
Other observations from this season:
Concerned about COVID-19?
Sign up now to get the most recent coronavirus headlines and other important local and national news sent to your email inbox daily.