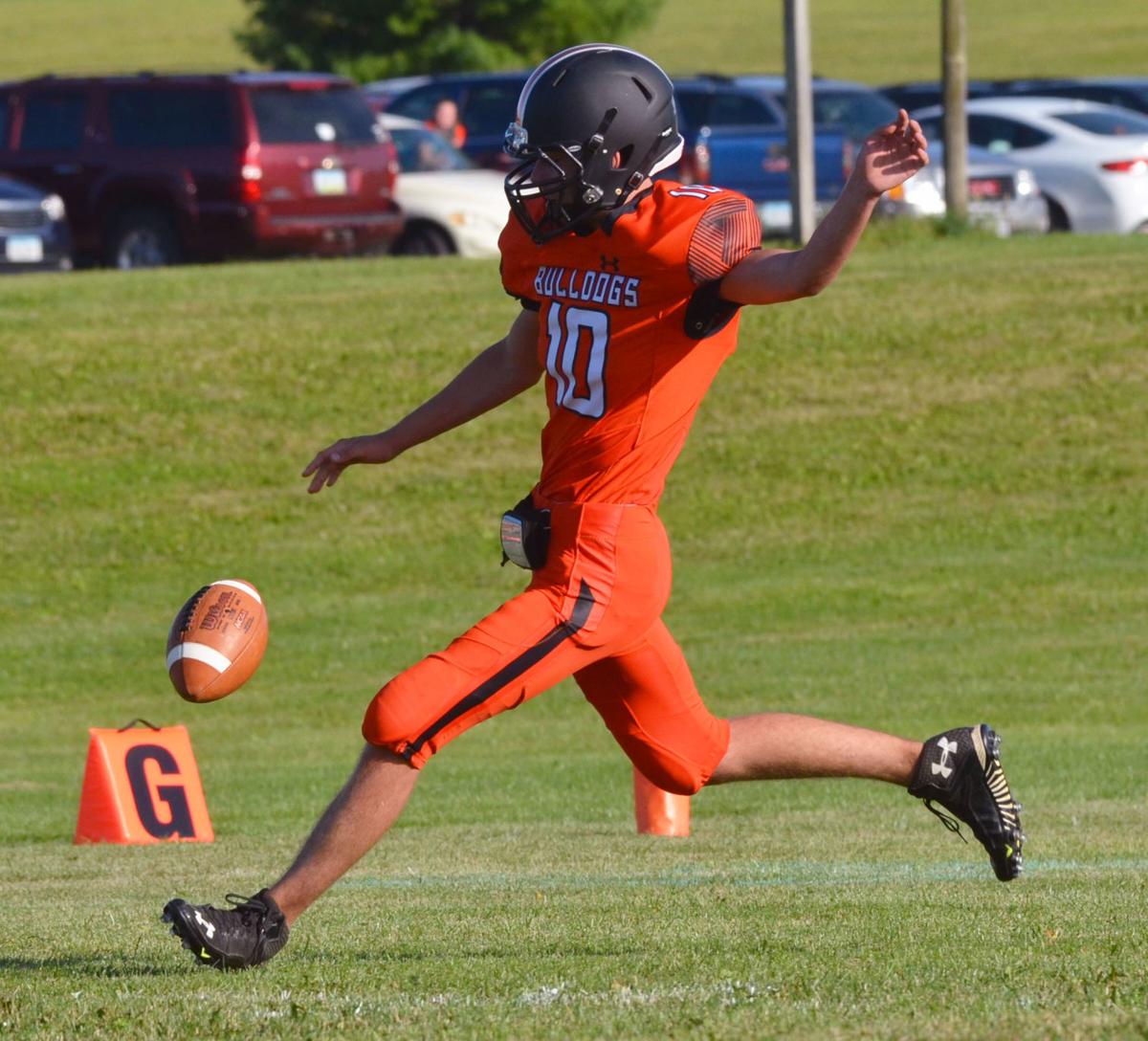 It was another week, another top-flight foe for the Williams Bay eight-man football team. The Bulldogs traveled up to Belmont on Oct. 4 to face a Braves squad that came into the game with a 5-1 record and a punishing running attack that had racked up about 1,700 yards.
The Braves showed off that solid running game in a 61-0 rout.
While the run game was the story of the contest as a whole, in the first quarter, only one of Belmont's touchdowns was a rushing score. The first touchdown of the game came on the ground, as quarterback Riley Christiansen rushed for a 54-yard score and a two-point conversion to go ahead 8-0.
However, in the remainder of the quarter, the Braves picked up a pair of passing touchdowns as well as a fumble recovered for a score to extend the deficit to 26-0 at the end of the period.
The Belmont rushing attack was in full force in the second quarter, as Christiansen rushed for a pair of scores and running back Kolton Westmeier added a third to give the Braves a 47-0 halftime lead — and a second-half running clock.
In the second half, Belmont scored one touchdown in each quarter, with the third quarter score coming on a 24-yard Christiansen rush and the fourth-quarter touchdown at the hands of running back Konnor Lancaster to end the game at 61-0.
While it was another large defeat for the Bulldogs, that does not mean the team has not improved throughout the season.
In the Bay's first game of the season against New London, which ended in a similar 60-0 score, they struggled to move the ball. But against Belmont, the Bulldogs' offense was able to march into the red zone on multiple occasions.
However, those red zones did not end in points, because of penalties, turnovers or both. Regardless of the final outcome, the team has shown progress from day one until now.
"The scores may not reflect it, but just with the eye test, you can tell it's an improved team," head coach Jon Tomaszewski said. "They've really started to focus in and make corrections. We're not seeing the same mistakes that we made at the beginning of the year."
With three games remaining on the docket, the Bulldogs would like to see their progress manifest in a win, in order to send the team's two seniors off with a bang.
The team's next shot at accomplishing that feat will come Oct. 11 when Williams Bay travels south of the border to Hebron, Illinois, to take on Alden-Hebron.
While this road trip crosses state lines, it is still a shorter journey than the Bulldogs' past three road games in Wisconsin, which were two hours or longer, compared to just a half-hour trip this upcoming week.