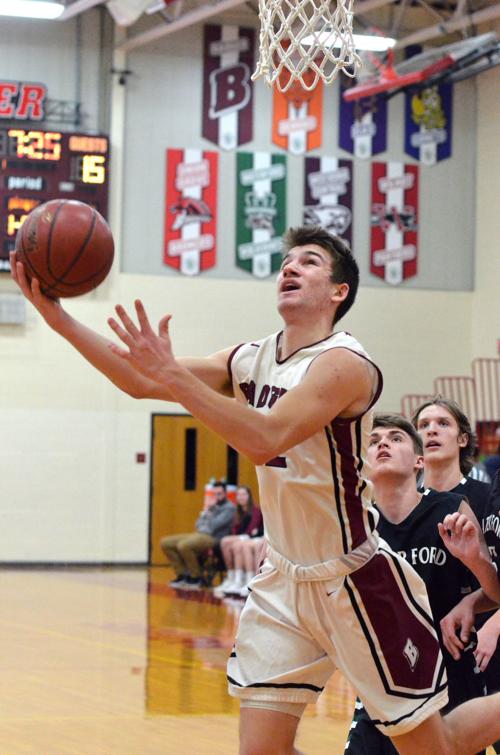 When former athletes get together, whether they were teammates, rivals or playing hundreds of miles away, they often end up comparing careers. As a group of basketball players measure up against one another, they will brag about who scored the most points in a single game.
For most guys, they will boast about their 20- or 25-point game. Maybe one in the group will have a 30-point night to hang his hat on.
If Badger senior point guard Grant DuMez is sitting in a college dorm room or at a table in the dining hall in a couple years comparing stats, he will have them all beat.
"Grant's going to have a smile on his face, he's going to be the last person to speak. And he's going to say 'Yeah, I dropped 42 one game.' And then the mic's going to drop," Badger head coach John Witte said.
DuMez earned himself that trump card Jan. 28 when he scored 42 points in an 88-82 overtime comeback win over Delavan-Darien in Lake Geneva.
Before the game tipped off, Witte had a feeling that DuMez was ready to have a monster performance.
When Badger and Delavan squared off earlier in the season on Dec. 10, the Comets beat the Badgers 63-59. That defeat marked the first time DuMez had lost to Delavan-Darien in his high school career, after going 2-0 as a starting quarterback on the gridiron and 4-0 as a sophomore and junior on the basketball team.
So, to say that DuMez wanted to get back on the winning side of that Southern Lakes Conference rivalry is not a stretch.
"I don't think he's ever lost to Delavan in his career, and he was not happy to lose to Delavan the first go-round," Witte said.
If he was not fired up enough before the game, when the Badgers went into the locker room at halftime down 38-24, a fire was lit inside the 6-foot-4-inch guard. While he had a respectable eight points at the break, he knew he needed to do more to get his team back in it.
"Halftime was a little different. I told myself that I was just going to go out and work my butt off and just shoot when I'm open. And the shots fell," DuMez said.
The strategy worked, as he poured in 27 points in the second half to spark a 50-36 comeback effort for the Badgers that sent the game into overtime.
In that extra period, DuMez did much of the heavy lifting, too, scoring seven of the team's 14 points to clinch the 88-82 win.
When he made it to the locker room after the game, DuMez did not know the extent of what he had just achieved until Witte and the coaching staff told him, saying that he was in awe when he first heard the news.
While it is unclear whether the 42-point game is the highest single-game total in Badger history, athletic director Jim Kluge said it was the highest total he can remember in his 19 years at the school.
Witte echoed a similar sentiment, saying that in his lifetime of coaching and playing, he had never seen a game where somebody put up that high of a score.
As one of the leaders on the Badger basketball squad, DuMez's achievement is more than just a special moment as his career is nearing its end; it is proof for the younger players on the team that a career of hard work can pay big dividends.
"We've got a couple talented sophomores right now, and I hope they see his effort in the weight room throughout his career, and they follow that trend," Witte said.
With DuMez being someone who has played multiple varsity sports for multiple years at Badger High School, he has no shortage of fond sports moments to look back on, once his playing days are finished.
The Badger senior admits the 42-point basketball game is up there with the best of them. He had to give his due, though, to the football team's 17-7 upset over rival Waterford last October.
While the modest DuMez enjoys the moment for the team's win, it is worth noting he had a great game that night, too, scoring a pair of rushing touchdowns, hitting two extra points and kicking a field goal to account for all 17 of the Badgers' points.