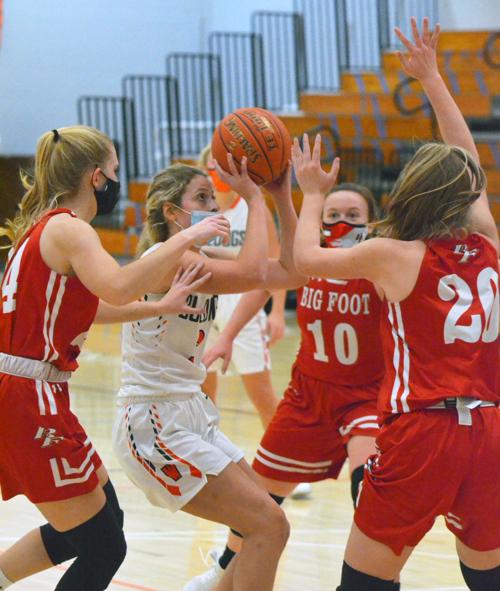 While high school sports often have high coaching turnover, there has been even more changing that usual in the local basketball scene this offseason, with four of the six boys and girls basketball coaching positions at Badger, Big Foot and Williams Bay changing leaders.
Williams Bay saw both its boys and girls basketball coaches leave, while Big Foot and Badger both needed to fill girls hoops vacancies. So far, three of those four spots have been filled.
After the conclusion of the 2020-21 season, a pair of longtime coaches in the area retired to start the domino effect.
Bay boys coach Troy Nottestad retired after 19 seasons, while David Jooss stepped down after 12 years with the Badger girls team. Mike Dowden, who had coached the Big Foot girls team the past three seasons, left his position to take a new job teaching math at Williams Bay and planned to take a break from coaching.
Williams Bay girls coach Ryan Fritz then stepped aside after two seasons, giving the Bulldogs a second basketball coaching opening. In an odd happenstance, there was a new teacher at WBHS who was a perfect fit, and Dowden took the job to coach the Dogs girls team as well.
"I wasn't taking a math and coaching job, I was taking a math job and then the coaching job kind of happened," Dowden said.
While none of the new high school coaches are total strangers to the area, Dowden is by far the most familiar face of the bunch.
A 2005 Big Foot graduate, Dowden was a multi-sport star for the Chiefs, then coached the Chiefs' boys and girls basketball teams for a combined eight seasons in the last nine years, with four seasons on the bench of each squad.
Even though he is at a different school now, Dowden has taken some of the experience he picked up on the sidelines at Big Foot into his preparations for this upcoming season and beyond.
"It's actually a quote I stole from my brother Steve, who has been an assistant for me in the past, his big thing was 'you overestimate what you can do in one year, but underestimate what you can do in 10,'" Dowden said. "I've sat back and looked at more of the longevity of what can we do that will help us now, but also, let's not compromise what's going to help us in the future."
The Bulldogs and Chiefs girls basketball teams played against each other early last season, so Dowden has scouted and game-planned around the players he will now be in charge of leading.
"I am getting to know them a lot better now through offseason stuff and those types of workouts," Dowden said.
Williams Bay's boys basketball coaching vacancy has also been filled by someone the WBHS community will recognize.
After spending the last six years teaching biology at the school and serving as a middle school and JV basketball coach, Shane Cullian was promoted and will be the new varsity head coach of the Bulldogs boys.
As a former confidant of Nottestad, Cullian will aim to continue the legendary coach's legacy in the Bay. He won't be the only the assistant coach returning at WBHS next year, as varsity assistant Nate Borgen and JV2 assistant Andrew Breen will both be back with the program next season.
"We're turning a page obviously, a new head coach, but there's going to be a lot of the same," Cullian said.
As a teacher and JV coach the past few seasons, Cullian has already coached the vast majority of the Bulldogs' players so both the new coach and returning players will know what to expect.
Additionally, Cullian says it will be a fun experience to help the players he has known since they were young kids adapt to the speed of the varsity level.
"In eighth grade they're below your shoulder level in height and all of a sudden they're taller than you and making moves you wouldn't have dreamed of when you were playing," Cullian said. "It's been rewarding, satisfying, and we've got a very hungry group of young'uns coming through the ranks ready to get going."
When Dowden departed Big Foot, that opened another opportunity for a new coach to step in, and it was another local with a history of coaching in the Walworth County area that took the job as Erica Sarna will lead the Chiefs.
Sarna may be a teacher across the border at Nippersink Middle School in Richmond, Ill., she has lived in Walworth for more than a decade, with kids coming through the Reek and Big Foot school districts.
If that was not enough familiarity with the area, Sarna has also coached basketball at Reek over the past few years in her latest stop in a coaching career that has taken her from Chicago, to Barrington, and now on to Big Foot.
Even though WIAA rules prevent coaches from doing too much work on the hardwood with their players during the summer, Sarna has been able to get to know her team through workouts in the weight room, as well as fundraising events, and she likes what she's seen so far off the court.
"I'm very lucky and fortunate and excited, because I have a great bunch of girls. Good attitudes, smart cookies," Sarna said.
As for the Badger girls basketball opening, athletic director Jim Kluge says the school has not yet filled their vacancy.