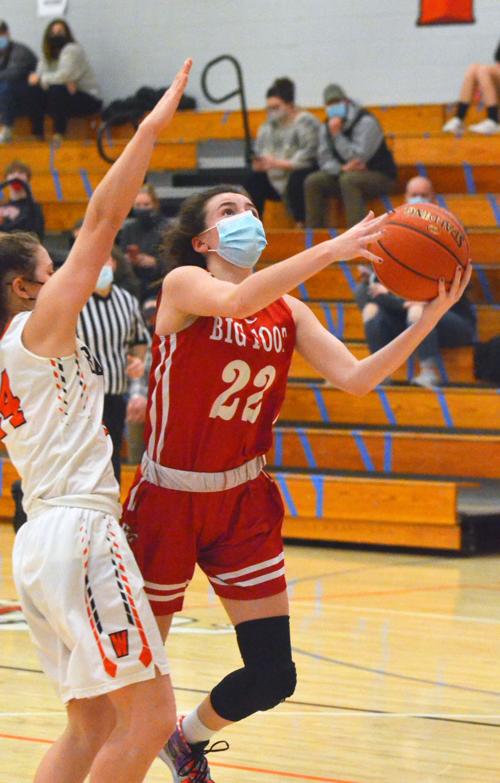 The Big Foot girls basketball team faced a a tough task on Dec. 17 when they traveled to Jefferson.
Jefferson came into the game a perfect 5-0 in Rock Valley Conference play, while Big Foot was 0-4 in conference games.
The Eagles stayed perfect, easily dispatching BFHS 58-23 as the Chiefs offense never found its footing.
Big Foot has a young roster, with players not yet confident enough to shoot early in a possession or when they have good opportunities, said head coach Michael Dowden.
"We've really been harping on how many people passed up on a shot this possession and then what happens?" Dowden said. "They're starting to realize that after the second or third person passes up a shot, it usually ends in a turnover."
The game was even for the first two and a half minutes, and a three-pointer by Big Foot junior guard Lydia Larson made 8-6 Jefferson with 15:31 left in the half.
The Chiefs went cold from there, scoring only four points over the next six minutes, and then only three points in the final nine and a half minutes of the half.
Meanwhile, Jefferson scored 15 points in that span and led 23-13 at halftime.
Larson was a bright spot for Big Foot in the first half, scoring seven of the team's 13 points.
Things went from bad to worse for the Chiefs in the second half.
Big Foot quickly scored some points and trailed 27-17. The Chiefs went cold again and did not score for the next 13 minutes and 34 seconds.
Dowden said he felt his team's struggles came from inexperience with improvising in game situations.
"Early in the game you get what you're looking for, then all of a sudden the nature of the game is you have to make adjustments and we struggle when those things have to be done on the fly," Dowden said.
Jefferson led by 36 points, 53-17, before a three-pointer by sophomore Stella Harvey with 2:40 left broke the Chiefs' cold snap.
Big Foot scored 10 points in the second half.
Larson led the team with nine points. Jefferson senior Ainsley Howard led all scorers with 19 points, including five three-pointers.
While it has been a tough start to the season so far for Big Foot, Dowden said that he has seen things clicking for the girls over the course of the last few days.
"There are little improvements that are happening and you can't judge those small victories in those little improvements by the scoreboard," he said. "On the flip side, this is varsity basketball and you get judged by the scoreboard."
East Troy
Before taking on the Eagles, BFHS lost to East Troy 55-28 on Dec. 16 at East Troy.
Big Foot trailed 32-11 at halftime, but played better in the second, being outscored 23-17 by the Trojans.