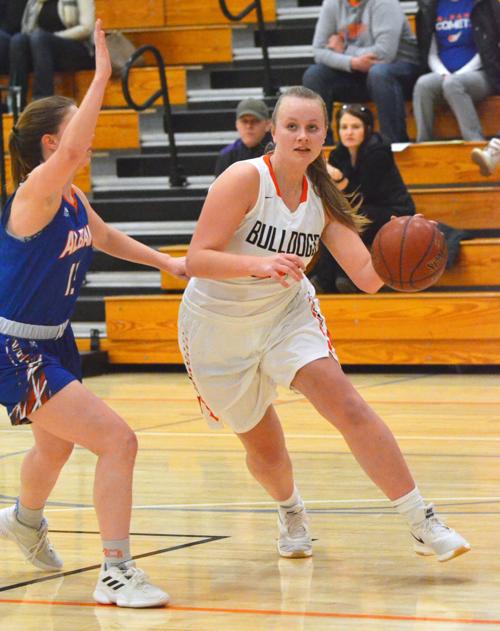 WILLIAMS BAY — The Williams Bay girls basketball team has found itself in a bit of a mid-season lull, losing four straight games, including a pair of defeats just two days apart.
The Bulldogs traveled south of the border Jan. 4 to face off against Johnsburg, but the Illinois squad came out on top 50-30.
When WBHS was back on its home turf Jan. 6, things did not go much better, and the Dogs lost to visiting Albany 56-28.
Head coach Ryan Fritz would be the first to admit that the Bulldogs have had their share of turnover issues this year. So when the Albany Comets came in and played a suffocating press defense, it just exacerbated that weakness even further, which then turned to easy buckets on the other end.
However, in facing a hard-nosed Albany squad, even though the Bulldogs lost, the game provided a valuable template for the Bay.
"My note to the girls was, that's how I want to play. I want to get up in teams' faces, and I want to get out and run the floor," Fritz said.
Albany got off to a slow start, and Williams Bay was a bit quicker to score early. After eight minutes of play, the Dogs held an 8-5 lead. Over the next three and a half minutes, the Comets awoke with a 9-0 run to take a 14-8 lead that they would not relinquish.
After scoring eight points in the first eight minutes of the half, the Bulldogs only scored four in the remaining 10, and at halftime, Albany's lead was 24-12.
The second half got off to a rocky start for Williams Bay. It took them five minutes to score their first bucket of the half, then another five minutes passed before the second. Meanwhile, Albany was scoring quickly, and with 8:11 remaining, the score was 46-16.
Williams Bay's biggest issue in that rough stretch was that the girls were not as aggressive in putting up shots as they usually are.
"Those first 10, we passed up a few open looks that we normally take," Fritz said. "You can't pocket open looks, especially against a good team. You've got to take advantage of every opportunity you get."
By that point, the score was out of reach for WBHS. However, they did outscore Albany 12-10 down the stretch to bring the final score to 56-28, giving them a nice finish to serve as a bookend along with their solid start to the contest.
It was a tie atop the scoresheet for the Bulldogs, as Braiya Nolan and Hannah Rabenhorst both scored seven for the team lead. Annika Pfeil was close behind with six, as the trio combined for 20 of the team's 28 points.