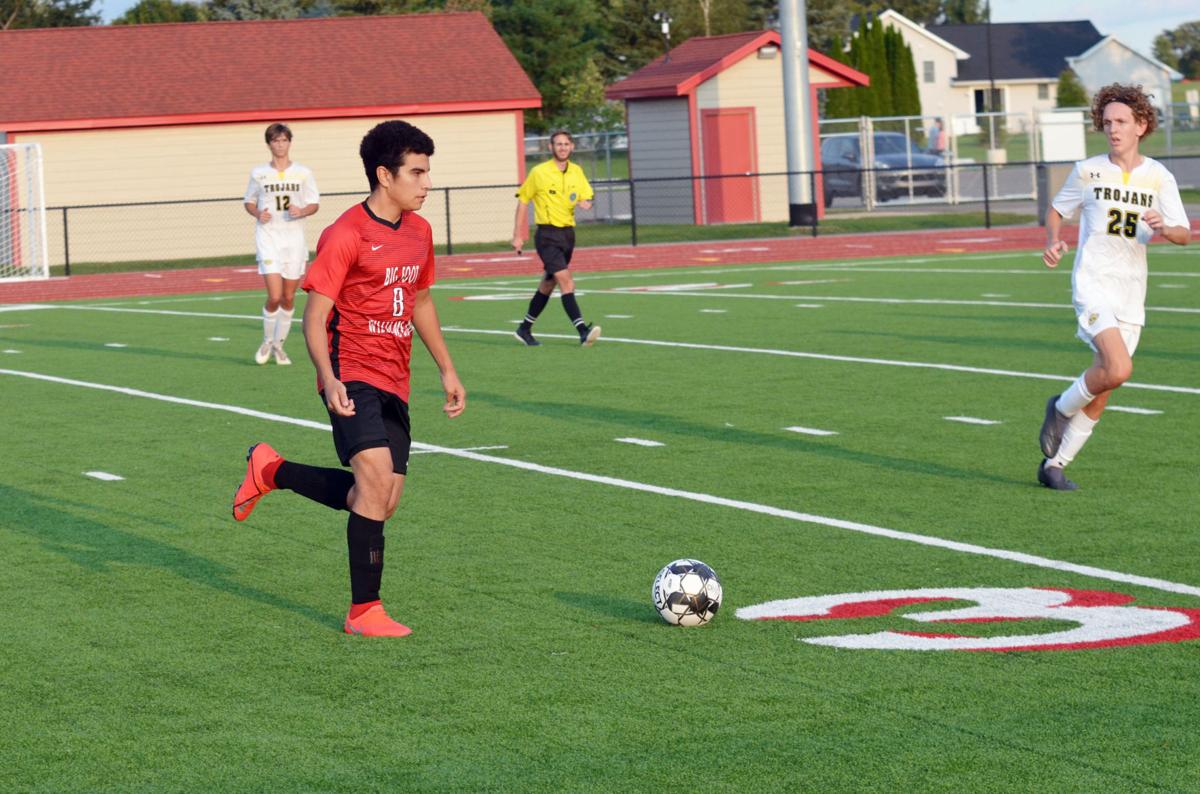 WALWORTH — The Big Foot/Williams Bay soccer team got their conference schedule started on the right note, defeating East Troy 2-1 at home on Sept. 9 in the Rock Valley Conference debut.
At times, the game resembled a football game more than a futbol game, though that was no surprise in a matchup between a couple of familiar rivals.
"We knew it was going to be a physical game, hard-fought game, so we just wanted to come out on top and we were able to," ChiefDogs head coach Keith Blakeman said.
It was the visiting Trojans that got on the board first, when sophomore Alex Bruce knocked in a shot in the 21st minute for a 1-0 lead.
That narrow advantage would hold for the next 19 minutes until halftime in a low-scoring period.
Both teams had a fairly even number of scoring chances in the half, but the ChiefDogs felt they had not gotten enough pressure and shots, giving them a clear area of improvement when play resumed.
"That's what we talked about going into the second half: we need to play on the front foot and get in their defensive third and be in the attacking mode," Blakeman said.
They were able to execute that strategy, and 10 minutes into the half sophomore Hudson Torrez tied the game 1-1.
BFWB kept the pedal to the metal, and in the 69th minute junior David Hernandez was fouled in the goal box, giving the ChiefDogs a penalty kick opportunity. Freshman Bryan Garcia's shot missed wide left, and the score remained tied.
It did not take long for Big Foot/Bay to get another penalty kick opportunity though, as East Troy got whistled for excessive contact during a free kick in the 71st minute. This time, senior captain Julian Muñoz hit his PK right down the middle and past the Trojans' diving goalkeeper for a 2-1 lead.
That deficit held for the final nine minutes, and BFWB closed out a win in its first conference contest.
Both goals, plus the missed penalty kick opportunity, were due to the speed of the ChiefDogs' strikers and the pressure that ensues when they speed past opposing defenders. That level of skill up front is a bit of a departure from the style that Big Foot/Williams Bay has hung its hat on in past years.
"For many years, we've been built on midfield play. Our midfield is good, but the forward play is what's getting the wins right now," Blakeman said.
Other action
Prior to defeating East Troy, the ChiefDogs had a more lopsided win on Sept. 7 when they hosted Janesville Parker and won 9-1.
BFWB poured in six goals by halftime, and following a quick blip as Janesville scored four minutes into the second half, proceeded to add three more in the second half.
Torrez was the team's top offensive option in the victory, scoring five goals with three in the first half and two in the second half.
Garcia had a stellar scoring performance himself, with two goals and one assist. Hernandez scored one goal with one assist. Senior Cristian Carreno added one goal.
Following the East Troy win, Big Foot/Bay kept rolling with a 7-1 road victory over Martin Luther on Sept. 17.
It was an even offensive output for the ChiefDogs, with six different players scoring at least once.
Garcia was the lone player with more than one goal, scoring the first goal of the game and the first goal of the second half, also picking up an assist.
Hernandez, junior Grayson Grunow, senior Matias Tuchscherer, junior Nash Eger and senior Reed Alness all score one goal each.