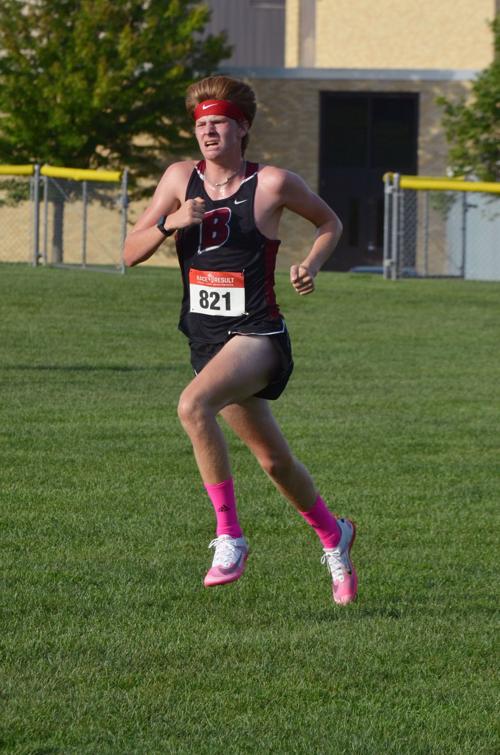 The Badger boys cross-country program has a new record holder after senior Demetrius Farmakis ran a time of 15:58 at the Southern Lakes Conference Relays on Sept. 9.
"I put in a lot of work over the summer, and being able to see that pay off so much, it's incredible," Farmakis said.
After having one of the best seasons in school history last fall, the Badger boys team has picked up right where it left off so far this season.
At the SLC Relays at Fox River Park in Silver Lake on Sept. 9, the team had such a strong performance that multiple records were broken over the course of the event.
Most notable was Farmakis' individual achievement.
Last season, then-sophomore Jackson Albanese broke the school record with a time of 15:59. When Farmakis hit the finish line later in that race, he was ecstatic for his teammate but had no thoughts in his mind of one day breaking that mark himself.
"If I'm being honest, I did not think I was going to be able to," Farmakis said. "I genuinely didn't think I'd be able to do it this year."
While he may not have thought he could break the school record, prior to the SLC Relays Farmakis could tell he was ready to have a strong performance, and set his sights on trying to take first place overall.
Throughout the course he was pushing himself against Westosha Central's Will Allen, and though Allen ended up winning the race, Farmakis was gifted with a pretty stellar consolation prize in the school record.
Since he only broke the record by one second, Farmakis was not certain whether he had broken the record or just tied it as he had his eye on the clock while he crossed the finish. Instead, he had to wait until the official scoring was completed shortly after.
By the time senior teammate Brody Kluge, who had the second-best time for the Badgers at 16:32, finished his race, the broken record was official.
"I went over and asked the referee to see the official time and he told me that he broke it and it was just insane, I ran over there and gave him a big hug, it was an insane moment," Kluge said.
With the season not at the halfway point yet, Farmakis and Albanese will have plenty of chances to keep lowering the school-best time.
However, with their focus more on improvement than chasing accolades, if any of the Badgers do break the record again, it will be just as much of a surprise as the first two times it happened.
"We're just so caught up in trying to get better each day, when this stuff happens, it kind of does catch you off guard," head coach Mike Butscher said.
Besides just Farmakis' accomplishment, the Badgers combined to set a team record for the annual SLC Relays event with a total team time of 1:23:47, while also establishing themselves as the team to beat in the conference championship chase.
Farmakis' second place finish and time of 15:58 played a part, but it was far from the only top-tier performance for the group as all five of the team's scorers placed in the top 10.
Kluge ran a time of 16:32, a new personal best for the senior, en route to a third-place finish overall.
Next up was senior Dominic Alonzo, who finished fifth at 16:52. Senior Angel Toribio as not far behind in seventh with a time of 17:05.
Badger's record-breaking performance was wrapped up by a ninth-place finish by senior Nolan Cassidy with a time of 17:17.
Badger girls
The Badgers proved that they are SLC frontrunners, winning their meet by an even larger margin than the boys squad, finishing with a combined time of 1:45:09, nearly five minutes ahead of second-place Westosha Central's 1:50:45.
Part of that dominant win came courtesy of freshman Molly Deering, who took first place individually with a time of 19:51, which was 49 seconds ahead of Union Grove junior Riley Kayler's second-place time of 20:40.
The other four scorers for Badger all finished in the top 10 as well.
Senior Vivian Ford had the team's second-best time at 21:08, which was good for sixth place. Freshman Brooklyn Flies was one spot behind in seventh with a time of 21:12.
Sophomore Mya Lenz took ninth at 21:21 and freshman Delaney Deering rounded out the top 10 with a time of 21:35 in 10th place.
Big Foot/Williams Bay
On Sept. 9, Big Foot/Williams Bay competed in the Ladish Invitational in East Troy, with the ChiefDogs finishing seventh out of 11 teams.
Senior Gus Foster not only had BFWB's fastest time, he had one of the top finishes overall, placing fifth out of 154 runners with a time of 18:49.
Next up for the ChiefDogs was sophomore Clayton Flies, who ran a 20:54 and took 34th place. Just over 10 seconds later, senior Josh Rolfs crossed the finish line at 21:08 in 42nd place.
Big Foot/Bay's final two scorers finished close together as well, with freshman Noah Langlund in 51st at 21:32 and Connor Pecht placing 55th with a time of 21:51.