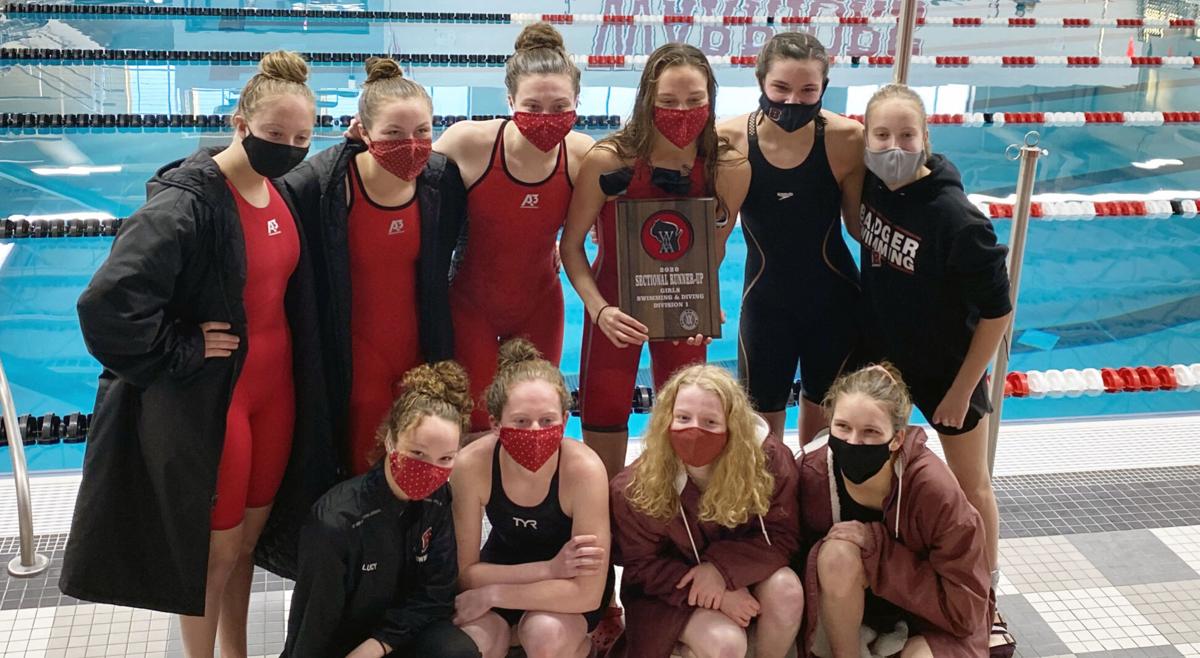 When the Badger girls swim co-op traveled to the Sectional meet in Muskego on Nov. 7, the girls were at the top of their game, finishing in second place out of nine teams with a score of 362.5, beating out third-place Burlington's 299 and falling shy of first-place Muskego's 422.
That second-place finish earned the Badgers a plaque marked the third consecutive year of Sectional success after winning the event in 2019 and placing second in 2018. However, this year's performance also featured more individual success as four swimmers earned a total of six state meet qualifications.
Sophomore Zoe McNeill, senior Lauren O'Brien, freshman Mackenzie Thomas and sophomore Callie Ceshker earned a spot in the state championship with a first-place finish in the 200-yard freestyle relay by swimming a time of 1:37 to beat out Muskego's time of 1:38 by just one second and set a Muskego High School pool record.
That same group of four teamed up for the 400-yard freestyle relay, and while they took second in that event with a time of 3:37 compared to Muksego's 3:31, the team's time was good enough to earn qualification for the state meet.
This is not the first time that McNeill, O'Brien and Ceshker earned a spot at state, as the three girls made an appearance in the same two relay events a year ago. The freshman Thomas will be swimming in her first state meet, filling the spot of Kearyn Brennan who graduated last spring.
Ceshker and Thomas also qualified in two more events each.
Thomas finished in first place in the 50-yard freestyle with a time of 23.84, while Ceshker was a fraction of a second slower in second place at 23.90, as both girls punched their ticket to state.
Ceshker also claimed a first-place finish in the 100-yard freestyle at a time of 52.86, and Thomas's time of 1:04.15 was good for first place in the 100-yard breaststroke as well.
Those four competitors will continue their season on Nov. 14 with a trip to Waukesha South High School, where the state meet will be held this season after the event was unable to be held on the campus of the University of Wisconsin-Madison due to coronavirus concerns.
The team will be looking to improve upon its finish from a season ago, when they earned six points to finish in a three-way tie for 31st place overall.
Besides just those state meet qualifiers, a number of other swimmers helped the team earn their sectional accolades.
The first race of the meet was the 200-yard medley relay, in which the team of Addi Nelson, Cora Singleton, Kylie Kramp and Ella Eck placed fifth at 1:54.
McNeill placed fourth in the 200-yard freestyle with a time of 2:01, followed by Lilly Westlund in seventh at 2:03.
In the 200-yard individual medley, three Badgers finished in a row with Kramp in fifth at 2:17.29, O'Brien in sixth at 2:17.73 and Eck in seventh with a time of 2:19.
Badger's top finisher in the 100-yard butterfly was O'Brien, who placed fifth with a time of 1:01, with Nelson claiming eighth place in the event as well at 1:03.
Westlund and Singleton finished just a second apart in the 500-yard freestyle with Westlund placing fourth at a time of 5:33 and Singleton in fifth at 5:34.
In the 100-yard backstroke, Kramp placed fifth with a time of 1:01.22 and Nelson finished a half-second later at 1:01.72 in sixth.