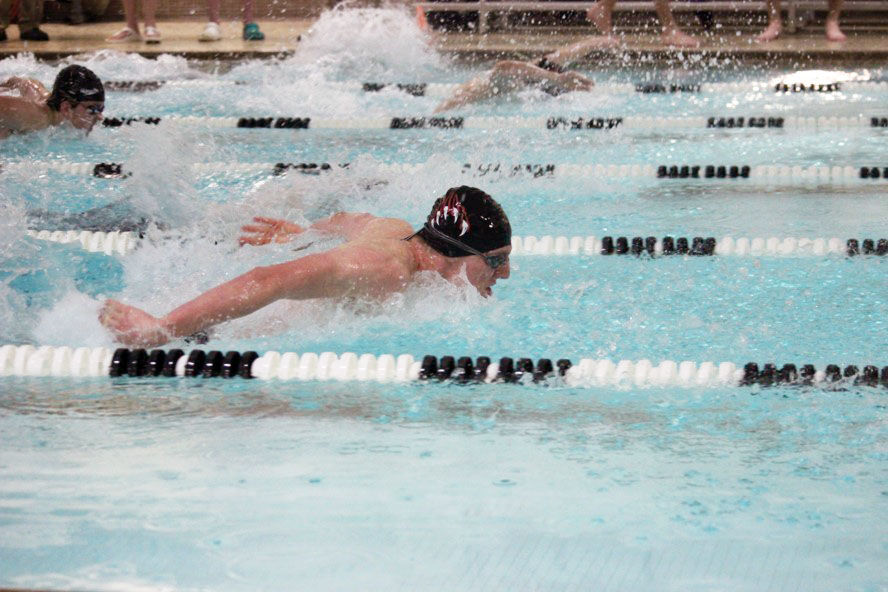 The Badger boys swim team continued its dominating season.
On Jan. 5, the team traveled to Burlington and beat the Demons 132-38. The Badgers won every event, and took second place in all the individual events except for one as well.
The Badgers started the meet strong in the 200-yard medley relay, with junior Nathaniel Rafe, senior Tommy Anderson, sophomore Evan Langelund and senior Andreas Scocos winning the event in 1:44.
Next up was a 1-2-3 sweep in the 200-yard freestyle as junior Benton Greenberg took first at 1:52, junior Carson Biller was second at 1:54 and senior Ben Shane placed third in 1:55.
There was another sweep in the 200-yard individual medley, with Rafe winning in 2:08, Anderson second in 2:10, and junior Nolan Cassidy third in 2:11.
Langelund won the 50-yard freestyle in 23.13 seconds, followed by Scocos in second at 24.99. Junior T.J. Walton finished fourth in 25.81.
Langelund and Scocos finished in the top two spots in the next evenmt—the 100-yard butterfly. Langelund won in 56.80 and Scocos touched the wall at 58.09. Sophomore Cole Mackay was fifth at 1:05.
Badger got back to sweeping in the 100-yard freestyle as Greenberg took first at 50.73, junior Brady Peetz second at 52.77 and sophomore Kal Kramp third in 58.37.
In the 500-yard freestyle, Biller won the race in 5:13, Shane placed second in 5:16, and freshman Costa Scocos was third (5:59).
The 200-yard freestyle relay saw a squad of Greenberg, Langelund, Anderson and Cassidy in first place with a time of 1:32. Badger's second relay team finished before Burlington's first as well, with the team of Andreas Scocos, Walton Shane and Biller coming in at 1:39 for second.
Rafe won the 100-yard backstroke in 58.38 seconds. Peetz was third in 1:04, and Kramp took fourth at 1:04.
Badger took the top two spots in the 100-yard breaststroke with Anderson in first at 1:04 and Cassidy second in 1:05. Ian Stratton placed fourth in 1:14.
The 400-yard relay squad of Stratton, Walton, freshman Maxx Roberts and Costa Scocos finished the meet with a bang, winning in 4:07.
Elkhorn
Badger stayed undefeated, improving to 5-0, on Jan. 9 when the team traveled to Elkhorn and beat the Elks 128-42.
Once again the Badgers took first in every event.
Senior Ethan Marunde and Greenberg were the only two Badgers to win all four of their events, with the duo teaming up to win the 200-meter medley relay.
Marunde also took first in the 50-meter freestyle, 100-meter freestyle and 400-meter freestyle relay, while Greenberg finished at the top of the 200-meter individual medley, 200-meter breaststroke and 200-meter freestyle relay.
A pair of relays saw strong team performances for Badger, with both the A and B teams beating out Elkhorn's top squad.
In the 200-meter medley relay, Marunde, Cassidy, Langelund and Greenberg placed first while the team of Rafe, Anderson, Andreas Scocos and Peetz finished second.
The 400-meter freestyle relay featured a grouping of Anderson, Cassidy, Shane and Marunde in first while the team of Rafe, Andreas Scocos, Langelund and Walton placed second.
Badger's only individual-event sweep came in the 100-meter freestyle when Marunde, Shane and Andreas Scocos took first, second and third respectively.