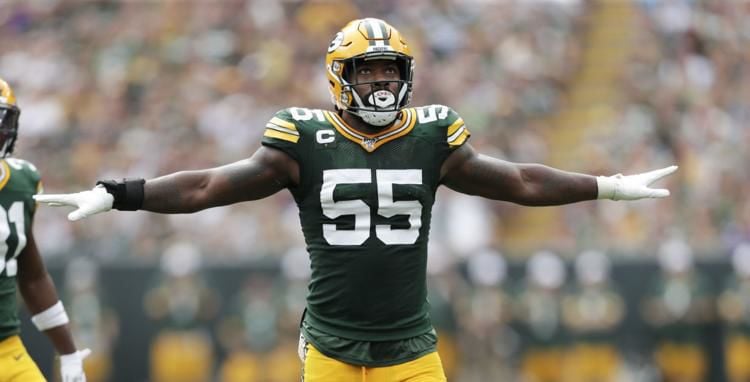 RACINE — Green Bay Packers outside linebacker Za'Darius Smith was set to face a hearing in a Racine courtroom Nov. 7 after being cited on suspicion of speeding and possessing marijuana or synthetic marijuana in late September on Interstate 94, according to court records and media reports.
According to reports and court records, the Racine County Sheriff's Office stopped Smith for going 81 mph in a 60 mph zone Sept. 29 on Interstate 94 as he and teammates Rashan Gary and Kingsley Keke were returning to Green Bay from a trip to Chicago.
They were pulled over on Interstate 94 near the ramp to Highway 20, according to reports, where police found three hollowed-out cigars filled with marijuana and a vaping cartridge in a duffel bag in the rear of the SUV.
All three players briefly were placed in handcuffs, but police released them after giving Smith the two citations, according to reports.
"The Packers are aware of the matter involving Za'Darius Smith," a Packers spokesperson said Friday. "We will refrain from making any further comment as it is a legal matter."
The citations appeared in Wisconsin's online court records system as being filed Oct. 21 and Oct. 30. One is for speeding on a freeway, 20 to 24 mph over the limit, and the other is for possession of marijuana or synthetic marijuana.
An initial appearance on both citations is set for 2 p.m. Nov. 7 at the county Law Enforcement Center in Downtown Racine. Smith is not required to be present at the hearing.
The Packers, 7-2 so far this season, lost to the Chargers in Los Angeles on Nov. 3.
According to reports, it's unclear if Smith's ticket would warrant a suspension under the NFL's substance abuse policy.
In the past two years, Packers running back Aaron Jones (two games) and tackle Alex Light (one game) have been suspended for minor marijuana charges related to use and possession.
The Packers signed Smith as a free agent this spring and he leads the team with eight sacks this season. He played the first four seasons of his career with the Baltimore Ravens.